For many of us, the summers of our early childhood were simple and enjoyable, joyous and memorable moments filled with playing in the sun, running around, and swinging on the swing set. The truth is that kids love to swing. However, not all swings are created equally; some may be more interesting. Before you add a swing set to your backyard playground or take your kids to the park, ensure you know what they love.
So, what are the ten kinds of swings that children love? One of the best types of playground swings many children love is the traditional belt swing, known for its iconic belt swing. The other types of swings that children love include tire swing, hoopla swing, arch swing, accessible swing, basket swing, toddler swing, and infant swing. Other kinds of swings that kids love include the teeter-totter, standing swing, and glider swing.
This blog post discusses the top ten types of swings that kids love, the benefits, and the possible risks associated with each. Read on to find out everything you need to know.
1. Tire Swing
Tire swing remains one of the most popular types of swing sets that children love. A tire swing can let up to three children on board swing in different directions. The recommended age for tire swings is from 3 to 12 years.
No products found.
A typical tire swing is fitted with several chains from a central support structure. A standard tire swing will have three chains carefully installed at equal distances from each other.
The chains meet at the top connection on the main support frame. The result is a beautiful tire swing that can accommodate up to three children swinging in different directions.
Only attach one tire swing to a single bay if you are a DIY enthusiast and prefer to make your tire swing.
Also, avoid using a tire swing on a composite play structure because it can cause the structure to break or fall apart.
Ensure you use heavy-duty chains for your tire swing and monitor children when playing on it. This will help prevent any accidents or injuries.
Tire swings need regular maintenance since their hangers usually undergo intense stress during use.
Allow at least six feet of space on all sides of the support frame while installing a tire swing, and add enough surfacing material under the swing to prevent injuries in case of a fall.
2. Hoopla Swing
The hoopla swing is a fun, safe, and easy way for kids to have fun while swinging. Unlike the traditional belt swing, it is made with a large round hoop and four ropes.
The four ropes are attached to the bottom of the hoop to support the user when they swing back and forth.
The hoopla swing is great for kids three years old and up as it is designed to be easier for them to hold onto and move.
The hoopla swing is a great way for kids to practice their coordination, balance, and core strength while having fun.
It also encourages social interaction through its unique style of play since players can compete by seeing who can do the most spins in one go.
3. Basket Swing
A basket swing combines the benefits of a multi-child tire swing with the single-axis motion of a powerful belt swing. Belt swings are sometimes referred to as web swings or saucers.
A standard belt swing can hold up to four kids, but the basket swing can accommodate up to eight.
This makes it a great option for those with many children or wanting to create an inclusive play area that accommodates all.
The basket swing consists of two round frames and four support chains, each corresponding to one of the kids on board.
The advantage of a basket swing is that it can provide more stability and durability than a traditional belt swing.
It should be installed in enough room for the swing to move back and forth without hitting any obstacles.
Be sure to check with your local government on the appropriate surfacing requirements in your location.
And lastly, always ensure your basket swing is properly installed and regularly maintained. This will ensure that it stays in great shape and that the kids remain safe from accidents or injuries.
4. Adaptive Swing
The adaptive swing is unique since it is designed to accommodate children with physical disabilities and special needs.
Its larger base makes it easier for kids in wheelchairs to transfer into the swing without leaving their wheelchairs.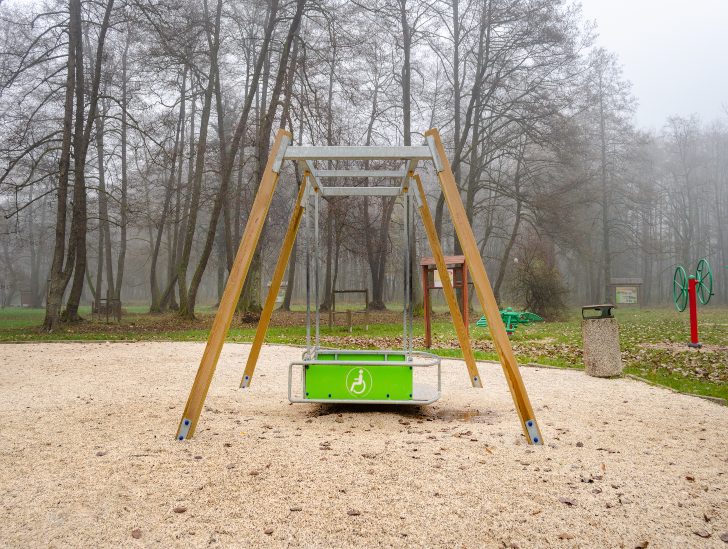 The adaptive swing also allows those with difficulty using traditional swings due to weak muscles or poor coordination to experience the joys of swinging. It can be used as a stand-alone swing or as part of an inclusive playground.
When purchasing an adaptive swing, check the weight capacity and adjust it based on the user's needs. Also, inspect the adaptive swing regularly for wear and tear and repair or replace parts if necessary.
5. Glider Swing
Many of us remember jumping on the glider swing as a child and feeling like we were flying. The glider swing is a classic playground fixture that continues to be popular today.
This swing connects two chains, forming a seat-like shape when suspended.
Gliders come in many different sizes and types. Most have two seats allowing up to two children to swing simultaneously.
Glider swings allow kids to develop their coordination and balance since it requires them to coordinate their movements together to swing.
This swing also encourages social interaction by allowing children to play together.
The glider swing should be installed on a level surface, away from any trees, poles, or other objects, and checked regularly to ensure it is properly maintained.
6. Loft Swing
The loft swing is perfect for indoor or outdoor play. It consists of two durable metal frames that form a dome-like structure.
The loft swing has many benefits for children as it can accommodate up to three kids and is designed to be easy to get into and out of.
The loft swing also helps promote imaginative play since it offers plenty of space for kids to create their own stories and explore.
Furthermore, it encourages cooperation since it requires two or more children to work together to move the swing.
When installing a loft swing, it is important to place it on a flat surface away from any obstacles hindering its movement.
7. Traditional Belt Swing
The traditional belt swing is one of the most iconic pieces of playground equipment. It consists of a single metal frame connected to two chains with a belt suspended between them.
The traditional belt swing is perfect for those just starting on the playground, as it is easy to get into and out of and can accommodate one person at a time.
To ensure safety, it is important to regularly check the belt swing for any signs of damage or wear and tear.
8. Accessible Swings
Accessible swings are a great alternative to traditional belt swings for children with physical disabilities and special needs.
These swings come in various sizes, styles, and designs to accommodate individuals with different abilities and needs.
Accessible swings typically have wider seats to facilitate a smooth transfer of disabled kids from their wheelchairs to the swing set. They also have secure straps or harnesses that keep users in place while swinging.
When purchasing an accessible swing, it is important to check the weight capacity and adjust it based on the user's needs.
Inspecting the swing regularly for any wear and tear and replacing or repairing parts if necessary is also important.
9. Toddler Swings
Toddler swings don't use the standard swing belts because they are designed for toddlers. Instead, they have bucket-shaped seats that keep them securely in place.
These swings also have a low center of gravity and wider seats, which make it easier for toddlers to get into and out of the swing.
Furthermore, toddler swings often come with adjustable straps that allow you to adjust the seat height as your child grows.
It's important to check these straps regularly for any signs of damage or wear and tear.
10. Sling Swing
You and your children see the classic sling swing most on your trips to public playgrounds. It consists of a single metal frame with a seat suspended between two chains.
Sling swings are great for kids as they offer plenty of space to move and rotate, which promotes physical activity and coordination.
They also can support up to four children at once, allowing them to interact while they swing.
When installing a sling swing, ensure the chains are the correct length for your child's height and weight. Checking the chains regularly for any signs of damage or wear and tear is also important.
Lastly, it is essential to ensure that the swing is installed on a level surface with plenty of space and away from obstacles.
Final Thoughts
Swing sets are a fun way for children to get active, explore their environment, and build coordination skills. With the right safety precautions, these playground staples can provide hours of safe fun for kids of all ages.
Last update on 2023-07-23 / Affiliate links / Images from Amazon Product Advertising API