Designing a fun indoor playset that your kids can enjoy is the dream of every parent. A good playset and play area that will stimulate your kids is not just physical but also mental development. It is truly fun spending time with your kids, watching them play and interact with the environment that you have created for them.
There are a lot of designs that you can choose from when it comes to indoor playset ideas. You can make the design based on the age or gender of your child. You also need to consider what your kids love and consider their safety.
Here are some fun tips for creating an indoor playset for your kids.
A playset is a place where your child can learn. You can make it educational by making it more challenging for them. This is a great way to introduce some ready-made games so they will not be intimidated by what they have to do inside an indoor playset.
Many kids playing areas such as playgrounds and parks provide different activities that help them learn different things. There are also some playsets that are made to be creative. You can make an indoor playset in your home creative too by adding some interesting activities for them to do.
2. Make It Fun
Adding music is an excellent idea for making the most out of what you have created in your kid's playing area. If you want them to learn as they play, you must ensure they enjoy it. Think about the activities your kids love, such as singing, dancing, and running. You can make them enjoy their playing area even more by adding what they love doing the most. Make it a hubby-like activity.
3. Keep It Clean and Tidy
Having a playset in your home is not just fun but also practical as it helps keep your kids busy. You don't have to worry about what they are doing for that period of time because they are content playing. The fun will last longer if you ensure that there is no dirt or garbage lying around. Put a trash can beside the playset, so kids have an easier time dumping the wrappers and stuff from their hands.
4. Make It Accessible
If you have more than one child, keep in mind that their play area must be accessible to everyone regardless of their age. A low-lying playset is more suitable for young children while older kids might need something that reaches the ceiling. Make sure to provide maximum comfort by having chairs, tables, and benches at their disposal.
5. Choose a Theme for the Playset
Children love colors, and this is something you must keep in mind when designing their play area. Think about what your kids like most before getting them a playset. There are dozens of themes to choose from, ranging from an amusement park, zoo, farm, castle, airplane, or train ride. Make sure the colors you choose matches the theme of the play area.
6. Add Toys and Accessories
A playset is not complete without toys and accessories suitable for kids of all ages. You can add a slide, clubhouse, or tire swings to provide your child with hours of entertainment. You can also incorporate musical equipment that toys that your kids will love. The entertainment area needs to be memorable, and your kids should look forward to playing there.
7. Childproof the Playset
A playset is filled with all sorts of fun features, but you should always make sure it is safe for your kids before they play on it. Inspect the playset carefully for sharp edges or obstacles. Ensure it is safe for children of all ages to use so your little ones will not get hurt while playing on it.
You also need to install safety rails and covers around the outside of the deck. This way, you'll prevent any falling accidents that could end with serious injuries like head trauma or concussions. You should also repair any damages before they can become a danger to the kids.
8. Divide the Area Into Separate Zones for Different Activities
Separating the playroom into different zones is a wonderful way of reducing clutter and making it easier to organize. It is also very effective if you want the kids to play separately, especially for those whose ages are far apart.
For example, you can start by dividing the area into zones like arts and crafts zone, game zone, reading zone, etc. You could even combine them based on how your children prefer to play. The more organized you make it, the easier it will be for the kids to find what they are looking for.
9. Have a Place For Everything
You should also have a designated place where everything in the playroom is kept. You don't have to spend so much time searching for things when you need them. This way, the kids will know where every toy belongs and will learn to return everything to their rightful space once they're done playing. This will teach them to be more organized and responsible.
10. Encourage Free Play
Kids won't enjoy their new playroom if they're not free to play as they wish. It's upon you to encourage free play and let kids be themselves. Don't interfere with their playtime unless it turns out to be for the worse. Be observant but don't take charge. They need to learn how to make good judgments for themselves.
Reasons to Create a Playset for Kids
There are many reasons why you need to take your time and make an indoor playset for your little ones. Here are some of those reasons.
Make Kids Active
Kids that play are more active than those that don't. They need to play as it makes them more creative and allows their imaginations to grow stronger. It also helps them become flexible as they learn how to do things such as bending, stretching, and twisting.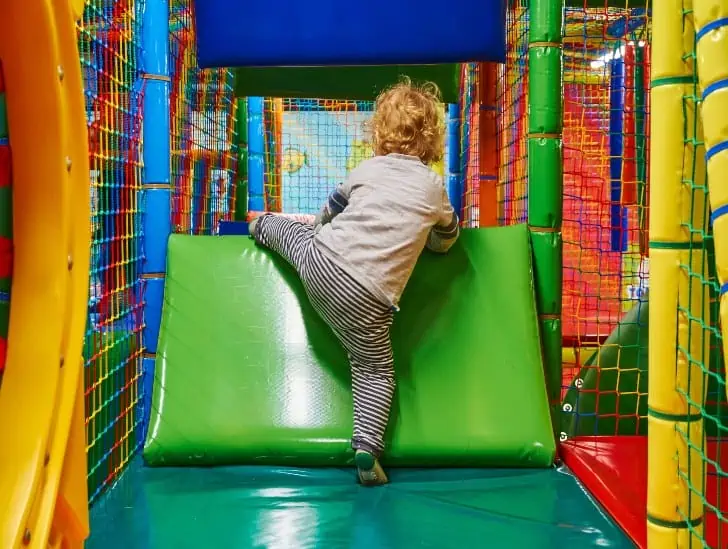 It's Better than Watching TV
If you're worried about your kids sitting in front of the computer or watching TV the whole day, a playset will save you from the nightmare. With this, they will be more occupied, and you won't have to worry about them getting overweight.
Promotes Storytelling Skills
This is beneficial because it helps with their imaginative skills. Instead of being glued to the TV all day long or playing computer games, they'll have their imaginations working overtime while playing on the playset.
Helps Kids Interact
When kids play together, they learn how to interact and get along. This will be good for them as they grow older and prepare to enter school, where they will also have to work with each other.
Improves Motor Skills
This is a fun way of improving their motor skills, whether swinging, climbing, or sliding. They'll keep on moving and learning new things that will help them develop their motor skills.
Improves Coordination
As they play, it will enhance their coordination between their hands and feet as they try to climb the different parts of the structure. This is something that can also improve, even for adults. It's not just for kids.
Related Questions
Are indoor playsets better than outdoor ones?
Both indoor and outdoor playsets are perfect for kids of all ages. Whether you choose to bring the playground indoors or outdoors, it will be sure to improve their motor skills and coordination. It's really just a matter of preference and what you can fit in your backyard space.
What are the best toddler playsets?
There are many different playsets for toddlers to choose from. However, it's always best to choose one that is durable, safe, and will develop your child's motor skills. Look for items like swings, slides, ladders, and other things which will make the playset exciting.
Which materials should I look for when buying a toddler playset?
Toddler playsets are made of different materials, including wood, plastic, and metal. You can choose which one you like but ensure that it's safe for your little ones. Make sure that the materials are not prone to damage or chipping because they may harm your child's hands while climbing on them. Also, understand that materials such as plastic are more suitable for indoor playsets than outdoor.
Summary
Your kids deserve to have a fun and free space to play, and you must ensure they get just that. Make sure that their playsets are made of safe materials and have the right size for them. You have to make the playset fun, safe, and suitable for kids of different ages.
If you don't plan to modify the playset soon, keep in mind that kids grow over time and you don't want them outgrowing their playsets too soon. With the tips above, you can be sure that your little ones will enjoy playing with their playsets for a long time.
Last update on 2023-07-23 / Affiliate links / Images from Amazon Product Advertising API