Many people don't give shade much consideration when building a playground. But you can imagine how it feels to have your children play under all the heat that comes with the summer months. Not only will they sweat a lot, but they'll become exhausted so fast that they'll be too cranky to play longer.
Shade is a must and can be provided by trees, umbrellas, pergolas, or other shade structures. There are many different types of playground shade ideas that you can choose from. You can go as simple as covering the benches with a large piece of fabric or as extravagant as building a cool playhouse with multiple solar panels to power lights.
This article outlines some of the best and most functional shade ideas, what you need to consider when building a shade, and the benefits of having a playground shade. Let's get started then!
Playground Shade Ideas
1.    Shade Sails
This type of shade has become popular because it's easy to set up and provides lots of sun protection. The only drawback is that it's usually made from PVC, making it susceptible to wear and tear. But if you choose a durable fabric, you can make sure it lasts for years.
2.    Bubble Umbrellas
This type of playground shade idea is perfect if you want something that can provide lots of coverage during those really hot days. You can position them strategically to cover as many people as you want.
3.    Shade Structures
Large shade structures are great because they can provide lots of coverage in an area where many people are playing at once. They're also very functional because they may already come with built-in benches. And if you decide to build one yourself, you have the freedom to incorporate whatever design that works best for your needs.
4.    Solar Shade Structures
If you want to include alternative energy in your backyard, you can go for a playground shade structure powered by solar panels. These are great because kids have no idea why they work, but it makes them happy to turn on lights just by pushing buttons.
5.    Pergolas
Pergolas are usually made from wood or metal so that they can support heavy use. They also don't have sharp edges, which makes them safe for children. With enough coverage, pergolas provide plenty of shade, and you can create a cool playhouse just by adding some colorful fabric panels on the side.
6.    Umbrellas
Plain umbrellas are good for covering benches but probably not very much else. But if you choose one with an excellent design, it can also become part of your play equipment.
7.    Modular Shade Structures
If you want a shade structure that can be easily moved, try using modular units. They are designed to assemble very quickly with no tools required, so you can also rearrange them for different purposes.
8.    Vinyl Umbrella Tents
These umbrella tents are most commonly used as outdoor party venues, but they also make great playground shade structures. They can be easily used for birthday parties, weddings, or other special occasions.
9.    Canopies
If you're looking for an all-purpose canopy, you can choose a cantilevered canopy. They're commonly used for outdoor events, and they work equally well as shade structures in the playground. You need to ensure that they can support heavy use and provide enough shade.
10. Sunbrella Fabric
If you want to include playground shade ideas that will serve as play equipment and may even be part of your design plan, go for Sunbrella fabric. It's a must-have if you live in areas with lots of sun, especially during the summer.
Sunbrella is an outdoor fabric, so it's durable and made to last through all kinds of weather. You can be assured that this type of shade idea will also provide plenty of protection from UV rays and look great as part of your playground design.
11. Shade Sail Tents
If you need a lot of protection from the sun, this is probably your best option. The fabric is designed to provide high UV protection, so it's great if you want a shade that also doubles as a playhouse. You may need some help getting it set up, but once you do, the kids can use it for all kinds of activities while still staying protected from the sun.
12. Plant Some Trees
If you're short on playground space, one of the best ideas is to plant some trees. Plant large shade trees strategically around your yard so kids can get more exposure to nature at the same time that they'll be playing. You can look into fruit-bearing varieties, too, because that way, the kids will end up having something fun and healthy for them at the end of the day.
13. Build a Playhouse
If you're short on shade ideas, consider building a playhouse. Make it from wood and put some windows on the roof to provide plenty of shade while still providing a safe place for kids to play.
The good thing that differentiates a playhouse from other shade structures is that it can resemble anything. You have to use your imagination and choose suitable materials. Depending on how much you want to spend, you might need some help from contractors, or you can do the building yourself if you know how to use tools properly.
14. Build a Pop Can Structure
Kids love using their creativity, so why not give them the chance to do this when they build their shade structure? Use pop cans and plastic bottles to build your play shelter. For older kids, you can also use bigger pieces of wood to create their own project while still providing them with some protection from the sun.
15. Build a Spoon Structure
If you're looking for shade ideas that are easy to make, try building a spoon structure. You can use wire coat hangers or any straight wire to create the frame. You just need to bend it into a U-shaped structure and then use pliers to twist it together so that it becomes even sturdier.
16. Cover Your Bench with Bushes
One way to get shade if you're short on space is by adding some bushes in front of your bench. This works especially well if you have a small yard or area where people can relax and sit around.
17. Shade and Shelter
These two concepts go hand in hand, and you should think about adding shelters to your property as well. Not only can kids play under these, but they can also use them for parties or other special events.You should always make sure that shelter and shade structures are built according to safety guidelines.
18. Pull Down Shades
If you just want to provide shade for part of your property, you can use pull-down shades. These are basically retractable umbrellas that hang over the surface where kids will be playing. You can adjust them so they fit perfectly and won't blow away in the wind.
19. Colorful Awning
Another affordable option that doesn't require much work is adding an awning with some colorful fabric. Just make sure you choose something eye-catching and add hooks along the side so you can hang it when necessary.
20. Fix Your Current Equipment
If your current equipment needs replacement, consider adding shade structures instead. They'll protect the equipment, and you won't have to worry about the kids getting overheated.
Factors to Consider When Building a Playground Shade
There are different factors to consider when deciding which shading system to go with. If you want the structure to be part of your playground equipment, choose shade structures that will also serve as play structures like huts or lodges.
Shade canopies may also work depending on how much shade you need. However, if you want your playground shade ideas to be purely functional and unnoticeable, go for umbrellas or pergolas. Here are other factors to consider in a playground shade:
Safety
Make sure that the playground shade ideas you're going with are safe for kids. Some designs allow drop-throughs or open gaps where children can get hurt if they squeeze through them.
You also need to ensure that the shade protects your kids from UV rays that can cause sunburns and skin damage. Not to forget to build a stable enough shade so it doesn't shake or, worse, fall on your kids while playing.
Durability
Playground shade ideas with metal posts and beams will last for long periods. Wood may sag if not appropriately strengthened, and fabric can wear out after a few seasons of use. Well, this also depends on whether you're building a temporary or permanent shade.
Size and Shape
For a shade canopy over the benches, choose one that fits the overall design of your playground. You can also opt for interesting shapes like hexagons or octagons if you want to add more character.
UV-Resistance
For the canopy, choose one that is made with heavy-duty nylon or polyester. These materials can resist water and harsh sunlight better than fabric made from cotton or other plant-based fibers that may fade over time.
Cost
Lastly, choose a playground shade idea that won't put a dent in your budget. This will help you get more ROI since the structure would have been used for a long time already.
Design and Style
There is a range of styles and designs you can choose from, including modern, traditional, rustic, industrial, contemporary, vernacular, and a lot more. Some shade structures can also be designed as play equipment like a climbing wall or a see-saw.
Quality and Proper Installation
Along with durability, look for materials that are of high quality. High-density resin and other plastics can withstand harsh weather, and even kids trying to climb on it or run into it.
The best way to make sure that your shade installation will last is by hiring a professional contractor. This should be someone who can precisely install the shade structure to ensure that it will stand strong.
Overall Usability and Effectiveness
Whichever shade and design you choose, make sure that the structure will be fully functional. This means that it should provide enough shade while also hosting activities for kids like reading, socializing, and playing. It would do no good if it didn't serve its purpose at all
Reasons You Should Add Shade to Playgrounds
You should already know the benefits of adding shade to playgrounds because you've probably seen sun blisters on kids' skin before. Aside from this, there are other reasons why you should consider adding shade structures to your play area.
Provides Protection for Kids
The main reason that most parents think about is protection. You can protect kids from the sun's harmful rays and reduce the risk of kids getting skin cancer if you add shade structures to playgrounds.
Prevents Sunburns
Even when kids are wearing sunscreen, it's more than likely they'll still get some exposure on their faces and arms. If you can visualize where they're playing in your mind, place some shade structures in these areas so they can limit their exposure to the sun.
Improves Kids' Moods
Adding shade structures to your playground will make kids happier, too, because you're increasing their comfort level. They won't feel as hot during summer days, which means they'll be more active for longer periods.
Improves Concentration
In the summer, kids may not feel like playing games or concentrating on tests. If you can help them stay in the shade even if they're inside, it will make a big difference when they go to school and play later.
Creates a More Inviting Atmosphere
Adding shade structures adds a lot of value to your property too. Kids will be more likely to hang around when they know their skin is protected and they can stay in the shade longer. Also, parents will feel happier knowing that their kids are healthier when they're in your care.
Protect Your Playground Equipment
In the same way that you should protect kids from the sun, you should also consider protecting playground equipment. Shade can be a big help in this area, and it's a lot less expensive than replacing your play equipment every year due to weather damage.
Increased Playtime
The final reason that you should consider adding shade to your playground is that it can increase playtime. Kids will be more willing to go outside in the summer when they know they're protected from the sun and the heat. Even parents may feel better about sending them out when there are places where they can hide if necessary.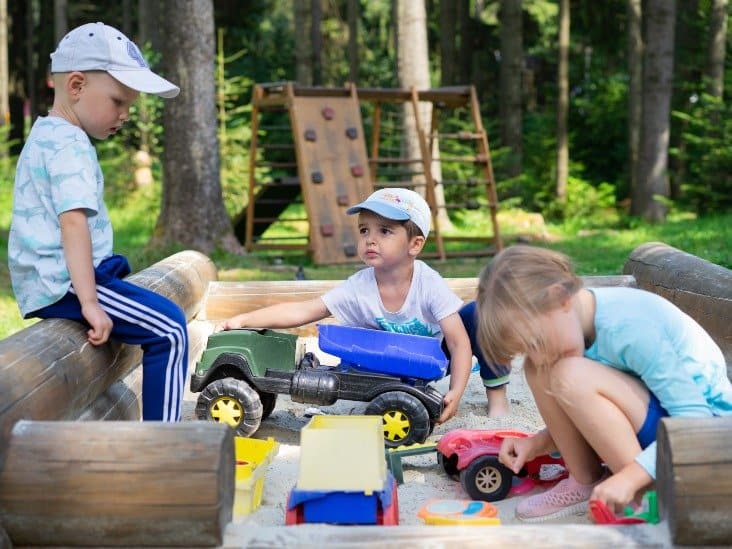 Playground Shade Ideas FAQs
How much do shade structures cost?
The prices of shade structures depend on the size and type. You can find some that are bigger than others and also some that are custom-built for your property.
How many hours a day do kids need to be in the shade?
Kids should be in the shade whenever they're outside during hours past 10 am or 11 am, particularly when the sun is at its strongest. This means you shouldn't have play equipment in direct sunlight from 10 am to 4 pm if possible.
Should I add a shade structure in winter too?
You don't need a shade structure when it's cold out, but it can be useful when it rains or snows in some areas. You should never use them when it's below freezing, however.
Do shade structures protect from the wind?
Adding a canopy over your playground will help reduce wind speeds, but you also need to think about where kids are playing when choosing which equipment to add. If winds are stronger in some areas than others, it may be best to add a canopy in the area where there are no trees or buildings to block it.
What can I use if I can't afford a shade structure?
You may not afford a structure, but you might make your own using tarps and rope to create an overhead covering. This will limit how much sunlight kids get, but it's not as sturdy and will likely fall apart sooner than a more permanent structure.
How big should my shade structure be?
The size of your structure depends on how many kids you'll have playing at once and where they're located in the playground. Keep this in mind when adding it to your property because bigger structures are harder to install, raise, and lower.
What is the best type of shade structure?
The best type for your playground will depend on what you need it to do. A gazebo is a good option if kids play underneath, but a canopy may work better over a play area since it's bigger and more durable.
Bottom Line
Adding a shade in your kid's playground is the best thing you can ever do for your little ones. Not only will they stay out of the scorching sun, but it will also give you time to sit and enjoy as parents. There are a variety of options available when choosing playground shade, so make sure you pick one that will best fit your kid's playground needs as well as their safety.