If you are looking for a playground a little close to home, you might want to consider making your own. It doesn't have to be complicated or complex to be a good playground for your kids.
Believe it or not, you can have your own private playground right in your own backyard in as little as five different steps! Through a little research and some good old fashioned elbow grease, you can have a personalized playground with no commute time that your kids will love.
Want to know how? Just keep reading.
Step 1: Choose and Prepare Your Space
The first step in turning any area into a playground is choosing the right location! A playground should be on a level surface, so you may find yourself having to level your land to create a playground if you live on a hill.
Another thing to look for when choosing the location for your playground is the amount of shade. If you plan on going with metal playground equipment, keep in mind that the metal will get pretty hot if it's directly in the sun.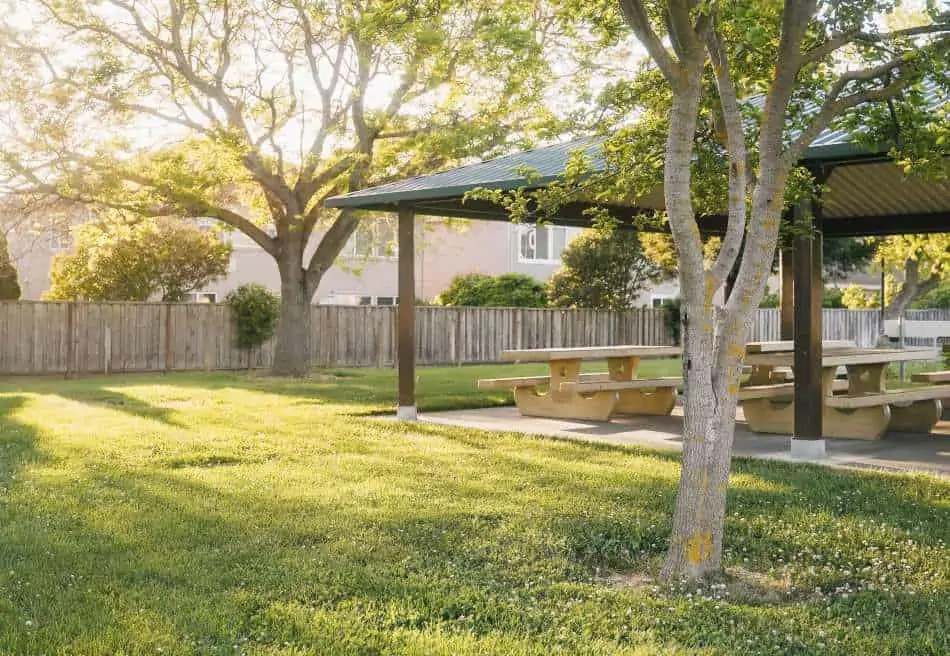 To ensure that your playground is still playable even in the hot sun, consider choosing a location that is shaded by trees. Trees would also shelter the playground equipment from other elements like rain. If you don't have trees to shade your playground, you could put up a canopy to provide the shade you are looking for.
When choosing the location, also try to avoid putting your playground somewhere close to a busy street, near power lines, or any other kind of hazardous elements. It is also a good idea to put the playground somewhere where you can easily keep an eye on everything from inside your house!
Once you know where you are going to put the playground equipment, get started clearing any debris. You want to start with a blank slate so you have unlimited possibilities for your backyard playground!
Step 2: Pick Your Base
Once your space is ready to go, it's time to create the base for the playground. The base is what all of the equipment is set on. It is also usually used in the surrounding area for play. The playground base is also called ground cover.
The base is there to provide a safe and soft place for children to land or fall when playing. There are plenty of options for you to choose from when choosing a base. Some of the most common playground bases include grass, faux grass, rubber mulch, sand, rubber, pea gravel, and wood chips and mulch.
Grass is probably your easiest option because it probably wouldn't require any changes to your yard. Not to mention, it is lush and natural. However, it wouldn't provide as soft a landing as other options. Unlike other options, it also requires regular maintenance, is loved by bugs and insects, and can be pretty slippery.
Faux grass is softer than natural grass and is very low maintenance. You can even wash its surface to clean it and it's not as slippery as grass when wet. Plus, it is wheelchair accessible. However, faux grass can get pretty expensive to install and it does get hotter than natural grass when in the sun.
Rubber mulch is made from recycled plastic, so it is an eco friendly option! It is also a good option because it is nice and cushiony, it doesn't decompose, and it is pretty resistant to the elements. However, it can be tracked inside the house on shoes, possibly poses a choking hazard to younger children, and may smell a bit in hot temperatures.
If you choose to go with rubber mulch, make sure to buy it from a reputable supplier to make sure that it doesn't contain any hazardous contaminants.
Sand tends to be the typical base for backyard playgrounds. It is soft and great at absorbing falls as long as it is a couple of inches deep. Sand also offers another play element with sand-building activities. However, sand might require refilling periodically, can get pretty messy, and is more susceptible to pet waste.
Rubber is slip resistant and comes in a variety of thicknesses so you can find one that best suits your needs. Many consider rubber to be the safest playground base. It is also wheelchair accessible, easy to clean, and involves less rubber-related health concerns than mulch. However, rubber can get pretty expensive.
Pea gravel is a very affordable and natural option if you are concerned about the final price tag. It is also low maintenance and can limit the amount of weeds in the area. However, it isn't as soft and cushiony as the other options. 
Plus, it can easily be tracked in the house on shoes, poses a choking hazard for younger children, and can accidentally hide hazardous materials such as broken glass.
Wood chips and mulch is a very pretty option for a playground base. It comes in a variety of colors, so there is always something to match your landscaping. It is also pretty soft and cushiony, and playground specific mulch has a smaller chance of giving your kids a splinter. 
However, wood chips and mulch can end up being more expensive than natural options like sand or pea gravel. It is also prone to attracting bugs and insects, developing mold, and requires regular refreshing as it loses color and texture.
Step 3: Get the Equipment
This is where things start to get fun! It's time to choose the equipment for your backyard playground!
When choosing the playground equipment for your backyard, make sure you know how much room you have. Measure your space so you know exactly what dimensions you are working with so you can maximize your space.
Now that you know how much space you have, start mixing and matching different pieces of playground equipment until you find the perfect fit. It is important to keep in mind your playground theme (if you have one) and your child's wants, needs, and preferences. After all, they will be the ones using the playground equipment!
There are all kinds of playground equipment available to choose from and, sometimes, you might even find equipment that combines several different activities. 
No matter what you're looking for, there are a few playground staples you may want to consider including slides, swings, climbing equipment, sandboxes, monkey bars, teeter totters, balance beams, spring riders, and an in-ground trampoline.
For example, slides are always a great playground option. Not only are they super fun, but they help children develop coordination, flexibility, and stretching skills. Another playground favorite is swings. Playing on swings can make you feel like your flying while also helping children develop coordination skills and core muscles.
Climbing equipment like jungle gyms, climbers, and rock walls can help children develop muscles, coordination, and problem solving skills. And monkey bars can help children develop hand-eye coordination and increase their endurance.
If you have more than one child, a teeter totter is a great way to encourage them to work on team building. A few other notable pieces of equipment are an in-ground trampoline for a safer jumping activity and a sandbox for sensory and creative play, especially if it's already your playground base!
Step 4: Final Touches
The final touches are a chance for you to get creative! Here you get to add extra elements that make your backyard playground uniquely custom to your family.
For instance, if you want your backyard playground to have a theme such as ocean or jungle, this is the time to unleash your creativity! For an ocean theme, paint your outdoor elements in various hues of blue and find some outdoor decor that depicts ocean animals. Or, for a jungle theme, plant lots of greenery around the playground and find outdoor decor with jungle animals.
Some other final touches that you might want to put on your playground are lights for evening play, benches for relaxing while your children play, and outdoor pavers leading to the playground for a nice backyard transition and to help prevent tracking birth and other outdoor debris inside.
Step 5: Test it Out
Now that your backyard playground is complete, it is time to test it out! However, before you unleash your kids on their brand new playground, it is recommended that you test all the equipment on your own to ensure everything is safely assembled. This prevents any potential accidents caused by mistakes in the equipment assembly.
Go around and ensure that every piece of equipment is secure and anchored to the ground. Also check the different bolts and screws to make sure that nothing is loose and that no hazard debris is left on the playground from unboxing and installing everything.
Once your test is complete, it's time to hand it over to your kids! Now that everything's safe, let your kids get to work testing out the equipment. Maybe even invite some of their friends over some added opinions!
Chances are, all the kids will love having this custom, private playground at their disposal, no matter what activities it offers!