The truth is that it is pretty difficult to predict what your child needs in a backyard space. Fortunately, there is a simple solution to this dilemma: Instead of guessing, ask your child what he/she thinks would be fun.
Kids' needs are pretty simple. They like to run, fly, crawl, walk, climb, and swing in the air. They also love to explore the environment around them, pretend, and build simple structures.
The outdoor space provides your little ones with an incredible platform to explore their imaginations and put their creativity to practice.  They can relax, think, socialize, laugh, and create a wide range of things.
Your backyard could be a significant springboard for your children's potential.
In designing your backyard with your kids in mind, you may be tempted to think that buying the biggest playset with all the whistles and bells will automatically make your kids happy. However, that may not be the case.
Sometimes, it is the simple things that matter.  Therefore, instead of spending a lot of money on sophisticated playground equipment, you can try simple DIY projects that involve your little ones.
In this post, we discuss some of the crafty DIY playground ideas that are relatively easy to implement. Read on to learn more.
1. DIY Hop Stump Jump from Fallen Trees
Do you have leftover stumps from fallen trees? If so, then you have got something that you can turn into an exciting game for your little ones.
With a little bit of creativity and hard work, you can turn the stumps into a refreshing and fun game for your kids.
Full of energetic bursts and balance, a hopping stump jump game provides you with an incredible opportunity to use the fallen tree logs and stumps, instead of doing away with them.
Cut the stumps to the same height (or different heights if you wish) ideal for your kids and let them take turns going over them. You can paint the stumps with different colors to add a little bit of complexity to the game.
Once you have painted the stumps and arranged the logs in order, come up with the rules. Agree on which stumps should be hopped over and which ones should be jumped over. Anyone who breaks the rule is eliminated from the game.
You can place the logs in one row or arrange them to form different shapes to help add to the creativity and complexity that the tree stumps can spark.
2. DIY Sandbox
You can build a simple sandbox to keep your kids happy and engaged. You can even modify your sandbox and cover it so that cats and birds don't turn it into their home.
Older kids can build their "castles" and "cities" in the sandbox and help their younger ones have more fun.
To build a simple sandbox, you will need a power drill, power saw, paintbrush, and sander. You will also need measured pieces of wood (measurements should be based on your preferred size of the sandbox), one piece of plywood, stainless steel door hinges, eight bags of beach sand, sandpaper, screws, and one can of sealant or exterior paint.
To build the deck, cut your measured pieces of wood into appropriate equal pieces and save the scraps. Place the cut pieces side by side on level ground to form a square. Place the plywood square on top of the square and screw through the pieces into each deck piece.
For the hinges, use the scrap pieces and carefully screw them down into one end of each of your braces. You can also place a slightly longer piece on top of the scrap pieces and screw it down to serve as a handle.
Carefully place the deck on the base and install hinges. Ensure the sand, and the seal fills the entire structure you have built. Add some toys to the sandbox and let your kids enjoy it. 
Read this guide for further instructions on how to create a DIY sandbox.
3. DIY Mud Kitchen
The three main things you need to set up a backyard mud kitchen are water, vessels, and dirt.  You will use dirt and water to make mud.
The mud kitchen offers your toddler a place to undertake all the messy activities they love. If you are like most parents and want your kids to spend as much time outdoors as possible, this project is a no-brainer.
To build your own mud kitchen, you will require the following materials:
Wood.
Wood screws.
At least ten pavers.
A sink (you can use bins as an alternative).
Flowers to add a fine finishing touch.
Drain strainer.
To build the mud kitchen, start by making the side table. You can easily create a simple tabletop by cutting two boards in half while leaving four equal-length boards for another use later.
Use scrap wood as the legs of the table. Ensure the table is slightly longer because you have to account for the sink.
If you have acquired an actual sink, it will come with brackets and screws to attach to the wood. Proceed to attach the half pallets to both sides of the main sink table and tighten them with wood screws.
Feel free to add a bottom to the top section of your pallet where you can plant some flowers.
You can leave the side table detached from the main sink table to facilitate easy movement of the parts to different areas of your backyard.
Consider adding some wood screws on each side of the pallet where you can hang your kids' tools and utensils. Then, proceed to make the floor and start enjoying the fun with your kids.
4. DIY Tree Swing for Both Kids and Adults
Does your child love swinging? You don't have to spend a lot of money purchasing a commercial swing set when you can make one yourself.
A simple DIY swing is an excellent addition to your backyard because it can serve both of you.
Some of the materials you will require to construct a DIY swing include sandpaper, five feet of .75 wood planks, wooden beads, polyurethane sealer, two metal rings, braided nylon rope, and a tree swing hanging apparatus of your choosing.
Cut your wood into appropriate sizes. Make sure you have at least eight pieces of wood. Each piece should be at least seven inches long.
Carefully drill holes into the pieces of wood. The holes should be about ¾ of an inch and drilled from the outside of the planks.
Cut your rope into two 10-foot lengths. Use a nylon rope that is rated to carry a significant amount of weight and will not unravel when you thread it through the holes.
Repeat the same steps on the other side of your wood pieces and pull each side of the nylon rope through the holes until you have approximately one foot of the rope sticking out on the opposite corners of the swing.
With that, your DIY swing is complete. All you have to do is adjust the length of the rope to the appropriate height you need and attach the metal ring using the same anchor bend knots.
5. DIY Backyard Ball Run
The DIY ball run is exciting and pretty easy to build. Your children are going to love it a big time. 
You can attach the ball run to your backyard fence or a tree if you don't have a fence. Feel free to set up a base with plywood or something similar.
To build a simple DIY backyard ball run, start by spraying paint on pieces of plastic tubes/guttering and mounting brackets. From there, mount them all to your backyard fence, similar to a marble run.
You can add a few items into the mix to make it more exciting. Some of the things you can throw in include fishing bobbers that make a rattling sound, fishing sinkers, squinkies, and gemstones.  The landscaping rocks will add more color and vigor.
Use a storage container to keep everything together. Your kids will love the project and will always want to go out and play.
6. DIY Climbing Wall
Kids love to climb, and they will adore a climbing wall built in the backyard.
You will need at least four sheets of plywood, pressure-treated wood cut in eight-inch lengths, heavy-duty screws, exterior-grade Phillips head screws, paint in your choice of colors, and rubber mulch.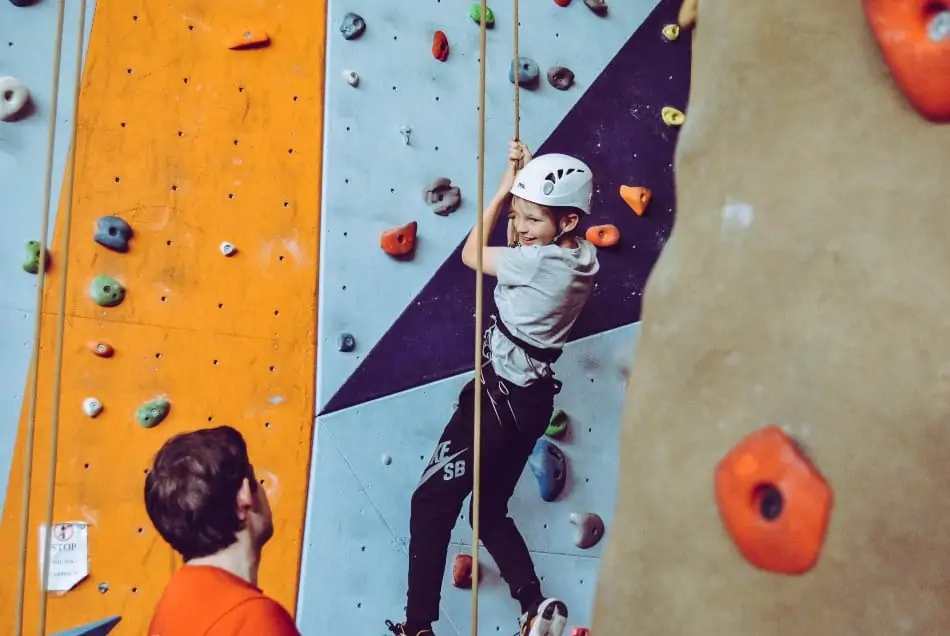 For the tools, you will need a drill, level, paint supplies, miter saw, and a stud finder. Feel free to read this guide for a step-by-step procedure on how to build the climbing wall in your backyard.
You can hook your climbing wall on your fence provided the fence is stable or position it inside your garage. No matter where it is placed, your kids will always look forward to the climbing sessions.
Make it as low or high as possible, depending on your kids' ages and abilities. The most important thing is to ensure the safety of everyone.
Summary
These are just some of the DIY playground ideas you can try at home. There are lots of other ideas that may excite you and your little ones. 
Take time to understand your kids' needs, and we are pretty sure you will find something suitable for them.