Take a moment and think about your good old school days. Other than your favorite teacher, best friend, and favorite subject, what else do you remember? You are probably thinking about the good times you spend on the school playground playing with your friends.
These moments were defined by pushing merry-go-rounds to the limit, speeding down slides, and nearly toppling swing sets.
Although modern kids are bombarded with technology and rarely want to go out and play, school playgrounds still play a critical role in every child's development.  A well-equipped school playground is a crucial component of the learning process.
It engages kids in ways they don't experience anywhere else and opens up their minds, giving them a chance to exploit their creativity and try out new things. While school playgrounds have evolved over the years, nothing much has changed in terms of play equipment.
So, what are some of the recommended playground equipment for school?  Let us find out.
1. Swing Sets
The swing set is a no brainer. In fact, it is almost impossible to imagine a school playground without a swing set because a lot of children love it.
It is one of the oldest playground equipment that dates as far back as the 5th Century B.C. These structures have been around for a long time, and they haven't changed much in terms of what they do.
The swing set remains the most iconic outdoor playground equipment. Without it, no school playground would be 100% complete.
Swing sets are available in both metal and wood. Each material has its own pros and cons, but swing sets still provide so much fun regardless of the material you choose.
Modern swing sets feature different variations of the classic swing set. Most of them are meant to change up the ride and be more inclusive for all players. The different variations include:
Generation swing set
This is ideal for a school where most teachers are aged.
This variation maintains the motion of a traditional swing, but the sitting surface features an enclosed seat for toddlers and an open seat that is big enough for an adult.
The assumption is that the adult will be there to ensure the toddler is safe.
Inclusive swing seat
If a kid isn't ready for the standard bucket swings or belt swing, inclusive swings may be the solution.
These swings are specially designed to provide a safe ride while allowing children to develop body coordination and balance.
They are also designed to accommodate children of all shapes, sizes, and abilities.
Accelerator swing
This is a group swing featuring a relatively big disc for kids to sit on. The accelerator swing works the same way as a traditional swing.  But several children can use it at once. It is also more interactive.
Viper swing
The viper swing features a giant in-line rope that can fit several kids on it. Its sophisticated design also means that kids have to practice cooperation and teamwork to create the right motion.
2. Activity Panels
Activity panels are must-have equipment for every school playground. These play structures promote learning and creative thinking both indoors and outdoors.
Activity panels could feature everything from flying an airplane to puzzles and mazes. Most panels are fit for any playground design. They allow kids to think out-of-the-box and exercise their minds.
Some of the top activity panel features include:
A simple clock to help kids learn about time.
Simple mathematical equations.
Solar system concept.
The sign language alphabet and numbers.
Games.
Finger mazes and much more.
3. Monkey Bars
In its simplest form, a monkey bar features a horizontal ladder carefully suspended above the ground by upright poles. The ladder allows children to hop up and swing from bar to bar, much like a chimpanzee in the wilderness.
Some monkey bars are customized to look like jungle gyms that allow children to climb and swing in different directions.
Although monkey bars are still loved and found in almost all school playgrounds, their original design has been massively updated and altered in many ways.
The modern versions go beyond the horizontal ladder and incorporate sophisticated features to make it more interactive and fun.
Sometimes, you may need more specific terminology to describe a monkey bar so that people can understand what you are talking about.
For instance, if someone talks about a "ring climber," he/she is simply talking about one of the many monkey bar adaptations available.
4. Slides
Only a few school playgrounds don't have a slide in some shape or length. Kids are always excited whenever they race up to the top to quickly slide down and repeat the process.
The adrenaline rush downwards is the perfect reward after all the work the kids put in trekking to the top of the slide.
Just like swing sets, slides have not changed much from the good old days. The only substantive change is that metallic slides are less common than plastic ones.
Even if you have got nothing else in the playground yet, if you have already installed a slide, you have a solid foundation to turn the play area into one of the most exciting school playgrounds.
Some of the common variations to traditional slides include:
Straight vs curved
Although an ordinary straight slide is fun by itself, adding some curvature can take things to the next level.
Most curved slides come in L and S shapes, while others are slightly spiral. Typically, a 360o slide allows children to make one complete rotation before their feet can hit the ground.
Open vs tube
Most tube slides are fully enclosed all the way around, while open slides are designed to allow children to feel the wind in the air.
Open slides are also an excellent option for playful adults. Therefore, you can install them in your backyard for exciting family playtimes.
Component vs free-standing
Sometimes, you can buy slides as additional components for some other existing playground equipment. In other instances, they come as free-standing play structures with their own stairs.  Free-standing slides are commonly referred to as tower slides.
5. See-Saw
The see-saw is another exciting piece of playground equipment that every school must-have.
Also referred to as the teeter-totter or teeterboard, the see-saw consists of a relatively long plank attached to its center to a pivot point which allows children on each side of the board to take turns thrusting up into the air.
Most see-saws are installed over playground sand, mulch bed, or foam padding because a kid could easily get injured if he/she jumps off while in the air.
Teachers must closely supervise kids when playing on a see-saw and have a clear understanding of how to safely use the structure.
An adult must inspect the see-saw carefully and ensure everything is intact before allowing kids on it. Sometimes, a slight mistake on the see-saw can result in critical injuries.
6. Climbers
Most kids love climbing. Whether it is around the house at home or in school, they will always find a way of being a few meters off the ground.  Climbing offers them a great way to build strength while having fun.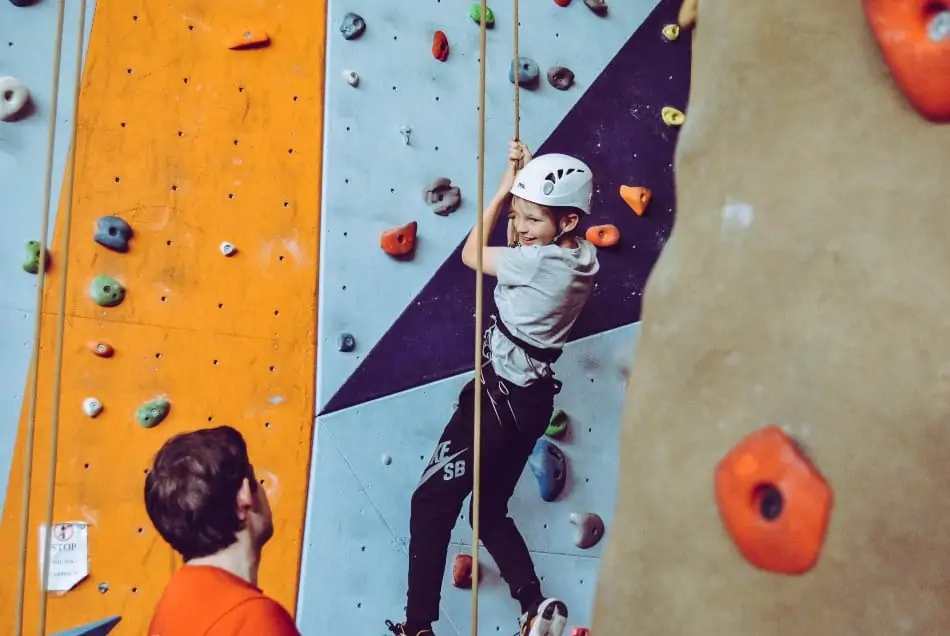 Some climbers are specifically designed for school playgrounds, which help keep the kids active and present them with countless opportunities to grow their self-confidence.
Fortunately, there is no shortage of climbers to ramp up your school playground. Some of the common climbers found on school playgrounds include:
Snake climbers
Snake climbers refer to both horizontal and vertical ladders that feature a serpentine element that presents school kids with a new and more challenging way of entering or exiting the actual play structure.
Wall climbers
Wall climbers feature different play structures that you can find on the school playground. From a stand-alone wall to a conventional wall that can take on a wide range of shapes, wall climbers offer unique benefits kids won't find anywhere else.
Coil climbers
Coil climbers take a spiral shape and give it an extra twist to take things to the next level. A coil climber offers kids much more fun and benefits than your average ladder.
Rock walls or mountain climbers
These climbers are slowly becoming the most common on school playgrounds. Rock walls and mountain climbers allow children to safely scale a unique wall mimicking actual rocks.  They are also relatively affordable and easy to install.
Final Thoughts
You can install many different types of play structures on a school playground to keep kids engaged during recess times. Most of the play structures are just a variation of what we have discussed in this post.
Even though we have highlighted some of the most loved and installed structures, you need to keep in mind that no school playground can have all of them.  
The most important thing is to ensure you have enough equipment to keep all the kids happy and engaged.