For parents with young, energetic kids, building a swing set in the backyard seems like a natural thing to do. A good swing set is a vital part of your home because it provides your kids with endless outdoor fun throughout the year. However, building and installing a swing set isn't an easy thing to do. It takes a lot of time, hard work, and patience than most people realize.
So, what are some of the critical things you should consider before building a swing set?  The most important thing to consider is the exact size of your backyard. Obviously, you need to have sufficient space to accommodate the swing set while leaving room for play. You should also avoid unsafe obstructions, level the play area and choose the surfacing material appropriately.  Ensure you have all the parts and trim foliage around your preferred installation site to avoid leaves and sap falling on the equipment. As long as you know what you want and follow the right process, you will have a fully functional swing set in no time.
If you are a parent looking to build your own swing set, you have come to the right place. In this post, we discuss some of the critical factors you need to consider before building one. Read on to find out everything you need to know.
1. Find Out the Exact Dimensions of Your Backyard
Before you start building the swing set, you need to ensure you have plenty of space around it. Typically, the size of your backyard will determine the size of your playset. Playground experts recommend leaving a clearance of at least six feet around the entire swing set, but there are a few exceptions to this rule.
For instance, you may not need to leave space on the rear end of the beam if there are no other play activities taking place on that side of the playset. However, with swings, experts recommend leaving even much greater clearance around the structure.
Consider leaving clearance space twice the height of the swing set from the ground to the beam supporting the swings. So, if this height is five feet, you should leave clearance space of at least ten feet around the swing.
You should also ensure that the traffic patterns of the playset work perfectly. The set needs to dump children in an open area and not in front of the ladder or swings. Size it according to the age of your children because a too-big structure can be quite dangerous.
2. Know What You Want
After measuring your backyard and understanding the exact size of the swing set you can build, you need to figure out your needs. What exactly do you want? How will it benefit your kid? How long do you want the swing set to serve you?  What material should it be made of?
Keep in mind that there are a wide variety of materials your swing set can be made of as well as other accessories you may decide to add onto it. Things such as climbing surfaces, slides, and swings must be put into consideration.
The best way to establish what you want is to involve your kids in the entire process since they are the ones who will be using the structure.  Ask for their preferences and see if it makes sense.  If they need something that you think isn't good for them, find a way of making them understand why it is not good.
Consider building a wooden swing set because it is relatively easy to maintain and lasts longer since wood doesn't rust. It also looks much better than a metallic set.
3. Decide on the Type of Mulch to Use
When building and installing a swing set, you need to keep the safety of your kids in mind. The safest swings usually have a mulch bed under and around them. While some people prefer replacing mulch with wooden chips, the disadvantages outweigh the advantages.
For instance, wood chips need to be replenished constantly to maintain their resilience, although they are relatively cheaper than mulch.
Rubber mulch is always a good option because it will maintain the safe fall characteristics for longer. Consider installing a strong weed barrier before building your swing set and adding mulch.
The primary function of the weed barrier is to allow water to drain from the play area much faster. Install the swing set on the solid ground first before you fill in with rubber mulch under and around the structure.
4. Check to Ensure You Have all Parts
Nothing can be more frustrating than spending an entire day assembling and building your swing set only to discover that one part is missing or damaged. Due to the project's complexity, it isn't surprising to run into unexpected trouble with your kit.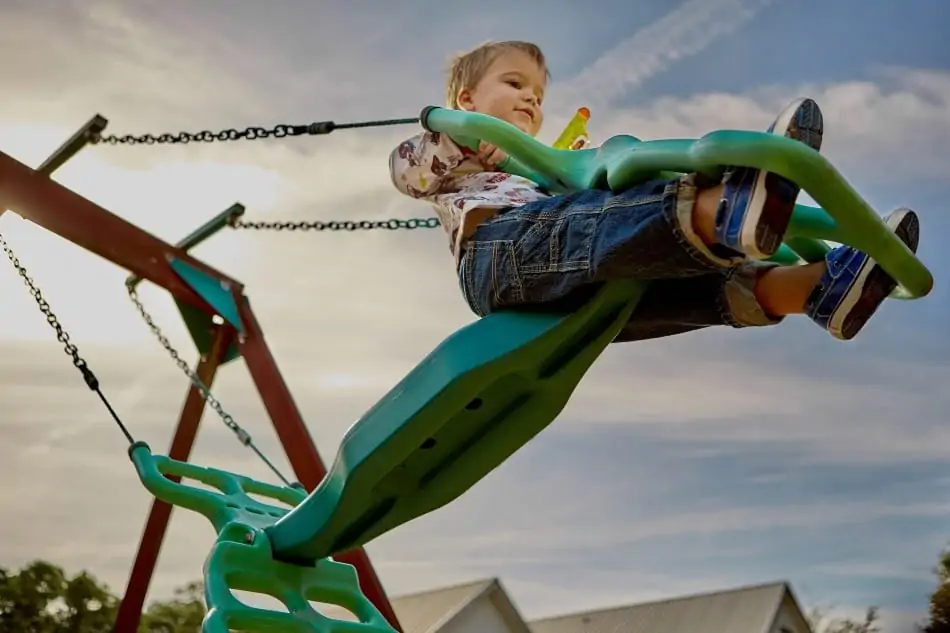 When you receive your set from your supplier, take time to inspect everything and ensure that you have received all parts as described in the assembly instructions. You should also ensure everything is in perfect condition. If anything doesn't seem right, ask for a replacement or another complete kit.
For instance, a slightly cracked wooden beam may seem okay to you, but it will pose a serious safety hazard if it is meant to be used as the load-bearing beam. Don't assume anything, no matter how small it seems.
5. Find the Right Placement
Another important thing you need to consider when building and installing your swing set is the right placement.  It is critical to find the perfect spot in your backyard.  Consider the following tips when choosing the ideal spot for your swing set:
1. Find a clear area
As mentioned earlier, make sure you have at least six feet of clearance around the entire swing set. Playground experts suggest having even greater clearance for swing sets. Six feet is the bare minimum.
2. Level the ground
Ensure you are building the swing set on a level ground free of potential hazards such as rocks, bricks, overhead branches and cables.  You should also avoid building your swing set on hard surfaces such as concrete or asphalt.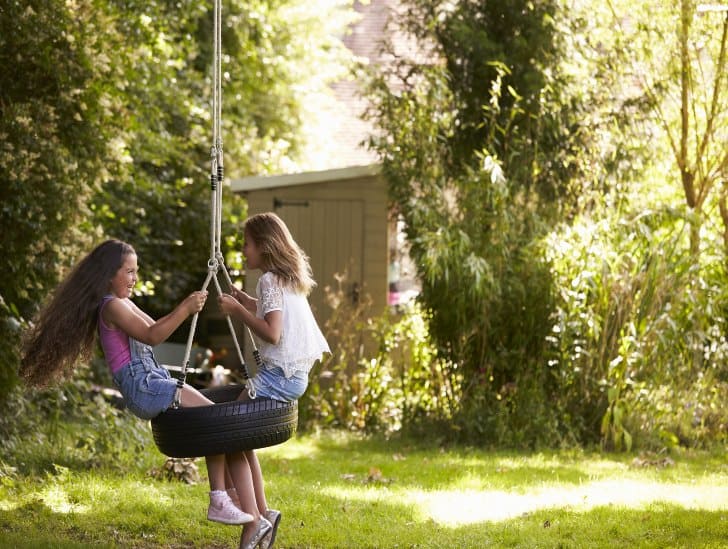 3. Check the orientation
You need the right orientation to achieve the best results.  Consider visibility of the swing set from your house windows when deciding which direction the structure should face. It is always a good idea to carefully plan the general layout of your swing set for safety reasons.  A slight mistake during installation can be quite costly.
4. Avoid sun
Even if you choose to build a wooden swing set, you will still have a few metallic parts on it. These parts can become extremely hot and dangerous to your kids when exposed to sunlight.
Therefore, position your swing set out of direct sunlight. Make sure slides and other metallic parts of your playset face north so that they receive the least amount of direct sunlight.
5. Trim Foliage
It is always good if you don't have a lot of foliage and leaves falling around your swing set to help keep it in good condition. So, trim all trees hanging above the area where you would like to build the swing set.
Controlling the amount of sap and leaves falling on the swing set minimizes the need for regular cleaning and maintenance. It also enhances safety because you can easily spot potential safety hazards on the ground.
6. Decide Whether You Need Professional Assistance or Not
The truth is that a lot of parents enjoy the prospect of building something for their little ones, but you need to make that decision carefully. Sometimes, a complex swing set with multiple features can have hundreds of parts and relatively complex assembly requirements.
Not everyone has the skills, technical know-how, tools, and experience needed to build or install such a swing set. Guessing things could compromise the structural integrity and safety of the playset.  If you decide to proceed without the help of an expert, you need to be absolutely sure of what you are doing.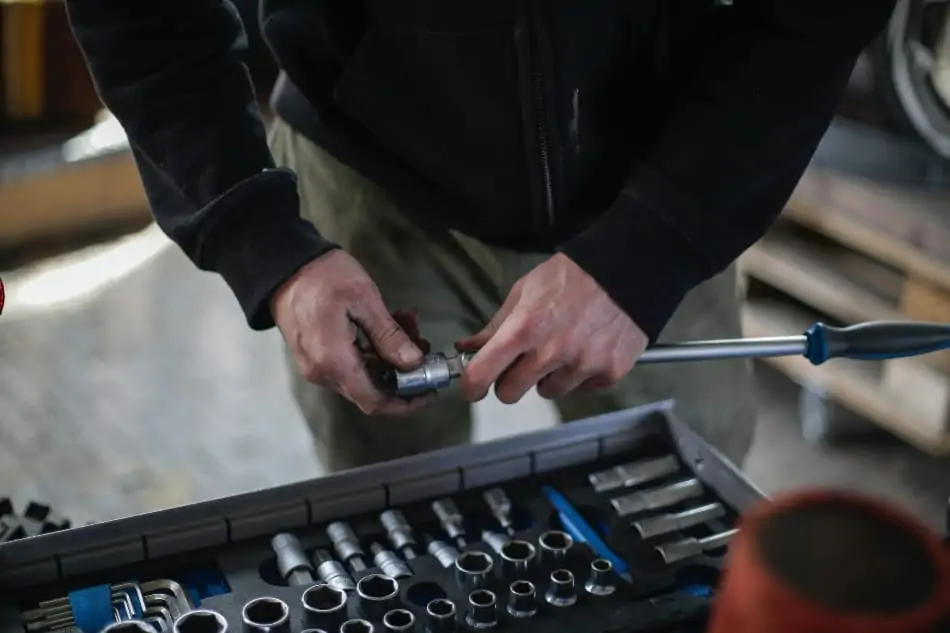 Take time to evaluate your competencies to establish if you are the right person for the job. If you feel like you are committed to getting your hands dirty and know how to proceed, no problem.
However, if you don't know what to do, be sure to hire a professional installer to handle the job. You can stay by his/her side and learn a few things that can help you undertake the project on your own in the future.
Final Word
Building a swing set for your kids in the backyard is a fantastic idea. However, you need to make sure that you have what it takes to set it up correctly before you embark on the project.  Find the right equipment, a perfect spot in your backyard and install it safely.
After the installation, inspect it regularly for loose bolts, anchors, wear and other issues. If you discover any problem, have it repaired promptly. 
We hope you found this article interesting and you now feel ready to build your own swing set.