For many kids out there, a backyard playground is a dream come true.
Owning playground equipment at home provides your little ones with an incredible opportunity to explore, learn, and improve their physical, mental, and emotional skills every day without ever leaving home.
As they play and learn, they burn energy and create lifelong memories on the slides, swing sets, and monkey bars. It is also the best way of encouraging them to utilize their imaginative minds, discover their strengths, and work on their weaknesses.
However, the benefits of owning playground equipment at home go beyond the happiness parents see their children experiencing while playing.
In this post, we highlight some of the top benefits of owning playground equipment at home. Read on to learn more.
1. Enhanced Safety
Typically, you take your kids to the local playground so that they can enjoy quality time and play with their friends. However, they may be exposed to a wide range of safety hazards that may endanger their lives.
Converting your backyard into a playground allows you to have much more control over your children's play environment. Since you are in charge of everything, you minimize the risk of injuries by ensuring everything is in good condition.
Within community playgrounds, your little ones may suffer bruises or cuts while using a slide or struggling with the other kids to get on to the swing set. They may also contract diseases and other infections due to compromised hygiene standards.
In extreme cases, your child may get lost on the playground if you don't keep a close eye on him/her.
However, having your child close to you makes it quite easy to mitigate some of these risks. Furthermore, you get extra motivation to maintain your playground equipment in great condition so it can serve you for many years.
2. Increases the Sense of Community
One of the most disgusting aspects of modern life is that people don't like socializing with their neighbors as it used to be. In the past, families spent quality time with their neighbors out of necessity. It was like a routine. Knowing your neighbor could save your life at some point.
However, things have changed in the modern world, and people no longer want to meet and spend time together. It is not surprising to come across people who don't know their neighbors.
Sometimes, it is understandable because individuals have to feel like they have a reason to invite their neighbors over. Owning playground equipment at home gives your kids an opportunity to get to know their neighbor kids easily, bringing different families together.
The interaction increases a sense of community and makes the neighborhood a safer place for everyone. Constant interaction with other families within the neighborhood keeps the bad guys at bay.
People who know and interact with each other can look after each other and come together during hard times. Most of the interactions start with kids playing together.
3. Increased Convenience
A backyard playground eliminates the need to drive to a commercial playground whenever you want to get your children outside. You can save on the gas and enjoy peace of mind as your little ones enjoy themselves in the safety of your own backyard.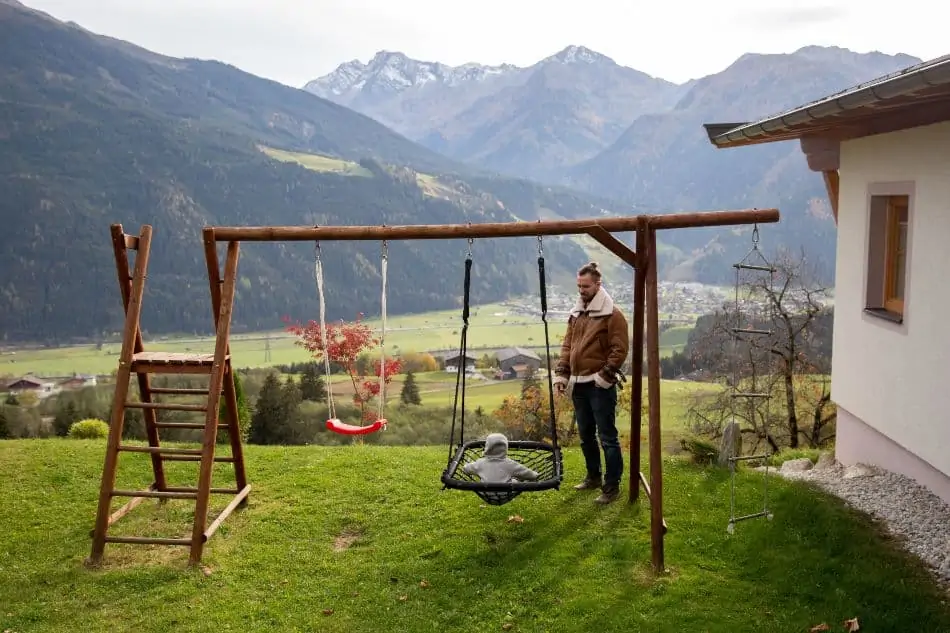 Better still, other than sitting on a park bench and waiting for them to get tired so they can jump into the car and allow you to drive back home, you can take care of other important tasks such as gardening or even cooking while they play.
You can occasionally pop your eyes on them to ensure they are not engaged in dangerous activities.
4. Kids Enjoy a Personalized Play Area
When you choose to have your own playground, the options can be staggering. You can choose different materials, shapes, colors, and other options that truly personalize the playground to suit your kids' needs.
You can match your playground colors with those of your house and assemble metal, wood, and plastic play structures with much ease. Most of the customizations will depend on your budget and the activities you want to feature on your home playground.
Although wood offers the most options, the other materials can work perfectly as well. Once you are through with the installation, you can take time to test every structure and ensure everything is in good condition before you allow your kids on the playground.
By handling most of the work by yourself, you enjoy a feeling of satisfaction and pride, knowing that you made your kids something memorable.  With a playset in your backyard, your home becomes a focal point for the local area making your kids proud of you.
5. Emotional Development
Kids are naturally predisposed to playing. Therefore, playtime is a natural aspect of their daily lives. Having a playground in your backyard makes it much easier to awaken the play instincts.
Furthermore, you need to keep in mind that kids have a relatively smaller emotional capacity than adults, and they can get frustrated pretty easily.
It means your little one may come home from school upset or feeling withdrawn, and you need to find ways of uplifting their mood. Having a nice playground at home where they can relax provides them with a good platform to release the frustrations and feel better.
The playtime can be an icebreaker because you can interrupt your kid in the middle of play and ask them what is bothering them. Such interaction creates a conducive environment for your little ones to talk about their daily challenges and frustrations.
In the long run, your kids may start to associate the home playground with a nice place for light reflection, helping them process different life situations better and develop emotionally.
6. Quality Time with Your Family
Depending on where you live, the nearest commercial playground may be several kilometers away from your home. It means that every time you want them to enjoy quality playtime, you have to bundle them in the car and drive off.
While it might seem like a good thing to you, there is a possibility of your kids arriving at the playground when exhausted, limiting their ability to play.
But when you have playground equipment at home, you don't have to waste your precious time driving for many miles to spend time on the playground- you can do it right at home. 
You can involve everyone in the play to strengthen the family relationship and bonding.  Privacy isn't an issue because you are in your own compound.
Furthermore, there is no overcrowding, and your children can enjoy as much time on play structures as they want—no pushing and scrambling for positions which makes it safer and enjoyable.
7. Teaches Your Children to Play Alone
Just as important as it is to learn social interaction and how to play with other kids, learning to entertain oneself and be satisfied is a wonderful skill your loved ones need to learn.
Whether your kid is the only child in the family or is the youngest, a backyard playground provides him/her with a wide range of activities to keep busy.
Displaying independence and self-satisfaction at a tender age is a good indication that your child can continue to nurture the skill as he/she grows up.
8. Encourages Physical Activity
With all the digital devices readily available to kids today, it is crucial to instill a love of movement and physical activity in them.  The outdoor environment provides them with enormous benefits you cannot afford to ignore.
If you don't get your kids outside, they will spend a lot of time watching TV, playing video games, or browsing the internet, which isn't a good thing for them.
A simple backyard playground will get your children out of the house every day for many years to come. This is a wonderful way to make them exercise and engage in physical activities voluntarily.
The benefits that play structures such as swing sets, slides, and monkey bars offer may even be greater than what they get at school, with school recess times becoming shorter in recent years.
9. Creates a Sense of Homeliness
The other benefit of a backyard playground that is perhaps overlooked is the sense of homeliness it creates.
By owning playground equipment at home, you make your children's world "smaller." It means that your kids can associate the home with their parents, family, and playing. Once you add the aspect of play in the home setting, you eliminate the need for countless trips to a community playground.
This makes your home a much bigger aspect of your kids' lives. Furthermore, installing a playground in your backyard increases the chances of interaction and bonding within the family since you can join your kids during playtime.
This leads to better communication between you and your children while fostering the right environment for growth.
Final Thought
The truth is that owning playground equipment at home offers many benefits to your kids' physical and emotional stability. And it is not just about your children.
A home playground can benefit your sanity and help you create strong family relationships.
If you haven't bought a few play structures and installed them in your backyard, do so today and start enjoying the many benefits that a home playground offers.