Most people have fond memories of playing on the playground when they were children, either at school or in the local park.  No matter how many years have passed, you can likely still remember the thrill of swinging on the swings or methodically bouncing up and down on the seesaw. Until recently, those were activities that could only be relived in your memories or through watching your children.
The good news is that adult playgrounds are making an appearance.  In 2012 New York City opened the first-ever adult playground (Source: NY Times).  The playground was opened for both physical and social aspects and is equipped with all the toys you remember as a child only in an adult form. 
In this article, you will learn about adult playgrounds, why they are gaining popularity, and the equipment that is available to put on an adult playground.
Adult Playgrounds
Some people may shake their heads at the thought of an adult playground while others are thrilled at the option and cannot wait to relive their childhood again. Not only are adult playgrounds nostalgic, but they are also a great way for adults to become more physically active. Adult playgrounds are popping up all over the world, and each one is unique.
Adult playgrounds were created to help adults become more physically active while providing a social atmosphere for adults to gather and connect.  But you may be wondering what exactly you will find when it comes to adult playground equipment. 
Playground Equipment
When it comes to adult playground equipment, you can expect some of the throwbacks; however, you will notice the equipment is geared toward physical fitness. 
Some of the most common pieces of equipment are:
Plyometric steps
Chin-up bars
Skywalkers
Horizontal Ladder
Hip station
Abductor Station
Leg-Press Station
As you can see, most of the equipment is focused on functionality and not necessarily the fun of just playing, but an adult playground is a fun and free way to get your daily workout in – weather permitting, of course.  
How Does the Playground Equipment Work?
One intriguing thing about adult playground equipment is the uncanny resemblance is has to pieces you will often find in a gym.  The difference is the durability and weather-resistant material it is made with. 
The following list tells you a bit about each piece of equipment and how it can be utilized in an adult playground:
Plyometric Steps: Whenever you see anything described with the prefix plyo– you can guarantee that your legs are going to get an intense workout.  The plyometric steps will allow you to work on strengthening your legs with a stepping motion.  In a gym setting, you may do the same exercise with blocks or even a step machine. Typically, the plyometric steps will be stationary, so you are the one exerting all the effort.
Sit-up benches: You guessed it, sit up benches are for doing sit-ups.  Typically, they are slightly inclined to provide more intensity to the average sit-up.  You will either see these as single or double benches in the playground.
Chin-up Bars: There are many variations to this piece of equipment, but all serve the same purpose: to build upper body strength and endurance.  Some parks will choose to install a one bar chin-up apparatus, while others will opt for a more advanced version with multiple bars at varying levels.
Skywalkers:  This piece of equipment is a fun way to get an elliptical-like workout while you are at the park.  It looks like the large elliptical machine you are familiar with at the gym, but it is much more simplified.  There are two footrests and handles to help move your legs. You can get both an upper and lower body workout at one time. 
Horizontal Ladder: Just think monkey bars, and you know exactly what this is. The one noticeable difference with the horizontal ladder is the width of the bars as well as the distance between each bar.  Remember, these are built specifically for adults, so they are spaced accordingly.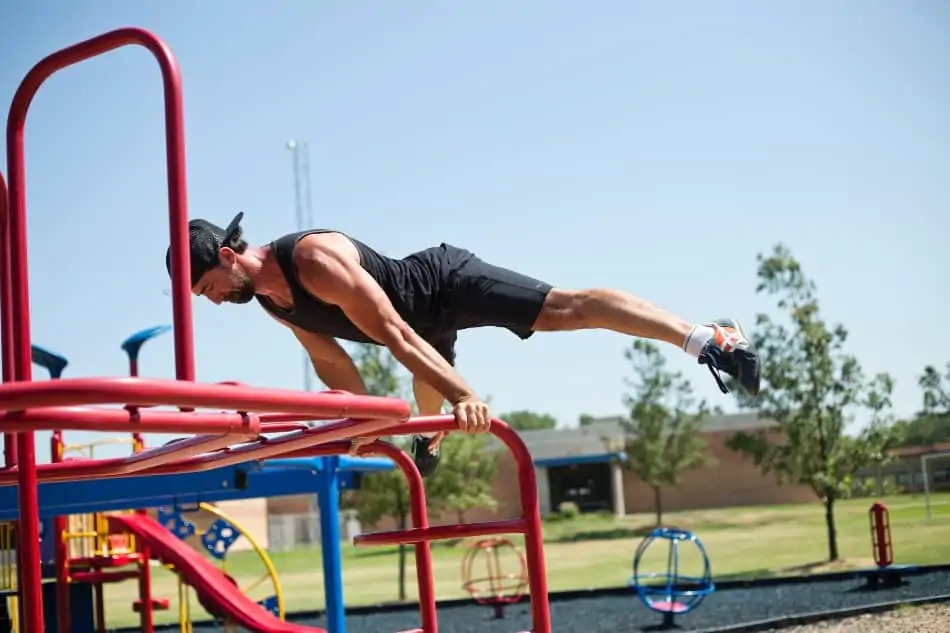 Hip Station: A hip station is a machine that will help you work our hips and outer thighs.  It is like the hip abductor machine at the gym.  This machine typically comes to accommodate two people at one time, so you can get in a workout with a friend if you want to.
Abductor Station:  This is a machine that also works your hips, except it works the inner muscles.  Typically, this machine is outfitted for one person at a time.
Leg-Press Station: Picture the leg press machine at the gym, where you sit at an angle and press weights up with your legs.  This machine serves the same purpose; however, it is made for two people so you can press against the weight of the other person.  Not only will you get in a workout, but it can be entertaining, too!
Slides: You are certainly familiar with the slides from your childhood playground and the burns that came along with them if you slid down on a hot day. The only difference with the adult version is the height and length, and they are not for kids.
Swings: The swings that you will find on adult playgrounds are like you remember only built for larger bodies. 
As you can see, there are many options when it comes to adult playgrounds, and there is likely something for everyone that wants to spend time at one. 
(Sources: AAA State of Play and Goric)
What is the Equipment Made From?
Adult playground equipment, like children's playground equipment, is made to withstand all types of weather so that it can be used year-round. The equipment is typically made with heavy-duty steel that is covered with a colorful plastic coating.  There may be portions of the equipment that are made with heavy-duty plastic as well. 
Why Adult Playgrounds?
Adult playgrounds recently made their way to the United States but have been popular locations in many European cities for many years.  The premise of the adult playground was to increase the activity level of older adults by providing them a fun atmosphere that was safe and enjoyable.
Cost
Many people choose not to join a gym simply because the cost is too expensive. Unfortunately, this also means that many people end up with rather sedentary lifestyles, which can lead to obesity and other health-related illnesses.
Adult playgrounds provide an opportunity to enjoy a workout that is as intense as you choose to make it.  Most of the equipment is weather-resistant, which means it can be used year-round if you are up for a cold-weather workout.
Accessibility
The adult playgrounds are typically centrally located, so they are easily accessible by everyone.  Often, people that are passing by when taking walks or doing other types of cardio can easily stop for resistance training.  The parks are meant to be accessible, so more people will have the opportunity to use them whenever they wish to do so.
(Source: BBC)
Final Thoughts
Adult playgrounds are not something new, but they do provide new and exciting ways for adults to work out and socialize in a setting that is not as structured as a gym.  They are also cost-effective and efficient since you can likely stop by as you are taking a stroll. Not only do adult playgrounds make you feel like a kid again, but they help support a healthy lifestyle as well.