Toddlers grow so fast. One minutes they're a tiny baby and the next, they're headed off to school!
This stage in their growth is super important. They will be developing skills at a very high rate and it is important that you not only encourage their growth, but give them space to continue developing their skills.
Both indoor and outdoor toddler playgrounds have different benefits and variations, but indoor playgrounds seem to be the way to go for toddlers. And just like outdoor playgrounds, you can have one right in your home or go to public indoor playgrounds so you toddler can reap all the important benefits!
Benefits of Indoor Playgrounds
There are a ton of benefits to indoor playgrounds. For one, you don't have to worry about whether getting in the way of playtime. If you only rely on an outdoor playground for playtime with your toddler, you usually have to wait for clear, sunny weather to be able to play.
Not to mention, rain, wind, and sun can wear down outdoor playground equipment over time. Outdoor equipment usually needs regular maintenance for this very reason.
Another benefit to indoor playgrounds is that they have a lower risk for injury. It's fairly common for indoor playgrounds to be more padded than outdoor playgrounds. Plus, there's less of a chance of your child slipping in rain, burning their hands on hot surfaces, or getting exposed to harmful UV rays from the sun.
The best safety feature of indoor playgrounds is that it is closed off so it is much easier for parents to keep a watchful eye on their toddlers!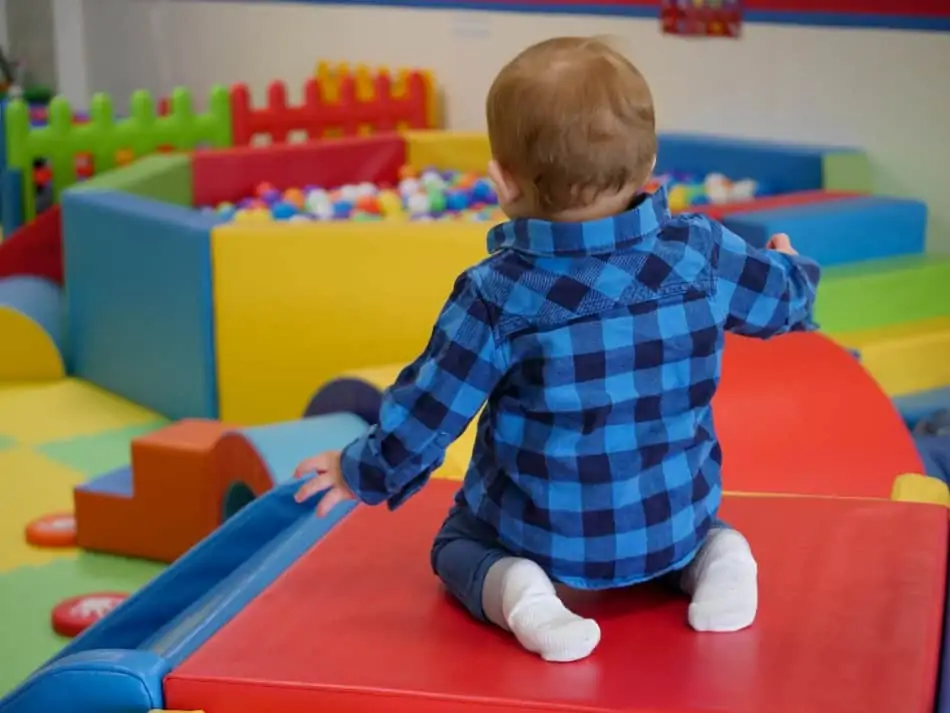 Indoor playgrounds also offer several benefits for skill building. Just like any kind of playground, indoor playgrounds are great for helping children to build important motor skills. When equipment is made specifically for toddlers, their playtime will double as skill building for the specific growth phase they are in.
Other skills that indoor playgrounds build includes creativity and socialization. During playtime, toddlers are able to use the full range of their imagination and playground equipment just gives them the space to do so.
And, when toddlers play with other children on an indoor playground, whether it is strangers at a public playground or with friends or siblings at a home playground, they can begin to develop important social skills such as communication, teamwork, and patience.
Public vs. Private Indoor Playgrounds
Now that we have convinced you of all the amazing benefits of an indoor playground for toddlers, it's time to discuss the pros and cons of public and private indoor playgrounds.
The Pros and Cons of Public Indoor Playgrounds
When it comes to public indoor playgrounds, there are several benefits including socialization for your toddler with people who do not live in their house, all kinds of different equipment for them to discover, and that fact that it doesn't cost you any money to set up or keep up.
However, they also come with a variety of drawbacks. Public indoor playgrounds usually cost money to enter, so they could become pretty expensive over time. However, you won't have to worry about this if you find an indoor playground with free admission!
Some other cons of public indoor playgrounds include extensive playground rules and the fact that play time can be restricted depending on the hours of the venue.
The Pros and Cons of Private Indoor Playgrounds
Private indoor playgrounds are great for numerous reasons. First, an indoor playground in your own home allows you to customize it to meet you and your kids' needs. It also gives your child the opportunity to play any time they want to! No need to worry about facility hours or rules.
Not to mention, supervising your child would be super easy since there aren't any strangers coming and going. You could even do some household chores while your toddler enjoys their indoor playground!
Finally, as your child grows, indoor playground equipment can easily be changed out or upgraded to suit their needs.
There are only drawbacks to having an indoor playground. First, having an indoor playground in your own home may limit your space. You may not have room to include all of the equipment that you want.
Second, setting up an indoor playground in your own home could get pretty expensive. If you find that you are on a budget, you may be limited to only one piece of indoor playground equipment.
Equipment Types
When it comes to indoor playground equipment, there is a wide variety for you and your child to choose from!
Classic Playground Equipment
First, there is classic playground equipment. This is the kind of equipment you think of whenever you picture playgrounds. This could include swings, slides, jungle gyms, sandboxes, climbers, and so much more.
Most outdoor playground equipment is available in an indoor version! Indoor versions of classic playground equipment are usually made out of different materials and come in more indoor-friendly sizes.
Some materials they are made out of include durable plastic, wood, or metal. And every single piece of classic equipment that you could think of comes in toddler-friendly sizes. The best part is, classic playground equipment can be easily assembled and disassembled as needed.
Soft Play Equipment
The next kind of indoor playground equipment you may find is soft play equipment. Not only is this a popular choice for indoor equipment because it's clearly safer, but it's also great for toddlers whose motor skills are still pretty wobbly.
With soft playground equipment, there are no hard spots or bumps that you have to worry about your child falling on during play time. And if they do fall, you can rest assured that the fall will be cushioned, leaving your toddler unharmed.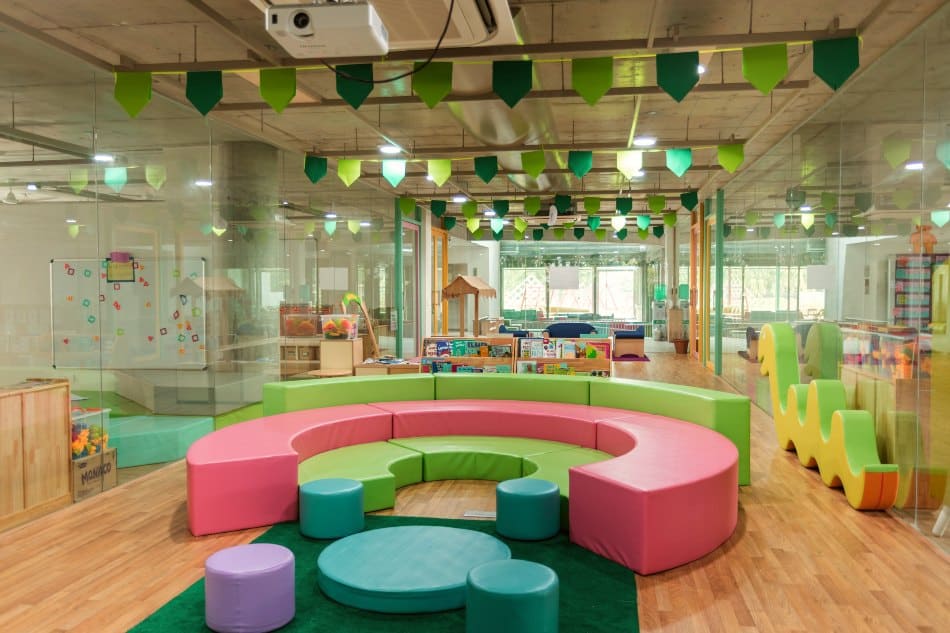 Another benefit of soft play equipment is that it encourages your toddler to learn problem solving. Soft play equipment can be very mentally stimulating for toddlers, especially when coupled with activities like stacking or understanding shapes.
Soft playground equipment is also excellent for creating obstacle courses for toddlers. Obstacle courses not only keep your toddler busy, but they also help them develop even more motor skills, as well as problem solving.
Finally, soft playground equipment is wonderful for helping toddler develop sensory skills. Obviously, soft playground equipment is pretty soft which encourages toddlers to touch and feel the various surfaces in their play area.
Not to mention, when all of the pieces of equipment are coordinated for sensory skills, bright colors, varying textures, and activities such as a ball pit provide even more sensory play time.
Tunnels and Crawl Spaces
Some more great equipment for indoor playgrounds are tunnels and crawl spaces. These seem to always be a go-to for indoor playgrounds, especially if you think about the play areas in your favorite fast-food chains.
Tunnels and crawl spaces give your toddler a great interactive way to explore their area. And when in an indoor playground, you don't have to worry about things like the weather or animals affecting the safety of a tunnel. Plus, there are pop-up tunnels available to save space and make clean up easier in indoor play spaces.
Playhouses
Finally, the last piece of equipment that is perfect for an indoor playground is the age-old playhouse. Play houses are always a favorite in any kind of play areas, not only indoors.
There are all kinds of play homes available in many different styles with many different featured activities. Sometimes, you can even find tunnels that connect to playhouses for a fun and adventurous playground experience. These are also usually easy to assemble and disassemble.
Plays, playhouses are a great place for your child to let their imagination run wild! In playhouses, children usually engage in imaginative role play. And when they do this with other children, this is also a great social skill building activity!
As you can see, there is all kinds of indoor playground equipment available to suit any family's requirements and toddler's developmental needs.
Conclusion
Indoor playgrounds for toddlers are a great way to help them easily develop the skills they need to grow. You should definitely give an indoor toddler playground a shot if you live near one.
And if you are interested in creating one in your own home, your toddler will benefit greatly from having an age appropriate space to play.
You may be interested in buying larger equipment for older children so your toddler can "grow into it," but there's no telling how long it will take for your toddler to be able to use it. 
Not to mention, they aren't reaping any benefits from playground equipment that they can't even play on. That means that they won't be developing the important skills that the playground was built for.
Finally, building your own indoor playground means your child can develop at their own pace all throughout the year, no matter the day and no matter the weather. Not to mention, you can't put a price on all the memories you and your child will make on that indoor playground!4