Children playing inside the house was so rare three or four decades ago. They would always go outside and spend time playing with their friends. However, things are quite different today. Many children prefer to stay indoors and watch television, play video games, or use the computer. It is not easy to convince them to get outside and play. In fact, research shows that more than 43% of modern kids prefer staying indoors and playing with technological devices instead of getting outside and enjoying the fresh air.
So, what can you do to encourage your children to play outside? If you want your child to get outside, consider getting Involved. Take your children to the park or playground and play with them. Show them how fun it is to be out in nature and tell them interesting stories. Plan outdoor activities with your child regularly. You can also organize group playtime for your child and his friends. Teach them games like tag or hide-and-seek that they can enjoy outdoors. Make outdoor activities more attractive by providing special equipment, such as bikes, kites, scooters, and other toys. Ensure the equipment is appropriate for your child's age and skill level.
This blog post outlines some tricks you can use to encourage your little one to get outside and play. Read on to find out everything you need to know.
Importance of Outdoor Play
Before you start coming up with ways to get your child outdoors, it is important to understand why it is so necessary in the first place. Outdoor play offers numerous benefits for kids, such as physical and mental development.
Outdoor activities can help children develop their motor skills, improve hand-eye coordination, and enhance balance and agility. Simply running, jumping, and climbing helps them learn different physical abilities.
Moreover, being outdoors allows them to practice social skills, such as negotiation and problem-solving.
They can learn how to make friends and build relationships in an exciting environment. Playing outside is also associated with improved memory, cognitive abilities, and creativity.
Lastly, being outdoors helps children develop a better understanding of nature, which is important for their long-term well-being.
How to Encourage Your Child to Play Outside
So, what can you do to encourage your little ones to get outside and engage in physical activity regularly? Here are some tips to get you started:
1. Get Involved
Let us face it: Your kids feel secure and comfortable when you are around. That is why they may be hesitant to go outside on their own. They feel like nobody will watch over them, and anything can happen to them.
However, you can change their perception of outdoor play if you get involved and go outside to play with them.
Take them to the local playground, kick the ball around, or splash in the creek. Have fun and let them see you enjoy yourself. Ask them what they like to do outdoors instead of yelling at them and throwing blanket instructions.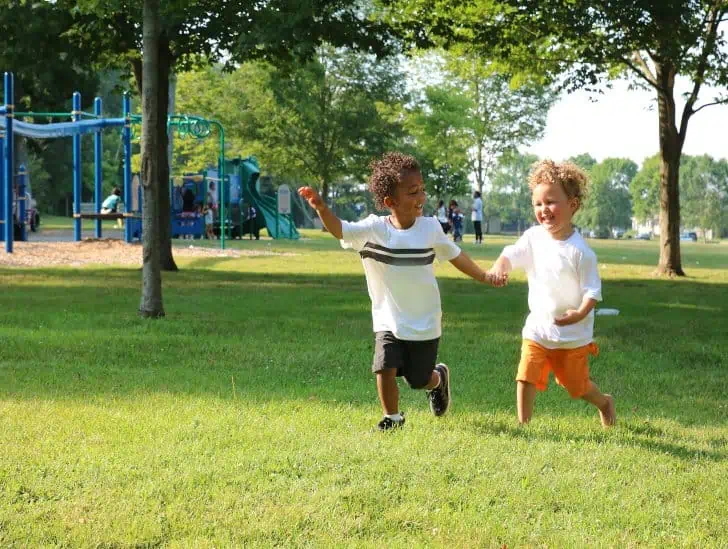 One strategy that may work best for you is to create a summer bucket list. The strategy involves brainstorming an endless number of outdoor play ideas at the start of summer and writing them on a piece of paper.
Once you are done, tape the paper on the wall as a reminder. Every time you go out, pick one of the activities from the list and do it.
Your kids will look forward to playing outdoors when they know something new and interesting awaits them. It is also a great way to get your children used to the idea of going out and having fun.
Another strategy is designating a day or two for outdoor family adventures. Each family member takes turns deciding on the outdoor activity, and you all can get together and do it.
Even if your kids are not 100% on board, they will still be more likely to go out when it is a family affair.
2. Organize Group Play Time
Another great way to encourage your kids to enjoy the outdoors is by organizing group playtime for them and their friends. It can be a great experience for all children, especially those of similar age.
They will have more fun playing with others and may even help build better relationships.
Organize games like tag, hide and seek, or dodgeball involving running, physical activity, and social interaction. Don't overdo it with rules and regulations to ensure kids have fun.
Also, create a specific outdoor area for them. This will give them enough room to move about freely without worrying about getting in trouble for going too far.
3. Provide Special Equipment
Sometimes all you need to do is provide special equipment to make outdoor activities more attractive. Buy bikes, kites, scooters, and other toys appropriate for your child's age and skill level. Take them to the park or beach and let them explore their new toys in a safe environment.
4. Provide Safe Plays to Play and Explore
Safety is always critical in determining how willing your kids are to embrace outdoor play. Are you okay with sending them outside and not bothering to hear from them all day? Is your space safe enough for them to explore things on their own and let their imagination run wild?
Generally, your children need to feel safe to enjoy their outdoor adventures. Unfortunately, they can't feel safe if you constantly give off the "you are not safe outside" vibe.
If you are always concerned about their safety, you need to work on your fears of the outdoors. Or designate a playing area within your backyard where they can play without you feeling so much concerned about their safety.
Modify your backyard to alleviate your fears. Fence the pond, lock up the garden shed, or remove that wasp nest.
Children will enjoy themselves more if they have the freedom to explore and experiment without being watched over. They need to learn to challenge their bodies, take risks and make a sound judgment.
This can only happen outdoors. Therefore, you must find a way to give them freedom without compromising their safety.
You may also want to teach them basic safety rules like not talking to strangers, not going places alone, and telling you when they are leaving.
These simple rules can greatly reduce their risks of harm while still allowing them to explore and enjoy the outdoors.
5. Don't Stress About the Mess
Outdoor play means mess. Messy hands and clothes, dirt tracks on the way, puddles, and bugs around the house – it's all part of being outdoors. Don't try to discourage them from playing by saying 'no' to mess or mud.
Instead, ensure you have enough cleaning supplies to take care of these things after they come back inside. It's a small price to pay for letting them enjoy quality time outdoors and embrace nature.
6. Make Outdoor Play Part of the Daily Routine
Do you have a regular daily routine that you strictly follow? If so, you should consider adding more outdoor time to it. If there is no room to add more outdoor play, sit down and re-evaluate your priorities.
It is very important for children to have some free time outside each day. This is a great way for them to stay active and get away from screens and other distractions. They will benefit from the fresh air even if it's just 30 minutes a day.
Make it mandatory for your little ones to participate in outdoor play before they partake in any indoor activity, such as watching movies or playing video games.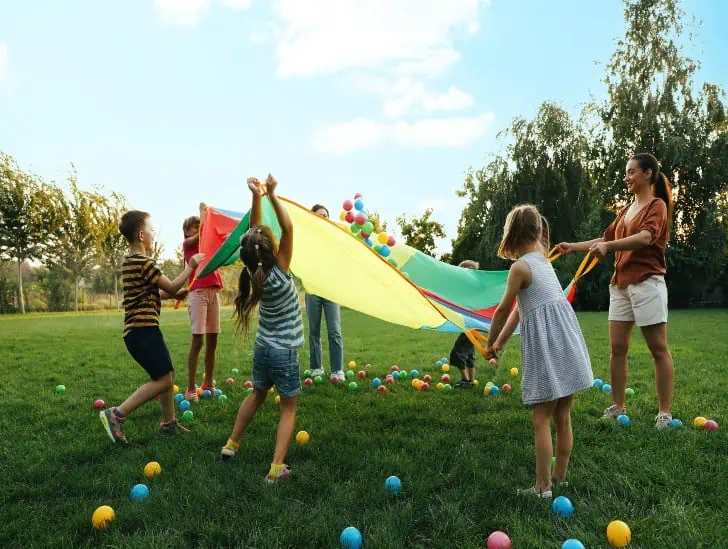 So many families have had great success with this system because it instills discipline in your children. You can even come up with a reward point system to encourage outdoor play.
For instance, you can allow your child to watch a movie for every hour spent playing outdoors. This will motivate them and make outdoor play seem like more than just another chore.
7. Add Water
One of the easiest ways to add fun to outdoor play is by adding water. Children naturally love playing with water.
So, if you have a pool or pond, your children will want to get out often and enjoy some wet fun without having to leave the backyard.
If you don't have a pool, consider buying some plastic pools, sprinklers, and other water toys designed for kids. That way, they can cool off during the hot summer days and have lots of fun while they are at it.
8. Use Outdoor Spaces as an Extension of Your Indoor Space
Lastly, you can combine indoor and outdoor play by using your outdoor spaces as an extension of the living area.
For instance, set up a table and chairs in the yard to encourage your children to take their meals outside during sunny days.
You can also add some toys out there that they can access at any time. This will make them feel like they are playing indoors but with the advantage of being outdoors where they can let their imaginations run wild with fear.
Summary
The key to getting your children to embrace outdoor play is to find ways to make it attractive and safe. With the right strategies, you can encourage them to explore nature, take risks and have fun without worrying about the mess.
Last update on 2023-07-23 / Affiliate links / Images from Amazon Product Advertising API