Adding an outdoor playset to your backyard is one of the most exciting things for your children. However, before you allow them on it, you want to make sure everything is safe. No matter how well the playset is constructed, you cannot guarantee that there won't be any falls.  Kids will always take risks and try to push themselves into play even when it isn't safe.
It means that you should really spend time figuring out the best surfacing material to put under your outdoor playset. The right surfacing material can prevent thousands of injuries from happening, which plays a critical role in keeping your outdoor playset safe.
Some of the common playset ground coverings include pea gravel, playground sand, rubber mulch, shredded rubber, poured-in-place rubber, and many more. Your primary goal is to have a surfacing material that looks nice, easily accessible, and relatively inexpensive.
In this post, we discuss some of the best materials to put under your outdoor playset while highlighting the pros and cons of each one of them. Keep reading to learn more.
Why Do I Need a Surface Material Under My Playset?
Before we dive into discussing the different options you've got, let us figure out why it is essential to have surfacing material under your playset.
Two critical factors usually affect the severity of a fall; the height of the fall and the surface material the kids land on during the fall. Obviously, the higher the fall, the more dangerous it will be to the kid.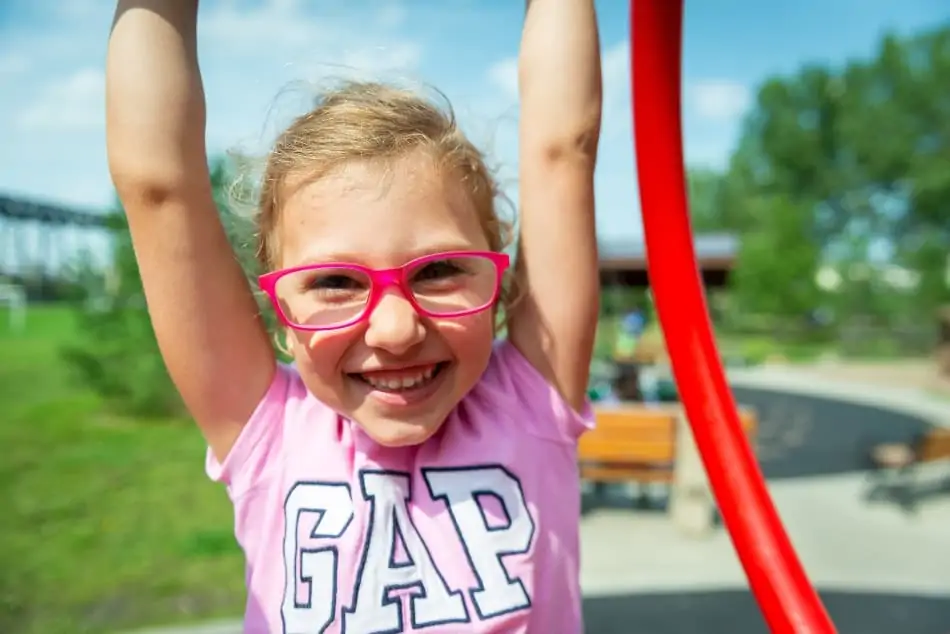 However, what is less obvious is the impact of the contact surface. Certain playground surfacing materials tend to absorb the force and impact of a fall much better than others, minimizing the impact that a kid's body has to absorb.
When your kid falls off of a playset, you want the surfacing material to absorb as much impact as possible to cushion the blow to the kid's body as much as possible.
Which Materials Should You Not Use?
Now that you understand the work of the primary function of the material you put under your outdoor playset, let us highlight some of the materials that people frequently use with the mistaken assumption that they are safe and can absorb impact.
The obvious materials that you must avoid are concrete and asphalt. Although you may have sufficient space to create concrete under your playset, you may end up regretting your action if your child falls on it. Even a minor fall has the potential to be very painful and cause severe injury.
You may also find some people using concrete below their playset, but the only winners in case of a fall are the local medical centers who are forced to attend to very young clients.
You should also avoid installing the outdoor playset directly on the grass and assume that the grass will serve as a good surfacing material. Unfortunately, natural grass and dirt can only do little to soften the impact of a fall.
Another issue with natural grass is that constant use can easily wear it out and compact the soil. Compacted soil is hard and can cause severe injuries to your little ones.
Best Materials to Put Under Your Outdoor Playset
So, what are some of the best surfacing materials to put under your playset for cushioning the impact in case of a fall? Let us find out.
Sand/Pea Gravel
Although sand and pea gravel are not perfect surfaces to keep your little ones unharmed, they are relatively cheap, reliable, and natural, which might fit your backyard garden décor.
However, you will be required to build some form of barrier around the surface play area's edge to keep the pea gravel and sand in place.
If your playset is less than eight feet high, you need approximately 12 inches of sand or pea gravel but avoid compacting it. Compacted sand or pea gravel is hard and will most likely cause more pain in case of a fall. Your children need loose-fill material to cushion them, not a hard surface.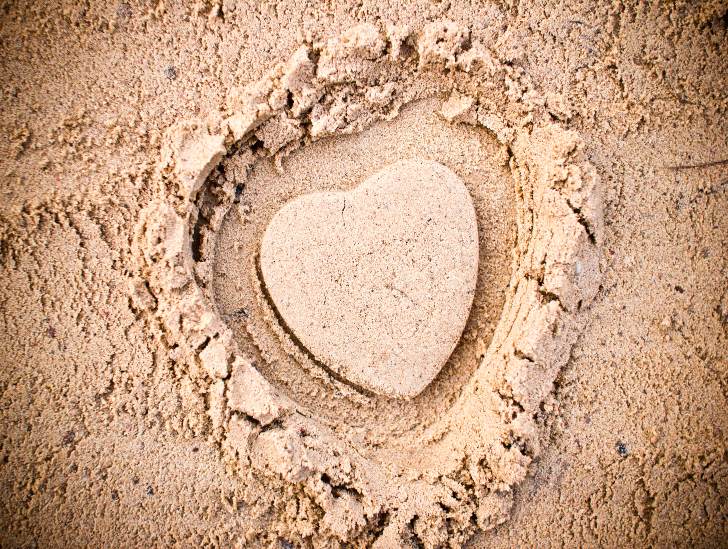 It is still okay to use extra fill to make the surface much more comfortable. So, don't be afraid to top it up to 20 inches deep or slightly more than that because it will provide additional cushioning.
Pros
It is relatively cheap to install and maintain sand /pea gravel compared to other surfacing materials.
Natural option that can complement your backyard garden quite well.
Strong and durable if you take good care of it.
Cons
Sand/pea gravel still provides a relatively harder surface that doesn't absorb much impact in case of a fall.
Regular maintenance is required to ensure the sand/pea gravel stays in place.
Gets stuck in shoes, pants, and clothes and can be tracked to your house.
Rubber Mats
Rubber mats have become more popular as playground surfaces in recent years, and it is for a good reason. They tend to cover many of the shortcomings that loose-fills such as sand and pea gravel have.
For instance, rubber mats won't be blown away by strong winds, neither do you need to construct a barrier around it.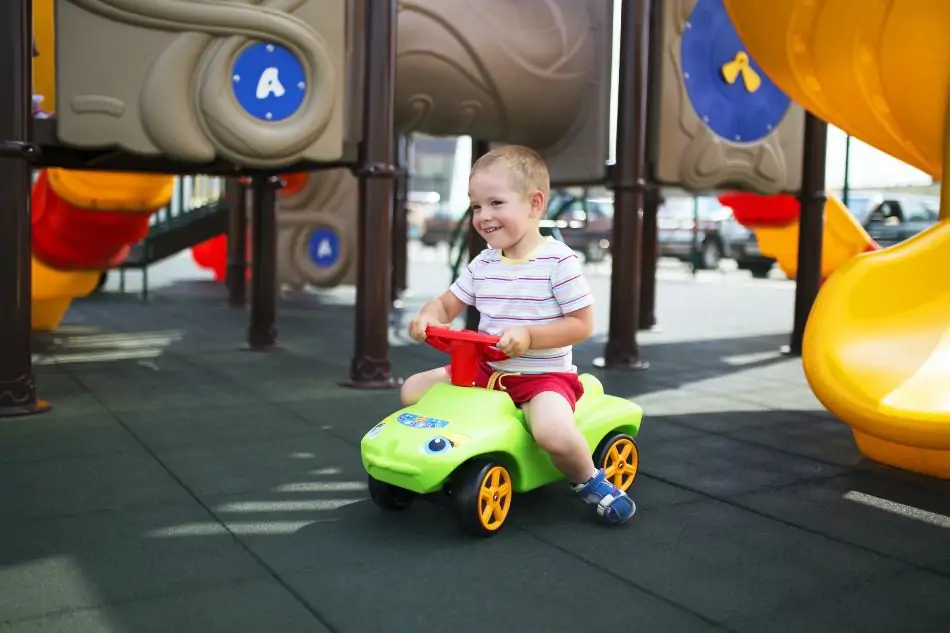 They are also long-lasting, and you don't need to replace them regularly compared to loose-fill materials. The tiles that make up rubber mats are designed in such a way that they interlock each other. The thickness of your mat will typically depend on the height of your playset.
For instance, if your playset's highest point is nine feet, then you need rubber mats that are at least 3.25 thick. However, you will find rubber mats to be considerably more expensive than the loose-fill options.
Pros
This is another low- maintenance option.
Rubber mats are visually appealing.
They are strong and durable.
Come in a wide range of designs and colors to suit your preferences.
Cons
Some children are highly allergic to rubber.
Some individuals also don't like the smell of rubber.
Relatively expensive compared to the other options.
Wood Chips and Mulch
Wood chips and mulch are perhaps the most natural solutions to your playset surface issues. These two are a popular option because they are relatively cheap and are considered environmentally friendly. 
They have similar advantages and disadvantages with pea gravel and sand. However, wood chips tend to be sturdier and are likely to last longer because they cannot be blown away by wind.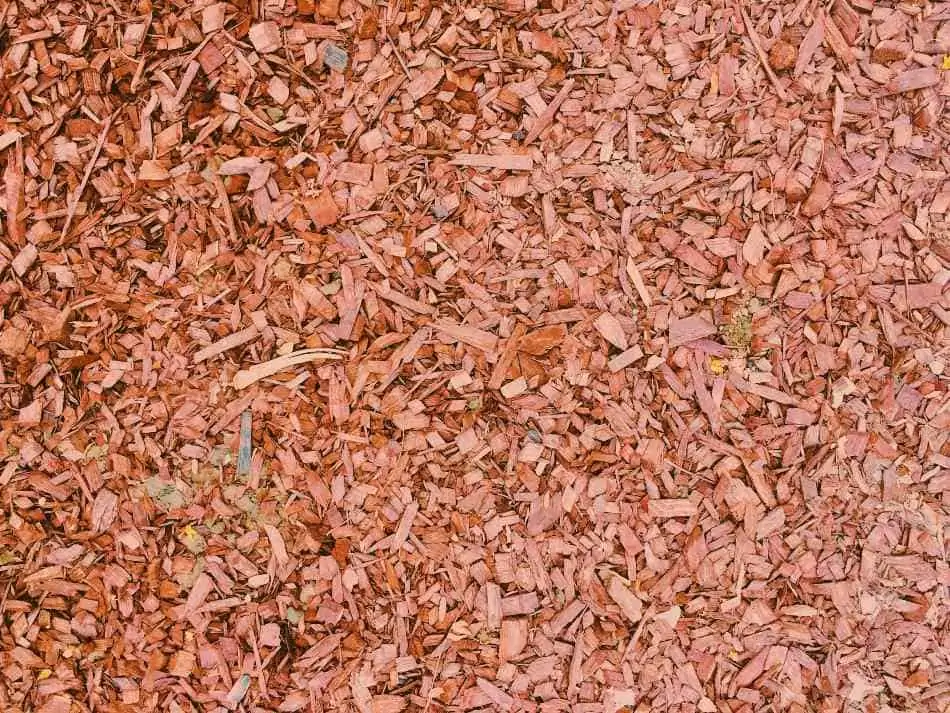 They are also less inviting to pets, which boosts their chances of remaining cleaner for a long time. However, depending on the climate of where you stay, they may attract roaches.
Since they are biodegradable, it will reach a time when you may be forced to replace your wood chips or mulch.
Wood chips also tend to become more compact with time making it necessary to freshen up and add a fresh layer every two or three years.
Pros
Relatively cheap compared to rubber mats.
They can be an excellent addition to your lawn.
Natural and biodegradable.
Much more reliable than sand.
Cons
It requires some maintenance to keep your wood chips or mulch in good condition.
Some kids like to throw wood chips around the compound, which could make your cleaning harder.
May cause splinters.
Requires regular replenishment to maintain high safety standards.
Artificial Grass
As mentioned earlier, natural grass wears with time which could lead to s
afety issues in the long run. Therefore, if you want to maintain the green look in your backyard, you can go for artificial grass, which is much safer.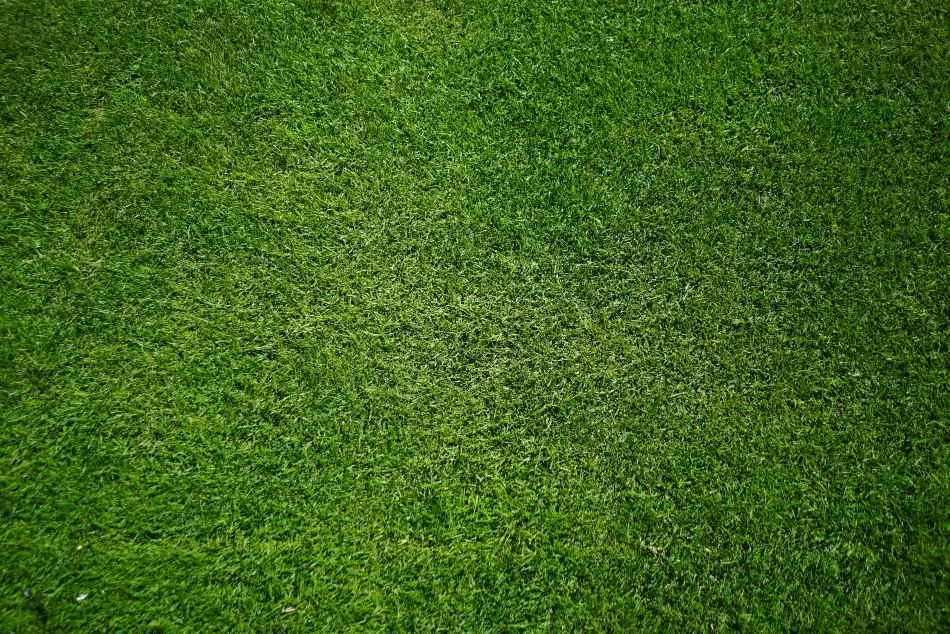 Synthetic grass won't need to be weeded or mowed to keep it in good condition. It is also softer and offers a nice cushion for awkward landings.  With artificial turf, you won't need to do much maintenance over the years. All you have to do is set it and forget about it.
Pros
You don't have to worry about your kids tracking anything to the inside of your house because there is nothing to be tracked.
Low-maintenance option.
Preserves the natural appearance of your backyard.
Cons
It can get too hot during summer.
It might wear with time, depending on usage.
Relatively expensive compared to loose-fill options.
Final Thoughts
Choosing a good surfacing material for a playset is critical because it is about your kids' safety. Besides selecting the best material on the market, you should also consider the depth of the material.
Various surfacing materials will require different depths for them to be rendered safe. In most cases, a minimum of 12 inches is always a good starting point for most of the materials highlighted above. In some cases, you may need a depth of up to 20 inches to be sure your little one is always safe.
Rubber mats should be at least 3.5 inches thick and let the thickness increase as your playset height increases. Furthermore, how you spread the material can have a significant impact on its performance.
Always make sure that your material spreads out past the borders of the playset by at least six inches to ensure maximum comfort.