The safety of children on playgrounds not only depends on the design and type of equipment installed but also their overall condition. This is the primary reason why continued maintenance, inspection, and replacement of equipment is critical. Although there is no legal requirement for you to inspect, maintain, and replace your playground equipment, there are severe legal ramifications when an accident occurs. Therefore, it is always better to be safe than sorry.
So, how often should playground equipment be replaced? Typically, you should consider replacing your playground equipment every eight to ten years after the installation date.  Most playground equipment that are inspected regularly and maintained properly can last for up to a decade without any issues. However, poorly maintained equipment cannot go past five years.
Just as you regularly service your car, it is critical to inspect your playground frequently for safety hazards and maintenance needs.
In this post, we discuss everything you need to know about replacing your playground equipment.  Read on to find out when you should replace instead of repair and why you should never take the risk of failing to replace the equipment when it is time to do so.
Start With Thorough Inspection
Before you decide whether it is time to replace your playground equipment or not, you need to conduct a thorough inspection. You can think of it as an audit that will help you establish the equipment's actual state.
A proper inspection shouldn't just focus on the equipment but the entire area, including fences, benches, walkways, etc. The playground manager or staff can conduct routine inspections. Make sure the person conducting the assessment makes notes on the general condition of every piece of equipment after every routine inspection.
In most cases, you will need to base your decision on whether to replace or repair on inspection reports. The frequency of conducting inspection will depend on the usage of the playground. It could be annually, monthly, weekly, or every few days. If there is any equipment showing excessive tear and wear, replace it immediately.
An extensive operation inspection can be performed quarterly. The primary objective of this type of inspection is to identify any minor wear that needs urgent attention or vandalism on equipment. An operation inspection must be carried out by a Certified Playground Safety Inspector (CPSI).
Apart from the operation inspection conducted every quarter, you should also schedule for annual inspection. A yearly inspection is usually more thorough and detailed than routine and operation inspections.  It must be conducted by an independent CPSI not affiliated with the playground's management or staff.
The primary objective of the annual inspection is to identify any significant issues that need fixing and long-term structural problems that could pose a safety risk to children.  The CPSI will also establish any changes that might have occurred, altering the playground's general design practice and compliance.
In some cases, insurance companies, commercial companies, and equipment manufacturers may be involved in annual inspections.  If the CPSI recommends that you replace one of your pieces of equipment during an annual inspection, you have no other alternative but to do so.
So, When Should You Replace Your Playground Equipment?
We appreciate the fact that replacing playground equipment can be quite expensive. Therefore, just because something is malfunctioning or broken doesn't necessarily mean you spend a lot of money replacing it. Sometimes, all you need to do is fix the issue, and everything shall be alright.
But there are certain times when replacing is imperative. Here are some of the instances when you should consider replacing instead of repairing:
If the functioning of the equipment is compromised in such a way that it could threaten the children's safety, then it is time to replace it.
If the tear and wear are so extensive even to your naked eyes.
If any parts of the equipment are missing and the missing parts are irreplaceable, you should consider replacing the entire equipment. No matter how small or insignificant the missing part might be, do not take chances with the lives of kids who will be using that piece of equipment.
If there is a relatively high rate of use on a specific piece of playground equipment that has undergone several repairs before. In such a case, the best thing to do is to replace the equipment.
Another sign that it might be time to replace your playground equipment is if you start getting concerns or complaints from users or caregivers.  Children are candid and will say things as they are. Therefore, you need to pay attention to their concerns because they are the only people within the facility with first-hand experience.  In most cases, they will be the first ones to notice issues with your equipment.
Why Do You Need to Replace Playground Equipment?
Now that you know how to inspect your playground equipment and when you need to replace it, you may be wondering why you need to replace it.
The simple answer is that good equipment keeps the children safe and helps you avoid legal tussles. Let us take a look at some of the reasons why you should replace instead of repairing
1. Protect your investment
Playground equipment, shade structures, site development, and other site amenities are significant investments. Therefore, you need to ensure you do everything possible to secure your investment.
Although replacing worn out equipment may seem a little bit more expensive than repairing, it will ensure children have a good experience, which is the most important thing. Keep in mind that without the kids, your business is as good as dead.
2. Keep the kids and their families safe
Newly installed playground equipment plays a significant role in minimizing the risk of preventable accidents that could cause severe injuries.  Playgrounds are fun for children. So, it is important to create a safe environment for play and recreation for both kids and their parents/caregivers.
3. Improve playground experience
If the playground equipment is malfunctioning or otherwise unusable, most kids will miss out on enjoying themselves. Typically, kids learn through play, and it is your responsibility to ensure that the experience is as good and memorable as possible.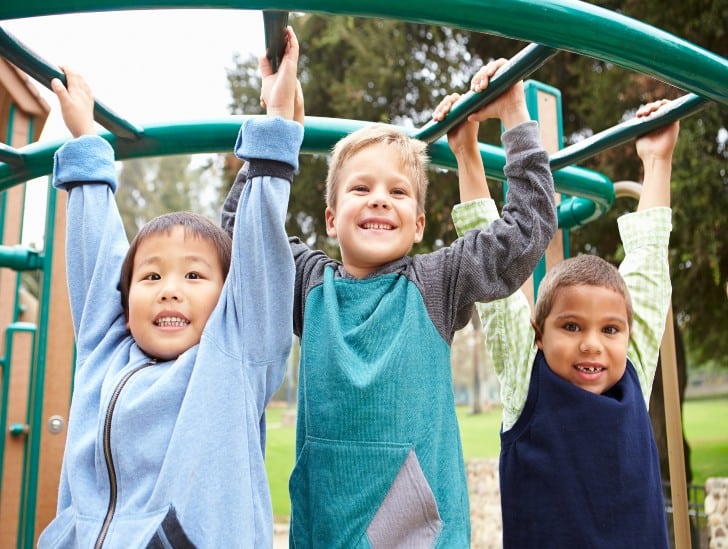 Your top priority should be to ensure that the playground is a safe place for kids to play, learn, explore, socialize, and discover their potential.  Installing new equipment instead of repairing the existing equipment all the time will help you achieve this goal.
4. Limit liability
While there is no law requiring you to replace your playground equipment, there is one that stipulates severe penalties if the unexpected occurs. Playground accidents are fatal, and most of them happen as a result of poorly maintained equipment.
So, to avoid getting caught up in endless legal tussles, make sure you do everything to prevent the accidents from occurring. Replacing old equipment with new equipment is one of the most effective ways of avoiding playground accidents.
Equipment Maintenance Is Key If You Want to Avoid Replacing Your Equipment Frequently
Poor maintenance can reduce the lifespan of your playground equipment quite significantly.  The only way to avoid frequent replacements is by ensuring that the playground equipment is regularly inspected and well maintained.
Conduct periodic inspections of the equipment for damages that could lead to risky situations.  Teach your playground manager and staff how to identify damages and other potentially hazardous issues such as sharp edges or improperly secured moving parts.
Check the equipment frequently for wear and tear and keep in mind that long-term exposure to certain conditions can cause severe damage. Follow the recommended playground equipment inspection protocol and make prompt decisions based on the inspection reports.
During an inspection, focus on one piece of equipment at a time and evaluate it as much as possible before you move to the next one.
For instance, wooden equipment should be inspected for possible splinters and rot, while metallic equipment should be checked for rust and sharp edges. Plastic equipment needs to be checked for cracks and possible breakages.
You should also keep in mind that some pieces of equipment may have special parts or components that require special attention due to the potential risks they pause to kids. These pieces of equipment include swing seats and chains, equipment with steps, and anything with moving parts.
If you come across any problem, assess it critically, and consult a certified playground inspector if need be. Your primary goal should be to stay current on playground safety requirements to keep your clients happy.
Summary
A playground should be a place where kids can be free and have fun with their friends without worrying about their safety. Therefore, it is critical to make sure that your playground equipment is always in good condition.
With proper maintenance, most of the playground equipment will last long, but don't assume anything.
Develop a habit of conducting regular inspections and know when to replace instead of repairing. When installing new equipment, find a qualified expert to handle the project to eliminate the risk of injury to kids.