Child development experts and parents agree that nature play is a critical part of childhood. Children need outdoor play to develop socially, physically, intellectually, and emotionally. It also helps with cognitive development and discovery. However, not all children can access playgrounds. Age is an important factor that you need to consider before taking your little one out for nature play. Keep in mind that children of different ages have different needs.
So, how old does a child have to be to play on the playground? Generally, you should wait until your kid is at least six months old before you start taking him/her to a playground. Children below six months are at an increased risk of sustaining life-threatening injuries or contracting dangerous diseases because their immune system is still weak.
If you must take your infant to a playground, make sure it has separate play areas meant for this group of users. The area must be marked and should feature extra safety features and top-class hygiene. However, kids above six months old can visit a playground but make sure they are only involved in their age-appropriate activities.
Playground Age Restrictions
Age restrictions on playgrounds have been put in place to protect children from accidental injuries. There are basically three broad age classifications of children: 0-9 years old, 10-14 years old, and 15-19 years old. These categories help to ensure that each child is treated appropriately while at the playground.
However, with respect to playground equipment, only two age groups have significant value (the 0-9 and 10-14 years groups).  The two age groups can still be subdivided further into three categories, namely, toddler (0-2 years), preschoolers (2-5 years), and school-going age (5-14 years).
The second categorization means that most playgrounds only pay close attention to children aged 0-14 years. The assumption is that kids above 14 years old are mature enough to take care of themselves at the playground. They understand what is right or wrong and can always ask for assistance/guidance whenever they need it.
The primary objective of this categorization is to ensure that playground equipment reflects the physical and psychological development of the different age groups.  If the playground equipment doesn't reflect the existing differences between children of different age groups, it won't benefit their development.
In the safest playgrounds, the play areas for younger kids are usually separated from those of older children, and signs to designate each play area have been put in play to minimize confusion. Smaller playground equipment and spaces can cause problems for the older kids and vice versa.
Based on our age categorizations, a good playground must have at least three different play zones. Each one of them represents a specific age group. It is the responsibility of parents or adult caregivers on the playground to direct their kids to the correct play area based on their age.
Understanding the Play Areas for Different Age Groups
Since we have mentioned that each age group must have its own designated play area on the playground, let us discuss what makes each play area unique. In most cases, you will find that it is the size of the equipment and free space available that separates the different play areas.
Ages: 6 Months-23 Months
This is probably the safest play area in the entire playground, thanks to the group of people it hosts. Typically, play areas for kids aged between 6-23 months should offer the kids sufficient room to explore things and move around freely.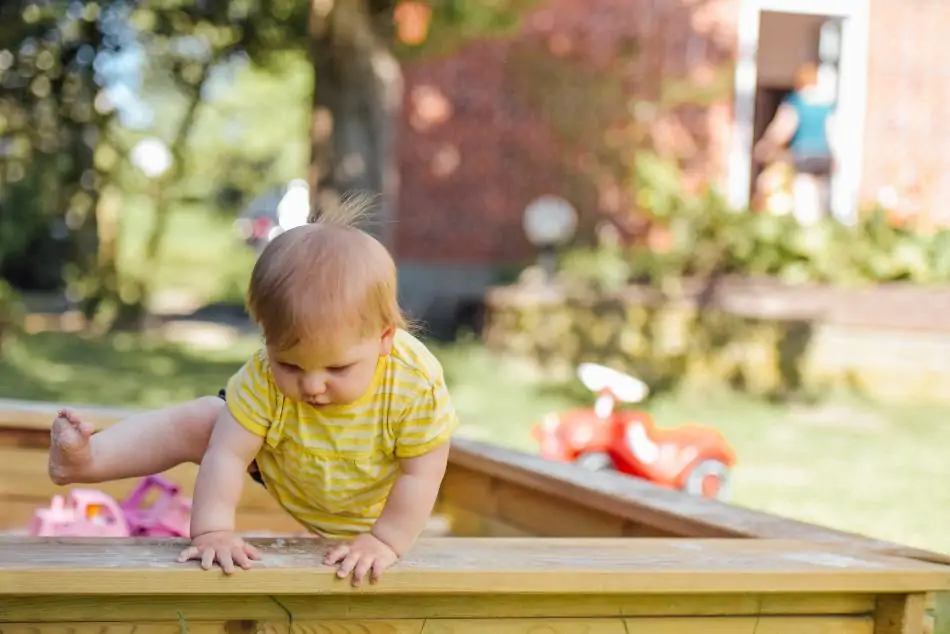 Kids in this age group are mostly influenced by sensory development and tend to explore the environment around them with their eyes, mouths, hands, torsos, and feet.
They spend most of their time on the ground /floor level crawling or picking up things. At this stage, kids require a lot of space to explore their environment away from their older peers. Therefore, appropriate play areas for this age group must provide sufficient space for crawling, sitting-up, standing, walking, and pulling up.
Some of the appropriate playground equipment for kids in this age group include ramps, stairways, single file step ladders, climbing equipment under 32″ high, activity panels, swings with full buckets, and spring rockers.
Ages:  2-5 Years
This age group is for preschoolers. Most of them may be new to the playground and require a play area of their own to explore and discover things. The play area must be physically challenging but make sure the equipment is sized appropriately.
The play area for preschoolers must offer a wide range of challenges, such as climbing over and under different play elements. It must also have plenty of play activities promoting the development of fine motor skills and socialization.
Appropriate play areas for preschoolers should have enough space for crawling and a wide range of low platforms with multiple access, such as ladders and ramps.
It should also include water, low tables for sand, tri-cycle paths with various textures, sand areas with covers, flexible spring rockers, and relatively short slides.  There should be an area for adult supervision because kids in this age bracket can be quite explosive. They may seem calm and relaxed one moment and overhyped the next second.
Therefore, close supervision is critical to limit the risk of accidental injuries. Some of the appropriate playground equipment for preschoolers include ramps, certain climbers, slides, crawl tunnels, activity panels that promote the development of fine motor skills, stairways, swings, rung ladders, and spiral slides up to 360o.
Ages: 5-12 Years
This age group represents school going kids that are rapidly learning and building different skills. Developmentally, these children are moving towards more complex play and want increased physical challenges to remain focused.
 The kids are constantly refining their coordination, balance, strength, and motor skills. Their socialization skills are pretty impressive, and can easily figure out things independently.  They are creative and want imaginative elements incorporated in their play activities. 
Appropriate play areas for school going kids must feature slightly bigger equipment. This should include climbing pieces, rope/chain climbers on angles, slides and sliding poles, open spaces to run and play the ball, and horizontal bars.
The play areas must also provide mental and physical challenges to keep them occupied, engaged, and out of trouble. 
Some good examples of age-appropriate equipment for school going children include spinners, overhead rings, slides, ramps, arch climbers, freestanding climbing events with flexible parts, cable walks, merry-go-rounds, stairways, vertical sliding poles, and sports equipment.
Other Factors to Consider Before Taking Your Kid To a Playground
Other than age, you need to consider a few more critical factors before you take your little kid to a playground. They include:
1. Distance to the playground
How far is the playground from your home?  You don't want to subject your little one to long distances that will cause fatigue and unnecessary tiredness.
Always consider nearby community playgrounds that are only a few miles away.  If you don't live near a community playground, consider building your own playground in your backyard to avoid the long distances.
2. Sun protection
You should also choose your playground wisely to avoid exposing your kid to excessive sunlight. If the playground has little shade, wait until your baby is old enough to protect himself/herself adequately against the sun.
Keep in mind that kids under one year are still too young for sunscreen and must be kept out of direct sunlight entirely.  For kids above one year, be sure to choose a relatively shady spot away from crowds and let them enjoy their play there. Keep a close eye on them for signs of fatigue.
3. Appropriateness of playground equipment
You need to make sure that the playground has appropriate equipment that will suit your kids' needs.  The equipment should be not only safe but also age-appropriate.
Older children should have their own play area away from the younger kids.  The infant area must be clearly marked and separated from other play areas.
4. Safety
Lastly, make sure you consider the safety features put in place to protect your loved ones while on the playground. Playground injuries are quite common and can be life-threatening.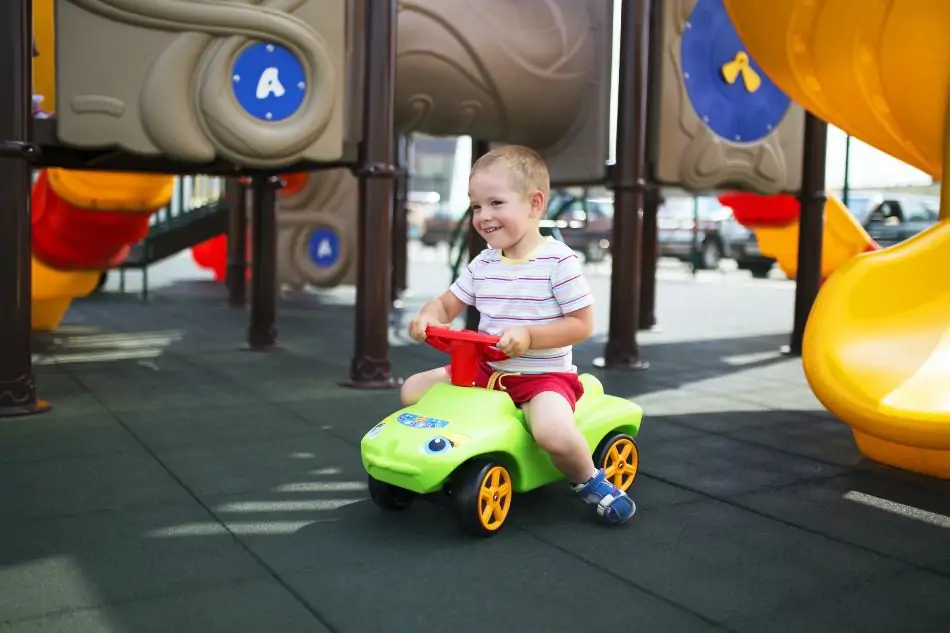 What kind of material is used to cover the surfaces? Does the playground have enough free space? Is the equipment well-maintained?  Are there supervisors who monitor children while playing?  Is the playground regularly inspected for hazards?
Don't be afraid to ask questions if you feel something is not right. After all, the safety of your kid is paramount.
Summary
Kids of almost all ages love playgrounds even if they are not quite old enough to participate in the fun.  However, it is not recommendable to take kids below six months old to a playground because their immune system is still weak.
Exposing them to other toddlers and the playground environment can have severe consequences on their health since they are at an increased risk of developing infections. It is always good to keep your baby at home for the first six months to protect him/her.
Once they hit six months, you can start taking them to a playground for a few minutes and let them have some fun crawling around and touching items.