As a parent, you are always looking for ways of making your child enjoy his/her childhood. When the conditions are right, you can always take your toddler to a playground to help him/her burn off some boundless energy and learn new things. But sometimes, the public playground may be too far away, or you just need something to keep your little ones busy at home while you attend to other duties.  In such a case, investing in a swing set would make sense. But here is the problem. Not all swing sets are created equal, and failure to conduct due diligence might risk your child's life.
So, how do you choose the best swing set for toddlers?  The most important thing is safety. Typically, a good swing set for toddlers should be manufactured from robust materials by competent and experienced craftsmen. It must be durable and strong enough. A good swing set for toddlers should be able to serve your kid's needs and adapt to their changing expectations as they enter different stages of life.
Choosing a good manufacturer is critical because they understand the best materials for such a swing set.
In this post, we discuss everything you need to know about buying a toddler's swing set. We cover some of the critical factors to consider and why they are essential. Read on to find out everything you need to know.
Choosing the Right Swing Set for the Right Age
Before we dive into discussing the critical factors you need to consider when choosing a swing set for your toddlers, let us figure out how to choose the right swing set for the right ages.
Children grow very first, and what you might think is right for him/her today may become useless in a few years. Therefore, one of the trickiest parts when choosing the right swing set for your toddler is finding a model that fits his/her play needs now but may still offer fun several years down the line.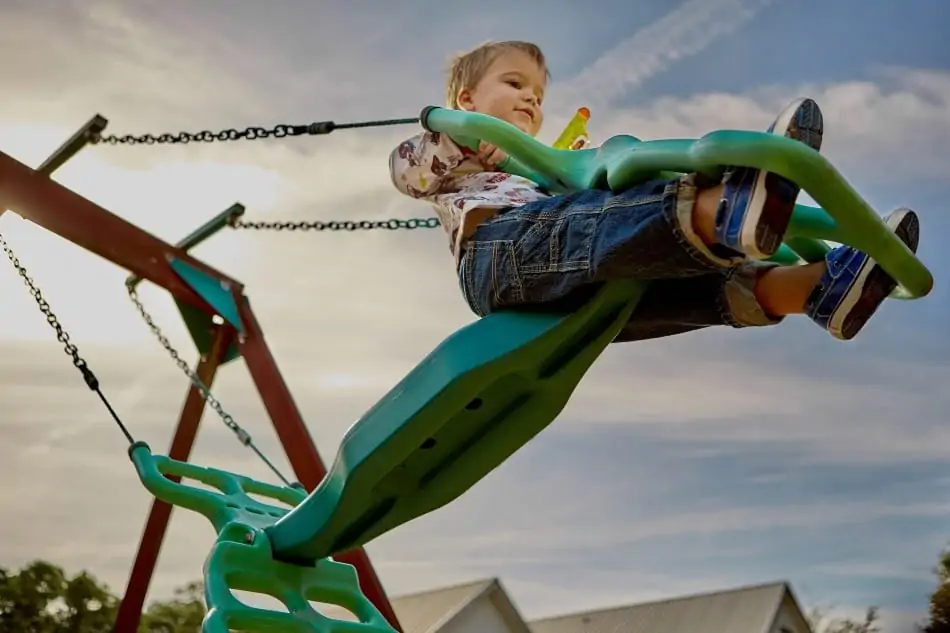 For instance, a 20-month-old baby may find a cardboard box, a freestanding toddler swing, or a plastic slide quite exciting, but a four-year-old may not have anything to do with the "baby" toys.
To complicate things, the average family has more than one kid, meaning you need to find an ideal swing set that can serve the needs of two different kids.
In fact, you will most likely notice that purchasing a swing set for your toddler (s) may evoke a real conversation reserved for real estate investments. Some of the questions you might need to answer before you order that swing set include;
How many more kids do you plan to have?
If you still plan to have more kids, how will they be spaced?
Do you need the swing set to supplement the local public playground or replace the need to go to the playground entirely?
Do you expect neighborhood kids and your kids' friends to also use the swing set?
How much money are you willing to spend on the swing set?
How big is your backyard?
If you can answer these questions correctly, then you can be sure to find a good swing set that will serve your needs for many years.
Factors to Consider When Choosing a Swing Set for Toddlers
Here are some of the critical factors you need to consider when choosing a swing set for your toddler:
1. Safety features
The most critical thing you need to consider while shopping for your toddler's swing set is safety. Without sufficient safety features, the swing set becomes a threat to your little ones. You will want vinyl or smooth plastic without sharp edges on the entire swing set design.
The steps leading up to the slide should also be easy for your child to use, and it shouldn't be too tall. 
The other safety features you need to consider when looking for a toddler swing set include the swing set's overall ability to support your toddler's weight and the reliability of its high-performance parts.
Check the overall design of swing set seats to ensure strong internal reinforcement for extra support and safety. You will be at peace, knowing that your little ones are safe on the swing set.
Pay close attention to the moving parts and how they have been designed to enhance safety. If the swing set is wooden, check the type of wood used because you don't want your little ones to get splinters.
2. Think long-term
As mentioned earlier, avoid purchasing a swing set just because it feels perfect for your toddler's current needs. Think about the future and what your child may want by then.  Buying something that seems "perfect" for your kids right now may become expensive in the long run.
Keep in mind that what might be right at the moment may not be good in one or two years. However, a relatively bigger swing set requires more vigilance in supervision during the first few days, but it will save you a lot of money in the long run.
Consider buying a modular swing set that you can add pieces onto as your kid grows. That way, you can be sure of keeping up with your toddler's changing needs and expectations.
3. Durability
When choosing a swing set for your toddler, you must consider how long it can serve you.  A good swing set must be strong and durable.  Fortunately, most swing sets in the market today are manufactured from smooth, durable vinyl or plastic. Wooden swing sets are also long-lasting as long as you take good care of them.
You must follow routine maintenance to prolong the swing set's lifespan. Keep it clean all the time and oil the moving parts.  During winter, consider covering it or moving the detachable parts to a safer location.
If you purchase a high-quality swing set and strive to maintain it, you can be sure that it will serve you for many years.  Check out its reviews and ratings before you purchase to establish whether you are purchasing a quality product or not.
You can also speak to other parents who have bought swing sets to find out the best options in the market. It is much easier to get a genuine opinion from another parent who is already using the swing set.
4. Availability of space and ease of installation
A standard swing set for toddlers requires approximately six feet of clearance around it for safety. Therefore, you need to factor that in the area calculation.  You should also think about orientation and your yard's general landscape.
Can you see the swing set from the kitchen window?  Can you give instructions while in the house if you notice kids messing around?
Other than space, consider the cost of delivery and ease of installation. In some cases, the installation costs can be as high as the buying price of the swing set. Some installers charge you per hour while others charge based on the number of steps outlined in the installation guide.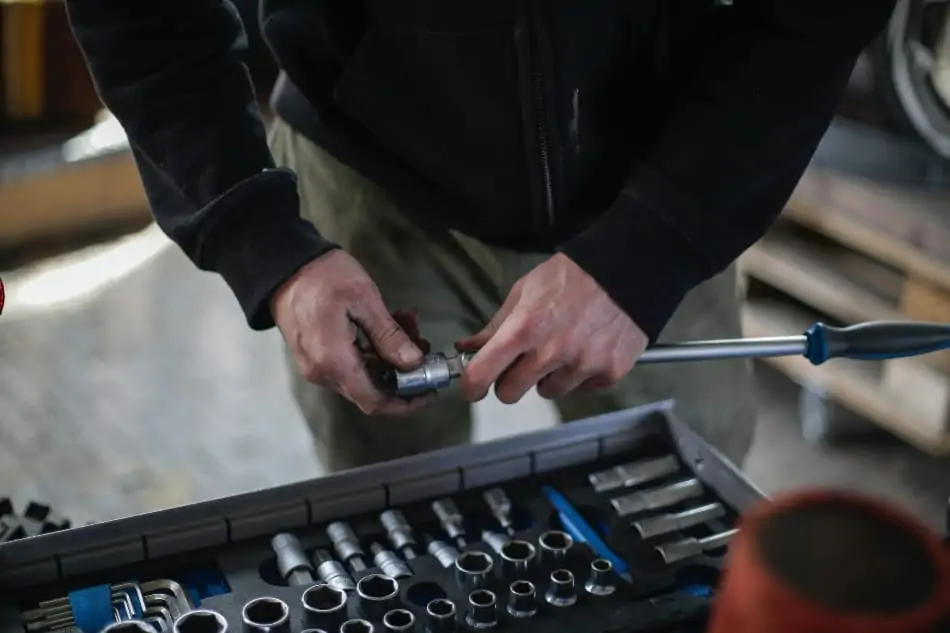 Keep in mind that some swing sets require up to 40 hours to complete the installation. If you plan to do the installation by yourself, you must be absolutely sure that you understand what you are supposed to do. If you don't know what you are getting into, get an expert to help you.
Installing a swing set is quite puzzling and time-consuming than you expect. So, if you think that you aren't up to the task and you cannot afford to hire an external installer, purchase a swing set whose price includes the cost of installation.
5. Manufacturer warranty
Typically, warranties and return policies vary from one manufacturer to another. Before purchasing a toddler swing set, make sure you conduct thorough research on the manufacturer to understand how they handle faults.
Do they accept liability?  Can they replace the swing set if it is faulty?  How long do they take to address customer complaints? What are past customers saying about their customer service?
Take time to read over the manufacturer's return policy and warranty and ensure they fit your needs and wants. It is critical for you to know what exactly you are getting into because this is a piece of equipment that your little one will be playing on for many years.
If you don't understand anything about the warranty, be sure to ask for clarification. If the statements are vague and not straight to the point, move on to the next manufacturer. You should only agree to purchase the outdoor playset if you are 100% satisfied with the warranty and return policy terms.
The Bottom Line
A swing set is certainly something that your toddler will enjoy. It will also aid in his/her development and allow you to focus on other things that matter. However, choosing the right swing set might be quite challenging, especially if it is your first time.
Following the tips and guidelines outlined in this post will make things a little bit easier for you. Keep in mind that the right swing set will give you and your little one countless hours of fun every day.