There are many different types of playground surfacing materials available for you to choose from. Most of them are designed to be safe, durable, and cost-effective. However, picking the right option from the many options available can sometimes be challenging.
Generally, a good playground surfacing material should be safe for kids, visually appealing, easy to maintain, durable, accessible to kids of different abilities, and affordable. It should also come with a warranty and have relatively stronger surface traction. Also, consider how long it will last before needing replacement or resurfacing and what your children like.
The best way to determine which type of surface is best for your child's needs is by reading reviews on sites like Amazon. This blog post will focus on discussing how to choose the best playground surfacing material in detail.
Durability
One of the critical factors you need to consider when choosing a playground surface is its durability or lifespan. As such, you should go for an option that will last you longer without needing replacement or resurfacing.
Traditionally, some of the most popular options include wood chips and rubber mulch. You can also go for a rubber composition called A-D Tech, which lasts longer and is cost-effective.
Another option is to go for an interlocking modular system made from recycled rubber and wood fibers, as well as pea gravel and sand. These surfaces should be able to give you years of service before needing replacement or resurfacing.
Cost
Another important factor you need to consider when choosing a playground surface material is its cost-effectiveness. Some surfaces may be more durable than others, but they are more expensive in the long run.
For instance, rubber mulch is both safe and durable; however, it's expensive to install.
Wood chips are less costly because they are easily available and affordable; however, this material does not last long. This is why you should consider your budget when choosing a playground surfacing material.
Take time to figure out how much money you are willing to spend on a playground surface and see which surfacing material best fits your budget.
The Environmental Factor
You may want to go for an eco-friendly option when choosing a playground surfacing material. Eco-friendly materials are typically made from recycled plastic, rubber, or other organic materials.
Some of the most popular eco-friendly options include recycled tires, recycled rubber, gum rubber bark, and wood fiber.
Determine if you want to go for an eco-friendly or non-eco-friendly playground surfacing material. If you choose the former, take time to compare different materials before deciding which option is the best fit for your child's needs.
Trampoline Surfaces
Another aspect you should consider when choosing a playground surfacing material is whether or not it's good for your trampolines. Doing so will ensure that the two surfaces in contact are compatible with each other.
If you choose to install rubber mulch, be aware that it can chip and fall off your trampoline. Rubber mulch is also easier to jump on and can be abrasive.
If you choose a woodchip surface, keep in mind it can get slippery when wet, which may increase the risk of injury. Hence, avoid using this option for your playground if you have trampolines setup.
Weight Capacity
Weight capacity also plays a critical role in determining which playground surfacing material is best for your needs.
For example, an interlocking modular system made from recycled rubber and wood fibers has a higher weight capacity than other available options. Hence, it's a good choice for your child's needs.
However, this surface may not be ideal if you have younger kids because they cannot jump as much.
Another popular option is rubber mulch, which has a lower weight capacity and is more conducive to younger kids jumping on it. However, this surface can be abrasive for adults.
Is It Easy to Install and Maintain?
Before you purchase a playground surfacing material, you need to consider if it is easy to install and maintain. If you have an easy-to-install surface, it will save you time and money.
For instance, you can easily install interlocking modular systems made from recycled rubber and wood fibers without hiring the help of specialists to guide you through the installation process. You may need to contact professional contractors if your surface is challenging to install.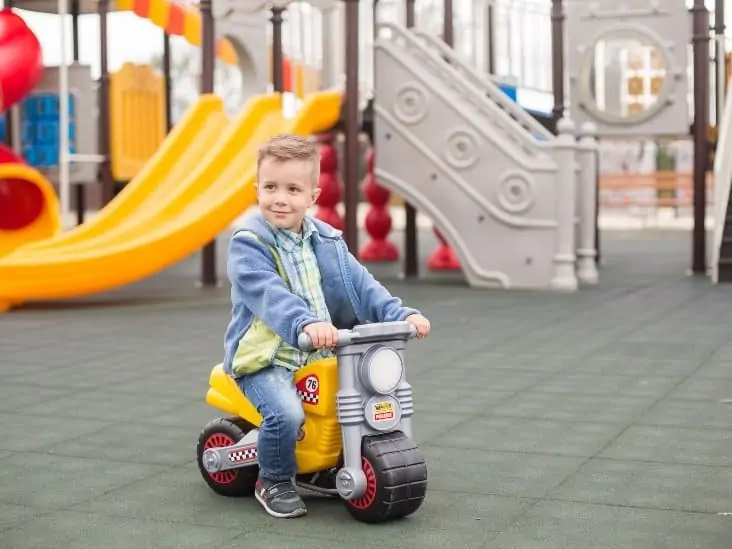 Moreover, you can deal with maintenance issues yourself if you choose a surface that's easy to maintain.
For example, rubber mulch is easy to mow and rake; hence, it doesn't need frequent replacement or resurfacing. On the other hand, wood chips are more challenging to maintain because they need to be replaced and reseeded when they start to get worn out.
Another example is the PVC surface, which requires little maintenance because it's easy to clean, doesn't fade in the sun, and has a lower risk of getting abraded. Conversely, asphalt may need some repairs after several years.
Be sure to choose a playground surfacing material that's not only functional but also easy to install and maintain for added convenience.
Visual Appearance
You should also consider the material's visual appearance because children tend to experience a prompt response to visual stimuli, and colors are a critical part of it.
For example, interlocking modular systems made from recycled rubber and wood fibers feature different colors, which is beneficial for your child's eyes because it can stimulate their senses.
Moreover, the contrasting colors will make your playground look more attractive. In contrast, rubber mulch features a uniform color scheme that won't attract as much attention.
However, the downside of using contrasting colors is that it can get dirty easier than a surface with a uniform color scheme. Hence, you may need to clean this material more often.
Ensure you choose colors that promote a joyful environment and provide a calming effect on the kids' minds.
Safety
Safety is a critical playground aspect that you can't afford to ignore while choosing your playground surfacing material.
The material needs to be designed in a way that ensures safety for your kids. If you subject the material to regular abuse, it will wear out faster than expected and can cause injuries due to loose debris or surface features.
Additionally, pre-existing safety hazards on the playground may require you to spend more time and resources when trying to address them.
For example, rubber mulch is safer than woodchips because children are less likely to trip or slip on this material. Rubber mulch has a smaller surface area than wood chips, which means it's easier to maintain and won't get dirty as quickly as woodchips. Asphalt is also considered safer than concrete because the former can withstand more wear and tear.
Some materials may be safer than others, but it doesn't mean they are all safe enough; therefore, you need to thoroughly inspect your options before making a decision.
You may want to consult playground experts regarding their opinions on the safety ratings of your playground surfacing options. Ask them about playground safety and if they have any recommendations based on their expertise.
Surface Traction
Moreover, the surfacing material you choose should be able to provide ample traction for your kids.
Rubber mulch features a high degree of surface traction because it has an open-cell structure and is made from small granules. This means that water can easily penetrate this material; hence, it's unsuitable for playgrounds where there's a risk of children slipping or falling.
Wood chips may be harder to maintain and to resurface, but they are ideal for playgrounds in areas where there is snow because this material has excellent traction due to its rough surface.
The uneven surfaces help reduce the risk of the kids slipping, which is helpful for sledding and other winter activities.
You should also factor in the condition of the existing playground surface because it will affect how much traction you need.
The surface may get slippery when wet, so your children won't play safely if you don't install a material that can provide adequate traction during those conditions.
For example, rubber mulch is ideal for older playgrounds originally surfaced with wood chips or soil.
If you install rubber mulch, the older material will provide extra traction and prevent slip and fall accidents during wet conditions because your kids will have a better grip on it than they would on a wet rubber playground surface.
Warranty Period
Playground surfacing is a significant investment towards the safety and health of your kids. Therefore, it is essential to choose a durable material that can serve you for a long.
The playground surface you choose should offer a long-term warranty to protect your kids from accidents. Some manufacturers offer warranties that last up to 25 years, while others offer a warranty period as short as two years.
Go for a material with a longer warranty period so that you have more time to save money for surface repairs or replacements.
Conclusion
Take time to research the above factors before deciding which playground surfacing material is best for your needs.
This will help you choose a surface that offers lasting value without breaking your budget or exceeding your expectations.