Adding a playhouse to your backyard can be a fun way to limit your children's screen time and make them embrace outdoor play. It is a sure way to keep your little ones entertained for many hours. While you could shell out hundreds or even thousands of dollars for a pre-made playhouse, the cost for a premium model can be mind-blowing. Fortunately, it is relatively easy and enjoyable to build a simple playhouse for your little ones out of relatively inexpensive materials.
So, how do you make a simple playhouse? Well, the first thing you need to do is choose an ideal location in your backyard where you wish to build the playhouse. From there, assemble the necessary materials and get to work. Start by constructing the floor, build the walls, then add a roof. Once you have the complete playhouse structure up, add some sand pallets, paint it and finish the interior. An ideal material to use in construction is wood.
This article discusses everything you need to know about building a simple playhouse for your children. Read on to find out everything you need to know.
What Skills Do I Need to Make a Simple Playhouse?
 Before we dive into discussing the steps to follow in building a simple playhouse for your children, you need to understand the skill set required to accomplish the task.
Basically, you don't need sophisticated skills to build a simple playhouse. You only need to be able to use simple tools such as a jig-saw, hammer, and drill to accomplish the mission. What is even more exciting is the fact that you don't need prior experience in using these tools to be successful.
So, even if you have never used these tools before, you will still be fine as long as you can follow the simple instructions that we shall discuss below.
In terms of cost, you don't need a lot of money to accomplish the goal if you are doing it yourself.
The materials can cost between $400 and $800, depending on where you live. In most cases, you will use the money to purchase simple tools for use and materials such as screws, plywood, grooves, and so on.
Building a Simple Playhouse: Step-by-Step
In this section, we discuss a step-by-step guide on how to build a simple playhouse from readily available materials. You can complete this project on a weekend even if you don't have any prior experience.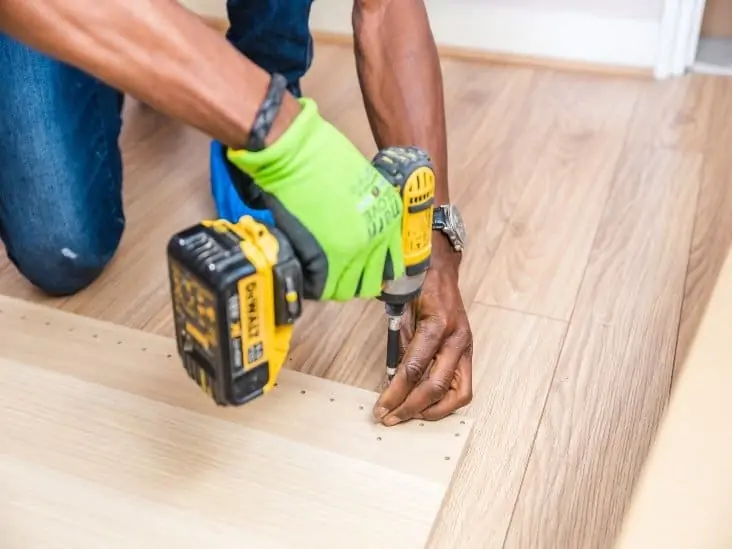 However, if you are fully confident of your carpentry skills, there are many simple playhouse plans available online with more ambitious designs that you can try and tackle.
Materials Required
To accomplish this task, you will need the following materials before you start:
Six equally-sized pallets
At least two sheets of plywood, each measuring double the area of one pallet
Wood paint
Angle brackets
Screwdriver
Sheet of corrugated metal
Sanding machine or sandpaper
Screws
Step 1: Choosing an Ideal Location
The first thing you need to do is choose an ideal spot in your backyard where you will build the playhouse. When choosing the location, consider proximity to the gardens and other buildings to ensure your little ones have enough room to play around.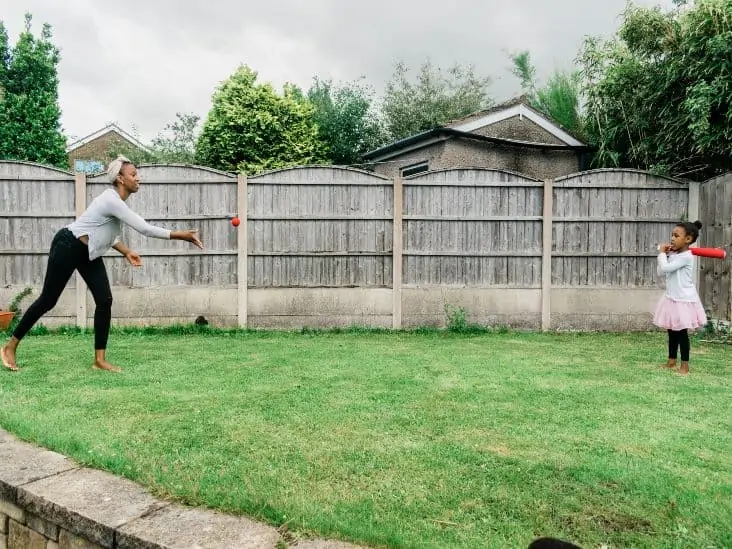 Ensure the chosen location is level and as far away from buildings, tree branches, and other obstacles as possible. The primary goal is to ensure there is enough space between your DIY playhouse and your walls, fences to minimize the risk of your children getting stuck.
Step 2: Constructing the Floor
Once you have identified the perfect spot in your backyard, it is time to get down to work and start building your playhouse.
The first thing you need to work on is the floor of the playhouse. To construct the floor, lay two of your pallets side-by-side on level ground and cover them with one of the plywood sheets you purchase. Carefully nail the plywood sheet to the pallets and the whole perimeter.
If you need to cut off small plywood sections to fit the pallets, do so when the plywood is lying on the ground. Use a hacksaw to trim the unwanted section and be careful not to overdo it.
Since the entire playhouse will rest on the floor, it is crucial to ensure you have a strong one. To reinforce the strength of your floor, use footboards to create the joints.
Step 3: Build the Walls
When the floor is ready, you now need to build the walls of the playhouse. To do so, place two pallets in an upright position along the longer back edge of your floor and carefully secure the pallets with strong angle brackets from the inside part.
Go ahead and place one pallet on either side of the shorter edges and screw them to the floor. Screw the adjacent walls with more angle brackets.
Don't worry about the minor gaps that remain in the walls between your pallet slats because they will play a crucial role in allowing natural light into the playhouse. The only thing you need to do is ensure the gaps aren't too big.
If you want completely solid walls, you can get extra pallets and nail them on the wall to cover the spaces completely.
The simple playhouse we are constructing here has an open front. So, if you want a fully enclosed structure, consider adding an extra pallet at the front part to create a relatively narrow doorway.
Step 4: Adding the Roof
Up to this point, your playhouse should have taken shape because you already have the floor and walls. The only thing missing to make it complete is the roof.
To create a roof, nail the second plywood sheet to the top of your playhouse. Feel free to screw a tin sheet or corrugated iron sheet over the top of the plywood to provide an extra layer of protection against rainfall and other harsh weather elements.
If you prefer an angled roof, feel free to screw woodblocks to the front two corners before you add the tiny sheet or corrugated iron sheet.
Step 5: Painting and Finishing
If you have done everything right up to this point, you already have a complete playhouse that your children can use. However, you still need to take care of a few things to make the playhouse look better.
Before you paint the playhouse, first-round it off using sandpaper to level any sharp edges and corners that might hurt your kids. Pay close attention to the sharp edges and corners around the doors and windows.
If you used treated wood in the construction, be sure to give it a few days of good dry weather before you proceed with painting.
Remove and label all the trim before you start painting and start with the roof before you paint the walls so that you don't bump into wet paint. Sometimes, a roller with a relatively long extension handle can make your work a lot easier.
It is good to consider painting the interior, including the ceiling, for a more exciting playhouse. Use an exterior primer for all the painting and apply at least two coats of paint. However, you should allow the first coat of paint to dry completely before adding a second coat.
Your playhouse is now ready to use, and all you need to do is invite your kids over for a wonderful opening play session.
How High Should the Playhouse Be?
Basically, there is no limit to how high your playhouse should be, but you need to be mindful of your children's safety. Stick to a single level unless you are fully confident of your construction and carpentry skills.
Generally, there is no need to build a playhouse taller than six feet, even if you have older kids. You should only consider a taller structure when you want to double it up as a storage area for some of your equipment.
If you are considering building a two-story playhouse or a treehouse, you need to consider a few factors before getting started.
The first thing you need to do is consider whether the playhouse will block sunlight. Of course, you don't want to build something that will limit the entry of natural sunlight into your home.
You should also take your neighbors into account and avoid building a playhouse so high that it allows your children to view into their homes and backyards. Some of them may feel like you are invading their spaces.
Final Thoughts
When it comes to building a playhouse for your kids, you don't have to be an expert carpenter or know how to use power tools. With the right materials and some basic steps, anyone can make their own simple playhouse.
Sure, you need patience and attention to detail, but if you follow our guide step-by-step with clear instructions, even amateur woodworkers will find success in making this project come together beautifully and not mess up.
That's why we've outlined every material that is required as well as all of the necessary steps from start to finish – so that no one has any excuse not to try! Whether your little ones are tired of playing on the living room floor or they're looking for something exciting, a playhouse will always do the trick.