Playing at the playground is a critical part of childhood. It helps children get sufficient physical exercise they need to stay healthy and develop critical emotional, social, and cognitive skills. Every kid deserves a fair chance to learn, socialize and create beautiful memories of the playground. Unfortunately, not every child has that opportunity. Statistics show that one in five children has a disability that can impact their ability to play on a playground. That's why it's crucial for playgrounds to be inclusive, so that all children can enjoy them.
So, how do you make an inclusive playground? Making a playground inclusive and accessible doesn't have to be complicated. Start by evaluating your playground to determine how you can modify it to accommodate kids of all disabilities. Determine your needs based on your evaluation report, then figure out the all-inclusive play equipment you need to install. Some of them include all-inclusive slides, swings, and ramps. You can also install sensory-rich playground equipment such as musical instruments, sand, and water tables.
This blog post discusses everything you need to know about making an inclusive playground. Read on to learn more.
What Is an Inclusive Playground?
In simple terms, an inclusive playground enforces all safety standards and ensures that children with or without disabilities have access to and can use playground equipment without any assistance.
It also eliminates potential barriers that might restrict a child's full use and enjoyment of the playground.
An accessible playground is designed for children of all abilities, including those who are mobility- or sensory-impaired, to play together in an enjoyable and safe environment.
The key is to design an inclusive playground with equipment, features, and materials that everyone can use.
There are four main types of disabilities to consider when making a playground accessible:
Physical disabilities: They include mobility impairments such as being wheelchair-bound or having difficulty walking.
Cognitive disabilities: Cognitive disabilities involve difficulties with learning, thinking, and processing information. Autism spectrum disorder (ASD) is an example of a cognitive disability.
Sensory disabilities: They involve difficulties with one or more of the five senses: hearing, vision, touch, smell, and taste. Examples include blindness, deafness, and being unable to feel pain.
Emotional disabilities encompass a wide range of mental health conditions that can impact a person's ability to regulate emotions. Examples include anxiety, depression, and post-traumatic stress disorder (PTSD).
When making an accessible playground, it's essential to keep all these types of disabilities in mind. Depending on the needs of the community, some playgrounds may be more focused on one type of disability than others.
What Are the Benefits of an Inclusive Playground?
There are many benefits to having an accessible playground for children with disabilities. Here are some of the most important ones:
1. Children with Disabilities Can Socialize and Make Friends
Perhaps the most crucial benefit of an accessible playground is that it gives children with disabilities the opportunity to socialize and make friends. This is vitally important for all children, but it's especially crucial for those with disabilities.
One study found that children with disabilities who play on inclusive playgrounds have better social skills than those who don't. They're also more likely to make friends with children who don't have disabilities.
These benefits are significant because they help children with disabilities feel included in their community. They also pave the way for a more inclusive society.
2. Inclusive Playgrounds Encourage Inclusion and Acceptance
In addition to helping children with disabilities socialize and make friends, inclusive playgrounds also encourage inclusion and acceptance. When children of all abilities play together, it helps break down barriers and stereotypes.
It also helps children understand that everyone is different, and that's okay. This is an important lesson that will stay with them for the rest of their lives.
3. Inclusive Playgrounds Help All Children Thrive
Inclusive playgrounds don't just benefit children with disabilities – they also help all children thrive. When children of all abilities play together, it helps them develop critical social and emotional skills.
It also allows them to learn about and practice cooperation, teamwork, and compromise. These are skills that will benefit them throughout their lives.
Inclusive playgrounds also help create a sense of community. When children feel like they belong to a community, they're more likely to thrive in all areas of their lives.
How Do You Make an Inclusive Playground?
Fortunately, there are many things you can do to make a playground inclusive. Furthermore, there are plenty of resources available online that provide guidance on how to make playgrounds accessible.
Here are some of the most important things to keep in mind:
1. Think About the Needs of the Community
When making an inclusive playground, it's essential to consider the community's needs. What type of disabilities are most prevalent in the area? What kind of equipment would be most beneficial?
Answering these questions will help you decide what to include in the playground. It will also help you determine how to arrange the equipment so everyone can play safely and comfortably.
2. Include a Wide Range of Play Equipment
To make a playground truly inclusive, it's essential to include a wide range of play equipment. This way, there's something for everyone to enjoy. Some of the most popular types of playground equipment include:
Ramps
Ramps allow kids to reach elevated play equipment and enjoy the view from the top. They also provide an opportunity for kids to practice balance, coordination, and turn around in a wheelchair.
The handrails installed on both sides of ramps allow your little ones to pull themselves effortlessly along the ramp.
We suggest you select a material like powder-coated steel for the handrails as it is durable and easy to maintain.
Sensory Activities
Sensory activities play a critical role in meeting the needs of children with disabilities. They help stimulate the senses and provide a much-needed break from the hustle and bustle of playgrounds.
Some popular sensory activities include:
Water tables: Water tables are a great way to cool off on hot days. They also allow kids to practice fine motor skills as they scoop, pour, and splash around.
Sand tables: Sand tables are perfect for kids who love to dig and build. They also provide a sensory experience for kids who enjoy the feeling of sand between their toes.
Musical instruments: Musical instruments provide a fun and interactive way for kids to play together. They're also great for developing gross motor skills and encouraging creativity.
3. All-Inclusive Slides
Slides add a lot of fun to any playground. They also provide an opportunity for kids to practice coordination and develop their motor skills.
When choosing a slide for your playground, be sure to select one that is wheelchair accessible. This way, everyone can enjoy the fun of sliding down.
4. Ground-Level Play Activities
Ground-level activities are designed to allow children to enter and exit play structures at the ground level. The activities encourage children of all abilities to interact and play together.
Some of the most popular ground-level activities include sand and water tables, art stations, and musical instruments. These activities can be enjoyed by children with a wide range of disabilities.
5. All-Inclusive Swings
Swings are a playground staple, and there are many different types to choose from. Some swings are explicitly designed for children with disabilities. Others, like bucket swings, can be used by everyone.
6. Make Sure the Playground Is Safe
Safety is always a top priority, but it's especially important on an inclusive playground. This means ensuring the surface is soft in case of falls and that the equipment is sturdy and well-maintained.
It's also essential to have a clear line of sight so that adults can supervise the children. This is especially important for children with disabilities who may need more help and support.
7. Include Challenges at Multiple Levels
Inclusive play doesn't mean play without challenges. In fact, it's essential to include challenges at multiple levels so that everyone can play together.
This could mean adding a variety of play equipment, arranging the equipment in different ways, or providing different types of sensory experiences.
By offering challenges at different levels, you'll ensure that everyone has a chance to play and learn regardless of their physical or mental abilities.
8. Create an Inclusion Policy
After implementing the above recommendations, the next step is to create an inclusion policy. This policy should be designed to ensure that all children have a chance to play on the playground, regardless of their abilities.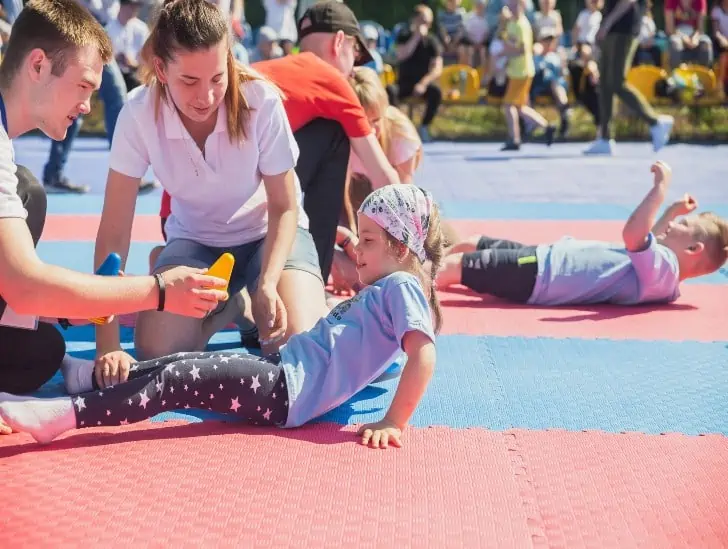 To do this, you'll need to train your staff on how to implement the policy.
You may also want to consider creating an education program for parents and caregivers. This way, they can learn about the importance of inclusion and how to support their children on the playground.
Conclusion
Inclusive playgrounds are essential because they provide children of all abilities with a place to play and socialize. They also help break down barriers and stereotypes.
Fortunately, there are many things you can do to make a playground inclusive. This includes thinking about the community's needs, including a wide range of play equipment, and ensuring the playground is safe.
We hope you have enjoyed reading this post and that you are ready to turn your traditional non-inclusive playground into an inclusive playground.
Last update on 2023-07-23 / Affiliate links / Images from Amazon Product Advertising API