Adding a playset to your backyard can be an exciting proposition. It helps your kids enjoy the real playground fun without leaving the compound. They can run, swing, slide, and ramp whenever they feel like, and chances are, you share the same enthusiasm.
However, before you head out to purchase a playset for your backyard, you need to take time to prepare the ground and ensure everything is in order. You must ensure your available yard space is sufficient and free of obstacles that may limit the installation process.
Keep in mind that installing a playset on a space that isn't fully prepared to accommodate it can turn it into a safety hazard. That is why you need to spend time preparing your backyard and ensuring everything is in order before you go out to shop for the playset.
This post discusses everything you need to know about preparing your backyard ground for a kids' playset. Keep reading to learn more.
Selecting the Right Site
The first step towards installing a playset in your backyard is choosing the right site.  You have to assess your backyard carefully and identify a good safe spot. Keep in mind that when it comes to the safety of your little ones, it is always good to be safe than sorry later.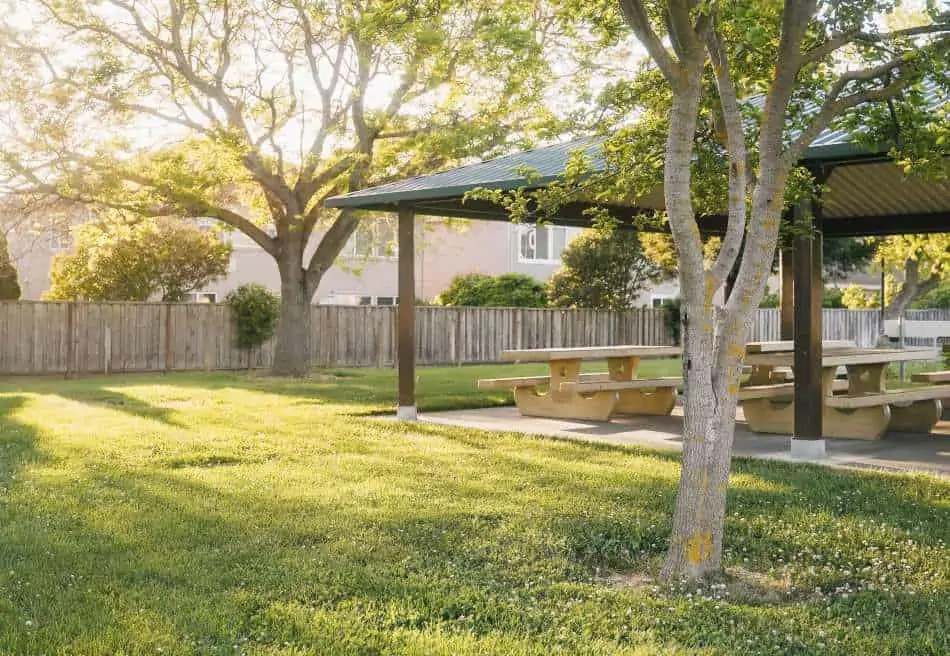 Here are some of the crucial things you need to consider while choosing the right spot in your backyard for playset installation:
It must be free of tree stumps, large rocks/bricks, and roots.
There should be no contact with low-hanging branches, utility power lines, or any other obstacles.
Fill up any holes present in the ground.
Ensure the ground is level because any sloping could make the playset unstable and dangerous to your kids. However, make sure there will be good water drainage.
The space site should be big enough to accommodate the playset but make sure it is far away from structures such as trees, houses, and fences in your backyard.
Preparing the Site for Playset Installation
Once you have identified a good site for your playset installation, the next thing you need to do is prepare it for installation. Some individuals will jump straight into installing the playset without prepping the site. Such a move can be quite dangerous to the safety of your kids.
You need to ensure there is proper drainage and everything is in its rightful position. Keep in mind that without a proper drainage system, the play area could easily be filled with standing water and mud holes whenever it rains.
If you are using mulch or wood chips as your playground surfacing material, the standing water could saturate them, reducing their lifespan.
With poor drainage, a small amount of rainfall could easily flood your backyard playground and soak up everything, making it unsafe for your little ones to play.
Even though most playsets are waterproof, they aren't designed to be soaked underwater for long periods. Therefore, a backyard playground without proper drainage could lead to costly repairs.
So, how do you prepare your identified site for playset installation? Follow the tips outlined below:
Get rid of all obstacles
The first thing you need to do is clear up the ground and ensure it is in good condition. Remove huge rocks and other debris such as branches and leaves from the site. If your selected area has overgrown grass, make sure you mow it and clean the area thoroughly.
Level the ground
A playset requires a level ground to be stable and safe for your kids. Typically, the base of the playset tower requires the most even ground to remain stable. If your backyard is uneven, you need to do some excavation and level up everything.
Sometimes, it can be challenging to level up the ground on your own, but everything becomes a little bit easier with the right tools. To level up your ground, you will need garden mulch film, string, wooden stakes and stake kit, pea gravel/mulch, or any other type of playground surfacing material you will put beneath your playset.
You may also need a pair of scissors, bubble level, shovel, work gloves, and a piece of lumber for measuring and evening the surface.
To level up the ground, begin by measuring the space you will require in your backyard for your playset. Carefully place stakes in the yard using your stake kit and attach them with string to curve out the area that needs leveling.
Using a shovel, dig a small trench around the perimeter of your selected work area to break up the topsoil and grass.
To level up the ground, begin on the side of the space where you have the largest incline and carefully shovel out the dirt and grass from the area you have sectioned off.
Shovel until you acquire a smooth and uniform inclination for the entire area that you had sectioned off. If you feel tired, don't be afraid to let your kids help you with the work.
Install the playset
You have identified an ideal site and leveled it up. Now is the right time to bring in your playset and start the installation process. Take time to ensure everything is done right to avoid exposing your kids to potential safety hazards.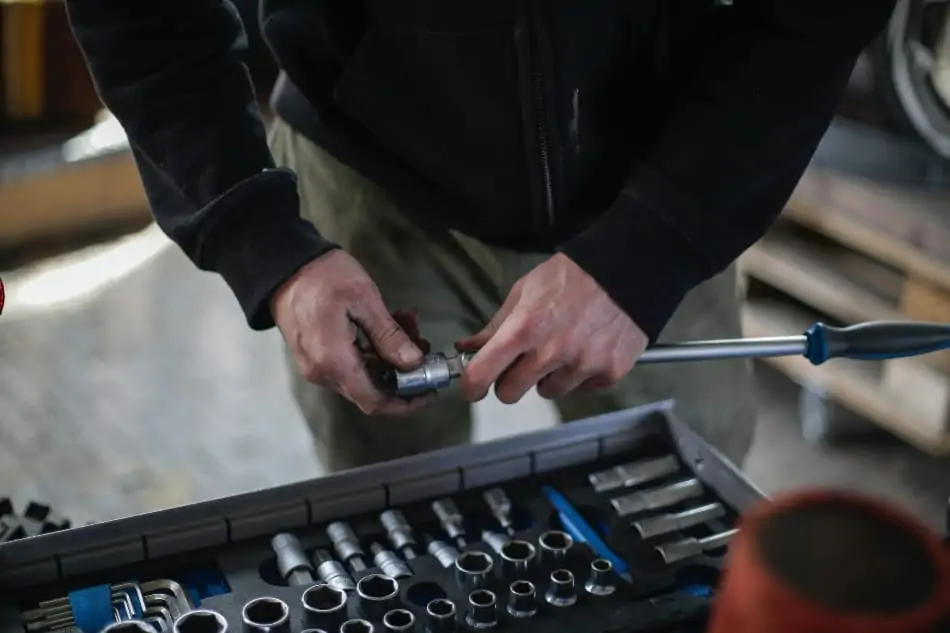 Ensure the poles of the play structure are installed deep enough into the ground to make it sturdy. Review your manufacturer's recommendation on that.
Typically, the playset needs to be at least six feet from other play structures such as fences, trees, houses, poles, and sheds. If your playset has a swing set, consider leaving even more space around it for front and rear movement.
Choose the Right Playground Surfacing Material
Another thing you need to do while prepping your backyard for playset installation is choosing the right surfacing material. The surfacing material's primary purpose is to provide an extra layer of protection in case of a fall.
Some of the options you can choose from include:
Pea gravel/sand
Most commercial playgrounds use either sand or pea gravel because they are relatively cheap. However, these materials are light and can be blown away by strong winds. Some parents say that pea gravel is good enough for a backyard playground since it offers adequate protection.
But, you must keep in mind that pea gravel doesn't offer superb shock-absorbing performance and shouldn't be used for any play structure that is more than six feet above the ground level. 
Sand becomes hard and slippery when wet and it is not advised to have your kids playing on it after rain.
Engineered wood fiber
Some experts warn that rubber materials may leach out toxic chemicals with time. Therefore, parents tend to feel safer with engineered wood fiber since it is made from natural wood, making it environmental-friendly
Engineered wood fiber is an upgraded version of wood chips, and manufacturers tend to control their size carefully.
Poured-in-place rubber
Poured-in-place rubber is perhaps the safest option when it comes to playground surfacing materials. It offers exceptional shock-absorbing performance, and it is long-lasting. It is also wheelchair-friendly and low maintenance.
Poured-in-place –rubber also comes in a wide range of colors and can be customized to your own liking. The only downside of this option is the cost. Due to the sophisticated technology used, it is a little bit more expensive than the other options.
Wood mulch
Wood mulch is similar to sand but much finer and manufactured from wood. Wood mulch is heavier and sturdier than sand and won't be blown away. It is also an easy-to-install option and relatively inexpensive.
Since they absorb moisture just like sand, they tend to become harder under cold conditions weakening their ability to provide a safe landing for kids.
Leave Sufficient Room for Kids to Run around the Playset
Typically, the footprint of the playset you purchase will show the minimum amount of space it will occupy. To achieve better results and make your kids enjoy, you will need more room to accommodate your little ones running around the playset.
It is always a good idea to have an additional buffer of reasonable space in addition to the required amount of space for the playset. The bigger the buffer space, the better.
Maintain Safety
Once you have prepared your backyard and installed the playset, you need to maintain high safety standards to protect your children from harm. After installation, inspect the playset periodically for any loose bolts, anchors, or signs of wear.
If you identify any problems, have them repaired as soon as possible to ensure your kids and their friends are always safe while playing. Never assume anything, no matter how minor it might seem to you.
Final Thoughts
Adding a playset to your backyard is an incredible way of helping your kids create unforgettable childhood memories. However, before you go out there and start shopping around for the best playset, make sure you have prepped your backyard for installation.