Winter can be the harshest season for your trampoline, with heavy rain, strong winds, and the accumulation of rotting leaves guaranteed.  While most trampolines are made to withstand the harsh weather, it is not worth taking the risk. You need to follow the right steps to protect your trampoline from the harsh weather to be sure it will still be in good condition when the sun comes out again. 
So, how do you protect your trampoline in the winter? If you have a storage space, consider disassembling it and keeping it in a dry place. Make sure you remove the springs, safety netting, soft frame pads, and the jumping mat. You can leave the poles and the metal frame in the yard. Other than disassembly, you can also use a weather cover to protect it, brush off the snow as soon as it starts accumulating, and stick to a regular maintenance schedule.
If you are wondering how to take care of your trampoline during winter, you have come to the right place. Whether you are a beginner or expert, this guide will help you understand everything you need to know about protecting your trampoline in winter. Read on to learn more.
Can a Trampoline Stay Out in Winter?
Before we dive in and start discussing the different ways of protecting your trampoline during winter, let us answer one of the most frequently asked questions when it comes to trampoline care: Can a trampoline stay out in winter?
Well, this will depend on a wide range of factors. Typically, a good trampoline should be designed with high-quality materials that can withstand harsh weather elements without any problem. It means that a high-quality trampoline can comfortably withstand moderate winter.
However, if you live in an area that receives a lot of heavy snow and rainfall during winter, it is always good to think about disassembling your trampoline and keeping it safely in a protected storage area. This is because excess snow can pile up until it exceeds your equipment's maximum weight, causing the springs or the jumping surface to break. 
Generally, you should consider removing at least the pads, springs, and the jumping surface during winter so that you do not have to worry about snow.
If you don't want to go through the hassle and stress of disassembling your trampoline, you should purchase a trampoline cover and use it to protect your equipment.
Don't worry about leaving the metal frame and poles standing in the yard throughout winter. They have been designed to withstand the harshest weather elements, and they'll still be fine after winter.
If you have an indoor trampoline, all you have to do is bring it inside during winter so that you and your little ones keep enjoying it even if the weather outside isn't that friendly.
Trampoline Winter Care Tips
So, the winter season is around the corner, and it is that time of the year when you spend most of the time indoors. What do you do to protect your trampoline and keep it in good condition until spring, when your kids will come out to play again?
Here are some of the things you can do to protect your precious investment from potential winter damage.
1. Disassemble
As mentioned earlier, many trampolines are designed with durable and rust-proof materials that can withstand harsh weather elements such as snow and heavy rainfall. It means that you don't have to take them down during winter.
However, if you have an extra storage place in your home, you can disassemble the trampoline and store it in a dry place.
Consider removing the springs, safety netting, soft frame pads, and jumping mat.
Feel free to leave the poles that hold the netting in place and the metal frame to which the mat and springs attach standing in your backyard.  They are strong enough and won't be affected by snow and rainfall.
2. Cover It Up
With a good trampoline cover, you can easily prevent weather damage since it offers a protective layer from snow, rainfall, cold, and frost.  Most people tend to think that trampoline covers are designed to keep the playset completely dry.
However, the truth is that all trampoline covers are designed with a small drainage hole in the center that allows rainwater to pass through the minute holes and drain away to avoid causing unnecessary strain on the frame.
Trampoline covers come in different sizes, but all of them are designed to protect the jumping pad from the harsh weather.
You need to be extra careful about how you cover your trampoline. If moisture is trapped inside the cover, it may allow mildew to grow, causing damage to the trampoline.
Therefore, if you choose to cover your trampoline, make sure you do it correctly and check on it regularly. Remove the cover at least once per week and let the trampoline dry out before covering it again.
3. Use Trampoline Anchors to Maintain Safety
Did you know that trampolines can become a significant safety hazard in strong winds? To avoid the worst from happening, you should consider anchoring the trampoline during winter.
The primary purpose of trampoline anchors is to anchor the equipment to the ground to stop it from being blown around your yard when the wind is too strong.
Anchoring is especially a good idea if you stay in areas prone to strong winds during winter. Some specialized anchor kits come with stakes that attach the frame to the ground. These types of anchors provide you with a good and relatively affordable option.
If you don't want to purchase stakes, another option would be digging trenches in the ground before setting up your trampoline for the first time.  Ensure you place the legs of the trampoline in the trenches and carefully pack mulch or dirt around them so that the trampoline is fully secured by the ground itself.
Securing the trampoline in the ground works as good as commercial anchors most of the time. However, this method's only downside is that the soil can become weak over time, causing the trampoline to shift to one side. It can be frustrating to fix the issue, especially if the trampoline has already been assembled.
4. Periodically Inspect the Jumping Pad, Frame, and Springs
If you didn't disassemble your trampoline and only covered it, you need to inspect the frame, springs, and jumping pad regularly. Regular inspection is critical to ensure winter isn't causing unexpected damage to your playset.
If there is any damage, you will be able to detect it early, making it easy to repair it and take measures to prevent any further damage. Keep in mind that if you don't detect the damage earlier, it can extend beyond repair, causing you significant losses.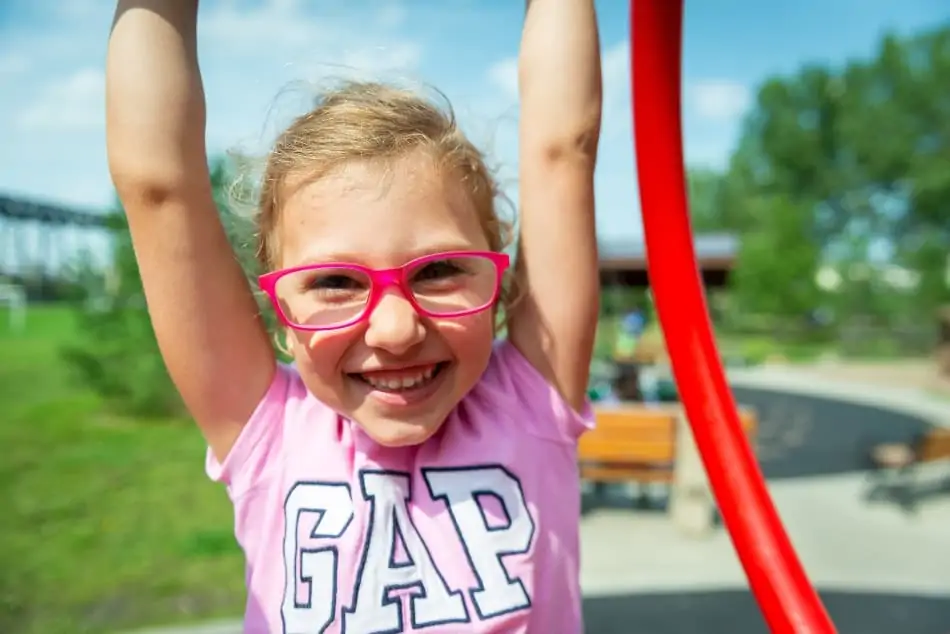 After winter, take time to walk around the trampoline noting all areas that look like they have experienced tear and wear since the last time your kids used the equipment. Address all the safety issues before allowing your little ones back on it.
5. Clear the Snow as Soon as Possible
Unlike rainwater, snow will automatically settle on the top of the trampoline.  If you do nothing, it will accumulate and strain the frame and springs of the trampoline, causing irreversible damage.
However, if you brush off the snow as soon as it starts accumulating on the trampoline mat, it could keep your equipment in great condition for many years. Snow will most likely get into the springs if you don't brush it off as soon as possible.
You can clear the snow using a broom or shovel every few days, depending on how fast it builds up. 
Can You Play on Your Trampoline in the Winter?
Most of us can agree that playing on trampolines is a terrific source of fun and exercise for the entire family. But the big question is, can you use a trampoline safely during winter?
If you live in an area that tends to experience significant amounts of snowfall or strong winds during winter, it may not be a good idea to go out and play on the trampoline. The strong winds, heavy snowfall, and rainfall are not good for you, your kids, and the trampoline.
If you live in such areas, the only thing you can do is disassemble your trampoline and store it safely during winter.
However, if you live in an area that experiences moderate winter, you can still go out once in a while and enjoy jumping on the trampoline. If there are no strong winds, snowfall, and heavy rainfall, it is safe to play on the trampoline. The cold alone doesn't damage your playset.
Final Thoughts
A trampoline is an expensive investment, and you need to do everything possible to keep it in great shape for many years.  Winter can be the most strenuous time of the year for most components on your trampoline. With heavy rainfall, snowfall, and cold, you need to take appropriate measures to protect your investment.
Fortunately, you can do lots of things to protect your trampoline during winter, so you don't deprive your children of the fun. Using a trampoline cover is probably the cheapest and easiest way to protect your equipment during the cold months.