One of the largest growing sectors of the entertainment industry is indoor playgrounds. Indoor playgrounds are different from their outdoor counterparts because the equipment is coated with a foam layer that protects children from bumps and bruises. Since these playgrounds are relatively new, many people wonder what kind of equipment you can find in them.
An indoor playground contains areas for toddlers and older children that are filled with slides and tubes. Depending on the facility, there could also be a trampoline area, pits, slides, video games, and more. Indoor playgrounds also provide different options that you won't find at an outdoor playground.
Navigating the types of equipment and play places in an indoor playground can be daunting for parents or caregivers. Learning which areas are best for your children could mean the difference between an injury and an exciting day they won't forget. Read on to get a glimpse of what you can expect when you take your family out for a day at an indoor playground.
Indoor Playgrounds Are Fun for the Entire Family
An indoor playground is usually found in a mall or shopping center and has many entertainment areas for the whole family. They are created with steel spines that are coated with foam. The foam is several inches thick and allows children to bump and knock up against pillars and doorframes without a second thought. 
Areas with crawling tubes and trampolines are covered with dense foam padding, and exposed areas above slides and play places are blocked off from climbers or rogue children. Arcades are usually included, as well as rooms for birthday parties and more quiet activities like crafting. 
The types of equipment an indoor playground can have are:
Soft play areas
Toddler areas
Climbing stations
Tubes and crawlers
Trampoline areas
Slides
Ballistic areas
Obstacle courses
Tiny towns
Arcades
Crafting Areas
Party Rooms
Soft Play Areas are Designed for Infants
The soft play areas are the ones with the thickest padding and have a high traffic flow. Kids flock to these areas designed to improve coordination and build strength in young bodies. Small sets of monkey bars and geometric domes allow them to stretch towards the top and build confidence in new environments.
Soft play areas can be purchased as one solid piece and installed with standard tools and contractors. These soft play areas are often a small portion of the gym but can be purchased to populate an entire business location.
Toddler Play Areas Provide Fun and Learning for Young Ones
Toddlers have different needs in a playground. They are in a developmental phase that keeps their brains and bodies busy while playing. These spots will usually be void of edges and filled with soft foam or ball pits to give the children a soft landing. Ramps and inclines are popular items in toddler areas because they can challenge the new walkers and force them to use different muscles.
These are the sneaky areas of the indoor playground. They disguise learning as play. There will typically be shapes and colors that accentuate the site and other implements that will allow them to manipulate bells or other hand-eye coordination equipment.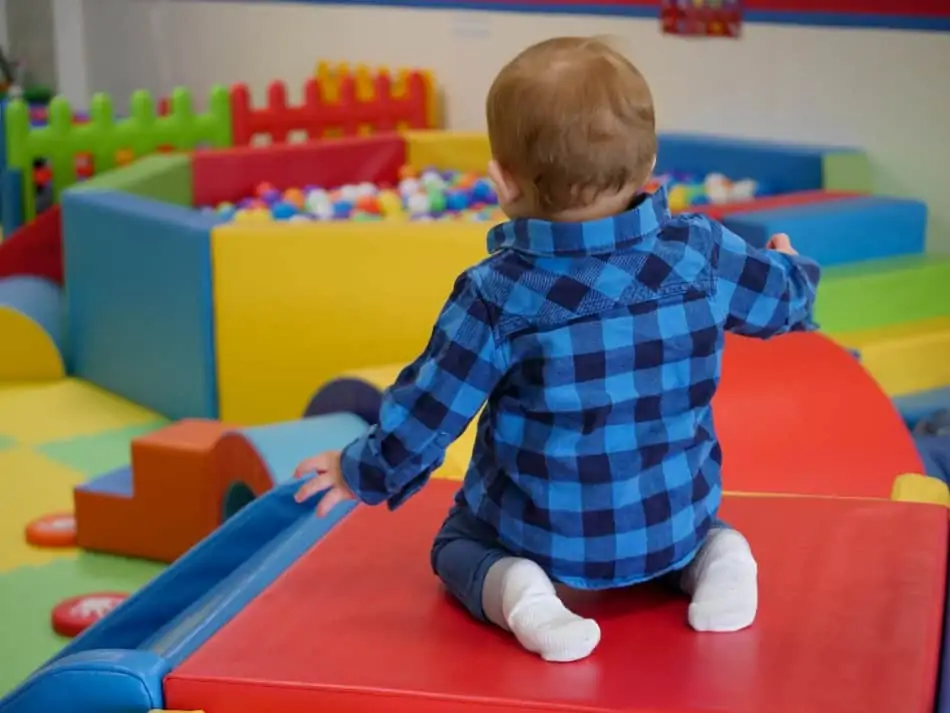 Some things you can expect to see in a toddler area are:
Oversized blocks – Large blocks give the children a better grip, and the large numbers and letters are hard to miss. Tumbling and stacking these blocks promotes hand-eye coordination. 
Ball pits – Ball pits are one of the most exciting play areas in an indoor playground. In the toddler area, the ball pits are not as deep and are often broken down into smaller pools to climb and frolic in. 
Play panels – A play panel is a wall that has a series of theme-related toys for the children to play with. For instance, a sea-themed area will have pictures of underwater creatures playing and smiling while the kids use the attached toys to make noise and move parts around a larger area. 
Climbing Stations Give Confidence to Kids of All Ages
Climbing stations are one of the most popular parts of indoor playgrounds. A climbing station can be a rock-climbing wall or single rope leading to an alcove above the play area. Often, there are ropes with knots and the slanted regions for slower climbers. The hand holds are smooth and won't tear up small hands.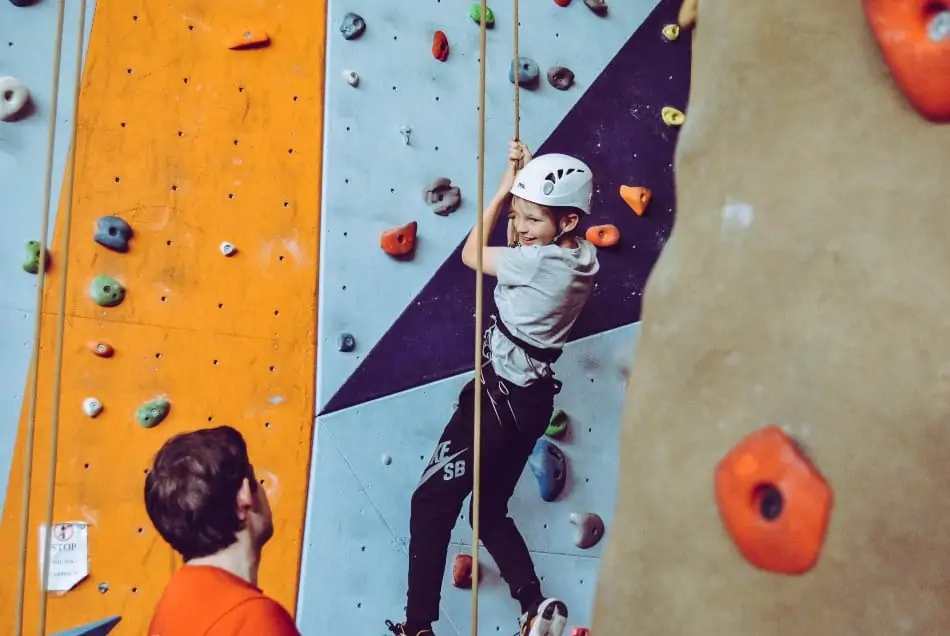 Climbing is beneficial to kids of all ages. It promotes shoulder strength and stability as well as improving back strength and posture. It also provides massive amounts of confidence for smaller children who can scale an entire climbing wall. This bit of faith will lead over to other parts of their lives and improve their well-being.
Tubes and Crawlers Are A Popular Addition
What indoor play area would be complete without tubes and crawlers for kids to root around in? Tubes are made of large plastic and can run the length of the room or business. They can also be made to weave in and out of the soft play area to create a massive tunnel system that kids go crazy over. 
Crawlers are low areas that make children get down on all fours and crawl under them. They are often bookended with smaller tubes and give kids the chance to pull themselves up off the ground. Crawlers force kids to climb up and down repeatedly to improve their strength.
Trampoline Areas Provide High-Flying Excitement to all Patrons
Around the country, standalone trampoline pay areas are popping up as a way to entertain children. More extensive indoor playgrounds have trampoline areas that are great for kids of all ages. 
Younger jumpers should stick to the smaller jumps but can quickly adjust to jumping with older kids. The angled trampolines and floor-length jumping areas make for a high traffic play area, so toddlers should stay close to adults while using them.
Trampoline areas are on the rise and are great exercise for kids. Working the legs builds stamina and strength and learning to flip and twist in the air improves athleticism and core strength.
A Slide Provides Excellent Play for Younger Children
An exciting slide is the hallmark of any good indoor playground. We aren't talking about the slides with hard metal edges or metal bases. These slides are created with high strength plastic and can be curved and warped to create stimulating effects for the kids. Often, tubes lead to a taller drop that can be intimidating for younger children.
The most common types of slides are:
Hump Slide – This type of slide has two large humps that move the child up and down as they slide. Hump slides are much longer than others because they need the extra room for the humps to function correctly.
Spiral Slides – A small spiral slide is usually found in a soft play area to boost older children. This spiral makes the playground seem a bit edgier and gives older kids a reason to play with younger siblings.
Wave Slide – Wave slides are typically found at carnivals and fairs, but some indoor playgrounds have them inside their buildings. A wave slide has waves that are smoother and easier to handle than a hump slide. 
Open Slide – These slides are usually found in toddler areas and have no enclosed pieces. This gives the parents extra time to keep an eye on a toddler while giving them some independence and confidence.
Ballistic Areas Are Fantastic for Older Children and Adults
Ballistic areas are rare in indoor playgrounds, but they provide incredible entertainment for older kids. Ballistic areas are filled with guns and other items that allow children to shoot foam balls at each other. This kind of space is for older kids and teaches hand-eye coordination while promoting running and jumping. Adults can even join in on the fun!
A ballistic area can be dangerous. Balls flying at high speeds can be harmful to smaller children who could be intimidated by the guns and the amount of movement in the area. This area keeps your head on a swivel and provides some excitement outside of the regular rides and attractions.
Obstacle Courses Can be Great Exercise for Everyone
In the last few years, obstacle courses have become a massive appeal of the indoor playground market. These courses are large areas with foam pits underneath that let children climb and play tug of war and dodgeball. These courses are filled with cargo nets and tunnels that force the patrons to climb and jump just like they are in a high-stakes race to the finish.
The obstacle course often has a large recessed area that is filled with large pieces of foam. This foam allows the children to swing or jump from great heights without injuring themselves while landing. The foam is made from a soft and durable material that feels like pillows when the children land. The major obstacle to avoid is the other children who could be in the pit. 
Tiny Towns are Adorable Fun for Infants and Toddlers
A child's perspective of an indoor playground determines if they will enjoy it. A favorite of the smaller kids is the tiny town with an entire city or farm scaled down to child size. There are toys and tools that the kids can play with that are all adjusted for their smaller size. These tiny towns give small children a chance to explore the big world around them with their small hands.
Tiny towns are a welcome addition to any playground. Kids love to mimic their parents. Miniature cityscapes are also fun for larger kids as they can get some nostalgia from their younger days.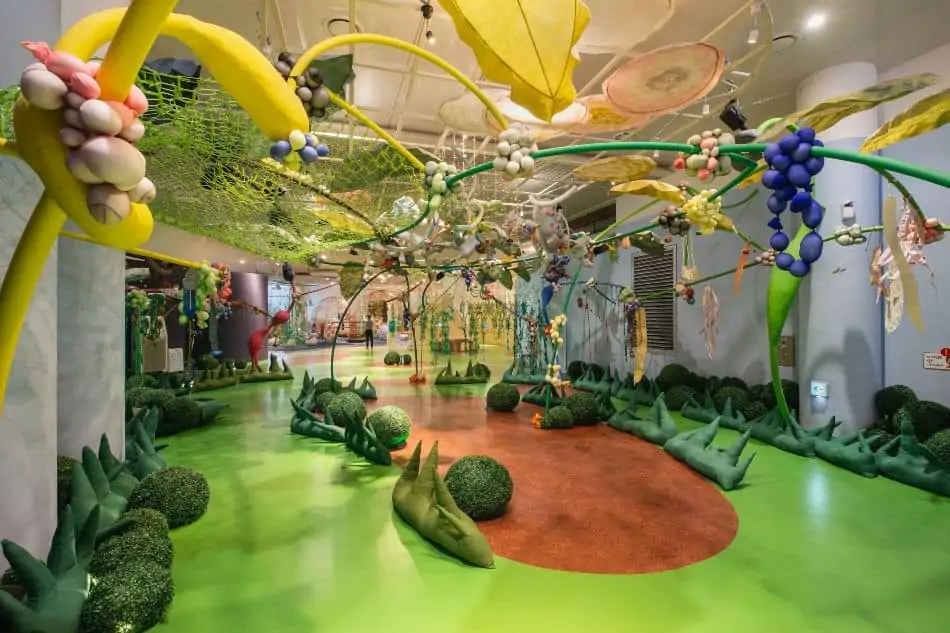 Arcades are a Timeless Classic 
Coin-operated arcade games have also found a home in indoor playgrounds and play areas. They provide entertainment for the entire family and can be a great place to catch your breath or have a drink while other play areas calm down.
These areas will require cash or an additional fee to play the games. There could also be games that give tickets for playing, and these tickets can be redeemed for prizes and gifts at a nearby desk. Kids love to collect the tickets and trade them in for some awesome toys that will make them the envy of their friends.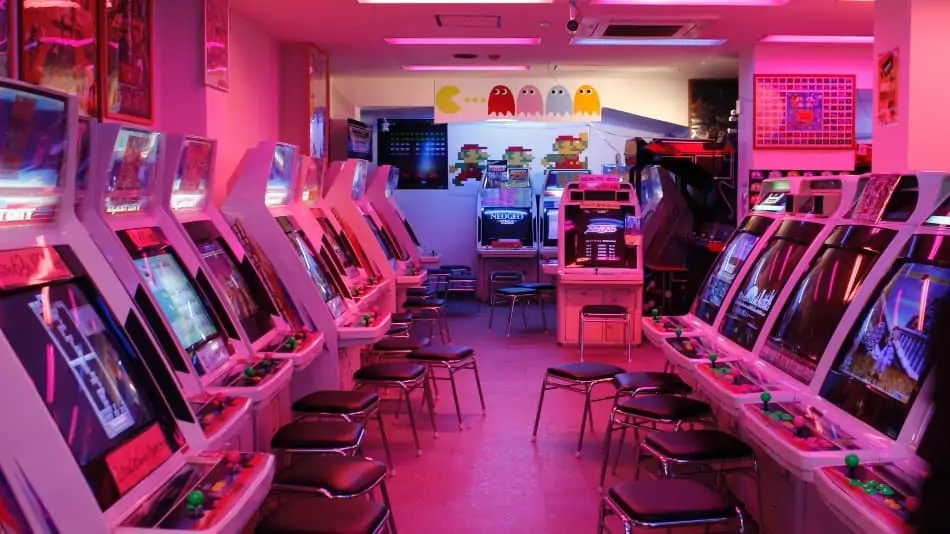 Crafting Areas Give an Excellent Place to Wind Down
Often, there are quiet corners in indoor playgrounds that are filled with crafting items. Easels and paintbrushes and a small smattering of paints and paper are readily available for kids to enjoy. Children need intellectual stimuli like painting and working with their hands. It can be a way to de-stress and relax after a day of playing.
Working with paint gives the mind a chance to reach a state that tunes out the surrounding world and is called flow. Flow is shown to produce higher brain function and concentration power in children.
An Indoor Playground Is Not Complete Without a Party Room
Indoor playgrounds are some of the most fun and energizing play areas available today. They wouldn't be complete without a room to have birthday parties. These rooms are outfitted with a few picnic-style tables and sometimes have a sink for washing dishes.
Having a birthday room means that there are seats and festive colors that kids will enjoy and remember. You will have to pay a fee to rent the room for a few hours, or the establishment could have a deal that even provides you with cake and ice cream.
Safety and Security at the Playground
When entering an indoor playground facility, you will typically have to sign waivers and fill out some forms in case there is an accident and the paramedics need to be called. Extensive disclaimers and warnings are the law in some states and are just a precaution, so don't let them intimidate you! Indoor playgrounds are made with safety in mind.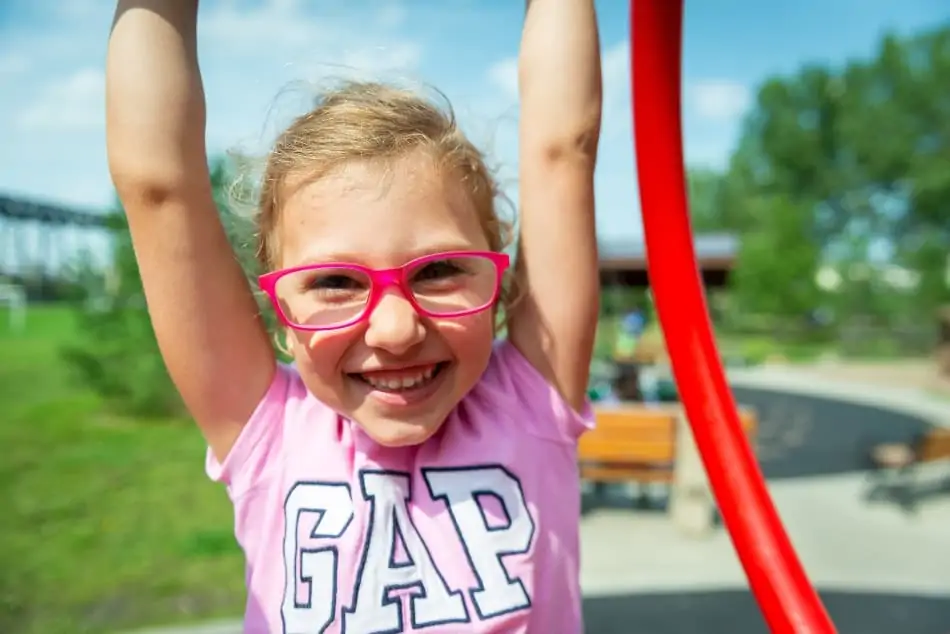 Here are some things to look for when choosing a safe indoor playground:
CPR/First Aid station – Always check to make sure the playground you want to visit has a place to treat injuries. There is always a chance of injury, and the facility should have someone there to aid the children.
Covered electrical outlets – An indoor playground will be filled with electrical wires and equipment that should be concealed from the children and patrons. If there are outlets that are uncovered or wires on the play area, speak with the management before allowing your children to run and play.
Accessible restrooms – Bathrooms should be clean and able to accommodate both children and adults. Water fountains are also essential. Make sure that water and bathroom facilities are easily reachable and operational.
Soft, bouncy flooring – Probably the most critical part of any indoor playground is the floor itself. The floor should be a soft rubber or foam surface that won't cause burns when the children slide or slip on it. 
Top Indoor Playgrounds in the US
Across the United States, the indoor playground is a booming industry that makes $40 million per year. By 2025, the industry is expected to grow by 10%. As indoor playgrounds become more common, it is important to see which playgrounds get it right and provide an unforgettable experience for families.
One of the largest playscapes in the US is located in the heart of Texas. Mt. Playmore is a huge playscape that populates an entire building. The tubes and slides weave around the perimeter of the building and are large enough for big kids to enjoy. Parents have a large area of couches to rest while their children play. Kids are sectioned off from the parents who can have needed relaxation time or a few minutes to get some shopping done.
One of the most amazing playgrounds in the US is Funtopia in Glenview, Illinois. It features attractions that are geared towards mental stimulation and physical fun, with its Crawling Cave being one of the main attractions. The building has a large ropes course that is sure to delight all the kids. Funtopia offers scheduled drop-off times and even has an after-school training program for kids of all ages to build confidence and socialize with other kids. 
Conclusion
An indoor playground is a great way to get your kids out of their rooms and encourage them to be active while learning and having fun. The experience could become one of their most treasured memories. 
An indoor playground has several different equipment types for different age groups. Just make sure that older children stay out of the toddler areas because they can accidentally injure one of the smaller children. It's important to keep toddlers out of the more advanced play areas, as well.
Safety and inclusion are the main purposes of indoor playgrounds. Children of all ages and abilities have the same opportunity to play. Indoor playgrounds can provide hours of fun and enjoyment for the entire family!