Playground slides and gliders are a staple for any playground. They are a great way to get children outdoors and enjoy fresh air while burning off excess energy. Slides also provide a valuable form of exercise, as kids must climb up the ladder before racing down. This helps to build strength and coordination, which can be very beneficial for their young growing bodies. Choosing the right playground slides and gliders ensures the safety of children using them without compromising on the fun factor.
So, what are some of the benefits of playground slides and gliders? One of the most significant benefits of these pieces of playground equipment is that they promote balance and coordination. When kids climb up a slide and successfully slide down the chute, they build valuable balance and coordination skills. Slides and gliders encourage positive social development and present healthy physical challenges that children need. These two pieces of playground equipment offer an easy way for kids to exercise outdoors. They provide a great form of cardiovascular exercise and an excellent opportunity for children to practice their motor skills since they must balance and navigate the slides and gliders.
This blog post explores some of the essential benefits of slides and gliders. Read on to find out everything you need to know.
Slides and Gliders: An Overview
Slides and gliders are two of the most popular pieces of playground equipment. They provide a fun way for children to get outside and experience fresh air while actively playing.
Slides are typically made of plastic or metal, and come in various lengths, shapes, and colors. Kids enjoy slides by climbing the ladder to the top and sliding down. The slide ends at a platform or ground level — depending on the chosen setup.
Gliders, like slides, are made of plastic or metal and come in different sizes and styles. Kids use gliders by sitting down and pushing themselves off the platform before gliding to the end. Gliders are often placed on the same platform as slides to provide an alternative option.
Gliders teach children about gravity, momentum, balance, and force as they move back and forth in the glider seat.
They also help develop problem-solving skills when figuring out how to best use their body weight to make it to the end.
Understanding the Different Types of Slides
As mentioned earlier, slides come in different shapes and sizes. Some of the most popular types of slides include:
Straight Slides: These are the classic version, with one linear platform up to the top. Kids climb up a ladder or stairs before sliding down the chute. Most of them are made from metal and are less than 12 feet long.
Spiral Slides: These slides have a spiraling chute, meaning that kids will spiral down the slide until they reach the base platform. These types of slides can be very tall, so it is critical to advise your children to follow all safety guidelines to ensure their safety.
Wavy Slides: A wavy slide features a wavy ramp that twists and turns as kids make their way down. This type of slide is quite popular in playgrounds due to its fun and unique design.
Tube Slides: A tube slide consists of a long tunnel made from plastic or metal — with an entrance and exit. Kids enter one end of the tube and exit the other, often at a higher elevation than they started.
Wave Gliders: These gliders are similar to wavy slides in that they feature a ramp filled with twists and turns. However, wave gliders allow kids to ride down on their stomach or back, instead of sliding down the chute.
Benefits of Playground Slides and Gliders
Slides and gliders offer a plethora of benefits for young children. From promoting balance and coordination to encouraging positive social development, here are some of the essential benefits your kids will enjoy while sliding and gliding:
1. Positive Social Skill Development
Almost every child always wants to use a slide or glider at a playground. Why? The reason is pretty simple: Slides and glides are so much fun. In fact, the slide is always the point of focus and attention at any busy playground.
The increased demand for slides at a playground means they must be some form of wait list or queue. Children must therefore learn how to take turns with other kids—an essential skill that helps build strong social skills.
Furthermore, when kids play together on the slide, they learn the importance of cooperative play, turn-taking, patience, and tolerance of each other's physical abilities.
These skills usually have a long-lasting impact on their social interactions as they grow.
2. Balance and Coordination
Playing on slides and gliders helps kids to increase their balance and coordination for different reasons. When children climb a slide ladder or stairs, they learn the importance of proper footing, good posture, and coordinated movements to ascend safely.
Furthermore, as they make their way down the slide or glide, they gain a better understanding of the importance of gripping onto the sides and keeping their bodies in proper balance.
All these movements help increase their physical coordination and body control as they grow.
Slides and gliders also help kids develop spatial awareness since they have to judge when it is the right time to slide and when to put their feet on the ground once they approach the bottom of the chute.
3. Promotes Physical Activity
Slides and gliders also promote physical activity since they require children to climb the ladder or stairs before sliding down or pushing off the platform respectively.
This helps to build strength, muscle coordination, and physical endurance.
Although children are too young to understand the health benefits of regular physical activity, slides help to motivate them to be more active by giving them a fun way to exercise without feeling like they're doing any kind of work.
4. Presents Healthy Physical Challenges
Climbing up the slide ladders over and over again and sliding or gliding down is fun for many children. However, it is also hard work!
The hard work involved in the process presents your little ones with healthy physical challenges needed to build both upper and lower body strength.
Every time kids pull themselves up and step up the rungs of the sliding ladder, they develop their hand-eye coordination and leg strength.
This, in turn, helps build their overall muscular strength as they become stronger and more confident climbers.
Slides and gliders can also help kids practice motor skills, such as pushing off the platform or controlling their speed and direction when sliding down a chute. All these physical challenges aid the development of their gross motor skills.
5. Improved Core Strength
In addition to the other physical benefits mentioned above, slides and gliders help improve your kids' core strength.
The muscles that support the spine need to be strengthened for children to have better posture and balance.
Slides and gliders encourage this when kids utilize all their body parts as they climb up or down a slide or platform. This helps build strong core muscles, which are essential for overall fitness.
This also presents an opportunity to practice the proper way of using and engaging the abdominal muscles while climbing or sliding down a slide, which is important when it comes to developing good posture and avoiding injury.
6. Fun!
Most importantly, slides and glides are simply fun and exciting for kids. This helps motivate children to get outside and engage in physical activity, which is essential for their overall physical and mental development.
These features allow them to use their natural curiosity and imagination as they explore different ways of playing on the slides or gliders while developing critical social, physical, and cognitive skills.
At What Age Should I Introduce Slides and Gliders to My Kids?
The appropriate age to introduce slides and gliders to your kids depends on their abilities and maturity level.
Typically, they should be in a position to differentiate between right and wrong use of the equipment and follow instructions provided by you or playground instructors.
For younger children, a minimum height of three feet is recommended. However, it's always good to assess the situation and ensure your child is mature enough before allowing them to use slides or gliders in a playground setting.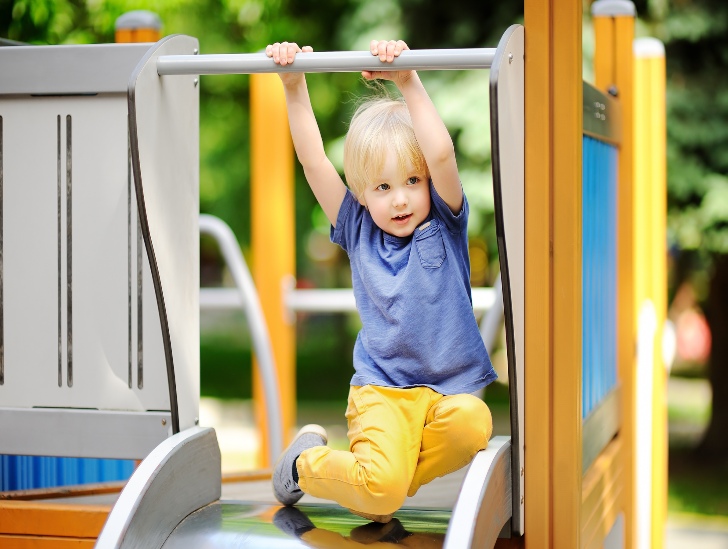 Supervise them closely and provide instructions on how to use the equipment safely. Also, check for any damage before allowing them on the slides and gliders.
For older children, teach them the importance of controlling their speed as they slide down a chute and when to put their feet on the ground once they approach the bottom part.
Summary
Overall, slides and gliders provide a fun and exciting way for your kids to develop a wide range of physical, social, and emotional skills while staying healthy, active, and engaged.
We hope you enjoyed reading this article and now have a better understanding of the wide range of physical, social, and emotional benefits slides and gliders can provide to your kids.
Last update on 2023-07-23 / Affiliate links / Images from Amazon Product Advertising API