If you have kids, you know pretty well how they love running around and getting something to keep them busy and distracted. This is why we decided to look at playsets and see how they can be kid-friendly and kid-safe, especially if the kids are still little and won't know what's wrong or right when it comes to handling different toys or items.
Playsets help children stay active and happy all day long. They encourage kids to interact with one another as they play together. A backyard playset helps kid burn their much-accumulated energy while still keeping them safe from any harm.
If you don't know what playsets mean and toying with the idea of getting one, we've got your back. This article talks about everything playsets, including the definition, types, and why your kids need them. Let's get started!
What Is a Playset?
A playset is a toy with multiple functions made specifically for kids to play on. They can also be a structure or a swing set for kids to play on.  Playsets for kids would usually be a place to gather and have a "clubhouse" type of play area. It can also serve as a training ground so that they will have the necessary skills to face real life when they grow up.
The good thing about playsets is that they come in many different varieties and types. They are also made to suit the needs and preferences of kids of different ages.  So if you have a kid growing up so fast, this kind of toy will help them slow down and enjoy life. It can also be part of their learning experience as they play and interact with their peers. For example, if the set has swings, your child will learn to share and play with other children without any problems or difficulties.
You can also be involved with your child as they play and interact with their friends. You can teach them some lessons that you think will help them understand the world around them better, like sharing, taking turns, and patience…things that they will need in life.
Types of Playsets
There are different types of playsets, categorized mainly by the materials used to create them. Here are some of them.
Wooden Playsets
The first type of playsets you're likely to come across are those made from wood. Wooden playsets are very popular with kids. In general, wooden playsets are pretty sturdy and stable because wood is a strong material. Wooden playsets have a rustic look to them that kids find appealing.
Playsets made from wood can be a bit more pricey than those made from plastic or any other material. Wooden playsets are a little harder to maintain and keep clean, but they're sturdier and more durable. This makes them the perfect option for those who plan on having their playset outdoors mostly or always.
Plastic Playsets
The second type of playset you're likely to come across is one made from plastic or resin. Plastic playsets are also a good choice for kids to play on. Kids love plastic playsets because they're colorful and fun. The equipment is safe, which means there's very little chance your child could get hurt or even break a bone when playing on one of these sets.
Plastic playsets are the most affordable option for kids' toy playsets. Plastic bounces back and won't break or crack if it falls or gets stepped on. If your child is a bit careless and disorderly, plastic toy playsets may be what you're looking for.
Rubber Playsets
Another common type of playset for kids is the rubber playset. Rubber playsets are made of rubber, usually recycled tire material. Rubber playsets are weather resistant and can be left out in pretty much any type of weather. Some sets even have roofs that slide open, so your child can play inside the set if they want to.
Rubber toy playsets are also customized into different designs. Some popular toy playsets are Disney-themed so that they can act as a little extension of their favorite movies. Rubber playsets are also highly durable. They won't break or crack if dropped or stepped on. Rubber is pretty much unshakable unless your child discovers the strength of their back muscles by dragging it through the mud on the playground.
Metal Playsets
Some playsets come made with metal and are usually the most expensive ones. Metal playsets are often found at higher-end toy stores and range from a few thousand to thousands of dollars. With the price comes a certain level of sturdiness and durability that makes it worth buying.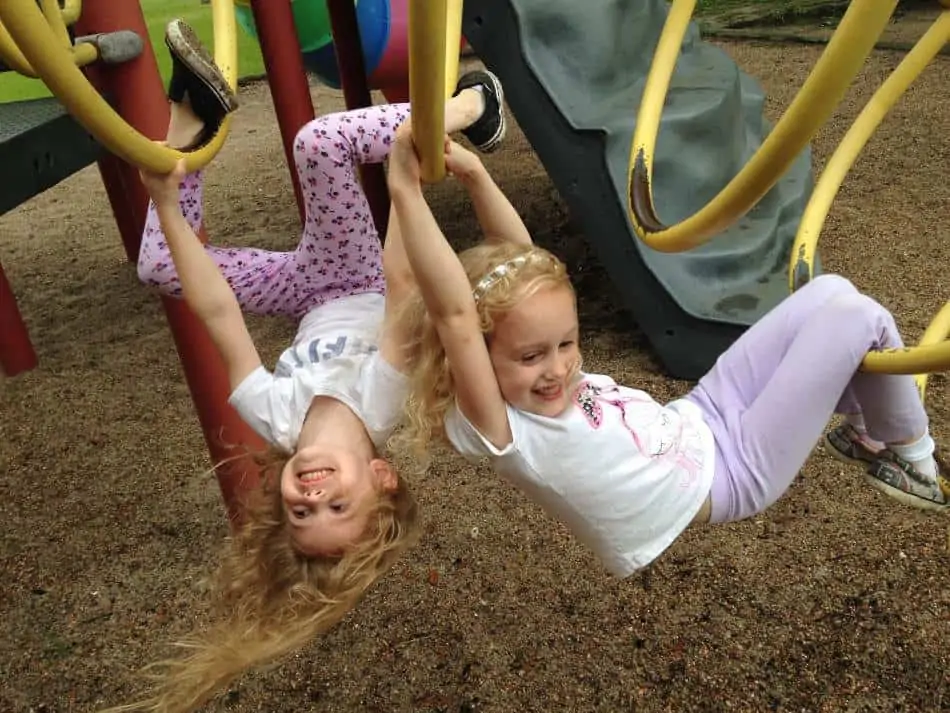 Metal playsets are customizable depending on what your child wants most in their set, whether they prefer slides, swings, or rock climbing walls. They'll also likely be the first to get on your child's favorite list because of their sleek and modern design.
What to Consider When Purchasing a Playset for Kids
Safety
The first thing you must consider when purchasing playsets is the safety of your playsets.  Due to the abundance of recalls on playsets for children, it is best to spend a bit more money and get a higher-quality playset that will not pose any safety issues.
Here are some general safety rules you can consider when purchasing certain types of playsets:
Be aware of the weight limit
Know the right age group perfect for  your child
Keep an eye out for recalls
Choose the right height
Make sure the wood is pressure treated
Make sure the playset has some type of cushioning
Playset Installation
Apart from the safety of your playset, you also have to consider the installation.  If you plan on installing it yourself, make sure you know all the proper installation steps. Otherwise, if you find it too complicated, consider hiring an experienced contractor. Lastly, keep in mind that any time spent planning will save you more time and money during installation.
Playset Maintenance
The maintenance requirements of your playset are also something to consider. Some playsets require only basic periodic maintenance such as regular cleaning and oiling, while others require more intense maintenances such as repainting. This largely depends on the material used. For example, wooden playsets will need to be repainted more often than metal.
Number of Children Using the Playset
When deciding on what type of playset you want, it is important to consider how many children will use the set. If only one or two children will be using the set, then a smaller model should work just fine. If you're buying a playset for commercial use, this means that many kids will be using it at once. In this case, you'll need a stronger and more stable model.
The Age of Your Kids
When buying or installing a playset, you must consider the age of your kids to know the right height that will suit them. Toddlers need something more basic and low, while older kids can handle more complicated models. You can also consider your kids' preferences when it comes to color, design,  and size.
Benefits of Playsets for Kids
Buying a playset for your kids is the best thing you can do for them. There are many benefits kids get from using different kinds of playsets.
Parents will always have a wonderful time playing with their children using a playset.
Playsets encourage kids to be active and healthy.
Kids can improve their physical skills by using playsets daily. All kids need to do is climb, jump, slide and swing. This will help them attain flexibility, strength, balance, and coordination.
Playing with other children in a playset also stimulates the thinking process throughout the brain development years of kids. It helps boost social interaction as they play with other kids and get to know each other.
Playsets are also beneficial in teaching kids about sharing, fairness, and appreciation.
Kids will learn to be considerate of other children around them while playing on a playset. They will learn to share the toys on the play set with their friends.
Playsets encourage motor skills as kids reach, climb, hang on bars, tubes, or monkey bars. They will be able to balance as they walk along planks and rockers.
Playsets are also great in teaching responsibility to children as it teaches them how to take care of the toys that are handed to them. It also enhances their creativity as they come up with ideas on how to use some of their toys.
Summary
Playsets are not only great for kids' play but are also a great addition to any home. If you buy the right playset, you'll not only make your kids happy and active but also improve the value of your home.
Make sure you choose the right material for the playset depending on your kid's preferences, safety, and budget. You should also consider the age of your kids when choosing a playset, as this will ensure they don't outgrow and damage the playset too soon.