Swings remain a staple for many playgrounds across the world. Children love them to death because they help them build long-lasting memories. In fact, swings are one of the oldest types of playground equipment that have stood the test of time and continue to captivate children's imaginations. They have evolved into dynamic modern designs creating a new experience for outdoor play. However, not all swings are the same. Some are more popular than others because they offer something unique.
So, what are the different kinds of swings that children love? Traditional swings remain a classic favorite. They come in various styles, including belt swings, disc swings, and tire swings. Belt swings feature a child-friendly seat with adjustable straps that fit comfortably around each child's waist while they swing. Disc swings are circular platforms made of plastic or metal attached to a bucket seat and a set of chains. Tire swings also feature a circular platform connected with chains to a tire, making it easier for young children to swing. Other popular swings include bird's nest swings, adaptive swings, glider swings, half-bucket swings, climbing rope swings, and saucer swings.
This blog post discusses the different types of swings children love and what makes them unique. Read on to find out everything you need to know.
Importance of Playground Swings
It is critical to understand the importance of swings in kids' playtime. Swings allow children to enjoy the outdoors, exercise their muscles, and work on physical skills such as balance and coordination.
Swings have evolved over time, becoming an integral part of childhood development. In fact, the use of playground swings is no longer limited to children. Adults also find them appealing and have been seen using them for exercise or relaxation.
Furthermore, playing with swings can help reduce stress levels and improve overall health. They provide a great way for children to foster relationships with one another since it encourages them to take turns, cooperate, and socialize with their peers.
Moreover, they provide an excellent way to keep children active while having fun outdoors. They remain one of the most beloved types of playground equipment for kids of all ages.
Different Kinds of Swings That Children Love
The truth is that there are many different types of playground swings available on the market. Each has its own pros and cons. But what are some of the most popular types of playground swings? Let us find out:
Traditional Belt Swings
Traditional belt swings remain one of the most popular playground swings in the world.
These swings are designed for older children who can maintain an upright posture in the classic backless seats.
The seats are mostly made of heavy-duty rubber that holds a child in place throughout the swinging time. This makes them a more comfortable option to swing sets that have flat or wood for the swing seat.
One of the most significant benefits of installing a traditional belt swing set is the ability to change out individual swings for other models to accommodate kids of different ages and abilities.
Some traditional belt swings can hold up to six seats with one end opening into an A-shape, increasing stability.
Consider installing a traditional belt swing if you have a relatively large playground or host many kids who love playing together. The swing will provide an excellent group activity that will keep them together.
The play zone under a traditional belt swing that needs fall surfacing must extend at least six feet on all sides of the swing set.
Place fall surfacing material such as pea gravel twice the height of the support beam right from the central support forward and back.
For instance, if the swings hang from a six-foot support beam, you must place fall surfacing material 12 feet in front and 12 feet behind the swing to ensure that no one is injured if they fall.
Tire Swing
A tire swing differs from a traditional belt swing in different ways. While a traditional belt swing only supports the forward and backward motion, a tire swing allows kids to swing in different directions.
Most tire swings can accommodate up to three children and are good for kids between 2 and 12 years old.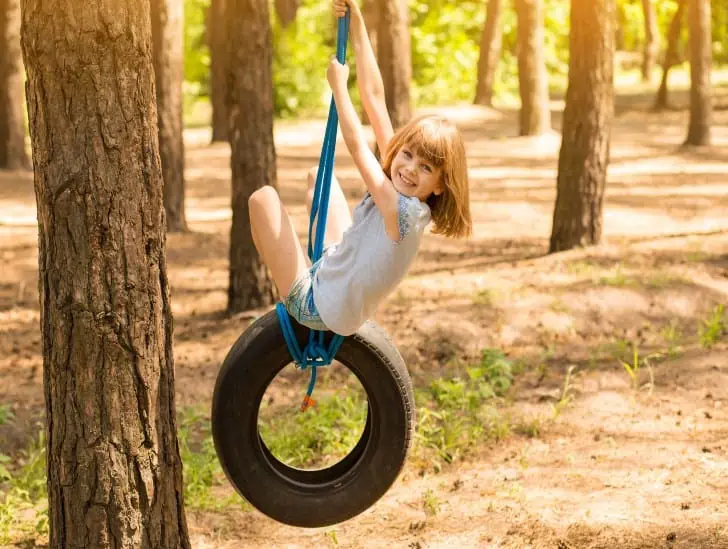 A typical tire swing features three strong chains carefully installed at equal distances from each other on a tire.
The chain connection meets at the top connection on the swing's support frame. The tire swing can move 360 degrees around.
The tire swing allows children to explore and develop their spatial awareness.
It also encourages cooperative play as several kids can get on the tire at once, which is why it's seen in many public playgrounds.
Don't attach more than one tire swing to a single bay because it can cause overload and even break the support beam.
You should also avoid using a tire swing on a composite play structure. Focus on proper maintenance, and everything will be fine.
Disc Swings
Another popular type of playground swing is the disc swing. Disc swings are circular platforms made of plastic or metal attached to a bucket seat and a set of chains.
These swings have become increasingly popular due to their easy installation, safety features, and durability.
Disc swings are perfect for younger kids who love swinging but may not have the strength to hold themselves up in a traditional belt swing.
These disc swings can be used by children of all shapes and sizes, including those with special needs.
Since they don't require extra hardware or cables, installation is easy and straightforward. The discs are designed to be hung from a single beam or cross member, making them ideal for playgrounds with limited space.
Disc swings provide the same thrilling fun as other types of swings while eliminating potential hazards by keeping children safely inside the swing seat at all times.
However, they also require adequate fall surfacing material beneath and around them. Experts recommend that the play zone for a disc swing should extend at least six feet from every side.
The surfacing material should be twice as thick as the height of the support beam and cover an area of at least 12 feet in front and back from the swing set.
Gentle Swings
Gentle swings are the perfect addition if you have a playground that caters to toddlers.
These swings are designed for smaller children and usually feature a supported seat with either belt or bucket styles. The seats offer more support to help keep the child in place.
Gentle swing sets come with adjustable chains so that you can adjust the swing height to fit your child's size. They are usually made of durable plastic and can easily move from one playground to another.
These swings provide the same thrill as traditional belt swings in a much more secure environment. However, they still require fall surfacing material beneath them to prevent injuries if children accidentally slip or lose their grip.
If you have a playground with gentle swings, install the fall surfacing material at least 12 feet forward and back from the swing set.
The depth of the fall surfacing material should also be twice as thick as the height of the support beam. This will ensure your kids are safe and enjoy their time on the swing.
Arch Swings
Arch swings are basically a pair of belt swings on a single bay with an arch-shaped support frame. These swings provide the same level of excitement and fun as other types of playground swings, but with more stability.
The arch provides both children more space to swing without hitting each other and comfortably supports their weight.
It keeps them secure in the middle of the swing set, allowing kids to swing without fear of slipping or being jostled around.
Arch swings can be hung from a single support beam or from two separate beams mounted to an arch-shaped frame.
Like any other type of playground swing, fall surfacing material should be installed at least 12 feet forward and back from the swing set so that kids don't get injured in case of an accidental slip or loss of grip.
Baby Swings
Baby swings don't use standard belts. Instead, they feature a baby seat with an adjustable harness that keeps the child securely in place.
The harness has two straps that wrap around the waist and another strap between the legs to keep the child from slipping out of the swing seat.
Baby swings offer more stability than traditional belt swings, but they still need adequate fall surfacing material beneath and around them to prevent injuries if the child accidentally slips or loses grip.
Summary
Playground swings are still a classic feature of any playground facility, and their popularity remains intact.
They provide children with an excellent way to engage in physical activity while having fun outdoors.
With different types of swings available on the market, there is something for everyone that will make playtime unique and exciting.
Last update on 2023-07-23 / Affiliate links / Images from Amazon Product Advertising API