When a child is playing outside in the summertime, they need to have a safe place to enjoy themselves. There are many different types of playground equipment that can be installed in your backyard or at your local park. But, there are many things you need to consider when purchasing playground equipment to ensure your little one is always safe.
So, what are the most important things to look for in playground equipment? The most important things to look for in playground equipment are safety, durability, and upkeep. Safety is the most crucial aspect because children will be playing on it. Durability is also very important so that your investment lasts for years. You should also consider the amount of time and effort required to keep up with the maintenance.
Read on to learn more about the crucial factors you should consider when buying playground equipment:
Common Types of Playground Equipment
Before discussing some of the crucial things you need to look for in playground equipment, let us have a quick recap on some of the most common playground equipment available.
Here are some of the common types of playground equipment that you can choose from:
1. Swings
Swings come in many different shapes and sizes, but they all serve the same purpose. You want to get a swing set with at least one infant seat, two toddler seats, and two regular seats for older children or more than one child.
2. A-Frames
A-frames are great for kids who have just started walking. It gives them a chance to practice balancing as they go up and down the steps on an A-frameset with handrails or other support structures, which is why it's very important to look at the quality of these playground components.
3. Slides
Slides can be straight, curved, or even multi-level. You want to make sure that the playground slide you buy has a smooth surface made of plastic or metal material. The slide should also have safety features like handrails and side rails on both sides to prevent falls.
4. Monkey Bars
Monkey bars are a great area for kids to practice climbing skills. The monkey bars must be made of high-quality materials and have proper handrails on all sides, so children don't fall or get injured.
5. Playhouse
A playhouse is a great way to give kids their own private space. It's also an awesome place where they can practice using different tools like hammers, nails, and saws safely.
You should only buy equipment with the proper safety features for your child to stay safe when playing outside during summertime!
Crucial Things You Should Look for In Playground Equipment
Now let us talk about some of the crucial factors you should look for in playground equipment.
1. Safety
Safety is perhaps the most crucial thing to check while buying playground equipment. All outdoor equipment should be thoroughly checked by a professional for any potential hazards.
These may include sharp corners, uneven surfaces, loose bolts or fasteners, and corrosion in metal components, among other things.
It is also essential to ensure the structure of playground equipment meets all applicable local building codes and product safety standards, such as ASTM International (American Society for Testing and Materials).
2. Surface Type
The surface type of a playground is very important too. If the equipment will be placed indoors, carpeting or rubber surfacing would be appropriate.
However, if it's going outdoors, then you need to consider drainage and erosion control.
For example, gravel can become slippery when wet, while grass has poor drainage properties. Also, grass can be difficult to maintain and may require reseeding.
3. Durability
Playground equipment is a significant investment. Therefore, you should ensure that you are investing your money in something that can be a source of fun and joy for your children for many years.
Check to see if the playground equipment has any signs of rust or corrosion. This could be due to a lack of proper surface treatment and paint on metal components.
You should also ensure that all bolts, fasteners, chains, etc., are tight and have no sharp edges. Check for cracks in plastic surfaces, too, which can cause injury when they break.
4. Height Requirements
Children of different ages can benefit from using playground equipment. This includes toddlers, school-age children, and older kids who want to play with their friends or siblings.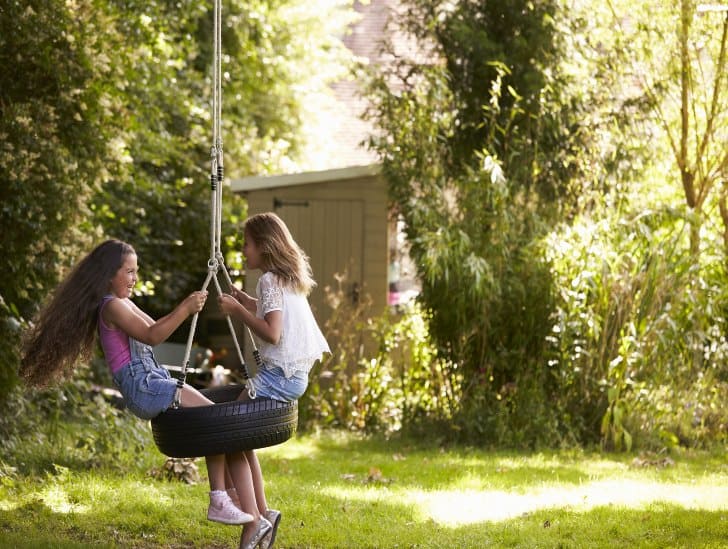 The height requirements for each one will depend on the type of equipment being used, i.e., a slide vs. a swing, etc. You should always check the minimum height requirement as some equipment can be too low for school-age children and too tall for toddlers.
5. User Usage
The kind of user is also critical to consider when buying playground equipment.
Heavy-duty playsets are generally the best option if you have a day camp or a large residential area using them.
Playgrounds that are frequently used by older kids may need more durable equipment such as metal swing sets.
6. Required Maintenance
What amount of effort do you need to put in to keep the equipment in good condition?
Keep in mind that outdoor equipment will require a lot of maintenance. Also, check if repairs and replacements can be done easily and without any hassles.
Carefully assess the amount of time and money required to keep the equipment in perfect condition and choose accordingly.
7. Budget
The other thing you need to consider when looking for playground equipment is how much money you are willing to spend on it.
Many factors determine the price of playground structures, but your primary goal should be to acquire a good structure at a relatively affordable price.
However, you shouldn't let money be the main deciding factor when looking for playground equipment. In some cases, you need to be flexible and willing to spend a little bit more for the sake of your little ones.
Therefore, you shouldn't feel bad about spending a little more on quality playground equipment that will serve your children for many years. That way, you will also save a lot of money in the long run because replacing some structures can be quite expensive if you make a mistake on your first purchase.
Don't rush into buying a playground structure just because it's on sale at an attractive price. That way, you will end up with cheap materials and poor craftsmanship, which defeats the purpose of spending your hard-earned money in the first place.
You should also avoid getting a structure that is too cheap because it can be quite flimsy and unstable.
8. Maximum Child Capacity
Another important thing is to know the maximum capacity of a swing set, slide, etc., before buying it.
It's always good to have enough space on your equipment so that all kids can play at once without bumping into each other or disrupting their activities.
In addition to knowing how many children you want, carefully read through the product manual and ensure that the equipment can accommodate the number of children you have in mind.
9. Construction Material
The kind of material used in the construction is another critical thing to look for when purchasing playground equipment.
Check if it's made from durable materials such as metal and plastic. If you have many kids playing on your equipment, you should definitely get something that can withstand heavy weight loads without deteriorating quickly over time.
If possible, choose a structure that can take some natural wear and tear because it will save you money on repairs in the long run.
Most importantly, don't forget to get your kids involved when selecting playground equipment, so they know what their preferences are. You should also consult with other parents who have kids around the same age as yours to see which structures they like the most.
10. Ease of Installation
Lastly, consider how easily the equipment can be installed. Many new parents usually have no idea about what installation entails, and that's why they make mistakes.
Many manufacturers will give you some basic information on this, but it's always better to choose a structure that comes with detailed instructions and diagrams for easy understanding.
If possible, get playground equipment that is easy to disassemble and assemble so you can easily transport it if needed.
Be aware that some structures will need specialized equipment for installation, such as cranes or forklifts. If possible, get a structure that requires minimal tools to set up the entire thing.
Remember that your children's safety should be your top priority, so exercise caution when installing the equipment.
Final Thought
When you're in the market for playground equipment, it can be difficult to know what factors are most important. With so many options available, finding an option that works best at your site and within your budget may seem like a daunting task.
We hope this blog post has helped clear up some of those questions by offering suggestions on safety features, surface type, durability requirements, height requirements (both restrictions and recommended), user usage needs (maximum capacity as well as maintenance frequency), budgetary concerns (cost vs. life span), construction material types with pros/cons associated with each choice and installation ease.
If there is anything we didn't cover or if you have any other questions pr suggestions, please let us know in the comments section below.