Imagine a playground where endless laughter blends with the serenity of knowing that your children are safe, surrounded by craftsmanship built to last. Welcome to the world of Amish-made playground sets, where quality, safety, durability, and eco-friendliness converge to offer an unparalleled playing experience. Amish-made playground sets go above and beyond, providing quality craftsmanship unrivaled in the industry.
So, what are the benefits of choosing an Amish-made playground set? Amish-made playground sets are made of quality materials to withstand the test of time. The combination of superior materials, expert construction, and meticulous finishing ensures that these sets can withstand heavy usage and retain their functionality for many years. They greatly emphasize creating structures that meet or exceed safety standards. Their sets are constructed meticulously, ensuring smooth edges, secure attachments, and structural stability. Choosing an Amish-made playground set reflects a commitment to eco-friendliness because the materials used are sustainably sourced, reducing environmental impact.
This blog post will explore the numerous benefits of choosing an Amish-made playground set, highlighting the additional value they bring to your playground. Read on to learn more.
1. Quality Craftsmanship
Amish artisans are known for their meticulous attention to detail when building a playground set. They pay close attention on every aspect; from the selection of materials to the finishing touches. This level of care ensures that each component is well-crafted and contributes to the overall play set quality.
The experts often employ time-tested construction methods passed down through generations. These techniques, such as mortise and tenon joinery, dovetail joints, and hand-planning, create strong and secure connections between pieces of wood.
This not only adds to the aesthetic appeal but also enhances the structural integrity of the playground set. Amish-made playground sets are typically made of solid wood, such as cedar, redwood, or pressure-treated pine.
Solid wood is preferred for its durability and resistance to wear and tear. Unlike some composite materials, which can deteriorate over time, the natural qualities of wood ensure that the playground set remains sturdy and safe for extended periods.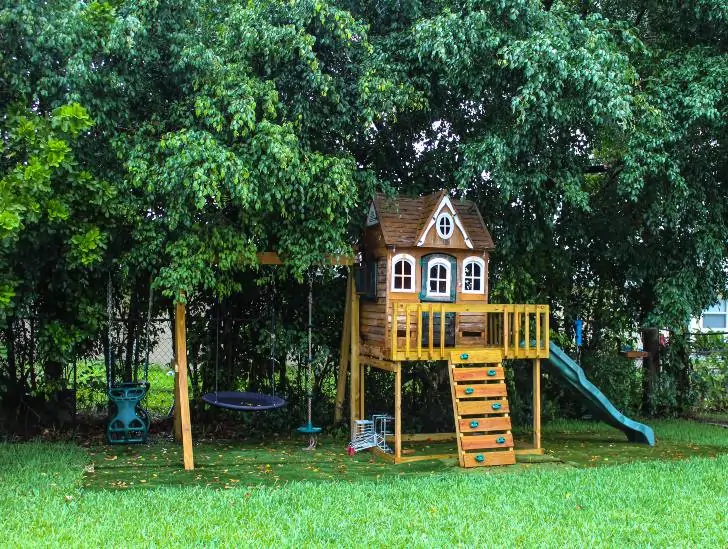 Furthermore, all Amish-made playground sets undergo thorough quality testing before they get released to the market.
The quality testing process usually involves stress testing different components, ensuring proper weight-bearing capabilities, and evaluating the overall functionality of each set.
2. Durability
Every playground owner wants their playground set to last for many years. Amish-made playground sets are designed with this aspect in mind.
Combining quality materials and robust construction methods ensures that each set manufactured can withstand heavy usage and retain its functionality over time.
In addition, all components of an Amish-made playground set have been put through rigorous testing to evaluate structural integrity and weight-bearing capabilities. These tests ensure that the playground sets meet or exceed safety standards.
The average Amish-made playground set has a lifetime of 10 to 15 years. With proper maintenance, the sets can last up to 20 years with minimal replacement parts needed.
3. Safety First
Statistics show that playground accidents are on the rise in the United States and other countries in the world. It is, therefore, essential to ensure that your playground set is safe and secure, especially if it will be used by young children.
That is why safety is at the core of every Amish craftsmanship project. The attention to detail and precise construction techniques contribute to the stability and safety of every playground set manufactured.
Smooth edges, well-secured joints, and appropriate hardware minimize the risk of splinters, sharp edges, or accidents during playtime.
Furthermore, all Amish-made playground sets are designed to meet or exceed safety standards set by the Consumer Product Safety Commission (CPSC).
These standards cover various aspects of a playground set, from the materials used to the construction methods employed.
4. Eco-Friendliness
Amish-made playground sets often employ materials that are sustainably sourced, such as cedar, redwood, and pressure-treated pine.
Sustainably sourced materials use fewer resources compared to composite materials, reducing the impact on the environment.
Furthermore, Amish-made playground sets are designed to last for many years. This reduces waste produced by playground sets, which plays a critical role in reducing consumerism in the long run.
5. Customization Options
Amish-made playground sets offer a high degree of customization, allowing you to adapt the design to the available space in your backyard or commercial play area.
Whether you have a small, cozy space or a sprawling area to work with, Amish can create a playground set that fits perfectly.
Customization goes beyond just adjusting sizes. Amish-made sets incorporate personalized features that cater to your preferences and needs.
This might include combining specific play elements such as swings, slides, climbing walls, rope bridges, and more. You have the flexibility to choose the components that will provide the most enjoyment for your children.
If you're interested in a specific theme or style for your playground, Amish-made sets can bring your vision to life. Whether it's a whimsical fairy tale theme, a natural adventure theme, or a modern design, their expertise allows them to create a playground set that aligns with your desired aesthetic.
And even as your needs evolve, you may want to expand or modify your playground set. Amish-made sets are designed with expansion in mind, allowing you to add new components or features in the future without compromising the overall design or structural integrity.
6. Natural Materials
Amish-made playground sets typically use natural, untreated wood. This is aesthetically pleasing and ensures that children are not exposed to harmful chemicals commonly found in some treated woods.
Furthermore, these materials are ideal for the outdoor setup because they are weather-resistant. They can withstand high temperatures in summer and cold winters without warping or cracking.
The weather-resistance properties help maintain the structural integrity of your play set over time, allowing it to last for many years providing fun and enjoyment to your loved ones.
7. Unplugged Play
Research shows that modern kids spend an average of seven hours on screens daily. Unplugged play is essential to establishing healthy habits and well-being in children because it helps kids explore the outdoor environment and engage with nature.
Amish-made playground sets promote outdoor and imaginative play to break the cycle of unending screen time. This can foster children's creativity, physical activity, and problem-solving skills, all while providing a wholesome outdoor experience.
These playgrounds provide children with a safe and secure environment to explore their imaginations. They can climb, slide, swing, and hide.
Amish-made playground sets provide the perfect opportunity to promote unplugged playtime, allowing children of all ages to explore their imaginations and develop into well-rounded adults.
8. Timeless Aesthetic
Amish-made playground sets feature classic design elements that have stood the test of time. These designs are inspired by traditional styles, evoking a sense of nostalgia and familiarity.
The timeless aesthetic of these sets allows them to blend harmoniously with the natural surroundings of your backyard or commercial play area.
Whether you have a lush garden, a wooded landscape, or an urban setting, the understated elegance of these sets enhances rather than disrupts the environment.
The neutral color palettes used in Amish-made playground sets contribute to their timeless appeal. These colors, often featuring natural wood tones or muted hues, can complement various outdoor color schemes and architectural styles.
For homeowners, a timeless playground set can enhance the property's curb appeal. The set's visual coherence and classic beauty contribute positively to the overall look and feel of the outdoor space.
But that is not all. Commercial playground owners benefit from the timeless aesthetic since it provides a cohesive and visually pleasing play area that appeals to a wide range of visitors. The sets' classic designs contribute to a professional and inviting atmosphere.
9. Value For Money
Amish-made playground sets are generally more expensive than their mass-produced counterparts. But this is because these sets are built to last, meaning you can enjoy your investment for many years.
The superior craftsmanship and materials employed in constructing Amish-made playground sets ensure they retain their structural integrity despite exposure to harsh weather conditions, normal wear and tear, and even vandalism.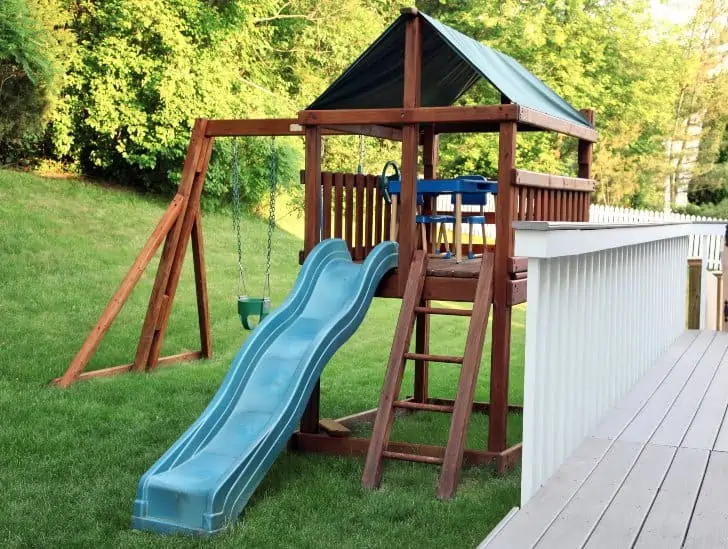 Furthermore, the high degree of customization options available with Amish-made sets can help you save money in the long run.
You don't need to buy a new set every few years if your needs change; you can simply modify the existing set to suit your changing requirements.
These benefits make Amish-made playground sets a worthwhile investment in the long run, ensuring you get value for money.
10. Family Involvement
Amish culture values family and community. By investing in an Amish-made playground set, you engage in a piece of craftsmanship that encourages family bonding and shared experiences.
Having a playground set tailored to your family's needs and preferences can create an atmosphere of togetherness, creating memories that will last a lifetime.
Summary
Amish-made playground sets offer many advantages when compared to their mass-produced counterparts.
Their superior craftsmanship and natural materials make them ideal for outdoor play, while their timeless aesthetic blends perfectly with both home and commercial settings.
With the option to customize your playground set according to your preferences and needs, you can be sure it will bring years of enjoyment and fun for all.
With Amish-made sets, you invest in quality that will stand the test of time.
Last update on 2023-07-23 / Affiliate links / Images from Amazon Product Advertising API