Whether you like it or not, kids love playing, and they must access a playground, whether at home at commercial places. You don't always have to take them to the park or commercial playground to play as you can have one right at home. But to do this, you need to understand some of the common playground equipment and how they work.
Playgrounds have different kinds of equipment like slides, swings, monkey bars, and jungle gyms. The list is endless, but the most popular ones are the simple types like the swing, slide, and accessories. The kids love playing on this playground equipment because they find pleasure in everything they do, whether climbing over a simple jungle gym or swinging by themselves or with other kids.
Here is a more detailed overview of some of the most popular playground equipment made for kids of all ages.
1. The Swing
Kids like to swing by themselves or with other kids. They can use a simple swing hanging from a tree branch gently swaying in the breeze. A swing is the most popular playground equipment of all time. Kids have endless fun swinging back and forth, climbing higher and higher with every push until they lose their balance, after which they like to swing some more. Here are some types of swings you're likely to come across.
Single-Seat Swings
The simplest and cheapest type is the single-seat. This swing type accommodates just one child and is usually made from wood or metal. It's one of the easiest types to find, especially in backyards with favorite playground equipment for kids.
Double-Seat Swings
This type looks similar to the single-seat but accommodates two children at a time. Two seats are connected by a strong metal beam or a metal tube. It is the most common type of swing bought for commercial playgrounds, parks, or schools. The double seat type provides twice as much fun as the single swing.
Multi-Seat Swings
This type contains two swing seats connected to each other to accommodate more than two children at a time. A group of kids can play on it altogether, which makes it ideal for an entire playground where kids need a variety of equipment. One advantage is that a higher swing capacity means more fun for kids, but it also means greater maintenance costs due to the wear and tear caused by larger groups of children using the same swing set at the same time.
The mobile swings are also called "stationary-swing swings," as they lack a rotational element. People often prefer them due to their price and durability, but their disadvantage is that children must seat themselves on the swing seat before starting to play. In other words, this type of swing doesn't have a hanging seat connected with chains or cables from one point.
Inclusive Swing Seat
Mobile Swings
An inclusive swing seat is a perfect type if you want to ensure the kid's safety but still ensure they learn perfect balancing and coordination. A hanging seat swings along with the child. Wherein, there are two types of inclusive swing seats:
A hanging seat connected with chains or cables from one point.
Seat with a rotational element such as a bucket. The child sits in it, and the bucket turns on its own axis while swinging.
2. Slides
A slide is another popular playground equipment for kids. You can either make it with a metal or plastic material, and some slides come as more than one piece, such as the serpentine slide. The sliding surface should be made of anti-slip material to ensure maximum safety. Slides are perfect for kids who enjoy the rush towards the ground and all the fun that comes with it. There are also different types of slides available in playgrounds. They include;
Freestanding Slides
This slide is supported by legs rather than lying on the ground. They are usually more expensive, but they provide a lot of fun to children who prefer a real rush in their playground equipment.
Atrium Slides
The atrium slides are positioned higher up and used with a swing or trapeze set. They have an open design with a ladder on one end.
Tunnel Slides
These slides are used on commercial playgrounds for children who enjoy crawling under things. They slide into a tunnel that leads to another room or area where kids hide their stuff.
Turning Slides
These are usually bigger and have a wide bend at the bottom where kids can turn when they reach the bottom of the slide. They are great when combined with other types of slides because they give children something different to do.
Slope Slides
The slope slides are usually placed on ramps or hills, and kids can slide down on a mat similar to those used for skateboarding. They provide lots of fun, too, but you need to ensure that your child is safe and will not hurt themselves on the slide. If you decide to build one, build it, so the slope is gently sloping, and be sure to use a mat for safety reasons.
3. Climbers
Everybody loved climbing at some point when they were young. It's common knowledge that boys climb a lot but believe it or not, girls also do. And to satisfy this urge, you need to add some climbers to your list of some of the common playground equipment. Climbers are there for kids to climb on, which will certainly be challenging. They are fun to climb, especially when you're a kid.
The thing about climbers is that they need to be anchored properly so that children don't topple onto the ground or slip off while climbing. If a climber topples over, a child might get hurt. Climbers come in various types and materials, so you have to consider the type when purchasing one for your playground. Here are some common climber types:
Rock Climbers
Rock climbers provide a perfect way to reconnect your kids with nature and the outdoors. These climbers are usually made of recycled tires and ropes braided into different textures. This type of climbing experience is also known to help kids develop coordination, balance, agility, and spatial awareness skills.
Climbers for the Outdoors
These are used in outdoor play areas because they hold up well when exposed to weather conditions like sun, rain, and snow. The best climbers for outdoor use are made from durable plastic materials like polyethylene and polypropylene because they can withstand extreme weather conditions.
Climber for Sandboxes
Sandbox climbers provide a fun climbing experience on your sand or water table. Since the natural structures of sand packs change so often, sandbox climbers are usually molded from flexible, resilient materials that can adapt to the movements of the sand.
Climber for Pools
Kids love being able to climb all around their backyard pool. Available in a variety of styles, shapes, and sizes, many pool climbers have fun themes like trains or animals that appeal to kids' imaginations.
Log Climbers
Logs also provide a perfect climbing experience for kids. Since the logs are usually made of wood and molded to fit children's hands, log climbers can provide a fun challenge as kids work their way up.
4. Merry Go Round
If you visit any playground across town, you'll not leave without coming across a merry-go-round. This is popular playground equipment suitable for both kids and adults. They are also called carousels or roundabouts. Merry go rounds are generally large playground equipment suitable for older kids that can stand the adrenaline rush.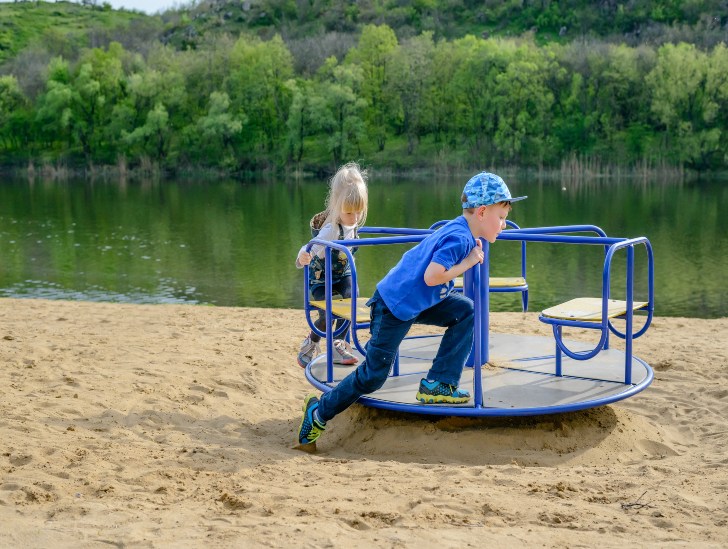 Kids can easily hop on them and spin themselves around in circles. However, they also require strong adult supervision as kids can easily fall off this equipment. You also need to follow specific safety guidelines when installing the merry go rounds in your playground.
5. Monkey Bars
For those kids who can't stay in one place, monkey bars will do them some justice. The monkey bars are made of steel materials and have a lot of different bars for kids to swing from one to another, just like monkeys do.
This equipment is not recommended for those who are younger than five years. Some monkey bars can even be joined together to make longer swinger arms for kids of different ages.
6. Jungle Gyms
Another playground equipment that you'll find in a modern playground is a jungle gym. This is a steel net with lots of bars and elements for kids to swing, climb, and play around it.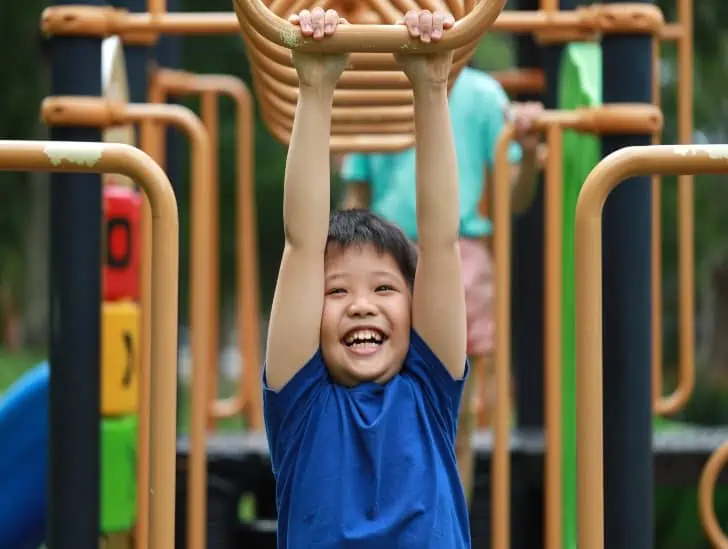 Jungle gyms allow children to exercise their arms and legs while they're having fun. Kids who like climbing things will definitely love this equipment, and they'll surely stay healthy and fit in the process.
7. Sea-Saws
A playground sea saw is also known as a teeter-totter. It is very helpful in teaching children about gravity. The way this piece of equipment works is that one child will sit on one end of the arm while another child sits on the other end. When kids are on it, they can go up and down as much as they want without falling off.
Sea saws are excellent for group play because there's usually more than one child who can play at the same time. It also helps kids learn about sharing because they'll have to wait for their turn to play.
If there are children who still don't want to share, you can use this as an opportunity to teach them responsibility by telling them that they're only given a certain amount of time to play. Once their time is up, they'll have to wait until the next day or later before they get a chance to get back on.
This piece of equipment is also beneficial for developing children's balance and coordination skills. It can be used indoors and outdoors, which means it can take place in your backyard, basement, or living room if you have enough space.
8. Spinners/Spinning Toys
Like a merry-go-round, spinning toys also provide some spinning fun for younger kids who need the experience of giant carousels. They can be attached straight to the ground or hanging from a sturdy beam and may come with a handlebar to give children grips while they're spinning about.
Spinning toys also help build balance and perception skills. They also help kids develop the sense of touch and posture control. There are spinning toys made for a single child at a time, while others can accommodate multiple kids spinning at the same time.
Benefits of Playground Equipment for Kids
While the playground equipment listed above has various benefits they give to kids, there are also generalized benefits that kids get from them as a whole. Some of the common benefits of playground equipment include;
They Keep Kids Active and Healthy
Playgrounds and the equipment they have are a fun way for kids to burn off some of their excessive energy and stay healthy and fit. They exercise the muscles, improve coordination and balance, strengthen bones and develop heart health. Letting your kids play outdoors is an important part of fitness because it reduces obesity rates and helps keep them happy.
Kids Learn to Share
Some of the playground equipment is shared, and kids are always forced to play alongside one another. This teaches them the importance of being a good sport and sharing. It teaches them valuable social skills that they will take into adulthood.
Helps Children Socialize Faster
Kids learn very quickly that when they go outside to play, there is a whole other world waiting for them just beyond the front door. They will meet children from other neighborhoods and get together to have fun. This is a great way to help children socialize and develop new friendships.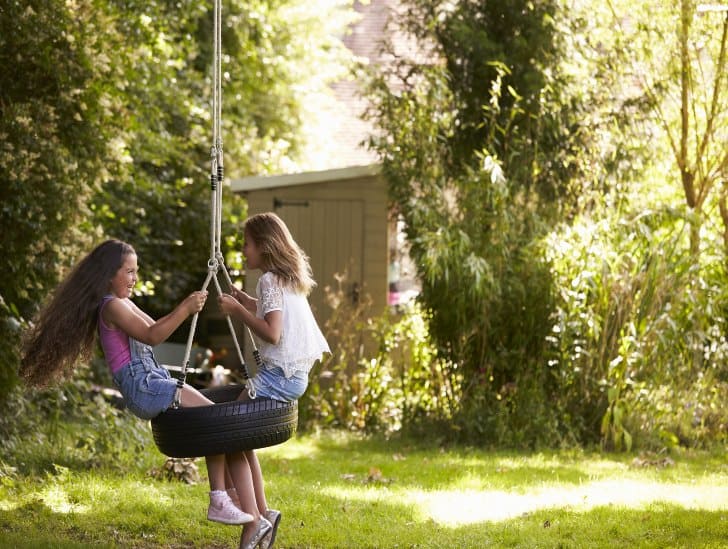 Help Kids Develop Motor Skills
Playing indoors or outdoors is a perfect way for kids to develop their motor skills. Playing tag, hide and seek, soccer, football, or building forts are all great ways to help kids develop their motor skills while having fun at the same time.
Teaches Kids to be Creative
Playing outside is a way for parents to give their kids some peace and quiet so they can have some individual time. Kids can use their imagination and play whatever they want. They can be a superhero, a princess, a race car driver, or anything they desire. Playing outside is a great way to let kids develop their creative side.
Teaches Kids to be Independent
When parents are too busy with life's stresses, it can be difficult for them to be around their kids all the time. And we all know that leaving kids alone unsupervised is not an option. But when they have this equipment around, they won't think about any mischief. They'll be preoccupied with having their own fun, and parents can have some peace of mind knowing they are safe.
Safety Consideration for Playground Equipment
When installing any playground equipment at home, there are some safety guidelines you need to follow. Some are requirements by law, while some should just be common sense. Here are some safety precautions to put in mind.
Always consult a landscape designer, builder, or safety inspector before starting the installation process.
Ensure that there is no way your child can fall more than 24 inches (60 centimeters).
Make sure the equipment suits your child's age and size.
Never leave children unsupervised in or around any playground equipment installed at home.
Consider hiring an experienced person to help with playground equipment installation.
Ensure the playground equipment is installed more than 24 inches above the ground to avoid lower limb entrapments. Also, there should be at least 3-4 feet between the structure and nearby trees or poles that might interfere with playtime.
Take into consideration access to electrical outlets or water hoses.
Make sure the playground equipment is in a well-ventilated area to reduce the chances of suffocation.
Be sure there are no hazardous areas around the play equipment. For example, ponds or streams near play equipment can be dangerous because they may harbor bacteria and organisms that cause diseases, such as E Coli.
Avoid keeping heavy objects close to the playground area as they can cause accidents for the kids or even adults.
Equipment maintenance should always be in your schedule. Check for peeling paint, rusting metal, or loose-fitting pants. All these can be dangerous to your kid.
Make sure the equipment does not have sharp edges and is kept away from shrubs and bushes so that it's less likely for them to get caught on something.
Summary
Building a playground at home is like bringing the entire park closer to home. Kids need a place to play, explore, and have fun whenever they feel like it. The good news is that you're never limited when it comes to the number of equipment you can add to your at-home playground. Everything will work out as long as you have the space and your budget allows it.
At the same time, you can ensure that they're safe in this space and avoid accidents. You will no doubt save a few dollars for not going out to a park or playground to let your kids play, so it's definitely worth your time and effort.