Did you know that only 21% of modern kids are getting outside to engage in natural play? The modern kid's playtime has been heavily decreased as schoolwork has become more time-consuming, and kids prefer to spend the little free time they get on tablets, smartphones, laptops, and television watching different programs or playing video games. But did you know that you can build your own natural playground and start encouraging your little ones to take part in natural play? It is possible and practical.
So, how do you build a natural playground?  To create a natural playground, you will need to assemble simple natural materials combined with a wide range of nature-inspired elements such as loose materials, tree stumps, water features, sensory/cottage gardens, digging spaces, and small hills/berms.  Assess your kids' strengths and weaknesses before you start building your natural playground. For instance, if they love climbing, then you should consider having more climbing structures.
This blog post outlines some of the crucial things you need to do to build a natural playground for your loved ones. So, let us get started.
What Is a Natural Playground?
The best way to define a natural playground is by assessing the components of both natural and commercial playgrounds. So, picture a sterile, rubberized open space with a plastic slide, metal seesaws, and a well-mounted wall or chain link that keeps everything contained.
Now, hold on and picture a wild forest with plenty of different kinds of trees, boulders to climb, mud to dig and explore, and hills to slide down. The second option is obviously a feast for your little one's senses, and that is what looks like a natural playground.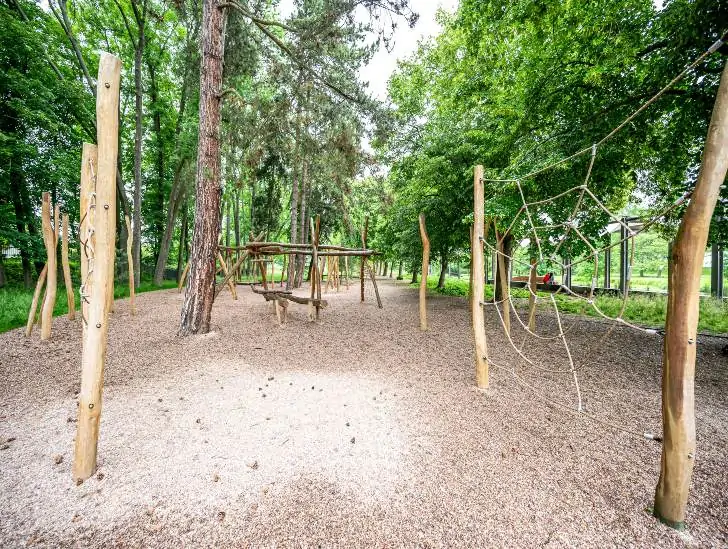 A typical natural playground will combine the built environment of traditional play spaces with open-ended play and massive sensory experiences of a natural environment.
Why Is Natural Play Important?
The primary objective of natural playgrounds is to mimic the real experiences that children would typically enjoy in a natural environment. They strive to provide open-ended play that structured play and screen time can't offer.
As mentioned earlier, modern kids tend to spend much of their free time indoors watching television or playing video games. Therefore, natural playgrounds play a critical role in reconnecting kids with the great outdoors and themselves.
They also help children focus more reducing ADHD symptoms, inspire creativity and improve intelligence, health, and happiness.
Like artificial playgrounds, natural play spaces can inspire and support unstructured play. But unlike synthetic playgrounds, natural playgrounds help kids' imaginations run wild and fully engage their senses.
Through creative play, trial and error, kids learn many things about themselves and develop valuable personal responsibility.
But natural playgrounds offer much more than what conventional playgrounds do. They are designed to showcase your backyard's natural beauty and may even cut down on the amount of maintenance required.
So, if you are trying to hide some unsightly features such as lumpy hills and protruding rocks, then you will be better off constructing a natural playground in your backyard. These play spaces blend perfectly well with your landscape creating a safe and amazing outlook.
What Materials Do You Need to Build a Natural Environment?
You probably have more than half of the materials you need to create a perfect natural playground lying around your home. Even better, most of these materials won't cost you anything at all.
Thrift stores, salvage reuse shops, and even garages are some of the great places you can find these materials if you don't have them at home. Even if you purchase these materials, you can easily negotiate for great discounts because most of them are regarded a waste.
Look around your attic, basement, shed, and garage for materials such as old tires that can be used to create climbing towers, swings, and independent pieces to an obstacle course.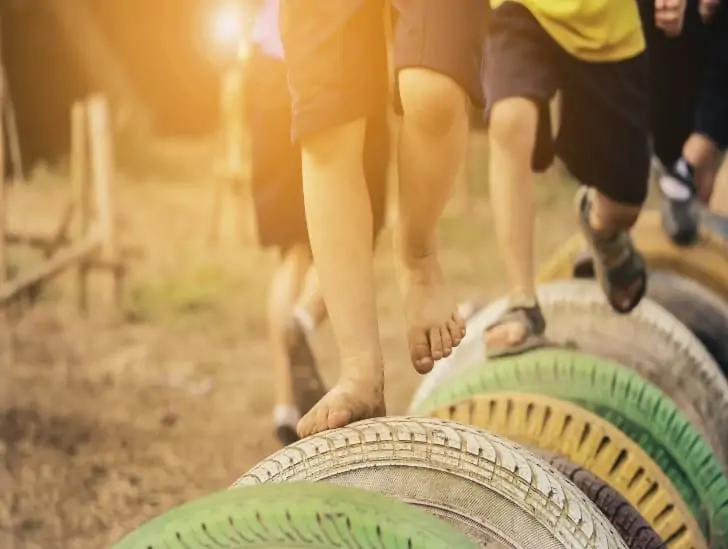 You should also look for pipe pieces from your past home improvement projects to use as portal windows or tunnels and metal containers to use as buckets, organization bins, and noisemakers.
Don't forget your old furniture such as tables, desks, and entertainment centers can easily be transformed into workbenches, and kitchens while used ropes can be converted into handles, ladders, pulleys, and even railings.
What Are the Critical Elements of a Natural Playground?
Now that you know what a natural playground is and why natural play is essential for your kids, it is time to highlight some of the critical elements of a natural playground that will guide you when creating one in your backyard.
1. Play into Your Kids' Interests
The key to building an excellent natural playground is playing to your kids' interests. Basically, the playground should be built with your kids in mind because they will be the main players.
You need to understand that each child has their own unique way of playing and things that interest them. Research shows there are up to 11 different types of play ranging from loud and active to quiet and inquisitive.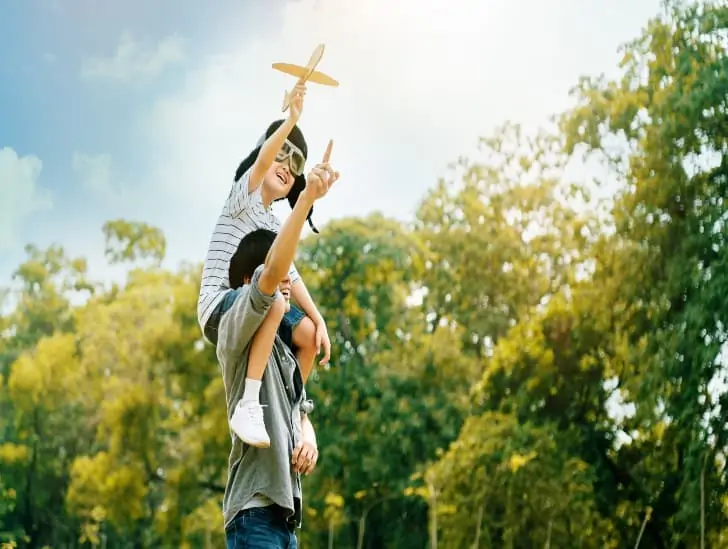 Take time to understand what your kids enjoy most and make it the main priority when designing your natural playground. If you don't know what your kids like, ask them.
2. Create a Sensory Garden
Gardening helps kids explore lots of things and grab up many opportunities, especially when they are active.
Sensory gardens in a natural playground are meant to be explored through taste, touch, sight, and smell. While creating your sensory garden, you can either use a small space such as a garden root-view playhouse or build something bigger that can accommodate your kids and their friends.
Whatever the size you choose, make sure you fill the garden with fruits, herbs, succulents, and flowers for a sensory feast.
3. Forts and Shelters
Kids love creating their own worlds and will most likely try to redefine whatever space you give them to suit their unique needs.
Therefore, adding a simple shelter such as a bean teepee or even a wooden playhouse to the natural playground will automatically add depth and possibility to their play.
If you have sufficient space, consider installing a year-round shelter that will make it possible for your kids to enjoy the outdoor environment even during the winter months.
4. Climbing Structures
Kids no longer find joy in climbing real trees or exploring canyons. But, if you create superficial climbing structures from recycled materials, they will be excited to try it out. Keep in mind that climbing is a great activity that helps your little ones to develop their cognitive skills.
If you can't find used tires to convert into climbers, consider using something like a hollow log climber that allows children to climb through a log other than climbing a real tree.
5. Balance Beams
Several studies have shown that balance beams are a critical element to fun activities for kids. Balancing on a balance beam teaches children the concept of sides and makes them fully aware of the positioning of their bodies in different spaces.
Experts say that the concept of balancing helps kids learn the ability to sit still and remain stable in conventional chairs. You can always install a log beam at your natural playground to provide balancing.
6. Compass Treasure Hunt
In addition to building resilience and good health, natural playgrounds also provide children with something else they need: the opportunity to get lost and explore different things on their own (under strict supervision).
Therefore, setting up a simple compass treasure hunt in your natural backyard environment will teach your little ones essential skills to navigate the world and come back home safely.
Compass treasure hunts are ideal for both kids and adults. They also work perfectly as part of other games that kids may engage in while at the playground.
Children of any age can participate in a treasure hunt and learn important lessons such as the points of direction (north, south, east, and west).
How Big Does Your Natural Playground Need to Be?
There is no size limit when it comes to building a backyard background. It can occupy one corner of your backyard or take up the entire space. It is up to you to decide what you want.
Spend some time looking at your backyard and identifying the different elements you want to incorporate into your natural environment. Pay attention to the space and what kind of activities your kids enjoy.
As you visualize everything, you should be able to see how big your playground needs to be and how you will arrange everything in it.
Just keep in mind that although the playground is meant to fit in your backyard, it can still wind around your garden and even incorporate your patio if you want it to.
Final Thoughts
Whichever way you decide to create your natural playground, make sure you add as many natural elements as possible. With the right equipment, you can transform your backyard into a haven for rich and memorable childhood experiences that your children will treasure forever.
And don't think you will spend a lot of money to actualize your vision of a perfect natural playground. Most of the things you need to get started are right in your compound and won't cost anything.