Deciding what materials to put underneath your freshly built swing set can feel like an oddly specific question that, at first glance, doesn't seem to be asked all that much. The truth is, when you have a little fun-sized child or two that is full of energy and life, you're going to want to keep them as safe as possible. There are several different options to consider when deciding the best material to put under your swing set. 
When building a swing set, the best material to put under your swing set is widely considered to be rubber mulch. Rubber mulch has a relatively expensive cost amongst all the different materials, but it has excellent shock resistance and limits the amount of time you need to spend maintaining it. 
There are many different materials to use when building a swing set, and there are various reasons to consider other options. Knowing how which one serves you and your specific needs is a good idea. Understanding why some options are more affordable than others and why some options aren't as recommended doesn't hurt to know either. 
Using Rubber Mulch Under Swing Sets
Widely considered the best material to use underneath a swing set, rubber mulch provides a consistent quality of shock absorption and safety.
Rubber mulch does cost more initially than other materials, but because of its material, you won't have to worry about any long term repairs. It's cheaper down the line, and its more affordable maintenance cost is worth considering. 
Kids won't be kids forever, but any injuries sustained as a kid could haunt them for the rest of their lives. It's essential to choose something you believe will provide the best chance at safety, and rubber mulch does that with ease. 
Rubber mulch is scientifically engineered with the sole purpose of being a material to be used in playgrounds. Despite that, it's wise to understand the advantages and disadvantages of using this material for your background swing set:
Advantages of Rubber Mulch
It has reasonable long term costs. Rubber mulch takes years to degrade, so for the duration of your children being children, it likely won't ever need to be replaced. 
It comes in a range of colors to best match the theme of your own backyard swing set. 
It doesn't attract insects, so that's a problem you won't ever have to deal with. 
Disadvantages of Rubber Mulch
High initial cost that cannot be ignored
Although uncommon, it can be flammable, so if you're extra cautious, it might be wise to use a different kind of material
It's not a poured-in material that's completely solid, depending on the form you buy it in. It can potentially be a choking hazard for young children. 
Alternatives to Rubber Mulch 
While rubber mulch is the go-to option for choosing something to protect your children with, this may not always be the most convenient to implement as a parent with a limited budget. 
Fortunately, there are other options to consider besides rubber mulch. They might not be as good, but they are just as capable of providing peace of mind that the safety of your kids won't be jeopardized. 
There are two types of materials that can be used underneath a swing set. There are loose-fill surface options and unitary material surface options. Both try to accomplish the same thing but go about it in somewhat different ways. 
Loose Fill Materials
Loose-fill materials typically exhibit more cost-effectiveness to their materials. They are usually what comes to mind when a parent or individual thinks of a playground or any area that has a swing set. Loose-fill materials are typically materials filled into the space like sand or wood chips. For example, sand at a beach can be considered "loose fill." 
The most significant problem with loose-fill materials is that as children play around in these substances, the material tends to shift. These materials in playgrounds require constant attention because as children run around, they tend to shift the material, requiring an adult to reevaluate and re-shift the materials constantly. 
If the material isn't readjusted, the ground won't have adequate shock absorption, spelling danger for unsuspecting children. 
Loose-fill materials are easy to install, typically requiring you to pour into a spot until its full. Despite the scattering, loose-fill surface materials aren't difficult to maintain. They also come with the added benefit of being aesthetically pleasing to the eyes. They blend with most natural backgrounds and can complete the theme to your backyard swing set.
Wood Mulch or Chips
Wood mulch, or wood chips, are not too dissimilar to rubber mulch except that they're entirely wooden. They are much cheaper to implement than rubber mulch and are a more natural alternative if you're feeling more eco-friendly.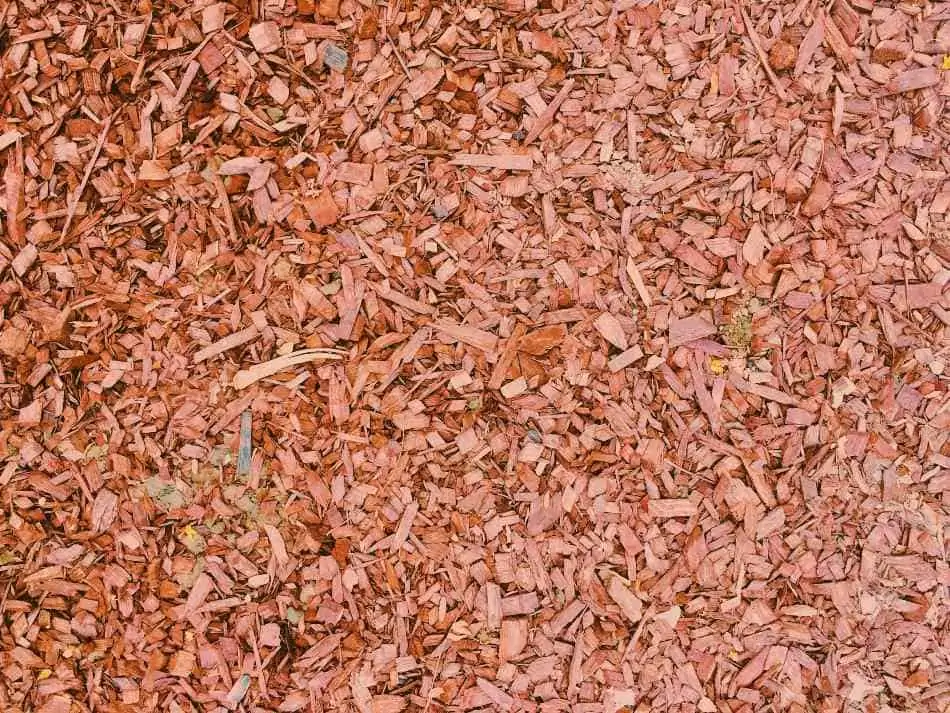 As the name suggests, these chips of wood tend to cause splinters: if kids swing and jump off a swing set and land on their hands, you can be reasonably sure that those children are going to have splinters. In addition to the danger of having wooden chips lying around, curious children may be tempted to put these chips in their mouths, inevitably creating a choking hazard. 
Finally, while wood mulches are excellent for any background, you should be prepared for lots of maintenance because of how easy they are to scatter. 
Pea Gravel 
Pea gravel is a material that you can find in dog parks and other above-ground projects. A lot of people prefer to use it as an adornment to their gardens, for example, but you can find them in areas that tend to attract a lot of people, such as playgrounds. 
Not to be confused with crushed stone, pea gravel is much smaller and exceptionally soft to the touch. When used as a material underneath a swing set, it provides adequate shock absorption while being relatively cheap to install. 
Its core function of cushioning a child's fall is a box that gets checked off quite easily, but the nature of this material may tempt small children to put some of the material in their mouths, thus creating another choking hazard you'd have to worry about and consider when implementing. 
Like wooden mulch/chips, pea gravel looks great in natural settings and can accentuate the theme of your swing set quite nicely. 
Sand 
Sand is easily the most common material that people think of using when considering a material to add underneath their swing sets. Children are often taken to parks that have sand as a material; they love running around in it, and sand can absorb a fair amount of shock from a fall. Not only is it affordable to purchase, but it's relatively easy to install. 
However, sand suffers from the same problems as other loose-fill materials in that it's susceptible to being kicked around and in need of constant maintenance. Not only that, but sand tends to hide objects a little too well; children aren't always adept at noticing when sharp objects are in the sand, so it becomes more vital for you to be attentive. 
With that in mind, you'll also need to consider the cost of keeping your sand maintained and free of harm, too. 
Sand also gets everywhere. Even the most mindful of us still somehow manage to bring sand with us back to the car after a beach trip. Children playing in the sand, especially frequently, can make you more likely to do cleaning, not just outside, but inside as well. Sand leaves trails, and you've got to be ready to clean that up repeatedly. 
In addition, all the showers that inevitably come with sand will likely be raising your utility bill. 
Sand also has a knack for attracting animals such as cats. Unknown or stray animals will always pose a danger to children, as they could potentially carry some harmful diseases. In addition, if they use your sand as their restroom, it also becomes unsanitary. While this is rarely the case, it is still possible, and a point worth keeping in mind. 
Unitary Materials 
Unlike loose-fill materials, unitary materials aren't susceptible to being kicked or dispersed. They're solidly filled into the ground and need little to no maintenance to do its job. They are, however, more expensive on average because of their longevity and definitely require more money at the beginning compared to other substances. 
Unitary surface materials have the added benefit of not excluding anyone from playing. Any child with disabilities can play with the other kids because of the solidity of the floor.
Unitary materials require a group of professionals to install for you. If you instead prefer the DIY experience, then going this route may not be best for you, but there's a confidence in knowing that a team of professionals installed something for you. You can be sure that your unitary surface will work just fine, especially when you first get it. 
In a few years of having the material installed, it might be a good idea to call professionals again to get your unitary material reexamined because the quality of its material may diminish over time. 
Loose-fill materials are highly visible and, therefore, easy to tell when it's not absorbing shock. For example, a child might've knocked over too much sand, and consequently, it's quite clear when maintenance needs to be done. 
With unitary materials, all the magic, all the science, and all the protecting are happening underneath. The shock absorption is what you don't see, unfortunately, so it's wise to get that checked every few years to affirm that the material is still able to do its job. And that contributes to the maintenance cost of it. 
Unitary surface materials also tend to be backed by warranty and offer a ground that doesn't have any pebbles or little objects getting into the clothes and bodies of children. It comes in a variety of different colors, so there's also no limit to the customizability of it. 
Pour in Place (PIP)
Pour in Place unitary surface materials are great for swing sets because children don't have to worry about any of the grievances that come with loose-fill materials. It consists of two layers of rubber particles, which basically certify safety. If that's not enough, pour in place is ADA approved, meaning that even children with disabilities can enjoy the fun. In addition, it offers excellent shock absorption.
Pour in Place materials for any swing set or playground is, for better or worse, quite expensive. While you get the added benefit of having it professionally installed for the peace of mind of safety that will be applied to your children and local kids, you also get the added stress of worrying about the affordability of Pour in Place products. 
When the material gets damaged and in need of repairs, trained professionals must again come to your assistance to help you, which can also be quite expensive. In general, though, Pour in Place doesn't need to be maintained nearly as much as other materials, and while the initial cost can be thwarting, it's entirely worth it in the long term. 
Synthetic Turf 
This is the kind of material that you'll notice on football or soccer fields. It's characterized by the physical activity that's usually done on top of it and has a reputation for also being accessible to playgrounds and swing sets. 
Synthetic turf looks just like real grass, but it only has the outer appearance of real grass. It's made up of rubber infill and is coated with artificial grass. The best thing about synthetic turf is that it's very visible, and you don't ever have to worry about needing to cut the grass.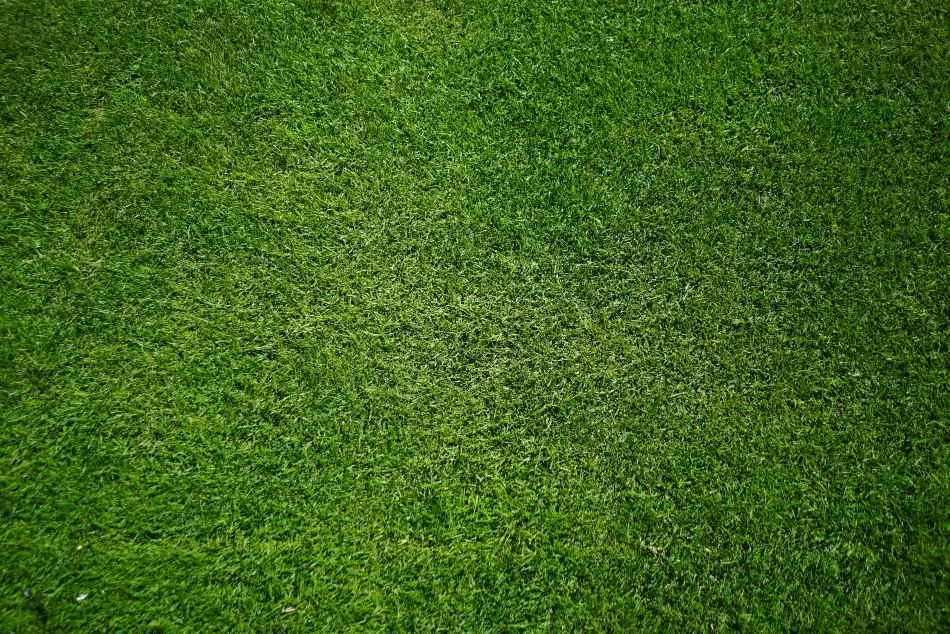 Synthetic turf can last a very long time, and in a lot of cases, that's up to 20 years. You don't have to worry about the grass losing its texture or color over time because it's synthetic and will maintain its appearance. It also conserves tons of water, especially when compared to the quantity of water that regular grass needs.
Synthetic turf doesn't suffer from the same pitfalls of natural grass either. Besides cutting the costs that come with constantly maintaining your grass, you also won't have to worry about any exposure to bacteria. Stains on clothing from grass will become a distant memory because synthetic turf won't have any mud in it. 
Similarly to Pour in Place and unitary surface materials in general, installation can be costly depending on how much ground you need to cover. It also tends to build up static, so you may need to wager in additional costs of purchasing an anti-static solution to prevent that problem. 
If poorly installed, synthetic turf can become a hazard towards children playing, so make sure to go with an installation crew that you trust.
Rubber Tiles 
Easy to install and great at protecting from falls, rubber tiles are a great option to consider when choosing a unitary surface material for your outdoor swing set. Like other unitary surface materials, you don't have to worry about the tiles coming off or being undone. However over time, the edges can curl and cause children to potentially trip and hurt themselves. 
Every few years, you will have to get the tiles checked on to make sure that they're still competent at protecting from falls and doing their job at providing children with a safe experience. 
Rubber tiles, in particular, seem susceptible to dirt, but it just tends to be more visible on rubber tiles, so definitely keep that in mind. You'll find yourself doing a lot of sweeping if you're particular about keeping the surface cleaning. 
Materials to Avoid Using Under a Swing Set
It can seem like there are no bad options when choosing a surface for your swing set. Every pick certainly has its advantages and disadvantages, but some options are generally much worse. Here are some options for swing set materials that you might've considered but you should definitely try to avoid:
Natural Grass 
Natural grass looks good on just about any swing set, but just because it looks great doesn't mean that it functions great.
It can seem like a cheap option when you don't have enough funds for any of the other surface materials. Still, natural grass ultimately becomes the most expensive material to maintain. Between the excessive water it takes to keep it looking lively and the need to consistently mow and fertilize it, natural grass becomes one of the most expensive options. 
Natural grass isn't as shock absorbent as other options mentioned, either. If a child were to fall from an 8-foot high drop, they'd most certainly be injured. Natural grass doesn't inspire the confidence you need to have kids playing on your swing set; it's not protective enough. 
It also tends to carry bacteria in some cases. If you have children and pets that frequent the grass together, you may be posing an added risk of illness; natural grass is not as easy as synthetic turf to clean off and sanitize. 
Packed Down Dirt  
Packed down dirt may seem like an attractive option because it looks like it can potentially cushion a person's fall, but it indeed doesn't. Similar to grass, it doesn't provide a competent level of shock absorption to warrant considering for placing underneath your swing set. It really can be quite dangerous. 
It also tends to attract pests and insects. That's not a problem you'd like to have when keeping your children safe from harm. It also can be very unsanitary for people to land in, requiring you to continually make sure that your children are getting clean after playing, assuming they didn't get hurt in the first place. 
Final Considerations When Choosing Your Material
There are plenty of surfaces to choose from, but not every choice is equally attractive, depending on your child and circumstances. When considering which material to select for underneath your swing set, you're going to want to weigh your options in the categories of budget, accessibility, safety, and maintenance requirements. 
Budget
What does your budget look like when it comes to getting a material installed under your swing set? Cost is probably one of the more critical factors you need to consider, outside of safety. 
Each material has varying prices:  
Rubber Mulch: $3 – $5 per .8 square foot.
Wood Mulch/Chips: $3 – $6 per 2 square foot. 
Pea Gravel: $9 – $15 per square foot 
Sand: $5 – $7 per 50 pound bag
Pour in Place: $9 – $15 per square foot.
Synthetic Turf: $5 – $20 per square foot. 
Rubber Tiles: $9 – $15 per square foot. 
Depending on whether you're going for a unitary surface material or a loose-fill material, prices can vary drastically. Even within categories, you may find the price discrepancy between materials discouraging, and that's because different materials have their own advantages. 
Depending on how much of any material you need, you can be spending a lot of money or very little money. With that said, think about the size of the playground that holds your swing set. 
If it's extremely large and you'd like to cover the entire area, unitary surface materials might be better so that you don't have to engage in daily inspections that could take way longer than you'd have the energy for. 
If the area's small and you wouldn't mind a quick glance every day, then perhaps choosing a loose-fill material is a better bet. It's more cost-effective and doesn't take as long to clean if the area isn't too big. 
Finally, as we previously mentioned, while unitary surface materials will reduce costs in the long run, they generally require more money upfront than their counterparts.
Accessibility 
All materials placed on playgrounds must comply with the Americans with Disabilities Act (ADA), which is a comprehensive law that prevents discrimination based on disabilities. In relation to the materials that you use underneath your swing set, this law requires that your materials be approved by the ADA and can allow for children with mobility devices to move across the materials safely. 
In general, by following the instructions that manufacturers place on the products of their materials, you won't have to worry too much about accessibility and ADA standards. 
Safety
Besides costs, the safety of the material you're interested in buying should be the most crucial factor to consider. 
Kids love to run around and have fun. In a way, they're very uninhibited by consequences. However, there may come a time where a child will jump around or off a swing set and hit the ground. It comes with the territory of engaging in physical activity.
At best, kids can experience scratches and cuts when playing on swings without a safe material underneath it, but at worst, they can break bones and damage their limbs. For this reason, the substance you end up choosing should have shock absorption, which can help prevent the potential of injury. 
When choosing a material for safety, it's never a bad idea to ask the vendor in which you got your material from whether your material is shock-absorbent or not. You can ask the vendor for the ASTM F3313 field results, which will give you a good idea as to how safe your particular material is for swing set use. 
Maintenance Requirements
Maintenance is essential for any material you potentially purchase. You need to assess how much care you're willing to do underneath your swing set. Loose-fill materials tend to require maintenance each day. You will need to inspect the surface for sharp objects and any debris that may be harmful, in addition to toxic substances. 
For unitary surface materials, remember that you don't need to clean the surface as frequently. Any objects should be obvious, and you'd really only need to sweep off the dirt that accumulates on top occasionally. When it cracks after a few years, then you'd have to hire a team of professionals to take care of that for you. 
Depending on how much work you're willing to do, certain material options will be more attractive to you. 
In Summary
In summary, when choosing a surface material for underneath your swing set, rubber mulch is your best option. Rubber mulch is designed explicitly for playgrounds that children will find themselves jumping from high heights. It absorbs most of the shock and protects kids. 
However, while rubber mulch is recommended, it isn't always the most attractive choice depending on your needs. Rubber mulch can be more expensive than what you're willing to pay, and you may want to consider something cheaper. 
When choosing other materials to use for underneath your swing set, consider how much maintenance you're willing to do, the degree of safety you desire, its cost, and its accessibility for all children. No singular option is without its flaws, but choosing something that fits your needs can feel like it's perfect for you and the kids who will be having fun on it.