Natural and artificial grass is becoming a common playground surfacing material for many homeowners, and it is for a good reason.
Grass is versatile and helps to maintain the natural appearance of backyards where the playground equipment is installed.  It also feels great and can be used anywhere.
So, are you considering setting up a playset in your backyard over grass? If so, then you have made a fantastic choice. However, you must keep in mind that there are a few considerations you need to make before you proceed.
Your kid's safety must take priority over everything else. Therefore, it is essential to know how to install the playset properly to minimize the risk of injuries.
When it comes to anchoring a playset on grass, security is everything.  After factoring in wind, momentum, weight, and constant wear, your playset must remain stable and firmly anchored to the ground.
Read this post to learn how you can saftly install a playset on grass.
Why Should You Anchor Your Playset?
Statistics show that approximately 200,000 kids aged 14 and below get treated in hospital each year for playground-related injuries. Out of these injuries, about 45% of them are severe fractures, concussions, dislocations, amputations, and internal injuries.
The most common causes of these injuries include being hit by playground equipment, impact injuries, and falls from various playground equipment.
These statistics show that even the safest playground equipment can still pose a significant safety risk to your little ones. 
Playsets, in particular, can easily tip over due to the fast and forceful swinging that it makes. Therefore, securing it properly on grass is critical to minimize the risk of injuries.
Why Use Grass as Your Playground Surfacing Material?
Most of us can agree that grass looks amazing.  As long as it is well mowed and watered, nothing compares to the natural beauty it adds to your backyard.
But the best part is that it is also one of the safest playground surfacing materials because it is soft and still looks great. It is also non-slip, offers good drainage, and doesn't get too hot during summer.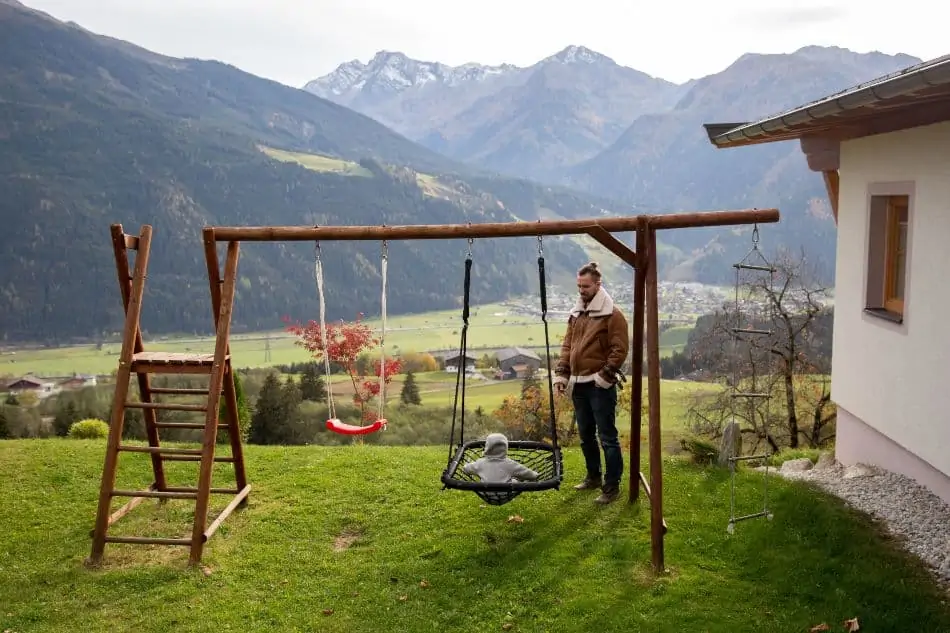 Even if you are using artificial grass, you still maintain the natural look and set up a safe landing spot for your children. Artificial grass is also easy to clean, doesn't require pesticides or fertilizers, and prevents bugs.
Grass offers your little ones a consistent surface to play on and create unforgettable memories.  Water can easily drain through grass, making it a relatively dry and safe place that can prevent slips and falls.
It also requires minimal maintenance, and if treated properly, it can serve you for many years. You don't have to replace it from time to time like other playground flooring materials such as wood mulch and sand.
How to Saftly Anchor a Playset on Grass
Now that you understand the importance of anchoring your playset and why you should anchor it on grass, let us figure out how you can securely set it up.
Keep in mind that there are no shortcuts to setting up your playset on grass. You need to follow the procedure to the last step to ensure your kids can enjoy the playset without worries.
Follow the steps outlined below to secure your playset in no time.
Anchoring Your Playset Using Concrete
One of the fastest and easiest ways to anchor your playset on grass is by using concrete. You will require the following materials to accomplish the mission:
Concrete.
Shovel.
Anchoring plates.
Bolts and screws.
Drill.
The Process
Position your playset in a relatively safe place away from tree branches and other distractions.  Once you have positioned your swing set clearly, be sure to mark each leg's exact location using a shovel.
Carefully move the playset to one side and dig holes at each marked point. Each hole must be approximately 12 inches deep and nine inches in diameter.
Using your 9.5-millimeter drill bit, carefully drill holes into the sides of your playset's legs. Each hole should be approximately one inch above the bottom of the leg.
Place the anchoring plate at the bottom of each playset leg and screw the bolts/screws through the plates.
Mix a batch of concrete and fill each hole with the mixture. Carefully re-position your playset over the holes that you have filled with concrete. The bottom half of each leg must be below the surface of the concrete.
To ensure the legs of your playset are well-positioned at an even level, each leg should be held by one person and lowered in its respective hole. Allow the concrete to dry and harden for at least 24 hours before you allow your kids on the playset.
Securing Your Playset with Ground Anchors
If you don't want to use concrete to secure your playset, you can use one-piece or two-piece ground anchors. You will need the following materials to complete the process:
Bolt caps.
Metal bar.
Metal collars and chains for the one-piece anchor system.
Anchor attachments for the two-piece anchor system.
Screws/bolts.
Wooden spikes/stakes.
Ground anchors/ metal auger.
The Process
Carefully position your playset where you want it to be and mark each leg's location by hammering a wooden stake/spike into the ground.
If you are using the one-piece anchor, hit the wooden stake a few inches in front of each playset leg. If you want to use a two-piece anchor system, hammer the stakes into the ground at the exact positions where each leg will be.
You can request someone to help you move the leg out the way every time you want to strike.
Once you are through, carefully remove the wooden stakes and replace them with metal auger anchors. Twist each metal auger anchor several inches into the soil. Ensure the anchors remain in a vertical position even as you twist them.
If you cannot twist the auger anchor by hand, consider using a metal bar. Once you have twisted the metal auger anchors into the ground, start attaching the legs of your playset.
If you are using the one-piece anchor system, use a chain to slide one end of the playset through the eye of the anchor before you wrap a metal collar around the leg and slide a screw/bolt through one eye of the collar.
Pick up the free end of the chain and carefully slide it through the bolt on the collar.  Close the collar and proceed to secure it tightly with a bolt.
Remember to place a bolt cap on the bolt's open end and use a drill to ensure the collar doesn't slide up and down on the playset leg.
Repeat these steps on the other three legs to complete your installation.
Two-Piece Anchors
If you had decided to use the two-piece anchor system, place a 4×4 leg attachment at the bottom of one of the legs. Use the 9.5-millimeter bolts to drill the attachment to the leg.
Make sure the attachment fits over the anchor's exposed top. After you have placed the attachment over the ground anchor, go ahead and secure the leg in place by carefully sliding a bolt through the anchor's corresponding holes and the metallic attachment.
Do the same thing for the other legs, and you are good to go.
Double Check Everything
The installation process doesn't end with securing all the legs. Once you are through with the anchoring process, you need to take a few minutes to double-check everything and ensure you have done the right thing.
If it is your first time anchoring a playset, you need to check and test the entire playset's stability by hand. You can do this by trying to push it in one direction.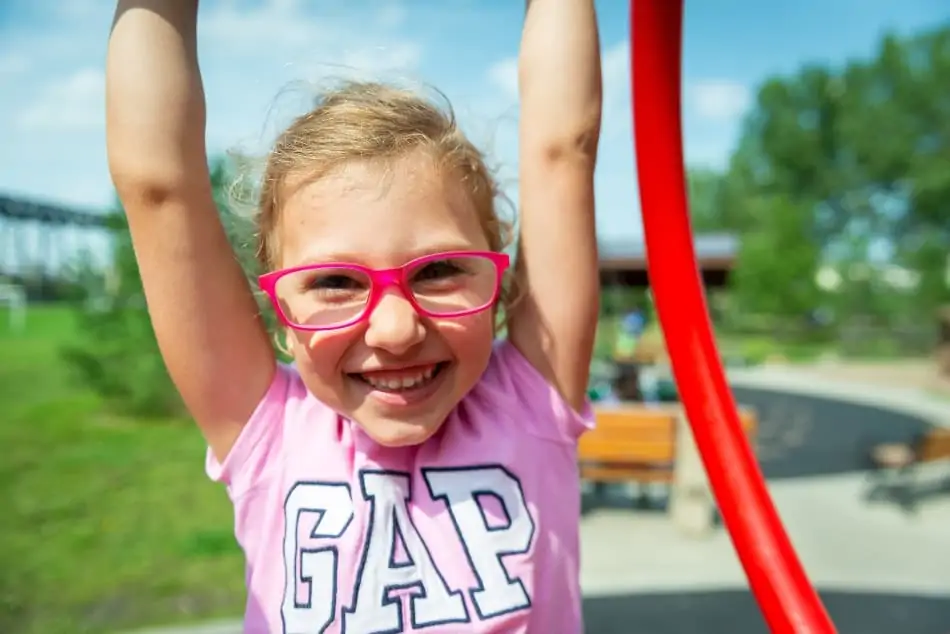 If there are any wobbles, figure out which anchors need tightening. If everything is tight and the playset still feels loose, install more anchors to stabilize the playset.
You should also double-check your anchors to ensure nothing is sticking out and posing a safety risk. Also check for potential tripping and falling hazards before allowing your children on the swing set.
Once you complete the inspection and are satisfied, you can happily say that the installation is 100% complete. Now clear the working area of any unused materials and tools and let your children start enjoying the playset.
Final Thought
Installing a playset on natural/artificial grass may be a little bit time-consuming and hectic, but it's worth it. Grass is a low-maintenance playground surfacing that offers you a wide range of aesthetic benefits.
Before you start the installation process, it is good to know what you need and how to do it properly to keep your kids safe. Anchoring your playset into the ground properly lowers the risk of injuries during playtime.
It also stops the playset from flipping over and causing harm.  We hope you are now well equipped to saftly place your playset on the grass.