Sandboxes are a great way to provide children with hours of entertainment while also protecting them from injury. They help them explore their creativity and imaginations freely without fear of confrontation. However, the sand can sometimes get untidy and dangerous for your kids if the sandbox isn't covered. This is the primary reason why sandbox covers are essential.
So, why should you cover your backyard sandbox? Cover will keep your kids safe from harmful things such as bugs and other crawling creatures and prevents the sand from flying away when it is windy outside. It also keeps the sand dry and fresh, making your sandbox look professional. In some states, the law makes it mandatory for everyone with a sandbox to use a sandbox cover.
Keep reading to learn more on why it is crucial to cover your backyard sandbox.
How Do Sandbox Covers Work?
Sandboxes are made of wood, with the sides being slatted for children to climb on. It's always best to choose a sturdy cover that can be removed easily when it is time for your kids to play in the sand. An excellent way to make sure they stay in place is to bury the side of the cover or put them on the edge of the sandbox.
Sandbox covers are lightweight and easy to assemble but heavy enough, so they don't blow away in strong winds. Some covers have holes for water drainage, while others provide mesh panels that allow water to drain into the sand below.
Others may have a fully solid structure with no holes or mesh panels. You'll want to consider which type of sandbox cover your children will enjoy the most before making your purchase.
Keep in mind that each option comes with its own benefits and drawbacks.
Mesh panels allow water to drain into the sand below, which keeps the sandbox fresh and dry at the top but damp at the bottom creating a perfect breeding site for insects and other crawling creatures. If you live in an area where bugs and other crawlies are a problem, this isn't the best option.
Solid covers keep flying creatures out of the sand, but they don't allow water to drain properly. This means you'll need to empty the sandbox more frequently.
Take time to assess your needs and budget before making your purchase. Don't rush your decision because it could have a long-term impact on your backyard sandbox.
What Are the Benefits of Covering Your Backyard Sandbox?
Now that we know how sandbox covers work, let's look at some of the top reasons why they are essential and how they can keep your little ones safe during playtime.
1. Protects Your Children from Insects and Other Creepy Crawlers
First of all, sandbox covers are designed to protect your child from insects and other creepy crawlers such as cockroaches and ants. Sandboxes need to be covered when not in use because it keeps the sand dry and safe so your kids won't get infected by harmful bacteria or reptiles.
2. Keeps the Sand Cool in Summer
If you have ever been to the beach during summertime, you will notice that the sand is usually hotter. The same thing applies to your backyard sandbox sand when temperatures rise.
Therefore, you need to use a high-quality sandbox cover to ensure the sand stays nice and cool throughout summer. Children will always love the feel of good and fresh dry sand because it is a place where they can play and let their imaginations run wild.
It is imperative to keep the sand cool during the hot summer months to minimize the risk of burns on their tender skin. Besides sandbox cover, you can also use a shade structure to help keep the sand cool.
3. Prevents Insects from Entering Your Home
Sandbox covers also prevent insects from entering your home.
When you have a sandbox in your backyard, you'll notice that ants will come into play because they want to eat the leftover food that falls out of your kids' hands after every meal or snack time.
Ants are also attracted to the sand and will dig holes in your backyard. The only way to ensure these creatures don't move out of the sandbox into your house is by using a cover.
4. Prevents Bugs and Insects from Eating Up Your Sandbox
Did you know that insects may eat up your sand over time? If no cover is available, insects such as cockroaches, ants, bees, or other bugs will enter your sandbox and eat up the sand.
Eventually, you won't be able to use the same sandbox anymore because it will be highly contaminated or there will be no sand left.
5. Keeps Your Sandbox Clean and Fresh
The best thing about having a sandbox cover is that it keeps your sandbox clean and fresh all year round.
No one likes spending time at a dirty park or playground, not even kids. In addition, you want to keep your sandbox clean for health reasons.
6. Prevents the Sand from Getting Wet and Heavy
Last but not least, a cover also keeps water from getting into your sandbox, so it doesn't get wet and heavy over time.
The sand will eventually dry up if there is no water seeping in or rain to make it heavier. That's why it's essential to keep the sand safe from insects, rodents, and other animals.
7. It Looks Professional
The truth is that besides keeping your sandbox clean, cool, dry, and fresh, a sandbox cover also makes it look professional.
Furthermore, it makes the rest of your backyard playground appear more professional and exciting as well. Keep in mind that when neighbors visit with their kids, you want to make an excellent first impression.
You may go for the easy route and just use a conventional tarp to cover your sandbox, but you need to ask how it will look when you have visitors around.
If you are looking for a tidy, organized, and professionally looking sandbox that will always be in excellent condition at all times, you should consider purchasing a high-quality sandbox cover.
8. It Is a Law in Some Places
A sandbox cover is an excellent way to protect your little ones from dirty and contaminated sand but did you know that it is required by law in some places?
In recent years, several countries, including some states in the U.S, have taken action and set the minimum requirements for commercial playgrounds that have sandboxes.
One of the requirements is to ensure all sandboxes are properly covered with sandbox covers all the time.
The same laws may apply to backyard sandboxes, depending on where you stay. So, before leaving your sandbox open throughout, ensure you check the latest playground policies in your local area and act accordingly.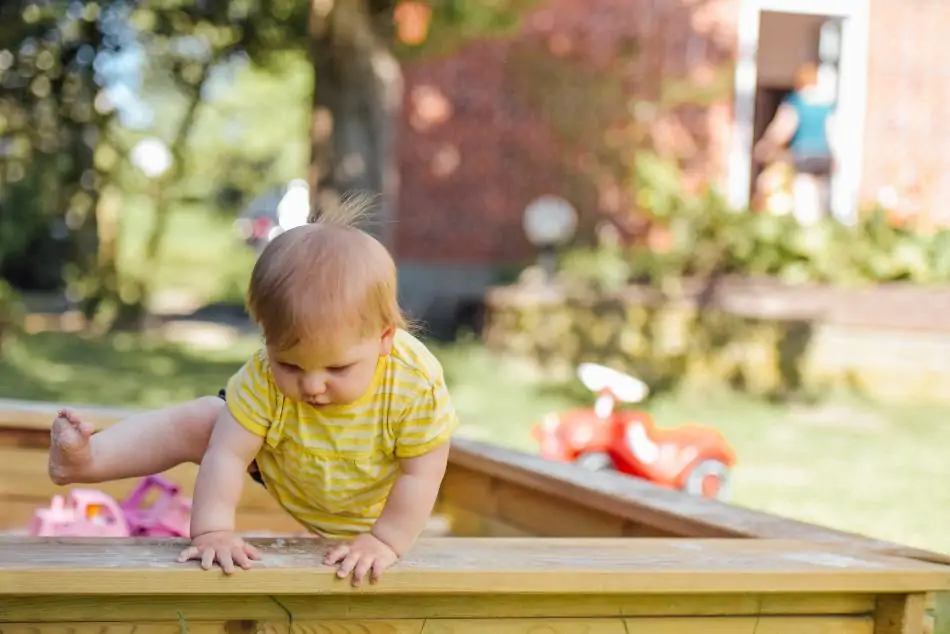 9. Prevents Infections
Lastly, sandbox covers help prevent infections from contaminated sand. Sandboxes are a place where children play with each other and share food.
Several diseases and viruses can spread through contact with dirty or contaminated sand, such as gastrointestinal problems like E Coli, asthma-like Valley fever and Leptospirosis, skin irritations like poison ivy, and allergic reactions like allergies from bee stings.
Some playgrounds actually have a warning sign for children who are scratching their hands after playing in the sandbox. This is bad for kids and creates a negative impression with neighbors and your kids' friends.
So, make sure you always protect your backyard sandbox and place a sandbox cover over it whenever it is not in use..
Buying and Installing a Sandbox Cover
Most sandbox covers can be installed easily in a round or square shape. If you want to install a cover on your sandbox, there are several things that you need to consider before buying or ordering one online.
First of all, you want an easy cover to install that requires minimal tools. The easier it is to use, the more likely your children will be able to set up a new sandbox on their own. So, make sure the sandbox cover your order comes with easy-to-understand instructions.
Secondly, you want a sandbox cover that will fit perfectly on your sandbox, so there is no chance of it getting blown off by the wind or rain. It's also essential for the cover to be big enough and not too small.
Last but not least, make sure the material used for manufacturing is high quality and durable. You don't want to buy a cheap product that will break down easily or not last for very long.
If possible, go for a custom cover for your sandbox so you can fit most shapes and sizes of sandboxes with ease.
Summary
Although a sandbox cover does not completely eliminate the risk of injuries, it reduces the chances of your child getting hurt while playing in a sand-filled environment.
Be sure to purchase a good-quality sandbox cover that will last longer and adhere to all industry standards. In addition, make sure you purchase one that is easy to install and use.