From infancy to childhood, outdoor play is crucial for every child's emotional, physical, mental, social, and cognitive development. The early years of exploration and discovery for naturally curious kids also play a critical role in laying a strong foundation for developing physical literacy and movement skills that come in handy throughout their lives. The two options that parents have when it comes to outdoor play are natural playgrounds and traditional playgrounds.  However, natural playgrounds have been gaining popularity in recent years thanks to the many benefits they offer.
So, what are natural playgrounds, and how do they differ from traditional playgrounds?  Natural playgrounds are made up of natural play elements such as trees, trumps, boulders, logs, sand, treehouses, water, and bridges. The primary objective is to maintain a natural look and encourage unstructured play. On the other hand, traditional playgrounds involve using specially designed play equipment comprising of different materials such as rubber, timber, plastic, and steel.
This blog post discusses everything you need to know about natural playgrounds, why they are becoming popular, and how they differ from traditional playgrounds. Read on to learn more.
What Are Natural Playgrounds?
A natural playground typically consists of different elements from a traditional playground. Instead of the conventional merry-go-rounds, a natural playground will feature different natural elements such as rocks, sand, mud, and living plants.
In fact, some people call natural playgrounds "natural classrooms" because they offer kids limitless opportunities to explore, discover, and learn new things. When children spend time in a natural playground, they use all their senses to explore and learn different things about nature.
These playgrounds naturally incorporate elements of a specific locality into the playing space, which help kids to learn more about their environment. For instance, a natural playground can incorporate a garden and growing area filled with a wide range of plants native to the local area.
These playgrounds will naturally enable your little ones to find suitable shelter and shade for play even as they seek bright open spaces. The play areas are big enough to enable jumping, swinging, crawling, balancing, climbing, and free movement.
What Does a Natural Playground Look Like?
There is no one size fits all model for natural playgrounds. However, the key elements that must be emphasized with every natural playground are nature and unstructured play. The earthly color palette and the asymmetrical topography play a critical role in bridging the gap between urban and rural settings.
A common theme of these playgrounds is the absence of commercially manufactured play equipment such as slides, monkey bars, and swing sets. Everything must remain natural for kids to explore and discover actively.
A simple playground surrounded by towering sunflowers and cascading willow branches can be more enthralling to kids than a highly sophisticated playground full of commercially manufactured equipment.
The topography in natural playgrounds is fully designed to provide kids with active play areas, such as stone walls, sandpits and berms of varying heights and size. They will also enjoy access to mud pits and watercourses.
Comfortable benches will be erected in strategic points to enable kids and their parents or caregivers to rest and enjoy the surroundings in between play sessions.  The grassy knolls provide the kids with wide-open play areas for jumping, running, and rolling down the hills.
The natural play space will typically have a wide range of engaging surprises, including rain gauges and sundials for children to explore. Some natural playgrounds may even feature a well-designed challenge course for highly active kids to tackle with ropes, obstacle courses and climbing walls.
What Is the Big Deal About Natural Playgrounds?
Natural playgrounds are gaining popularity because they present more opportunities for discovery, exploration, learning, and play than traditional playgrounds. They enable kids to move freely and creatively around the natural environment, allowing them to run, jump, explore, touch, smell, crawl and climb.
These activities help kids connect with nature and develop fine motor skills, social skills, creative skills, and motor function.
Generally, kids who spend most of their time in natural playgrounds are smarter and more active because they use all of their senses compared to their counterparts in traditional playgrounds.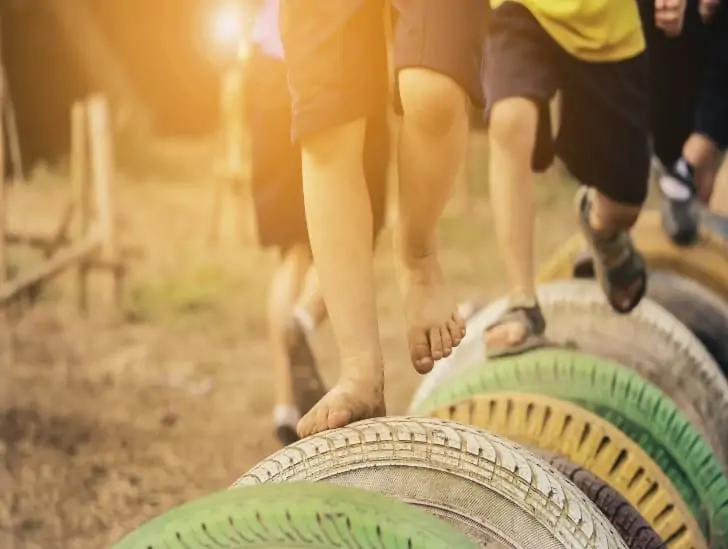 When children are taken to a traditional playground, they can become bored quickly since the available play structures tend to limit the kid's creativity, flexibility, and challenge.
Natural playgrounds will always have a wide range of structures that can be used in different ways.  For instance, boulders can be used for both balancing and as an obstacle course.
Natural playgrounds are also known for encouraging safety. Unlike traditional playgrounds, most risks of injuries have been removed from natural playgrounds.
Furthermore, there is a growing concern among lawmakers, playground experts, health officials, and parents regarding the health safety of some of the materials used in traditional playgrounds.
In particular, the crumb rubber materials primarily used as a flooring material contain high amounts of heavy metals such as manganese and lead associated with cancer and a wide range of other illnesses.
How Do Natural Playgrounds Differ from Traditional Playgrounds?
In contrast to unstructured, natural play, traditional playgrounds involve commercially manufactured play equipment comprising a wide range of materials such as wood, metal, plastic, and even rubber. The play equipment found on traditional playgrounds is known as modular equipment.
Although natural playgrounds encourage kids to remain active for prolonged hours, there is a common misconception that traditional playgrounds are unengaging and boring.  The truth is that these playgrounds are designed with kids in mind, and most of them don't think the playgrounds are boring.
With today's flexibility and top-notch innovation in manufacturing playground equipment, a wide range of materials are available, making traditional playgrounds even more engaging.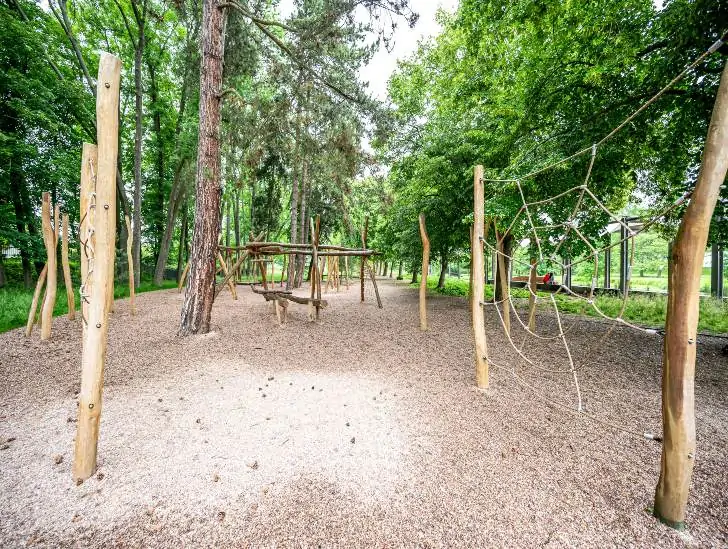 Traditional playgrounds have a stronger focus on the development of the child's physical and motor skills. Think of the amount of strength and body balance required to push off on a swing set, swing across a monkey bar or climb to the top of a rock.
Besides the physical benefits, traditional playgrounds also help children develop emotional tolerance, team-building skills, good communication skills, creativity, imagination, and social skills. These skills are essential and will help your little ones throughout their lives.
What Is the Impact of Natural Playgrounds on the Environment?
With their relatively smaller building and operational expenses, natural playgrounds make sense to a lot of people. They also make environmental sense because they are sustainable and environmental-friendly than traditional playgrounds.
The primary objective of every natural playground is to preserve the environment to create a perfect playing area for children and future generations.
Keep in mind that traditional playgrounds tend to wear and become obsolete over time, necessitating maintenance and updates.  That is not the case with natural playgrounds because chances of degradation are pretty low.
The carbon dioxide footprint of traditional playgrounds is also a significant concern because it is too high. To run and maintain these playgrounds, a lot of manufacturing, transportation, and upgrades have to happen, leading to a significantly high carbon output in the process.
On the other hand, natural playgrounds are designed to efficiently use the available space and allow children to enjoy maximum entertainment and exploration from nature.
Can You Combine Natural and Traditional Play?
The simple answer is "yes."  For some people who cannot afford to set up a completely natural playground, combining some elements of natural play and traditional play makes sense.
In fact, some experts believe that an effective play area must have a good balance of traditional play and natural play elements. They argue that having only natural play elements can sometimes be limiting and difficult to maintain.
Therefore, it is always a good idea to have both traditional and natural play elements to offer your little ones a choice and give them the best chance of developing a good balance of experiences and skills.
While many children love playing with natural elements, getting dirty, examining insects, climbing trees and sliding in the mud, others love traditional play equipment, and nothing can change their minds. 
They love the traditional swing sets, slides, monkey bars and other structured play equipment.
To know what your kid loves most, be sure to provide them with both natural and traditional play elements and observe their reaction to both.  With time, you will be able to figure out what your little ones love most.
Conclusion
Natural playgrounds are a new trend in the world of children's play. These types of playgrounds focus on improving natural skills with less emphasis on competition and more emphasis on creativity, exploration, and socialization.
Natural play is different from traditional because it uses fewer pieces so kids can build their own structures without pre-built pieces.
These playgrounds are a refreshing change for kids. They provide the opportunity to play outside without being surrounded by plastic, metal, and other artificial materials that can cause injuries or be detrimental to our environment.
If you're looking for an alternative option to traditional playgrounds, natural playgrounds might be perfect for you!