Do you remember the days you spent almost the entire day swinging in the sunshine without the slightest care in the world? The days may be gone for you, but your kid yearns for the same feeling. Outdoor play, more so swinging, is good for kids' health and development. When children play, they enjoy nature, discover new things, develop motor skills, and have fun. In fact, a swing set is one of the most exciting purchases you will ever make for your family.
So, what is a swing set?  In simple terms, a swing set is a play structure that consists of a set of swings suspended from one or more horizontal bars, from which children can suspend themselves and rely on gravity to slowly return to the ground.
Swing set refers to playground equipment consisting of swings attached to a frame with accompanying slides or structures for kids to climb and play on. Although it may seem like a simple structure, it usually takes a lot of time and resources to build and install.  A swing set can be made from either wood or metal and can last for a pretty long time. Metallic swing sets consist of galvanized steel and are relatively strong, durable, and safe. Wooden swing sets are mostly manufactured from cedar.
In this post, we discuss everything you need to know about swing sets. So, let us get started.
Swing Sets: A Brief History
Kids have been enjoying swing sets since ancient Greek, but their structure has been changing over time. Swing sets that were more familiar to what we currently see at playgrounds began to appear in the 20th century.
The phrase "jungle gym" was officially trademarked in early 1920, and the early jungle gym sets alongside other multi-position swings became quite common in public areas during the 1930s and 1940s.
However, it wasn't until the post-war baby boom that the classic metallic swing sets started to appear in public places and private home backyards. The structure evolved for several years to include a wide range of slides, swing types, and other small jungle gym components, but the primary focus remained on swings and swinging.
During the late 70s and early 80s, a new family of playground swing sets came along. The new swing sets were made of wood and mainly featured play forts, slides, climbing accessories, and a wide range of swings.
The new swing set was given different names in different parts of the world. Some people called it a playset while others named it a play gym, play system, and much more.  There haven't been significant changes in the overall structure of swing sets since then.
What Material Is It Made Of?
As mentioned earlier, the two main materials used to construct swing sets are wood and metal.  Typically, a swing set may be made of entirely wood, entirely metal, or a simple combination of the two. Some toddler swing sets are made of plastic, but they aren't common.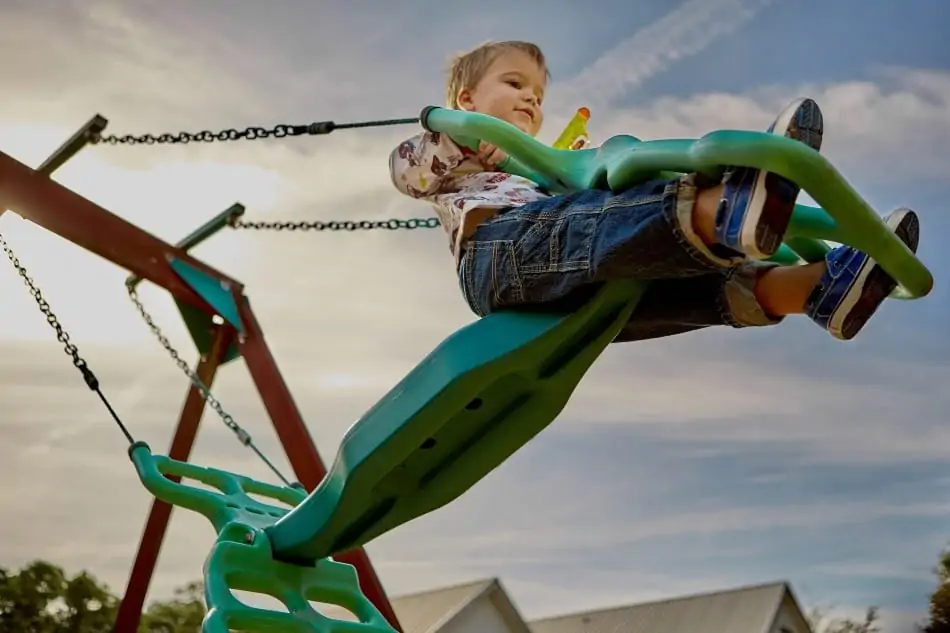 1. Metallic swing sets
Metallic swing sets use galvanized steel for their main frame and are usually available in different colors. The steel is carefully covered with a powder-coated finish that plays a critical role in protecting it from rust. It also helps to prevent heat retention.
These features are included on every metallic swing set to protect your little ones from burns and preserve the swing set's beauty and functionality over time.
The primary advantage of metallic swing sets is that they are long-lasting and can withstand harsh weather elements for a long time. Galvanized steel doesn't rot or decay like wood. If you take good care of a metallic swing set, it can serve your family for many generations.
Metallic swing sets are also less expensive than wooden sets and are easy to maintain.  There is no need to treat the metal regularly.
However, in terms of safety, these swing sets can cause severe burns and discomfort. Kids can easily let go of a bar they are holding if it becomes too hot, leading to falls.
2. Wood
Wooden swing sets are naturally beautiful. Most of them are built from the cedar that has been pressure-treated to prevent rotting and insect infestation.  The treatment also helps the wood last longer.
Wooden swing sets are much safer because they remain cool even in hot summers, reducing the risk of burns and discomfort. They are also safer for the environment because they don't rust and are more heavy-duty, which supports the weight of children quite well.
You can easily customize a wooden playset to suit your family needs. Some people only construct a small bit of the playset and then add other components to it later.
However, these sets require thorough maintenance to keep them safe.  The wood must be treated and stained regularly to help maintain its original look and prevent splintering, warping, and other damage.
If you don't take the necessary steps to maintain the wood, warping and splitting will cause the bolts to become loose, making the swing set unstable and highly unsafe.
But, if you commit to a regular maintenance schedule, you can be pretty sure that the beautiful wooden swing set will serve you for many years.
Common Swing Set Components
Almost every swing set has the following components. Keep in mind that these are universal components, but some people may choose to customize their swing sets differently.
1. Swing seat
Every swing set must have a swing seat where kids sit during play.  In most cases, you will come across a bucket or belt seat, although some variations have been hitting the market recently. You may come across a disc swing, tire swing, or even a trapeze-style swing. The choice is yours.
2. Swing hanger
The primary purpose of the swing hanger is to reduce friction by eliminating contact between the metallic chains and the swing set's support rails. Make sure you go for a swing hanger that guarantees a maximum range of motion and safety.
3. Connectors
Connectors are used to link the swing seat to the suspension chain and the suspension chain to the hanger. If you are assembling your swing set on your own, make sure you go for connectors that guarantee durability and safety.
4. Chain
The entire swing set fun comes from the chain. In fact, without the chain, your little ones won't be anywhere near the set. Most swing sets have galvanized steel chains that are cost-efficient, safe, and durable. They also provide you with a good option for swing set optimization.
How Is It Installed?
One of the most critical factors of playground safety is the correct installation of swing sets. If it is not installed properly, it has the potential of risking the lives of your loved ones.
While it might seem so easy to install a swing set on your own, we highly recommend using an expert installer unless you feel completely confident of your skills and abilities. Keep in mind that the safety of your loved ones is paramount.
If you install it incorrectly, some of its pieces could start falling apart when kids play on it. Also, exposed sharp ends might be left sticking out, which could cause severe injuries to your children. The entire swing set might even tip over if it wasn't anchored properly.
Installing a swing set can be a long and tedious process. If you want to do it yourself, make sure you follow the installation instructions carefully or even ask someone who is more experienced to help you or inspect the installation once you are through.
If you install the swing set yourself, don't let your kids on it until you are certain that the installation is complete, and you have done it correctly.
Is Cleaning Necessary?
Yes. Keeping your swing set clean all the time is crucial because it helps to prolong its expected lifespan. Depending on the material used to build your set, there are several ways you can clean it.
The good thing is that cleaning is far much easier than staining (in the case of wooden swing sets) and can be an easy way to maintain its appearance.
Swing sets made of plastic, vinyl, and metal can easily be cleaned using water and light soap. A power washer is also a good alternative because it reduces the effort required and can easily reach high spots.
For swing sets made of stained wood, you need to re-stain it instead of washing. However, if the wood isn't stained, then you can simply wash it. One of the best ways of washing unstained wood is by using a power washer with bleach or water solution.
When done properly, the powerful spray will clean off all dirt and even eliminate the outer wood layer, which helps restore the wood to its original color.
Summary
The truth is that gliding through the air on a swing set remains one of the best childhood experiences. Although these playsets have evolved over the years, the core concept remains the same. If you are looking to bring the joy of playing on a swing set to your backyard, make sure you take time to research and go for the best name that your kids will enjoy.