Adding a monkey bar to your backyard or playground is one of the most effective ways of making the play area more family-friendly and interesting to kids. However, safety must always be your top priority when choosing and installing any playset. You want to make sure your little ones are safe, and nothing risks their lives. When it comes to installing monkey bars, the surface material you use below it matters. Some materials offer superior protection in case of falls than others.
So, what is the best material to put under monkey bars? You must consider a wide range of factors such as your budget, the size/height of your monkey bars, and the material's visual aesthetic. You must also consider safety and the cost of maintenance.  Some of the best materials to put under a monkey bar include loose rubber mulch, loose-fill rubber, engineered wood fiber, pea gravel, and play sand.
If you have been wondering about the best material to put under your monkey bar, then you have come to the right place. This post discusses some of the best options, including the pros and cons of each. So, let us dive in and get started.
Choosing the Best Material to Put Under Monkey Bars
Ideally, the groundcover for your monkey bar should be safe, attractive, affordable, and low maintenance. These are the four basic features that most people look for in ground cover materials for their monkey bars.
However, you need to keep in mind that you may need to sacrifice one quality for another when in the market.
For instance, you may be forced to spend a little more for a safer option or accept the need for regular maintenance to ensure greater visual appeal.
To help you make an informed decision, we have gathered some of the best ground cover materials for monkey bars, highlighting each option's advantages and disadvantages.
1. Rubber mulch
Rubber mulch is a fairly new type of material, but it is becoming popular due to its unique ability to provide a relatively nice cushion when kids fall onto it. It is made of a springy material that also serves as a weed barrier.
The rubber in the mulch is usually recycled rubber, making it one of the best eco-friendly materials, but some mulch may contain contaminants.  To avoid purchasing rubber mulch full of contaminants, it is highly recommended you buy from a well-known and trusted rubber mulch company.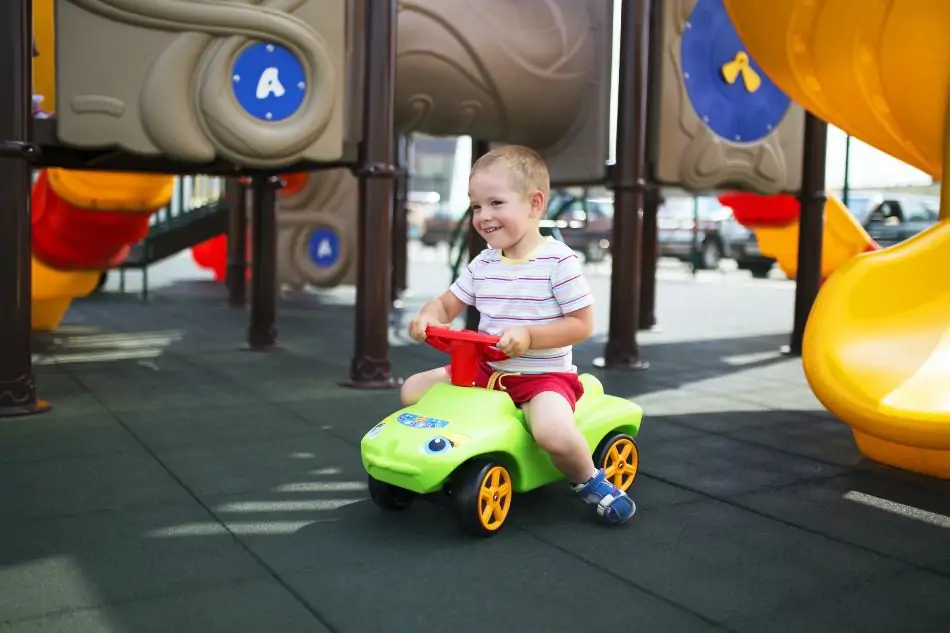 Rubber mulch requires regular sweeping and raking to keep it in good condition, but it is worth it because it offers a much softer landing compared to other materials. You can be sure that your little ones won't suffer injuries when they fall on it.
It is a great option for parents looking for a mostly low-maintenance material that provides a much softer place to fall while playing.
Pros
It is relatively easy to install
It is softer, eliminating the risk of injuries in case of a fall.
It is a relatively low-maintenance option.
It is also eco-friendly.
Cons
Require regular sweeping and raking to keep it in good shape
Rubber mulch is more expensive than some of the other options.
There may be health concerns over long-term exposure to the small bits of rubber.
Some recycled tire mulch may contain harmful contaminants.
Rubber mulch may also smell a bit when the temperature is too high.
2. Pea gravel
Although pea gravel doesn't offer the best impact absorption, it offers the best support.  Putting nine inches of pea gravel under your monkey bar can protect for falls up to five feet.   However, it can redistribute and compress if used heavily. Therefore, it requires regular shoving and raking to help it stay in good condition.
Pea gravel stays relatively clean for a longer period and doesn't support the growth of microbial organisms that may pose a health risk to your loved ones. It is also less attractive to animals.
However, you should avoid using it under your monkey bar if you have a toddler because it can be a risky choking hazard.
Pros
It offers a great natural look because it mainly consists of small stones of different colors.
The initial cost of installation is relatively low.
It provides excellent support.
Stays clean for a longer period
It is less attractive to animals compared to other options such as play sand.
Cons
Although the initial cost is low, the maintenance cost is high because it breaks down easily and may need to be replaced regularly to ensure optimal safety.
With time, the pieces of gravel breakdown into smaller particles forming a "hardpan," which can cause severe injuries when fallen on.
Regular raking and shoveling are needed to redistribute the gravel for optimal injury prevention.
Not recommended for toddlers because it can be a choking hazard.
3. Play sand
Sand is less effective when it comes to impact-absorption, but its softness is a great asset. Nine inches of sand can withstand falls of up to five feet. It doesn't break down like pea gravel, and as long as you rake and sift it regularly, it can serve you for a long time.
Sand is a relatively low-cost option that is readily available and easy to install under your monkey bar. However, the lifetime costs can add up pretty quickly because regular maintenance is necessary. 
It offers a natural aesthetic and matches most landscapes as long as you keep it clean. Raking your sand regularly is so important because it attracts insects, animal waste and can also hide harmful objects or materials.
Pros
The initial installation cost is relatively low, and sand is readily available.
It doesn't deteriorate easily with usage.
Its natural aesthetic can match with any landscape.
Children can use the sand to create other play activities such as building sandcastles.
Cons
Sand can easily get inside socks/shoes and transferred into the house.
It can also scrape knees and house more harmful substances that you wouldn't want around your kids or pets.
You need to check the depth regularly and replenish all areas that have become shallow.
Sand may conceal animal waste and other hazardous objects.
Attractive to animals
May combine with dirt and become compact.
Sand is not ideal for wheelchair access.
4. Engineered Wood Fiber (EWF)
Engineered Wood Fiber (EWF) is probably the best loose-fill material to put under your monkey bar. High-quality EWF is usually natural, smooth, and compact. It is relatively affordable and offers excellent impact absorption.
EWF is also easy to install and stays in place better than other materials such as sand, making it one of the most popular options.
However, it requires regular maintenance, especially in the high-use areas. So, if you have many kids playing on the monkey bar, you may need to replace your EWF surface regularly.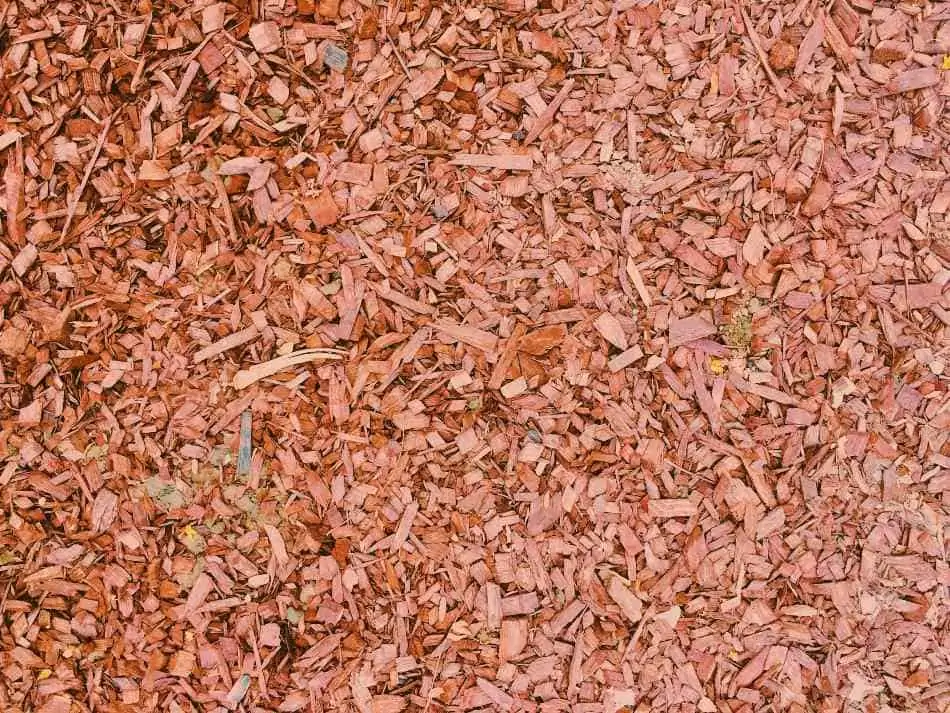 It is also critical to ensure you maintain the right depth. Typically, you should never have less than nine inches of EWF. Before you consider installing EWF, ensure your monkey bar is installed in a good location that offers good drainage to maximize EWF's lifespan.
Pros
It is highly attractive
Slip-resistant and offers a good cushion for falls.
It is biodegradable since it is made from conventional wood.
It is long-lasting
Doesn't require regular maintenance
Cons
The initial installation cost is quite high, which makes it a less appealing option to many people.
Engineered fibers made from used wood may contain harmful contaminants.
5. Synthetic turf
Putting artificial grass under your monkey bar provides your play area with the beautiful look of natural grass without the need for constant maintenance!
Although it is one of the least impact-absorbing materials, it is still a good option if you want to maintain that natural look in your play area. It offers a level surface that is slightly more cushioned than natural grass.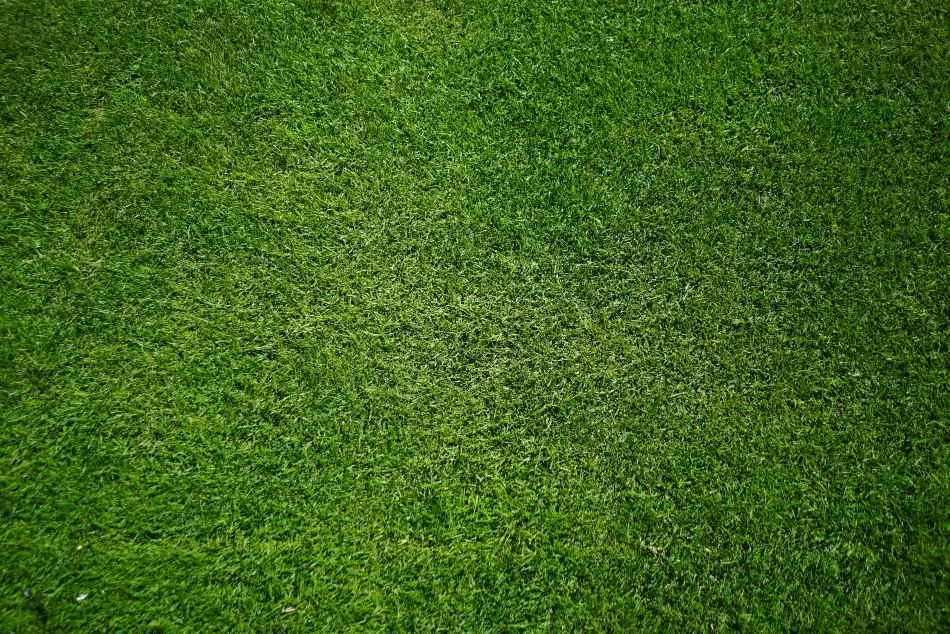 Pros
Less maintenance is required to keep it in good shape.
It is visually appealing and complements your landscape quite well since it looks like regular grass.
Has an impact layer and wear layer
Boost medium wear resistance.
Cons
Artificial grass gets hotter in the sun.
Not recommended as the surface material for tall monkey bars because it is not so good at absorbing impact.
The initial installation cost is a bit high.
Requires regular washing to get rid of dirt, and repairs may be needed if the material is damaged.
What Is the Best Material to Put under Your Monkey Bar?
The best material to put under your monkey bar will mostly depend on the monkey bar's height and the place where you have installed it.
However, we believe that Engineered Wood Fiber and pea gravel are the best materials because they meet the required safety standards and are low maintenance materials.
We strongly believe that safety should be your top concern when deciding on the best material to put under your monkey bar. Your kids should be able to play freely with the least risk of getting hurt. Cost, visual aesthetics, and maintenance should come as secondary considerations.