Playgrounds are an integral part of child development. Typically, you will find a wide variety of different types of slides in playgrounds and parks.  Slides have become one of the most common playground equipment thanks to the many benefits they provide to kids.  Playing on slides can help your children develop positive social skills, balance and coordination, and the brain. They also help your young one learn how to deal with different physical challenges in life. Slides come in different colors, shapes and materials.
So, what material are playground slides made of?  Typically, playground slides are made of plastic, steel (metal) or fiberglass.  Steel is the preferred classic option for many playground slides, thanks to the many benefits it offers. It is highly durable, sleek and allows kids to reach relatively higher speeds. Plastic slides aren't that durable compared to steel, but they are cheaper and safer. They are the most preferred material for modern commercial playgrounds. While it is rare to find a fiberglass slide in a commercial or community playground, they are common in water parks. Fiberglass is sleek and durable but susceptible to breakage. It is also relatively more expensive than plastic and steel.
In this post, we shall cover each playground slide material in detail, highlighting some of the pros and cons of each. So, let us get started.
Plastic Slides
Plastic is the most commonly used material for playground slides because it is lighter, and can be just as durable as steel if you take good care of it.  Plastic is also safer because it doesn't get hot during summer, which plays a critical role in preventing heat-related injuries.
The most common variety of plastic used to manufacture playground slides is HDPE or the high-density polyethylene. HDPE offers hassle-free maintenance, safety, and relatively high durability.
It is also environmentally friendly which has a positive impact on our planet. Besides manufacturing playground slides, HDPE is also used to make a wide range of other products that we use every day.
Examples of HDPE products include shampoo bottles, cutting boards, milk bottles, and industrial pipes made for fluid or gas transfer.
Another plastic used to manufacture playground slides is the low-density polyethylene or LDPE. Similar to HDPE, LDPE is affordable, safer, and can last longer if well-maintained. Other than the manufacture of slides, LDPE is also used to manufacture plastic shopping bags, food storage containers, and water bottles.
Both HDPE and LDPE plastics come from polymer polyethylene. The only difference between the two is that HDPE is usually harder and more durable.  Most modern slides are manufactured from a process referred to as roto-molding or rotationally molded plastic.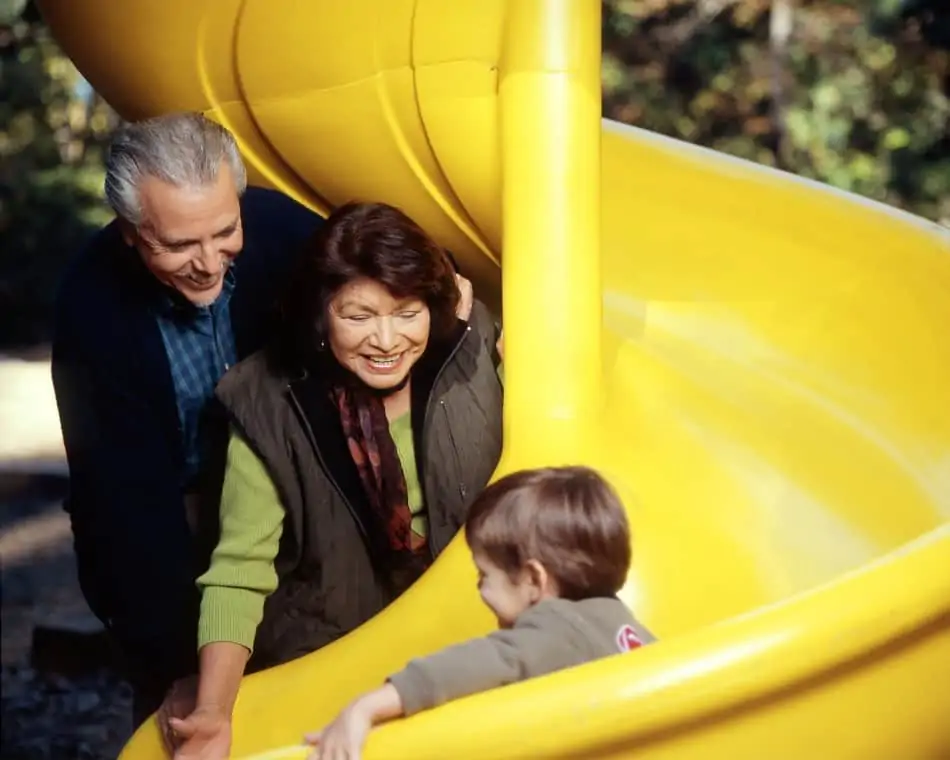 Once the plastic is molded into the desired shape, anti-static inhibitors and stabilizers are added to provide a smooth sliding experience. They are also UV-stabilized to help minimize fading.
Advantages of Plastic Slides
So, what makes plastic slides such an attractive option for many people? Here are some of the top benefits of choosing plastic.
Plastic is safer for kids because it rarely gets hot during summer.
LDPE and HDPE are much stronger than ordinary plastic and don't rot or deform easily.
Relatively durable than fiberglass.
Plastic is non-toxic and tasteless. No need to worry about the risk of poisoning when your kids are out there playing.
It is environmental-friendly.
They are easy to maintain since they don't rust and are easy to clean.
Disadvantages of Plastic Slides
Some cons of using plastic slides include:
Plastic slides are relatively expensive, making them less ideal for individuals on a strict budget.
They are also difficult to install.
Steel/ Metallic Slides
Metallic slides are usually fabricated from stainless steel, hot-dip galvanized steel and anodized or painted steel. The steel components must be treated with either powdered paint or epoxy resin to render them safe for use.
Stainless steel slides are extremely strong and come in a wide range of sizes to suit different needs. You can easily get a metallic slide for young kids as well as adults. The strength of metallic slides makes them be used in unique ways such as wild slides.
In wild slides, multiple individuals are allowed to use the slide at once without the risk of injury. In most cases, metallic slides will come as part of a larger playground, but they may also be free-standing thanks to their sturdy and stable construction.
These slides can be constructed taller and longer than plastic and fiberglass slides without the worry of injury.
Abrasive blasting or sandblasting process is used to make the metal surface relatively smooth.  Galvanized steel is used to construct posts and tubes used to provide support for the slide, making it stronger.
Advantages of Metallic Slides
Some of the standout benefits of metallic slides include:
They are durable.
Metallic slides are strong and sturdy.
Good material for longer slides since metal can accommodate more weight than plastic.
Metal won't show the effects of general wear over time which is a big boost for commercial playgrounds.
Some people think that steel is a little more upscale and attractive than plastic. Therefore, if your slide will be installed in a place where it will be highly visible, steel gives you the best option.
Conducive to speed. The ride is always slicker and quicker on steel slides.
Cons of Metallic Slides
The most significant downside of metallic slides is that they get hot during summer, increasing the risk of heat-related injuries.
Metallic slides are also much more expensive than plastic slides.
Requires regular maintenance to remain in great shape, and it is tedious to clean.
Fiberglass Slides
Fiberglass is mostly used for large slides at waterparks and high-end commercial business centers. It is quite rare to find a fiberglass slide in a community or backyard playground.
The fiberglass used in the construction of slides is more resilient and strong. In fact, it can only be compared to sheet metal and not other glass. It is highly durable and smooth to offer the best sliding experience ever.
The fiberglass has fire-retardant resins which make it fire-resistant. The glass may get scorched during hot summers, but it won't burn out, minimizing the risk for heat-related injuries. 
Fiberglass is also designed to resist corrosive chemicals and tolerates rough handling quite well.
Advantages of Fiberglass
Fiberglass is durable inside and out. Don't be mistaken to think that it is weak and can easily break.  Typically, fiberglass slides can last for as long as you want them to, provided you take good care of them.
Fiberglass slides are also low maintenance. You don't have to spend a lot of time cleaning or repainting them. All you have to do is clean them when they appear dirty, and that is it.
Fiberglass slides have a relatively low lifetime cost. Even though the initial installation cost may be high, your fiberglass slide can serve you for long without the need for any repairs or expensive maintenance.
These slides are also beautiful.
Disadvantages of Fiberglass Slides
Relatively expensive to install
The slide designs are limited.
Quite challenging to install because you cannot DIY. You need to hire an experienced expert to install it for you.
Picking the Right Slide for Your Playground
Picking the right slide for your backyard or commercial playground can be quite difficult.  However, answering the following questions can help you make an informed decision:
How much money are you willing to spend?
How much room do you have for the slide?
Will the slide be installed indoors or outdoors?
How many kids will be using the slide at a go?
Are you installing the slide for kids of any particular age group?
Your answers to these questions, coupled with the pros and cons of each slide highlighted above, should give you a good starting point when shopping for a slide.  Apart from the questions listed above, you need to pay special attention to the slide's safety.
Keep in mind that it is your responsibility to ensure your kids are safe. Therefore, go for a slide that offers you the best chance of minimizing the risk of slide-related injuries.
Final Thoughts
For a long time, slides have been the most common used playground equipment favored by kids and adults. They are solid, sturdy, and come in different shapes, sizes, and colors.  They are also made of different materials.
The three primary materials used in the manufacture of slides are steel, plastic, and fiberglass.  A few years ago, we had wood slides, but they are not so common today. Each of these materials has its own pros and cons, as highlighted above.
The design of slides has been getting bolder and more sophisticated as time progresses.  However, one thing will always remain- a playground is always more fun with at least one slide.