Despite the emphasis put on playground safety standards, research shows that at least 200,000 children under the age of 14 years visit hospitals for playground-related injuries. This figure should mean something to you, especially if you have decided to install a playhouse in your backyard for your little ones. You need to put something under the playhouse to reduce the risk of injury.
So, what should you put under a backyard playhouse? The truth is that many different surfaces will work perfectly well under a backyard playhouse to enhance safety. They include pea gravel, swing mats, turf/artificial grass, mulch from wood chips/rubber, sand, rubber mats, and so much more. Each of these materials will have different durability, safety levels, and cost.
You also need to keep in mind that each of the materials has its own pros and cons. This blog post discusses everything you need to know about each material to help you make an informed decision.
1. Natural Grass
Let us start from the known to the unknown. If you are looking to maintain the natural look of your backyard while ensuring your kids will remain safe in case of a fall from the playhouse, you should think about leveling and maintaining the natural grass below the playhouse.
The entire process of ensuring the grass is relatively safe comes with a lot of work, especially if your yard is not yet leveled.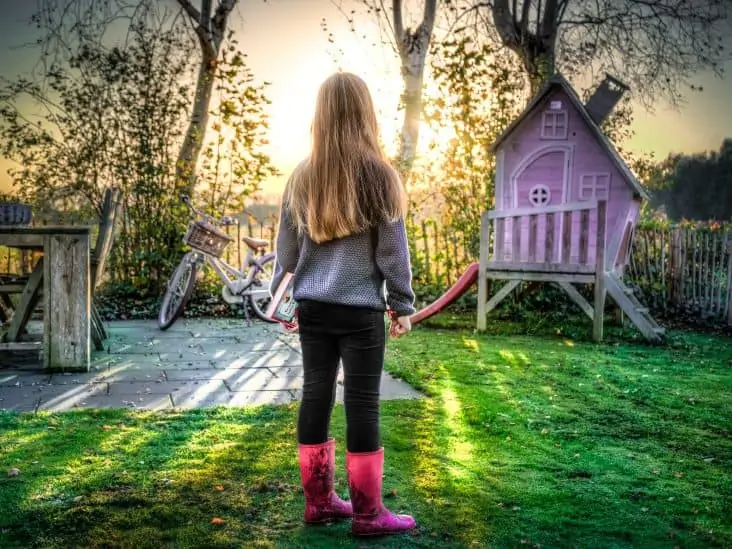 With that in mind, choosing to use the natural grass under your playhouse comes with its own positives and negatives. First, let us talk about some of the pros you will enjoy when you choose natural grass over the other options.
Well-maintained grass offers a relatively soft surface that can help your little ones avoid sustaining serious injuries should they stumble as they play on the playhouse. Hopefully, accidents won't happen, but you don't need to take any chances, given that kids like to jump out of playhouses.
When properly maintained, the natural grass under your backyard playhouse can help to add to the resale value of your property since some potential buyers usually find other playhouse bases such as rubber mats unnecessary for their needs. But proper maintenance of the grass is critical here.
The other benefit of using natural grass is that it is relatively inexpensive compared to the other options. All you have to do is level the space under the playhouse and design a proper grass maintenance schedule.
However, you need to keep in mind that natural grass will have a relatively high long-term cost compared to other options because of the required upkeep. You need to mow, weed, and fertilize it regularly. All these require a lot of work.
It can also become slippery after rainfalls or even just after the morning dew has set, increasing the risk of falls.  Wet grass can also become obtrusive when it sticks to your kid's shows and is consequently dragged throughout your home.
2. Sand
If you still want to have a natural option under your playhouse but don't want to go with natural grass due to the hectic maintenance schedule involved, natural sand may serve as an excellent alternative for you.
Like natural grass, sand is still relatively inexpensive than many other materials we shall discuss in this post. It is natural and relatively easy to maintain as well. Many homeowners also say that it gives them the best results when looking for a natural appearance.
Not only does natural sand help reduce the risk of injury in case of a fall, but you can always use what is left of what you purchase to create an amazing sandbox for your children.
You can purchase playground sand from almost any home improvement store, so you don't have to worry about where to get it.
While sand is a relatively inexpensive option for your playhouse base, it may become a major problem if you have cats as pets. In most cases, cats mistake sand for cat litter, so they may end up using the playhouse base as their bathroom.
Furthermore, it can also attract dangerous insects that can be tracked into your house pretty easily.  In rare cases, it can become a choking hazard if your kids try to swallow it.
3. Shredded Rubber
Shredded rubber is one of the best loose-fill surfaces that you could consider placing under your backyard playhouse.  Like with the other loose-fill materials, you will be required to build a frame or barrier around your playhouse base to keep the shredded rubber within the base.
You also need to ensure that your surface is at least 12 inches deep but not more than 20 inches deep.  Shredded rubber is relatively more expensive than the other loose-fill materials, but it is cheaper than solid rubber surfaces.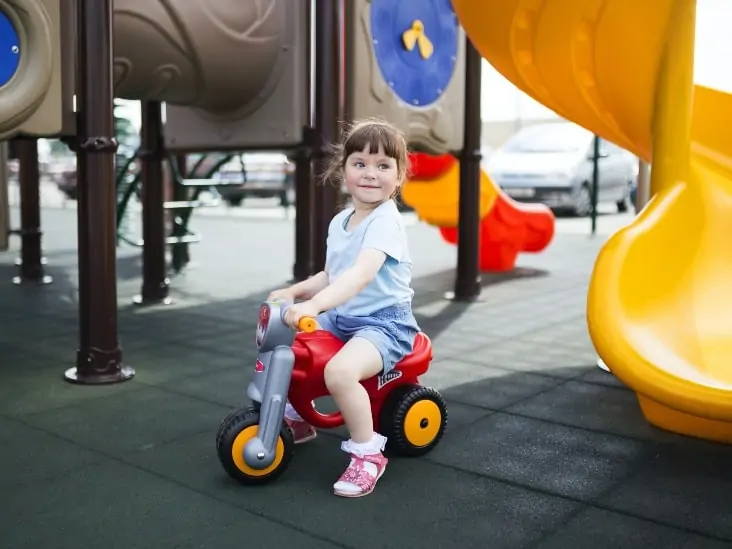 Although it won't decompose, shredded rubber can scuff and be kicked around. Therefore, you need to make it part of your weekly schedule to rake shredded rubber chips back into position to prolong their durability and maintain the required safety levels.
Scattered rubber chips are a significant problem in high traffic areas, and unless you take proper action to get the pieces back in place, you will be forced to replenish them sooner than you expected.
Although not common, there have been a few nasty incidents of fires in playgrounds with shredded rubber chips. The fires usually produce toxic fumes, and you definitely don't want your little ones near the playhouse until you remove and replace the entire rubber surface (in case of a fire).
4. Engineered Wood Fiber (EWF)
Engineered wood fiber is the advanced version of conventional wood chips. To make EWF, wood chips are put through a thorough milling process to achieve a fibrous consistency. At this stage, no adhesives are added to EWF, which makes it safe for kids.
However, a few versions of EWF include chemical binders and adhesives in the name of performance. This option is about double the price of regular EWF, and you shouldn't purchase them if you are worried about the effect of additives on your kids.
Ensure that the EWF you purchase is fully certified by relevant authorities so that you are 100% sure your children are playing on a safe and toxic-free surface. The fibrous wood used in the manufacture of EWF has a relatively springy texture to cushion kids against accidental falls from the playhouse.
Beware of poor quality EWF manufactured mainly from scrap wood and old pallets from conventional timber yards. Never go for this option because what you will be spreading under your kid's playhouse will be a disaster in waiting.
5. Rubber Mats and Rubber Mulch
Rubber mats are usually an excellent option for your playhouse base because of their relatively low maintenance. They are strong and durable to last for many years. Furthermore, they are available in different colors and designs, so you get to choose what will best match your overall landscaping.
However, you should know that rubber mats are relatively expensive, which can increase your budget quite significantly. Some rubber mats have an unpleasant odor which makes them less appealing. They may also not be a good option if any of your children is allergic to rubber.
A good alternative to rubber mats is rubber mulch which is bouncier and has a relatively higher impact absorption score than rubber mats. Furthermore, it doesn't attract unwanted insects into your compound, and it is relatively easy to install.
The only downside of rubber mulch is that it is relatively expensive than the other loose-fill materials you can choose from. It is also highly flammable, making it a riskier investment.
No matter how much rubber mulch you put under the playhouse, you will need to supervise your kids while they play to ensure they don't try to eat the rubber mulch.
Which One Is the Best Option for You?
While there are many factors you need to consider while choosing the perfect material to put under your playhouse, some materials clearly outrank others in terms of durability, safety, and practicality.
Therefore, it is upon you to conduct thorough research and choose something that meets your family's needs and fits well within your backyard. The most important thing is for you to know what is available out there so you can make an informed decision.
Many homeowners tend to prefer synthetically made rubber mulch because it is one of the longest-lasting options that require minimal maintenance and enhances the safety of your backyard playhouse. However, you have to sacrifice the aspect of environmental-friendliness.
Additionally, it is weather-resistant and won't get destroyed by too much sunshine or rainstorm. So, if you are after quality and safety, it may be the perfect option for you.
Final Thoughts
While there are no specific rules and regulations stating what you need to put under your backyard playhouse, safety should be your #1 priority while choosing an ideal material.
The most important thing you need to remember is that each material you put under your swing set will have a set of its own pros and cons. Therefore, the choice will mostly depend on your unique situation.