We all know that kids love playgrounds. But did you know that playgrounds can actually benefit childhood development?
Which playground activities help childhood development? There is a variety of them that can help children develop essential abilities. Things like monkey bars, slides, and swings all teach children important physical, mental, and social skills.
You may be tempted to hand your child a phone or tablet to teach them important developmental lessons, but there are some available right down your street at the playground! Between the developmental playground activities and the fresh air, you're going to want to read about all these benefits of going to the playground.
Playground Equipment Has the Best Developmental Benefits
When you take your child to the playground, chances are they run right for their favorite playground equipment. No matter what piece of equipment they choose to play on, they all have their benefits to their development.
It might be best to let your child try out all the different kinds of playground equipment at each stage in their development. Eventually, they will be old and skilled enough to choose their favorite. But, until then, let them play on everything so they can reap the benefits!
Slides
Slides are always a popular choice at the playground, and for good reason! It's a pure rush of exhilaration when a child reaches the top and slides quickly to the bottom.
Besides, the thrill the slide can provide, it can also help with children's coordination skills. While they are still young, you may need to help them get to the top. But once they are old enough, climbing the ladder will help your child's coordination and flexibility.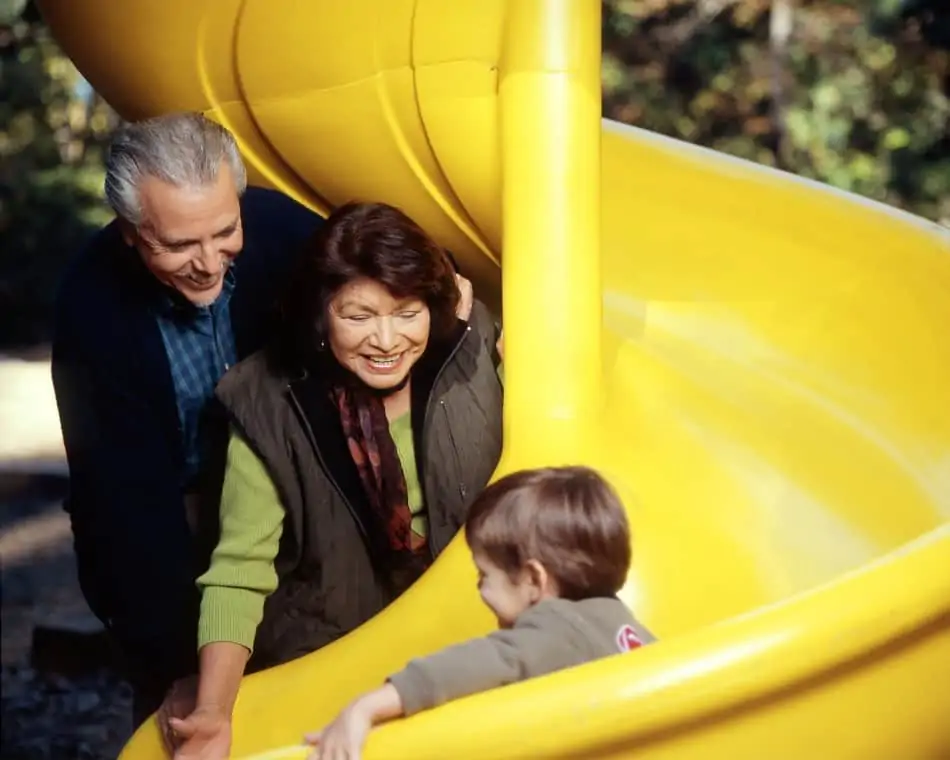 When they finally get to the slide itself, the slide down stimulates their vestibular system which is critical when it comes to motion and motor functions. It also helps children learn balance and posture while still stabilizing their heads.
And, along with all other forms of playground equipment, the slide teaches social skills like patience and sharing.
Swings
Children love swinging and who can blame them? It's so close to the sensation of flying that even adults enjoy this playground equipment, too!
When it comes to your child's development, the swings are also an excellent choice. First and foremost, swings are a great sensory activity because it teaches your child to be able to experience a variety of sensations all at one time.
Physically, balancing on the swing can help your child develop crucial core muscles and improves their coordination by using their fingers, hands, and arms to maximize their grip for balance.
Swings also help your child develop spatial awareness and improves their motor skills, especially when they are old enough to jump out of the swing while it is still in motion.
Climbing Equipment
Climbing equipment includes things like rock walls, jungle gyms, and climbers. While many parents worry about their child climbing on such equipment and the possibility of them falling, climbing playground equipment can help children develop essential motor skills when they are finally old enough to take on the challenge.
The act of climbing not only helps children develop coordination, strengthen muscles, learn balance, and increases cardiovascular flow, but it can also teach them to use tactical perception.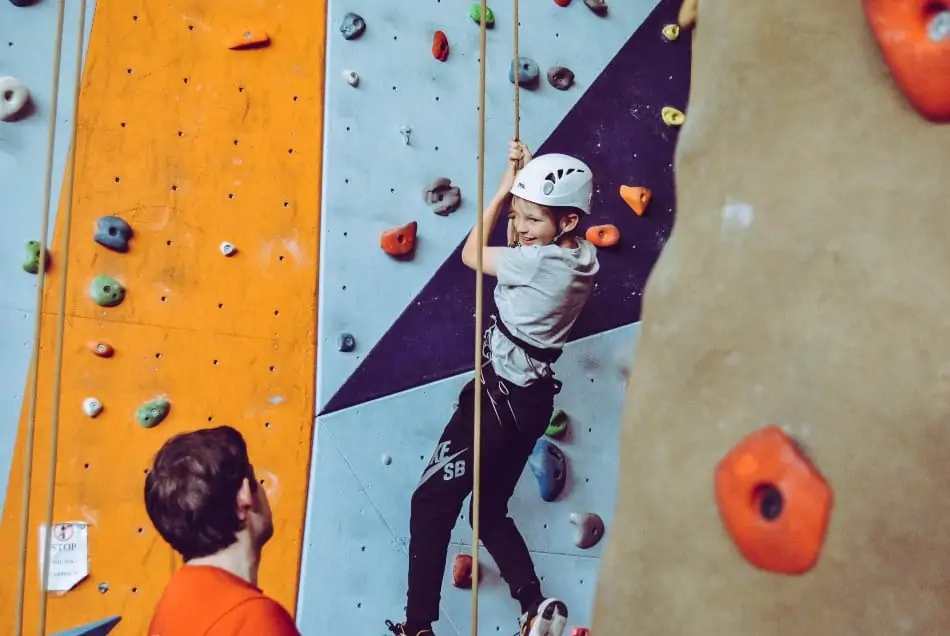 Climbing is also a great way for children to develop problem-solving skills by determining what climbing strategy will benefit them best. Even better, these problem-solving skills can help them improve their grades in the classroom.
Finally, children climbing on a jungle gym can develop better spatial awareness, as well as better body awareness. This means they start learning how to better use their hands and feet to hold them up and complete the activity successfully.
Sandbox
The sandbox can be a great change of pace at the playground as it provides children with a quieter and more relaxing activity to enjoy. In fact, the sensory experience of the fine-textured rocks and minerals allows children to unleash their creativity, especially when using toys like shovels and buckets.
In the sandbox, there are no limits to your child's creativity. They can experiment with creating whatever they want and that can increase their creativity. Not to mention, writing words in the sand is a great way for children to work on their language skills, especially if working under the guidance of their parents.
Playing in the sand is already a sensory experience. However, if you want to increase the sensory experience of the sandbox, add a cup of water to add another texture, and watch your child's creativity reach a new level!
Finally, when playing in the sandbox with other children, your child can learn social skills like patience, sharing, and communication.
Merry-Go-Rounds
Merry-go-rounds are fun for children for many of the same reasons as swings and slides. The motion of the merry-go-round feels like flying and can stimulate children in a variety of ways.
Spinning around on a merry-go-round is great for developing spatial awareness. It is also great for children to learn self-regulation and balance to keep them upright through the fast-paced spinning. Also, spinning teaches children sensory processing as they work through regaining balance and dizziness when their ride is over.
Not to mention all of the wonderful social skills your child can learn when sharing merry-go-round space with other children.
Monkey Bars
Monkey Bars can seem pretty daunting, even to some adults. However, with safe and proper practice and some assistance, the monkey bars can provide children with many different physical skills.
The monkey bars are a great place for children to develop hand-eye coordination as they swing from bar to bar. It also improves their grip, endurance, and upper-body strength.
As an added bonus, playing on the monkey bars can decompress the spine. While it sounds serious, it is completely natural and can be rather soothing, especially if your child has been experiencing stress.
Teeter Totters
The teeter-totter is a special piece of playground equipment. It is one of the only ones that require another person to operate. So, naturally, it is great for teaching children social skills like communication and cooperation. It is also great for building leg muscles!
One area that many people don't realize the teeter-totter builds skills in is proprioceptive skills. Proprioceptive skills are the skills your child uses to control their body without thinking about it. In other words, it helps them learn what the effect of moving different parts of their bodies are.
For example, if your child's partner on the teeter-totter is hitting the ground with a thud, your child will learn to ease up their leg movements in order to create a smoother landing.
Balance Beams
Balance beams are very simple pieces of playground equipment but they pack a big punch when it comes to developmental skills.
First and foremost, the balance beam is a great way for children to learn balance. Secondly, it is a great tool in a child's developing coordination. And last but not least, the balance beam strengthens children's core and lower-body muscles.
The balance beam just goes to show that it doesn't take a complicated piece of equipment to help a child develop critical skills.
Spring Riders
Spring riders always appeal to children thanks to their bright colors and all of the options they offer. Your child could drive an airplane or ride a horse! No matter which ones are at your local park, they have several different benefits for your child.
Spring riders allow children to unleash their imagination and all of the creativity they can muster. Where will they ride the plane to? Why are they going? When will they be back? They can explore a world of possibilities on the spring riders without ever leaving the playground.
Physically, spring riders are great for teaching children balance and improving their grip. It also develops their core muscles and helps them increase their spatial awareness. Overall, spring riders are a tiny piece of playground equipment that does a lot for childhood development.
Related Questions
What are the benefits of a playground?
Playgrounds offer many benefits including helping children develop motor skills, social skills, and creativity. Not to mention, they offer an affordable way for families to spend quality time together.
How old does a child have to be to play on the playground?
There is no perfect age for children to reap the benefits of a playground. Naturally, if a child is on the younger side (6-23 months), they may not have all of the physical skills to play on all of the equipment and may require adult assistance. However, practice makes perfect and the more they play, the quicker they will be able to play on their own and start developing more skills!
What other kinds of activities help with childhood development?
There are all kinds of activities that help children develop critical motor and cognitive skills. Things like singing, dancing, playing music, drawing, and painting can help develop creativity. Activities like playing with dolls, playdough, and playing dress-up can increase imagination. And games like jigsaw puzzles, blocks, and shape sorters increase cognitive skills.