As an Amazon Associate I earn from qualifying purchases.
Many people have been relying on used tires for many years to create amazing playgrounds for their little ones. The proponents of the idea believe that reusing and recycling materials is important to protect our environment. However, some people question whether used tires are actually safe for playgrounds arguing that they may pose a health risk to children. So, what is the truth? We shall find out in a moment.
So, are used tires safe for playgrounds? The answer is both yes and no. It all depends on how the tires are used and what precautions are taken. If the used tires are cleaned thoroughly and regularly, they can be considered safe for playgrounds. However, if they are not maintained properly, they may harbor harmful bacteria, toxins, and other dangerous microorganisms, which can cause serious health problems to your children.
This blog post discusses everything you need to know about used tires and playgrounds, including the pros and cons of using them. Read on to learn more.
A Brief History About Tires
Before we delve into the safety of used tires for playgrounds, it is important to understand a little bit about their history. Tires are made from vulcanized rubber, created in 1839 by Charles Goodyear.
The process involves adding sulfur to raw rubber in order to make it stronger and more durable. In the late 1800s, the first pneumatic tires were invented, which used air to provide cushioning.
Tires were initially only used on bicycles and cars, but their use has since expanded to include airplanes, trucks, and even lawnmowers.
Today, over 1.6 billion tires are produced each year, most of which are used on vehicles. Once a tire has been used and worn down, it is typically discarded.
In the past, many tires ended up in landfills where they would take years to decompose. However, over the last few decades, there has been a growing movement to recycle and reuse old tires.
This is because tires are made from natural and synthetic rubber as well as steel and other materials that can be reused.
What Are the Main Chemical Compositions of Tires?
Now that we have a brief history of tires, let's look at what they are made of. As we mentioned, tires are primarily made from vulcanized rubber, a combination of natural and synthetic rubber.
Natural rubber comes from the sap of certain trees, while synthetic rubber is made through a chemical process using petroleum products.
In addition to rubber, tires also contain steel and other reinforcement materials as well as various chemicals and compounds. Some of these chemicals include:
Sulfur: Used in the vulcanization process
Antioxidants: Protects the tire from degradation
Carbon black: Improves the strength and durability of the tire
Metals: Used in the steel belting
When a tire is worn out it is typically shredded, and the steel is removed. This leaves behind what is known as "crumb rubber," made up of vulcanized rubber, chemicals, and other compounds.
This crumb rubber can then be used in various applications, including in playgrounds. So, now that we know what tires are made of, let's look at the pros and cons of using them in playgrounds.
The Pros of Using Used Tires for Playgrounds
There are many advantages of using used tires in playgrounds. Here are some of the top benefits:
1. Inexpensive
One of the biggest advantages of using used tires for playgrounds is that they are relatively inexpensive. This is because tires are often considered waste products that are not worth anything.
As a result, you can often find used tires for sale or even for free, which can help keep costs down. If you have friends with cars, you can also ask them to save their old tires for you.
2. Durable
Another benefit of using used tires is that they are extremely durable. This means they can last for years with minimal maintenance required.
This is in contrast to other playground materials such as wood which can rot, or metal which can rust.
Tires are also resistant to mold and mildew, which helps to keep them looking new for longer. There is no need to treat them with harsh chemicals or paints since they can't be affected by harsh weather elements.
3. Safe
Contrary to popular belief, used tires can actually be quite safe for playgrounds. This is because they are made from vulcanized rubber, a non-toxic material.
Tires also contain other reinforced materials such as steel which makes them very strong. As a result, they are less likely to break or shatter if kids fall on them.
Tires are relatively soft and cushioning, which helps to protect children if they fall. In addition, tires are often filled with sand or water, which helps to make them even more sturdy.
4. Encourages Recycling
Another benefit of using used tires in playgrounds is that it helps to recycle and reuse materials. This is important because it reduces the amount of waste in landfills.
With increasing concerns about climate change, it is important to do our part in conserving the environment. Recycling used tires instead of dumping them into the environment can go a long way in helping to preserve our planet.
The Cons of Using Used Tires for Playgrounds
Despite the many benefits of using used tires in playgrounds, there are also some potential drawbacks that you should be aware of. These include:
1. Potential Health Hazards
One of the biggest concerns about using used tires is that they may contain harmful toxins that can be released into the environment.
These toxins can come from the vulcanization process or from the materials used to make the tires, such as sulfur, antioxidants, and carbon black.
Inhaling these toxins can lead to various health problems such as respiratory disorders, skin irritation, and cancer.
It is important to note that these health hazards are only a potential risk, and not all used tires will contain harmful toxins.
If you are concerned about this, you can always ask the seller about the history of the tire and what materials were used to make it. You can also research different brands of tires to see which ones have a reputation for being toxins-free.
2. Insect Infestation
Another potential downside of using used tires is that they can attract insects. This is because tires often contain traces of oil and other chemicals that can be appealing to bugs.
If there are a lot of insects in the area, they can infest the tire, which can be difficult to get rid of. These insects spread diseases that can harm children.
3. Weight
Used tires are quite heavy compared to other playground materials. This can make it difficult to move them around if you need to change the layout of your playground. It can also be challenging to install used tires as they often need to be bolted into place.
4. Smell
Another potential downside of using used tires is that they can often smell bad. This is because they are made from rubber, which has a strong odor.
The smell can be quite overwhelming, and it can be difficult to get rid of. Furthermore, the smell can attract insects which can add a health problem to the playground.
However, you can eliminate the smell by washing the tires with soap and water. You can also try using a deodorizer to help mask the odor.
So, Are Used Tires Safe for Playgrounds?
Now that you know both the pros and cons of using used tires in playgrounds, you can make an informed decision about whether or not they are right for you.
If you are concerned about the potential health hazards, you can always choose to set up a playground using conventional materials such as wood or metal.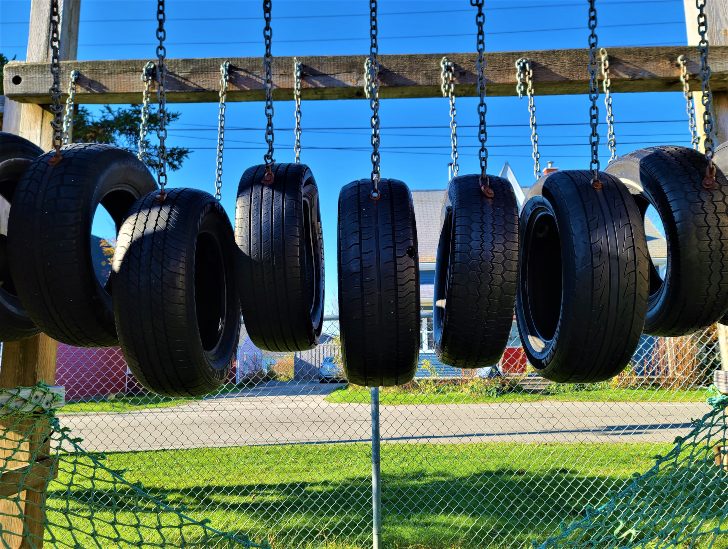 However, if you are looking for an eco-friendly and cost-effective option, used tires can be a great choice. Just be sure to take the time to research different brands and sellers to find ones that are safe and reliable.
If you decide to use used tires, follow the safety recommendations to set up and maintain your playground. Doing so will help ensure the playground is safe and enjoyable for many years!
What Playground Equipment Can You Make Out of Used Tires?
There are different types of playground equipment that you can design out of used tires. They include:
Swings: You can use a single tire or multiple tires to create swings. You will need to drill holes in the tires and then use ropes or chains to connect them to the swing set.
See-Saws: You can create a see-saw by attaching two used tires together. Again, you will need to drill holes in the tires and insert a metal rod or pipe through the center.
Climbing Walls: You can use tires to create a climbing wall by stacking them on top of each other and bolting them together. You can add handholds or rope ladders to help kids climb the wall.
Slides: You can use tires to create a slide by attaching them to a platform or ramp. You will need to cut a hole in the center of the tire so that kids can sit in it.
Bouncy Houses: You can use tires to create a bouncy house by filling them with air and then attaching them together.
Summary
Used tires are becoming a more popular choice for playground surfacing. There are many reasons for this: they're inexpensive, durable, safe, and made of recycled materials.
However, there are also some potential health hazards to consider before deciding if used tires are the best option for your playground.
So, take time to evaluate the pros and cons before you decide whether you want to set up a used tires playground for your children or not.
Amazon and the Amazon logo are trademarks of Amazon.com, Inc, or its affiliates.