Playgrounds offer an excellent way to get your kids outside to play with other children, release some energy, and enjoy the fresh air.  They are also a community gathering place for both parents and their little ones.
Outdoor playing is critical to every child's development, and playgrounds offer a wide range of equipment such as slides, swings, and monkey bars that play a critical role in physical, emotional, and brain development. The equipment also equips kids with critical problem-solving skills.
Children can do all sorts of things while at the playground and explore their surroundings freely. Different playground activities are designed to help with different stages of child development.
While playgrounds are an excellent source of unending fun and enjoyment, they can also be a leading cause of injuries. A significant number of injuries are reported on playgrounds every year.
Even though most of the reported injuries are just minor cuts, scrapes, and bruises, some of them are more serious and life-threatening.  Cases of severely fractured bones, concussions, and dental injuries at playgrounds have been reported in different parts of the world.
It means that ensuring your child's safety while at the playground is critical.  In this post, we discuss some of the playground safety tips that every parent must know. 
Keep reading to learn more.
1. Always Keep a Close Eye on Your Kids' Play
Children are quite peculiar and cunning. They love to experiment and discover things on their own.  Unfortunately, most of the experimentation and discovery happens during playtime. While this is a good trait, it can also be dangerous.
This is the primary reason why you should always supervise your kids during playtime. If you can't be present during that time, hire a caregiver to help you with the supervision.
Supervision doesn't just mean sitting and watching your kids play. It means doing everything possible to ensure their safety.
Ensure you read posted rules before allowing your children to start playing and keep a watchful eye on everything they do. Close supervision from adults can help structure play, provide essential safety reminders and intervene in play if necessary.
You have to ensure that your kids play safely and follow playground rules. Remind them about appropriate behavior for the playground and the consequences if they break any of the rules. 
Ensure there is no pushing/shoving and everyone uses the playground equipment correctly. You should also advise your kids to wait for their turn to be on the equipment and avoid scrambling.
2. Make Sure They're Using Age-Appropriate Equipment
One of the most common reasons children get injured at the playground is due to the use of age-inappropriate equipment. For instance, kids under the age of five years require specially crafted equipment to suit their size and development skills.
In most cases, children in this age bracket use plastic or plastic-coated equipment to avoid injuries that metallic objects may cause.
During installation, there is a need to ensure the ground clearance is slightly lower than that of equipment used by their older counterparts.
Playground equipment with a relatively low ground clearance lowers the risk of fatal injuries resulting from accidental falls when kids are climbing.
It is critical to ensure every child on the playground uses their age-appropriate equipment that is strong enough to hold their weight.  Strictly adhere to manufacturer recommendations to minimize the risk of accidents.
If the equipment is already set on the playground, take time to assess it and ensure your kids will be comfortable playing on it.  If your children are afraid of heights, don't insist on them using the equipment.
Some playground accidents happen out of fear.  Allow your kids to adjust to using the relatively simple playground equipment before they graduate to the more sophisticated stuff.
3. Ensure the Playground Is Safe for Play
Before you allow your kids to start playing on the playground, take a walk through the play area and make sure it is 100% secure. It should be free of obvious hazards such as used syringes, broken pieces of glass, and sharp stones.
Closely inspect the type of playground surfacing material in use and establish whether there is sufficient shock-absorbing material such as wood chips, shredded rubber, sand, or mulch.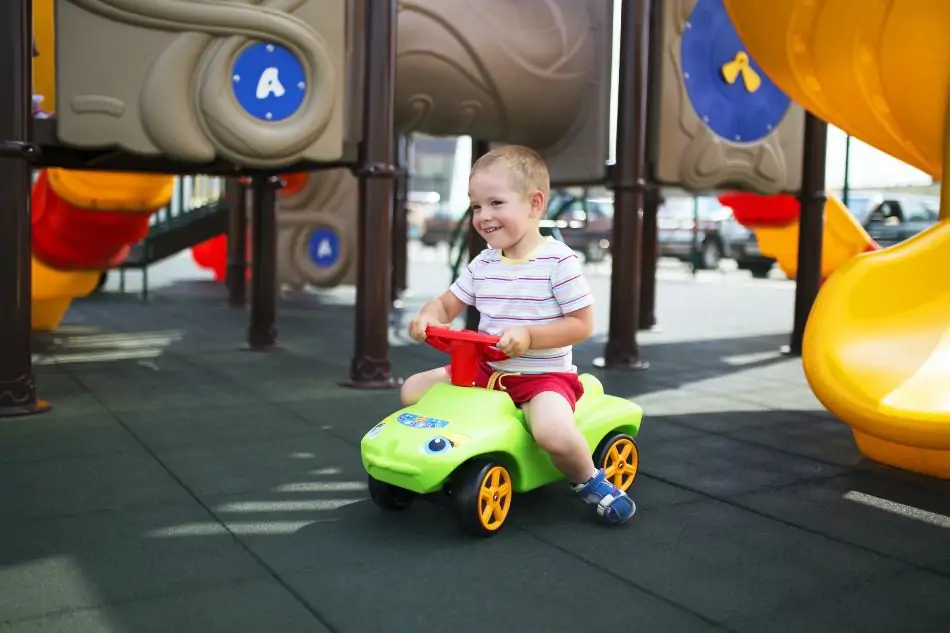 Keep in mind that the type of surfacing material in use has a significant impact in preventing severe injuries in case of a fall.
Avoid playgrounds that only have asphalt, grassy surfaces or concrete. These materials lack impact absorbing capabilities and can only lead to severe injuries in case of a fall.
Watch out for signs of broken or damaged playground equipment. Inspect the hardware components closely to see if there are any missing or loose bolts/screws. Check for visible signs of rust and shake the guard rails gently to ensure they are safely attached.
You should also ensure that the platforms of slides and other climbing structures have secure railings to protect children from falling.
4. Dress Your Kids Appropriately
The kind of clothes your children wear during playtime play a significant role in ensuring their safety on the playground. Before leaving the house, make sure your little ones are dressed in appropriate clothes that will keep them safe and comfortable.
Let them remove jewelry and any piece of clothing with drawstrings such as hooded sweaters and drawstring pants. Strings can easily get caught on equipment and pose strangulation hazards. Leave helmets in the house because they can be a significant safety hazard at the playground.
You should also avoid neck scarves and necklaces because they can easily strangle children while playing on relatively high equipment.
Since kids are more likely to get dirty at the playground, make sure they wear clothes that you don't care about getting dirty or torn. The clothes must be well-fitting to prevent the possibility of getting caught by moving objects.
For footwear, you should go for closed-toe shoes that can be tightly tied. These shoes usually have a rubber sole that plays a critical role in preventing accidental slides, and they are comfortable playing in.
Don't allow your kids to wear plastic sandals because they are slippery and make climbing quite hard. Plastic sandals are also light and don't offer enough protection from falling objects.
5. Be Mindful of the Weather
During hot summers, playground equipment made of aluminum and metal can get extremely hot and cause severe burns to your child's skin. Therefore, before you allow your kids on any metallic equipment, test its temperature by carefully pressing your hand against it.
If the surface feels hot for you, don't allow your child on it. Even plastic slides and swing seats can get hot, especially if they are made of relatively dark materials.
Your kid's skin could develop blisters and burn within seconds or minutes of touching the hot equipment.
To stay safe, consider visiting a playground that has partial shade. The shade can play a vital role in preventing accidental burns from hot play structures. It can also protect your kids from getting sunburn.
Don't forget to carry a few bottles of cold water on hotter days to keep your loved ones hydrated. If there have been rains recently, you should be aware of puddles on the play equipment.
Water accumulation on the steps of slides or top of other structures such as the trampoline can cause surfaces to become slippery, which could make children lose their footing and fall.
6. Carry a First Aid Kit
Accidents usually happen without knocking. However, being prepared for such situations can limit the damage and help you take control of the situation.
One of the essential things that every parent must do is bring along a first aid kit on every trip to the playground. A first aid kit helps you to provide primary treatment to your loved one immediately as you wait for further assistance from doctors.
Make sure your first aid kit contains the following essentials:
Cold pack.
Bug spray.
Eye dressings.
Creams for relief from different insect bites.
Adhesive Band-Aids.
Thermometer.
Sunblock.
7. Talk to Your Children
Before you start your journey to the playground, make sure you have a short and candid conversation with your children and set clear rules and expectations of the visit.
Take time to explain to them what they are permitted to do and not do. You should also discuss with them potential hazards such as pushing and pulling others and failing to look where they are walking.
Explain to your children that they need to be aware of their surroundings and avoid playing on damaged or worn-out equipment. Remind them about the essential playground rules and supervise their play to ensure they are following the rules.
Summary
Playgrounds provide your kids with an incredible platform where they can play and burn energy while breathing fresh air and putting their imaginative minds to work.
By talking to your kids and setting the ground rules early, you can play a critical role in ensuring that every playground visit is a safe one.
Understanding how to play safely and exploit their strengths without endangering their lives will help your little ones develop excellent skills that they can use throughout their lives.