Children go through different developmental milestones at different rates. However, one common thing with almost all children is the urge to explore and climb. As a parent, you want to ensure your child is safe, but you also want to encourage their sense of adventure.
So, what is a good age to start climbing? There is no definitive answer, as every child is different. However, most children are able to start climbing around the age of four or five. At this age, they have the necessary coordination and strength and can take instructions well. But this is for advanced climbing like bouldering and rock climbing. Basic climbing might start much earlier – immediately after crawling. As a parent, you want to keep a close eye on your child whenever they are climbing, no matter their age.
Are you wondering when you should allow your child to start climbing? If so, you have come to the right place. This blog post discusses everything you need to know, including the benefits of climbing to children.
Development of the Skills Needed for Climbing
As soon as your toddler starts crawling and grabbing onto things such as your couch or chairs, they will attempt to stand up, but they will come down as fast as they went up.
The practice will continue for several weeks or months until they can stand independently. Remember, practice makes perfect. At that point, their climbing instincts will kick in as they try to reach toys and other stuff stored out of their reach.
So, in one way or the other, your child will always be trying to find ways of perfecting their climbing skills. Below is a quick summary of key milestones in their journey to developing crucial climbing skills.
1. 8-9 Months
At this age, your child will mostly be using stairs, furniture, and people to attempt to climb. Their climbing instincts are encouraged by them wanting to reach objects or toys, but at this age, they cannot manage to climb off furniture or stairs without assistance. So, close supervision is critical.
They use the same skills they used to master crawling while stair climbing, i.e., they will move diagonal sides of their body while coordinating their arms and legs.
In the process of climbing stairs, they practice a lot of kneeling and standing, which is critical to their overall development. At nine months, your toddler may begin to climb up onto a chair and sit.
2. 10 Months
At ten months, your baby can comfortably crawl and climb over objects on their way to find their favorite toy. At this point, they'll start experiencing unstable surfaces and different climbing heights. They also start developing problem-solving skills of what is safe and isn't.
Motor planning is still needed to reach a toy even after climbing it. So, the baby will be forced to move their body and trunk to sit or stand balanced while trying to reach their favorite toy.
This is also the time they learn to acknowledge depths and how to control their bodies when descending.
3. 11 Months-1 Year
At 11 months, babies become more confident and can now take on some risks during their climbing explorations. They know how to get on and off furniture and also how to climb up and down stairs with little or no support.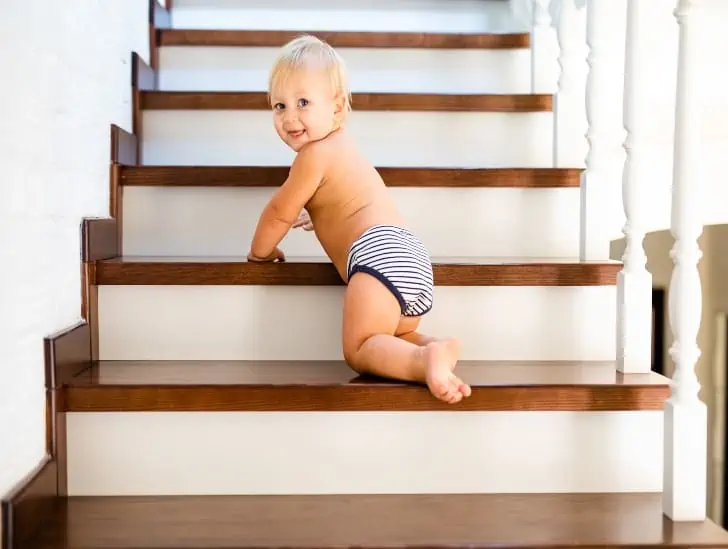 During this phase, they learn how to turn their bodies to negotiate space. They also spend a lot of time pulling up to standing and transitioning from sitting to standing.
4. 1-2 Years
At this stage, toddlers are pretty confident in climbing and can now take on bigger challenges such as going up and down outdoor stairs, playing on the jungle gym, and so on.
During this phase, they also learn how to use their hands and feet together to move their bodies in a coordinated manner when climbing.
What Is a Good Age for a Kid to Start Climbing?
Ultimately, there are no strict age limits at all. It all depends on your child's physical abilities and willingness to take risks. However, close supervision is critical to avoid any injuries.
Encouraging your toddler to start climbing early is a great way to help them develop their gross motor skills. It also helps to improve their problem-solving skills and hand-eye coordination.
In addition, climbing is an excellent way for your child to get some exercise. It's fun for them to explore their environment and learn about their capabilities.
However, the most important thing is that you should let your child initiate the climbing. Don't make them feel pressured. If they enjoy it, they will master it pretty quickly.
Remember that climbing, like any other activity, should be fun since it teaches your little one critical life skills they will need in the future.
What Age Should a Child Start Bouldering?
Most kids usually start bouldering when they are three years old. Therefore, if your little one is around this age, you can enroll them to bouldering classes without any problem.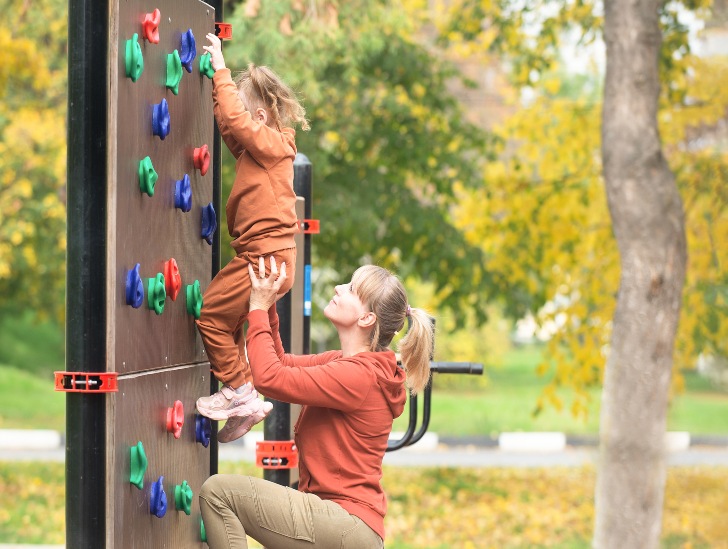 Bouldering is slightly different from rope and rock climbing since it does not require ropes or harnesses. It also tends to be shorter and has fewer routes.
Bouldering is an excellent way for your child to improve their problem-solving skills and hand-eye coordination. It is also an excellent workout since it requires a lot of strength and endurance.
However, even if you enroll your child in a coached session, there are some things you still need to teach them yourself. In most cases, the coach-to-child ratio in most training centers is usually small, with one coach handling up to five or six kids.
That is why it is good to teach your child things such as how to fall safely, how to use their hands and feet properly, and how to belay before they start bouldering.
What Age Should a Child Start Roped Climbing?
In general, kids can start roped climbing when they are around four or five years old. Roped climbing is a bit more challenging than bouldering since it requires both hands and feet.
In roped climbing, children use a combination of ropes and other equipment such as harnesses, shoes, helmets, and chalk to scale a rock or wall. This type of climbing is also known as lead climbing.
It is important to note that roped climbing should only be done with the help of an adult. In most cases, the adult is the one who belays while the child climbs.
Roped climbing is a great way for your child to improve their problem-solving skills and hand-eye coordination. It is also an excellent workout since it requires a lot of strength and endurance.
What Age Should a Child Start Rock Climbing?
Technically, as long as your little one can walk and climb, you can introduce them to rock climbing. Some rock-climbing experts recommend introducing them to the sport when they are around four to seven years old.
At this age, a child can take instructions quite well and have developed decent problem-solving skills, which is critical to rock climbing.
However, a parent or guardian should be the one to decide whether it is safe to introduce the child to rock climbing or not.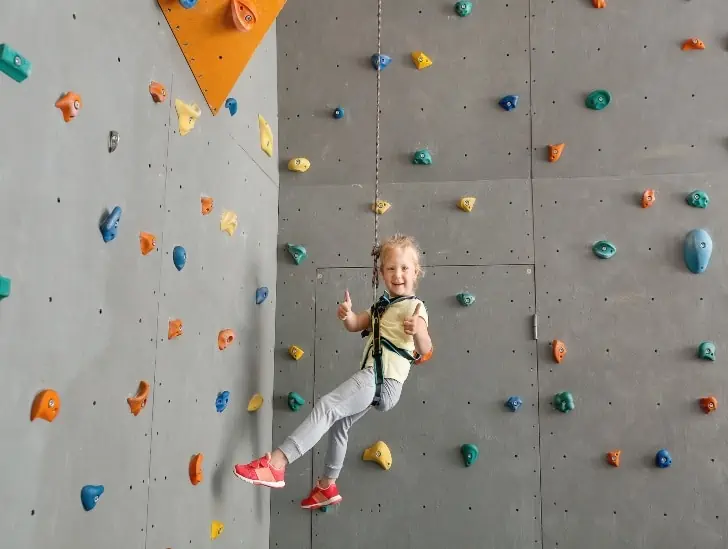 Take time to assess your child's physical strength and abilities and how adventurous they are before deciding.
If you notice them trying to climb on the door, couch or other surfaces in the home as early as two years, they could be ready for rock climbing by the time they are four.
The only thing you need to keep in mind is that early rock climbing usually requires a lot of supervision. At no point should the child be allowed to climb without the presence of an adult.
How Can You Help Your Child Learn to Climb?
As a parent, you want to be involved in your child's climbing journey as much as possible. Here are some ways you can help your little one learns how to climb:
1. Be patient
One of the most important things you need to do is be patient with your child. They might not get it right the first time, which is perfectly normal.
2. Encourage them
Encourage your child every step of the way. Let them know that you are proud of their accomplishments, no matter how small.
3. Help them find a good training center
A good training center can make a huge difference in your child's climbing journey. Do some research and find a reputable one that offers both bouldering and roped climbing.
4. Get involved in their training
Get involved in your child's training and help them when you can. This will not only make the process more fun for them but also help them learn faster.
5. Be there for them
Lastly, be there for your child every step of the way. They will need all the support they can get, especially when things get tough.
Summary
Climbing is a great way to improve strength, dexterity, and balance. It can be done by people of all ages, so what is the best age to start climbing? 
Depending on the type of climbing you are doing, different ages may be better suited.
However, it is essential to note that every child develops differently, and some children may not be ready for certain activities until they are older or younger than the average.