Jungle gyms are important outdoor playground equipment found in many schools, parks, and backyards. The jungle gyms offer endless playtime for the kids bringing with them their amazing health benefits. But what materials are used to make them?
Jungle gyms are made of metal or wood and can be customized to fit the specific needs of a child. Metal jungle gyms are preferred by many because they can withstand any weather conditions. Wood is also popular and reliable material for making jungle gyms, thanks to its aesthetic appeal.
Read on to learn more about these materials for jungle gyms, including their advantages and disadvantages. We'll help you choose the best material if you're making a jungle gym for your kids' playground.
Metal Jungle Gyms
Metal jungle gyms have evolved over the years to be more resistant to weather conditions. There are different types of metal that can be used to make a jungle gym, but the two most popular are steel and aluminum.
Steel is a solid material and is mostly used in industrial applications. It's also heavier than aluminum, so it might not be the best option if you're worried about your jungle gym's safety. But due to its strength, it can still perform well for commercial jungle gyms that have to endure a lot of pressure.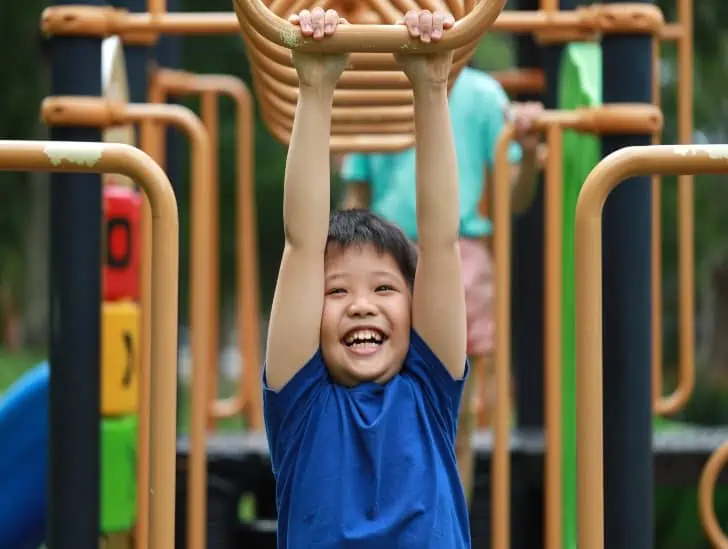 Thanks to their lightweight nature, aluminum jungle gyms are also great metal options. They won't rust as easily as steel jungle gyms, but they can still succumb to the elements over time.
The best way to combat this is by powder coating your metal jungle gym. This will give it a layer of protection from the rain, sun, and snow.
Advantages of Metal Jungle Gyms
Durable: Metal jungle gyms have stood the test of time for durability. They're less likely to bend or break than their wooden counterparts.
Versatile: Metal jungle gyms can be used for various exercises, making them more versatile than wooden jungle gyms.
Attractive: A well-made metal jungle gym can be a beautiful addition to your backyard.
Customizable: You can customize metal to fit your specific needs. For example, you can choose a color or add accessories like monkey bars.
Disadvantages of Metal Jungle Gyms
Quality Issues: If you buy cheaply made jungle gyms, you're going to have issues with the quality of the frames and the joints.
Rust Issues: Metal is known to rust, so you'll need to take extra care to protect your jungle gym from the elements.
Weight Capacity: Metal jungle gyms can be a bit heavier than their wooden counterparts, so make sure you have enough weight capacity to support it.
Safety Issues: There are always safety concerns with any type of equipment. Make sure you read and follow all safety guidelines before installing your jungle gym.
Jungle Gyms Made of Wood
Wood is a popular material for playground equipment and not just jungle gyms. Wooden jungle gym gives you that nostalgic feel. They make high-quality equipment meant to last for years, if not decades.
The common types of wood used for this purpose include cedar or redwood. They offer a natural look that goes well with any yard and can easily be painted in any color you desire.
Advantages of Wooden Jungle Gyms
Durability: The durability of a wooden jungle gym depends on the type of wood you use, but in most cases, they last long enough to serve their purpose.
Aesthetics: Jungle gyms made of wood are aesthetically pleasing. They look as good in a modern yard as they do in traditional ones.
Customizable: You can customize wooden jungle gyms to meet your taste and preferences. Choose any design, color, or style of your choice.
Disadvantages of Wooden Jungle Gyms
Costly: Wooden jungle gyms come at a higher price if you want to get quality wood. If you choose cheaper options, it will develop splinters and won't last long enough.
Needs Maintenance: Wood is more demanding when it comes to maintenance. You will need to regularly oil and protect it from the elements to ensure it lasts.
Splinters: No matter the type of wood or the kind of maintenance you give it, wood can still develop splinters which can be a safety issue.
Are There Jungle Gyms Made of Plastic?
Plastic jungle gyms are some of the most affordable options on the market. They are ideal for people that want to enjoy their garden with kids but don't want to spend too much money on their jungle gym. The material is usually the best option for kindergartens, parents with small kids, and tea gardens. They're usually suitable for kids aged 3 to 5.
Benefits of Plastic
Affordable: Plastic is one of the cheapest materials you can use when building a jungle gym.
Lightweight: Plastic jungle gyms are lightweight, making them easy to move around if you're not satisfied with their current location.
Low maintenance: When it comes to cleaning, plastic is one of the easiest materials to clean as all most people have to do is wipe down the surface when there's dust and dirt on it.
Safe: Plastic jungle gyms are usually safe for children to use as they're not easily damaged by weather conditions. There's also less of a risk that kids will get hurt if they fall off the structure because it's softer than other materials like wood or metal.
Disadvantages of Plastic
Not durable: The jungle gyms made of plastic are not durable enough and can't withstand too much pressure.
Not environmentally friendly: Plastic is not biodegradable and takes a long time to decompose, which means it's not eco-friendly.
Types of Jungle Gyms
Climbing frames: These consist of poles, ladders, bridges, and platforms that allow children to climb up and explore.
Swings: These allow children to swing back and forth or spin around.
Slides: These are a favorite for most kids, as they provide an easy way to get from one level of the jungle gym to another.
Tunnels: These can be used to crawl through, providing hours of fun for adventurous kids.
Bridges: These can be used to cross over from one area of the jungle gym to another.
Monkey bars: These are a type of bar that children can use for balancing or swinging on. They're typically made out of metal, wood, or plastic and come in many different sizes and shapes. Some monkey bars even have built-in obstacles, like a spinning wheel or a set of rings.
Climbing walls: These are exactly what they sound like – walls that kids can climb up and down for a challenging workout.
There are many different types of jungle gyms to choose from, so it's essential to consider what your child will be using them for. If they're mainly interested in climbing, a climbing wall would be the best option. But if they want to swing and balance as well, then a jungle gym with monkey bars would be a better choice.
Choosing the Best Material for Play Equipment
When it comes to what your children will use while playing, you have to be very cautious with your choice of material. Here are some of the things to consider:
Safety
The safety of your kids comes first and should be your number one priority when choosing any type of playground equipment. Ensure that there are no sharp edges and that everything is well-secured to the ground.
The Material Itself
There are a few different materials you can choose from: metal, plastic, wood, or a combination of these materials. Each has its benefits and drawbacks, as stated above.
The Age of Your Kids
The age of your children matters a lot when picking out the right playground equipment. If they are very young, then you should pick something relatively safe and easy to climb on.
For older kids, you can choose all sorts of things like slides or swings as long as everything is secure enough not to fall over while the children play with it.
The Location of Your Playground
Another important factor to consider is the location of your playground. If it's in a sunny spot, then you'll want to choose materials that can withstand the heat. If it's in a shady spot, you'll want something that won't get too hot in the sun.
You also need to consider where you will put the playground equipment. If it's going in your backyard, make sure that there is enough space around it so children can run around freely and not get hurt.
The Cost of Your Equipment
It's also very important to know how much money you are willing to spend on this project before starting out with your research. Playground equipment can be expensive, but many affordable options are available if you know where to look.
Final Thoughts
Choosing the perfect material for a jungle gym, swing set, or slide can be a daunting task. But with the right information and a little bit of research, you're sure to find what you're looking for. Be sure to keep safety in mind when selecting your playground equipment, as well as budget and space constraints. And most importantly, have fun!