As an Amazon Associate I earn from qualifying purchases.
If you love dining outdoors then you know the importance of a picnic table. Outdoor picnic tables are great for parties, family gatherings, and even just a casual meal with friends. But what is the best material for picnic tables?
There are many different materials that can be used to make outdoor picnic tables, but the most popular options are wood, metal, and plastic. Each material has its own advantages and disadvantages, so it's important to choose the right one for your needs. 
Read on to understand the best material for a picnic table.
Metallic Picnic Tables
Metal is a popular choice for picnic tables because it is durable and easy to clean. Metal is also strong and tends to endure weather well, making it a good choice for an outdoor picnic table. It also requires very little maintenance.
However, metal can be more expensive than other materials, and it can become very hot in direct sunlight. 
Additionally, metal picnic tables can be quite heavy, so they may not be the best option if you plan on moving them around often. Metal picnic tables are also susceptible to rust, so they may not last as long as other options.
Plastic Picnic Tables
Other people use plastic instead of metal for their picnic tables. Plastic is a good choice because it is lightweight and easy to clean. Additionally, plastic is less expensive than metal.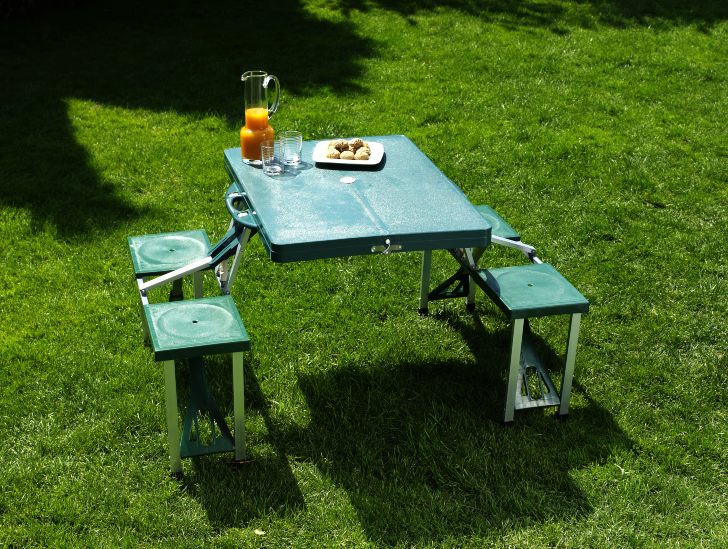 However, plastic can become brittle in cold weather and may not withstand heavy use as well as metal. Additionally, some people find that plastic picnic tables do not look as nice as metal or wood.
Wooden Picnic Tables
Wood is indeed the best material for outdoor picnic tables, especially hardwood. It has a classic look that can fit in with any type of outdoor décor. Plus, it's also very durable and easy to clean. 
However, wood picnic tables are more expensive than plastic or metal tables. Additionally, they require more maintenance than other types of picnic tables. Wood picnic tables must be stained or sealed regularly to protect them from the weather and insects.
Here are some of the best types of hardwoods used for picnic tables:
Teak
This type of hardwood is perfect for outdoor furniture because it's very strong and durable. Plus, it has a beautiful natural color that will look great in any setting. Teak is also resistant to rot and pests, so it will last for many years.
Teak is also one of the most expensive woods on the market. So, if you're on a tight budget, then you might consider skipping it. However, its high price is well justified for its properties. It's incredibly hard, dense, and holds a decent amount of weight. It's also strong against water, decay, and rotting, thanks to its natural oil.
This wood is also a moderately flexible material, which means it won't be hard to work with it. The color and the texture also make them look great in any environment.
Cedar
Cedar is also one of the top choices for outdoor projects that will be exposed to outside elements. It's relatively hard and boasts of high workability. If you're an amateur in the wood industry, then cedar is a good option to consider.
Its tight grain structure means that it doesn't require much treatment. And that also makes it one of the most durable woods on the market. Cedar is also naturally resistant to rot, decay, and insects. It's also immune to high humidity levels. Additionally, cedar has a pleasant smell that can make your outdoor projects more inviting and enjoyable. These features make it a near-perfect choice for a picnic table. 
Mahogany
Mahogany is also a wood that's known for its durability. It's a beautiful wood that has a reddish-brown color and a smooth grain. Mahogany is often used in high-end furniture and cabinetry. It's not as expensive as teak, but it's still highly resistant to water, insects, and decay.
It's extremely easy to work with and lightweight. You'll be able to craft a picnic table even without a carpenter's degree. It's also portable, thanks to its lightweight nature.
White Oak
If you're looking for a wood that's both durable and beautiful, then white oak is the way to go. It has a very fine grain and a light brown color. White oak boasts above-average hardness and density, which means that it won't break or scratch easily. White oak is often used in furniture and cabinetry. It's also resistant to water, insects, and decay.
White oak is easy to work with. You'll be able to craft a picnic table without any problem. On the downside, white oak is very heavy and much harder to move around than any other wood material. 
So, if you're looking to invest in oak, it's ideal to consider red oak instead. This is because red oak is more affordable than white oak and has a lighter texture, which many people love. Dents and scratches are also easier to hide on red oak.
Douglas Fir
Douglas Fir is not as strong as oak, but it's still durable and easy to work with. Fir is also one of the most affordable options on the market. And, like oak, it comes in different colors. You can find Douglas fir that's reddish-brown or even pale yellow.
Because it takes paint well, you can either paint it or apply a finish if you want to retain the natural look of the wood. Fir is also readily available at any home supply store or lumberyard. It's moderately resistant to decay and has adequate weather resistance when properly sealed and maintained.
Fir also has a tight grain with few knots, so if you stain it properly, it resembles redwood. The thickness and the length of the fir are consistent and reliable. Its large quantity, affordability, and availability allow for hand-selecting and rejecting pieces that you don't want. If you find some of the pieces have defects, such as warps, cracks, or knots, the pieces can easily be replaced.
Redwood
Redwood has a rustic grain that looks marvelous on picnic tables. It's a flexible, extremely lightweight material that comes at an affordable price. In addition, redwood's resistance to humidity and decay makes it an ideal option for outdoor furniture. This also makes it resistant to pests and other insects.
It isn't hard as other wood species, so if you want your redwood table to last, make sure to apply a layer or two of a reliable, top-quality finish. And ensure it's sealed properly; otherwise, the red pigment might ruin your clothes.
Man-Made Composites
Treated wood can also be an excellent choice for outdoor furniture. Treated wood is infused with chemicals that make it resistant to rot, insects, and moisture. However, treated wood can sometimes be tricky to work with because the chemicals can be harsh on your skin and eyes. If you're going to use treated wood for your outdoor furniture, make sure to wear gloves and eye protection.
There are also man-made composite materials that can be used for outdoor furniture. These composites are made from a mixture of wood and plastic fibers. They're designed to be durable and weather-resistant. Composite furniture is often lighter than wood furniture, so it's easy to move around. And, like treated wood, it doesn't require as much maintenance.
Factors to Consider Before Picking the Right Wood for a Picnic Table
When choosing the best wood for a picnic table, there are several factors to consider, including workability, appearance, comfort, and maintenance. With a little research, you can find the best wood for your picnic table that will last for years to come.
Price Considerations
The first thing you need to think about when choosing the right wood for a picnic table is the price. Some woods, like cedar and teak, are more expensive than others. But, in general, the more expensive woods will last longer and require less maintenance.
Hardness Plus Density
The density of the wood is also important. A dense, hardwood will be more durable than soft, light wood.
Ease of Use
The workability factor applies if you want to build the picnic table yourself. Softwoods are usually more flexible and easier to work, though this isn't a universal rule. Every wood type is unique, so take time to learn about the workability of each species.
Appearance
The aesthetic value of the wood is important, especially if you're building a picnic table to be used in your backyard. Some woods have a beautiful grain that can enhance the look of your picnic table. Other woods are stained or painted to give them a more finished look.
Comfort and Maintenance
The final factor to consider is comfort and maintenance. Some woods are more comfortable to sit on than others. And some woods require more maintenance, such as regularly sanding and sealing, to keep them looking their best.
Resistance to the elements
Some woods are more resistant to the elements than others. If you live in an area with harsh weather conditions, you'll want to choose a wood that can withstand the elements. Woods such as cedar and redwood are good choices for picnic tables in areas with harsh weather conditions.
Level Surfaces
If you're planning on using your picnic table indoors, you'll want to make sure the surface is level. Some woods are more prone to warping than others, so it's important to choose a wood that will stay flat and level.
Summary
Picnic tables offer a great way to enjoy the outdoors with family and friends. But, it's important to choose the right material for your table to ensure it lasts longer. Any time type of wood mentioned above can make a good picnic table. But, if you want the longest-lasting table, choose cedar or redwood.
If you're looking for an inexpensive option, pressure-treated wood is a good choice. Just be sure to seal it to extend its life. You can also choose metal or plastic materials. No matter what material you choose, enjoy your picnic table. 
Amazon and the Amazon logo are trademarks of Amazon.com, Inc, or its affiliates.