Decisions, decisions, decisions! It seems like being an adult is all about making decisions. Even when it comes to choosing the perfect swing set for your kids, there are critical decisions you need to make.  With wood and metal being the leading construction materials for swing sets, it can be quite difficult to determine which one is right for you and your family.
So, are wooded, or metal swing sets better?  Most metallic swing sets are designed for commercial playgrounds, while wooden swing sets are specially designed for use in your home backyard. Metallic swing sets are designed with durability in mind, while wooden playsets focus more on safety. When it comes to maintenance, metal swing sets don't require maintenance unless the metal coating is chipped or scratched. For wood swing sets, regular staining is essential to help maintain their original appearance.
Are you torn between purchasing a metal or wooden swing set? We are here to help you make an informed decision. We provide you with as much information as possible about each swing set to help you make an informed decision.
Read on to find out everything you need to know.
Metal Swing Sets: A Quick Overview
Most of us have come across metal swing sets, especially in community playgrounds and public parks. If you are keen, you will realize that most of these structures are relatively old. This is because most of them were manufactured many years ago when metal was the only construction material available.
Metallic swing sets have had a good run over the years, and there are reasons why they are still in use today despite the stiff competition they have faced from wood and plastic playsets.
Here is a quick overview of some of the benefits and drawbacks of metallic swing sets.
Advantages
 Metal is readily available and quite inexpensive. This makes metal swing sets relatively affordable.
Relatively easier to get spare parts in case one component of the swing set is damaged.
Easier and quicker to assemble.
They are strong and last for many years.
Disadvantages
Can easily bend or break.
Not as strong as wood.
Metal is susceptible to rusting.
Needs regular painting to maintain its original look.
Wood Swing Sets: A Quick Overview
Wooden swing sets have gained popularity in recent years thanks to their safety. Since wood doesn't get too hot in summer, most parents prefer installing wooden playsets in their backyards for their little ones.
The wooden swing sets are mostly manufactured from cedar, redwood, and pressure-treated pine. This type of wood is naturally resistant to decay, rot, and insect infestation.
However, wooden swing sets require regular maintenance to keep them looking good. Here are some pros and cons of wooden swing sets:
Pros
They feel and look natural.
Durable and can be built to last for many years. On average, a wooden swing set can last for up to 40 years.
Supports high weight capacity.
Endless design possibilities.
Cons
They require regular maintenance.
Can attract wasps, bees and other insects that can sting your kids.
It takes a relatively long time to assemble a wooden swing set compared to a metal one.
The bolts and nuts need to be tightened regularly to maintain high safety levels. 
Comparing Metal vs. Wood Swing Set
Before you choose between a metal or wood swing set, there are a few things you should think about first. They include:
Safety
Maintenance
Installation
Customization
Price
Lifespan
Let us evaluate some of these factors closely to understand how they can influence your decision.
1. Lifespan
Typically, the material your swing set is made of will determine its durability. While some are long-lasting, others can break apart easily. Fortunately, both wood and metal swing sets offer relatively excellent durability, strength, and reliability.
In general, wooden swing sets can last from 20 years to a lifetime, depending on the quality of wood. Wooden swing sets that last a lifetime are usually manufactured from top-quality wood that has been treated properly. The wood is then sealed and stained thoroughly to make it last longer.
If the wood is of poor quality and isn't treated properly, the swing set won't last long. Cheap quality wood doesn't have the power and capacity to withstand severe weather elements and constant play because the frame is weak.
Metal swing sets, on the other hand, are designed to last for at least 20 years. However, if you leave the set to rust, the metal can break down easily. 
Some metal swing sets are made from strong powder-coated steel, which ensures they are fully protected against rusting and will not absorb a lot of heat.
Therefore, if your primary focus is on durability, you can choose either of the two, and you will be good to go.
2. Safety
Whether you acquire a wooden or metal swing set, your kids' safety must be the #1 priority.
If you plan to acquire a metal swing set, you need to keep in mind that it can become too hot when exposed to direct sunlight for prolonged hours.  Therefore, chances are your children may suffer from skin burns after swinging on the structure.
If you want to go with a wooden swing set, it is good to remember that annoying wasps and other insects tend to build their nests on sections of the wood. If your young ones have a wasps allergy, wood might not be the best option for you.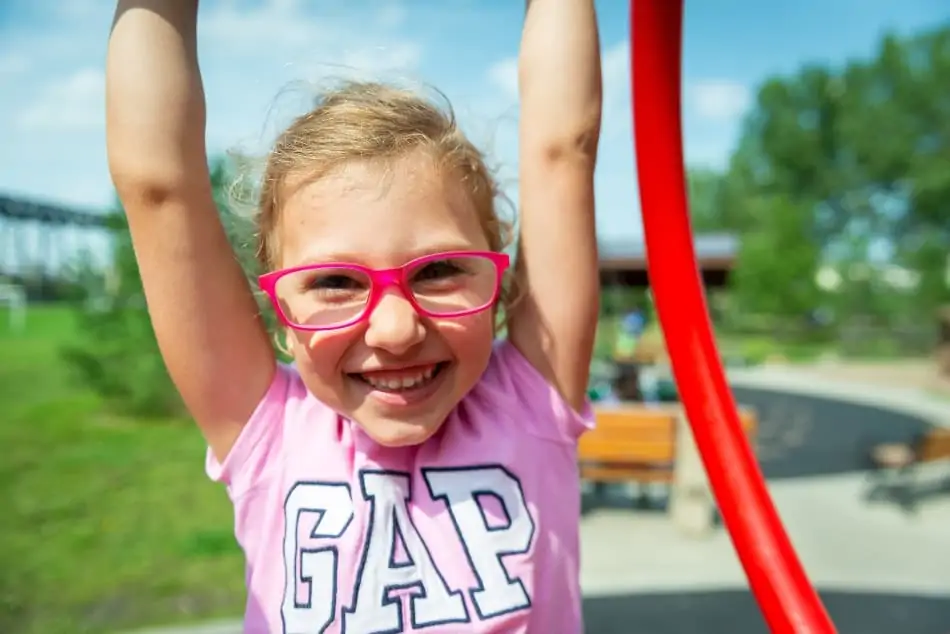 Also, some of the wood used in the construction process is treated with harmful substances such as copper azole and alkaline copper. This is especially common with pressure-treated wood. Some of these chemicals can cause serious health issues, such as lung and bladder cancer.
Generally, if you want to acquire a metal swing set, make sure you install it in a shaded area and replace its fasteners and chain link with durable alternatives.
However, if you prefer going with a wooden set, ensure it has been painted properly, smoothed, and finished well.
3. Maintenance
Typically, how you decide to take care of your swing set is entirely up to you. If you take good care of your playset, it can serve you for a relatively long time without any problem.  However, if you don't do what is required to keep it in good shape, it can pose a significant danger to your kids.
Generally, metal playsets require less maintenance compared to wooden swing sets. If you choose a wooden swing set, you will have to make sure you adhere to the annual treatment schedule to maintain its original look. Frequent staining and painting may also be necessary.
For a metal swing set, the only thing you need to do is regular cleaning. Repainting may not be necessary unless it starts to show signs of rusting. When cleaning your playset, make sure you use hot soapy water to get rid of the dirt and rinse it thoroughly afterwards.
4. Customization
Many parents are looking for creative ways to customize their swing sets to make them more interesting for their kids. Whether you want to convert your swing set into a climber, slide, playhouse, or a mix of all, you need to think about it before you step out to go shopping because metal and wooden sets have different customization options.
With wood, you can work with almost anything to come up with something new and more exciting. You can easily add or remove pieces, work with aesthetics and customize it the way you want. The end product will be an eco-friendly structure that your kids will love.
However, customizing a metallic swing set can be quite difficult. Adding or replacing its parts takes a lot of time and may require you to hire an expert to do it.
You must order extra accessories you may need from the manufacturer, making it almost impossible to improvise and be creative with your set.
5. Ease of assembly
Lastly, you need to consider the installation process before you purchase a swing set.  The swing set you order will have to be installed in your backyard, and you may be required to hire an expert to help you with the assembly process and installation.
Therefore, choosing a swing set that is easy to assemble can save you a lot of time and effort.  Generally, it is easier to assembly and install a metal swing set than a wooden one.
If you prefer to handle the installation process yourself and are still an amateur, metal swing sets are the best option for you.
But if you are not bothered about the installation process and are planning to hire an expert to help you, go for a wooden swing set.  If you try to assemble a wooden set by yourself, you might do it incorrectly and end up risking its durability, stability and safety.
Summary
Choosing between a wooden and metal swing set can be quite tricky. However, it is essential to consider durability, safety, appearance, and maintenance as part of your purchase decision.
You should also consider ease of installation and the customization options available should you want to add extra accessories to your playset.
Before you make up your mind, take time to assess your needs and involve your kids in the entire process. We recommend shopping at a store where you and your kids can at least test the swing set features before you purchase it.