As an Amazon Associate I earn from qualifying purchases.
Pets play a very important role in human life. However, making your pet friend happy and comfortable is not easy, especially if you live in the city. You might have to get creative when it comes to finding things to do with your furry friend.
Dogs need exercise, and they also need stimulation and something to do. If you're always busy or don't have a lot of space, you have to make your backyard fun for them. Most people think that the only thing they can do with their pets is to take them on walks.
But there are other ways to keep them happy and comfortable. Check out these amazing ideas for making your backyard fun for your dog.
1. Safety First
If you're going to be spending time in your backyard with your dog, you want to make sure that the landscaping is safe for them. Check for things like poisonous plants and make sure that there are no gaps in fencing where they could escape.
Insecticides and fertilizers can make your furry friend fall sick. Cocoa mulch is another backyard hazard for dogs as it contains theobromine- a substance similar to caffeine that can poison them. Compost can also be a problem for your dog because it may contain molds that could cause severe illnesses. Be sure to keep your dog away from these things.
2. Get Fun Outdoor Toys
One of the best ways to keep your dog entertained in the backyard is to get them some fun toys. Kongs are great for dogs because you can put peanut butter or another treat inside, and they will spend hours trying to get it out.
Another option is to get a ball thrower so you can play fetch with your dog without having to throw the ball yourself. Dogs love to chase balls, and it will wear them out, so they are less likely to bark.
You could also get a sprinkler or a water hose attachment that has a sprayer on it. Dogs love to play in the water, and this is a great way to keep them cool in the summer. Just be sure that the water pressure is not too high so it doesn't hurt their sensitive ears.
3. Add Water Activities in Your Backyard
If you have a backyard, there are lots of different things you can do to make it more dog-friendly. You could put them in a pool or a small pond for them to swim in. You could also get a kiddie pool and put it in the shade for them to lounge in.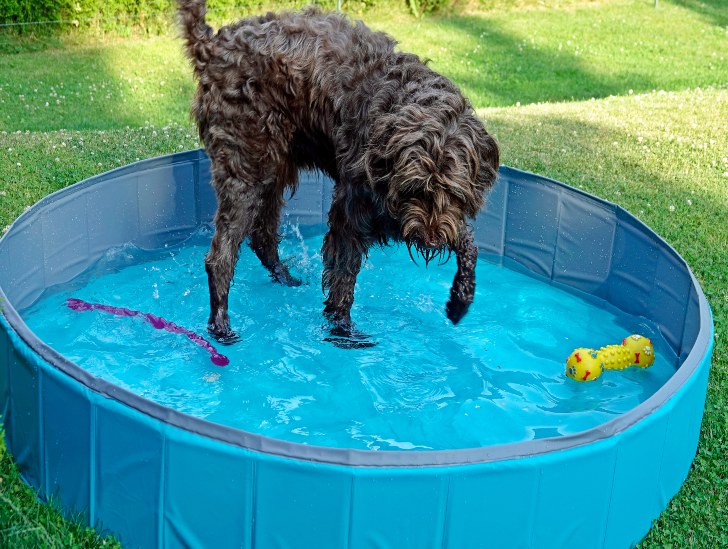 You can set up a portable canopy or use an existing back porch to create a shady spot for your canine friend. Get creative with a hose and basket to create an endless supply of water for your pooch. If you don't have DIY skills, then consider placing a water fountain for pets or using an outdoor tap attachment.
4. Consider a Sandpit
Another option for keeping your dog cool in the summer is to get a sandpit. This is a great way for them to dig and play in the sand without getting too hot. Just be sure that the sand is not too deep, so they don't suffocate. If your dog loves digging, this will be a great option for them and will restrain them from digging other parts of your yard, couches, rags, or carpets.
To encourage your dog to use the sandpit, demonstrate to them by using your hands to dig the approved. Canines usually catch on fast. You can also hide a tennis ball or other outdoor toy in the sand and encourage your canine friend to dig for it.
5. Plant Pet-Friendly Greenery
If you have a lot of open spaces in your yard, consider planting pet-friendly greenery as an aesthetic way to fill the gaps and potentially create a fence. There are many plants that can act as a physical boundary for your property while also being safe for your furry friend.
Other than sniffing, the greenery also helps your pooch's digestive system and builds up their appetite. So planting dog-safe plants with scents in your garden is a great way to entertain your dog. By allowing them to engage in natural behaviors like smelling and investigating, you provide experiences that are critical to their psychological well-being and happiness.
6. Create a Cooldown Area in Your Backyard
Dogs enjoy having a place to cool off on hot days, and you can easily create one in your backyard. Set up a kiddie pool, fill it with water, and let your pup splash around. If you don't want to deal with filling and emptying a pool, consider giving your pooch a place in the shade to relax. You can use a raised cot or cooling mat to create the ultimate spot to chill.
7. Give Your Dog a View
Dogs love to look out at the world, so give them a spot where they can do just that. If your backyard is fenced in, consider setting up a raised platform or dog house near the fence so your pup can survey their domain. You can also place a bird feeder near this area to give your furry friend something to watch.
If your dog spends most of their time indoors, make sure they have a comfortable place to rest near a window where they can watch people and their neighborhood. You can even create a little "nook" for them with a cozy bed and some favorite toys.
8. Consider Treasure Hunt Games
Dogs love to use their noses, so give them a little something to sniff out. You can hide kibble or treats around the house or yard and let your dog seek them out. This is a great way to keep your pup entertained and mentally stimulated. You can even make it more challenging by hiding the treats in harder-to-reach places.
9. Create an At-Home Obstacle Course
If your dog is the adventurous type, create an obstacle course for them to navigate right in your own backyard or living room. Use everyday items like hula hoops, chairs, and blankets to create a fun course for your pup to follow. You can even add in some obedience commands like "sit" or "stay" to make it more challenging.
10. Create Agility Course
If you have an energetic pooch in your home, then looking for ways to burn off their excess energy is very important. Some dogs just love to please, so an agility course is fun for you and your competitive pooch.
Great objects you can include in your course include hoops held at height for your dog to jump through. Other common household items that can also do the trick include PVC left over from a DIY project. A cardboard box tunnel that your kid has outgrown can also work for your furry friend.
11. Consider Dining Area
If you have an open dining area in your home, this is a great place to set up a pet command center. If you live in a smaller space and don't want your dog on the furniture, consider designating a corner of the room as their own personal space.
This can be done by setting up a small bed or crate, along with some toys and treats. If you have the room, you can also include a food and water bowl in this space.
Even if you don't have an open dining area, any empty space in your home can be turned into a command center for your pet. Just make sure that whatever spot you choose is easily accessible for both you and your dog.
12. Cover the Playground
While dogs love basking in the sun's rays, it isn't always beneficial to them. This is because they risk dehydration, sunburn, and heatstroke just like humans, and they need to be monitored accordingly.
And one way of protecting them from these risks is by providing them with a shady spot in the yard where they can play and relax. If you already have trees in your backyard, then you're lucky, but if not, there's always a possibility of getting a whole separate structure. Something like a gazebo for dogs can be a great solution since it will provide both shade and ventilation.
13. Make a Dog-Friendly Deck
If you're blessed with a deck in your yard, then you're one step closer to making your backyard the perfect summer oasis for your dog. But, just because you have a deck doesn't mean that it's automatically pet-friendly. If you want your deck to be a place where your dog can lounge and play without any danger, then there are a few things you need to do.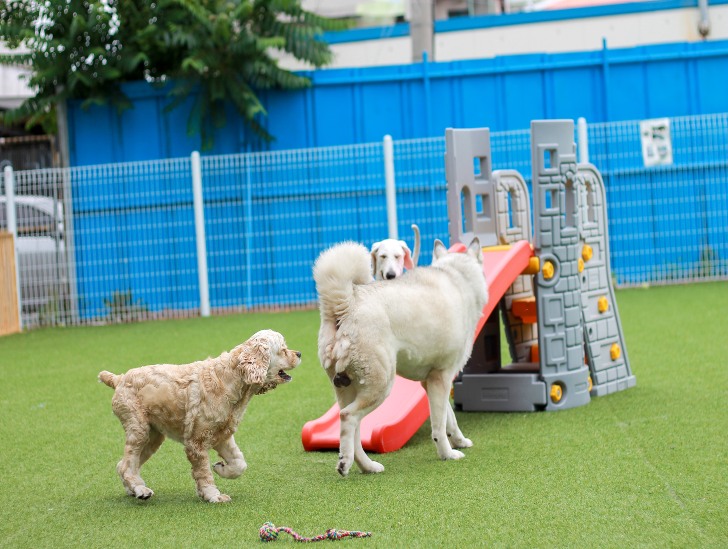 Set up your dog's bed on the floor with a few of your dog's favorite throws, and place dog-safe herbs such as dill, mint, and rosemary nearby to entice their senses. Safeguard the area without blocking your view by using plexiglass or acrylic sheets to the rails. Make sure you avoid any materials such as wire or netting, which can cause entanglement or other injuries.
Related Questions
Do dogs love backyards?
Dogs love backyards because they provide a safe and secure place to play, explore and relax. Backyards also give dogs the opportunity to socialize with other dogs and people. However, there are some dogs that will get bored outdoors when they're alone.
Are dogs happier inside or outside?
Indoor dogs are happy, but they need ample daily time outdoors to exercise, play, and potty. Most domesticated dogs also don't do well outdoors full time and should be brought indoors overnight.
Final Thought
Your pooch will probably love any backyard, as long as it is safe and you are there with them. However, making a few changes to your yard can make it even more enjoyable for your furry friend. By providing enriching activities, plenty of shade and water, and a comfortable place to rest, you can create a backyard paradise for your pup.
Amazon and the Amazon logo are trademarks of Amazon.com, Inc, or its affiliates.