Sand in the sandbox needs to be changed to keep young children safe. As children continue playing with sand, it gets ground into their fingernails. Sometimes the sand gets wet, and greywater can seep back into more than just the top layer of sand. The black mold that starts to grow is not healthy for children.
Therefore, it's important to change the sand every other year or after two years, depending on how often it's used. You should do this in the spring and summer when children are most likely to play with sandboxes. Changing it more often won't have to worry about germs or allergens causing infections. Keeping children safe means keeping parents happy.
This article discusses everything you need to know about changing sand in the sandbox. You'll also help decide whether changing or cleaning the sand is the best option. Read on.
Are Sandboxes Safe?
Children as young as five years can play with sandboxes. Sandboxes give children a chance to explore as they build things,  dig in the sand, and play with toys. However, they don't realize that digging in the sandbox can be hazardous to their health.
When children mix water with sand, they're most likely creating an ideal breeding ground for dangerous bacteria and all types of parasites. As children play in the sandbox, they inhale or ingest bacteria and other parasites that could cause serious illnesses.
The best way to keep your children safe is to change the sand regularly, so it's clean and free of bugs. If you keep the sand clean all the time, it will be safe for your kids to play as often as they can.
Tips to Keeping Sandbox Safe
1. Keep Sandbox Clean
Even before you think of changing the sandbox, you first need to keep it clean.  Kids know how to make a mess, and you should help them keep their environment clean. You should always ensure the sandbox is free from debris and sand in the house is swept away. Clean the sand every week to ensure it doesn't get contaminated by germs, dirt, or any other stuff that can be harmful to your children. 
2. Cover the Sandbox when Not in Use
This is one of the easiest things to do, but it can also get overlooked all too often. Keep your kids from getting burrs and leaves stuck in their feet by simply putting a sand cover on the sandbox.
Ensure you have a sand cover that fits the sandbox. Don't let rainwater enter the sand when it rains, or water gets inside when watering plants nearby. You can take out the sand entirely but avoid this, especially if children are still using it. Keeping them covered is the best option.
3. Don't Allow the Children to Climb In and Out
This is a mistake that many parents make when they have an elevated sandbox, thinking that it's okay for children to get in and out easily. However, it can be deadly if a child falls from the top of the sandbox while trying to get in or out. Or when they carry dust and debris with them as they climb in and out.
4. Watch Out for Broken Toys
Ensure you check out how your kids use their toys in the sandbox.  It's easy for the toys to get broken as kids play, and they don't always remember to remove them. Broken pieces can break off or create sharp edges that can hurt them. So, make it part of the routine to check the sandbox for any broken pieces and remove them before they cause accidents.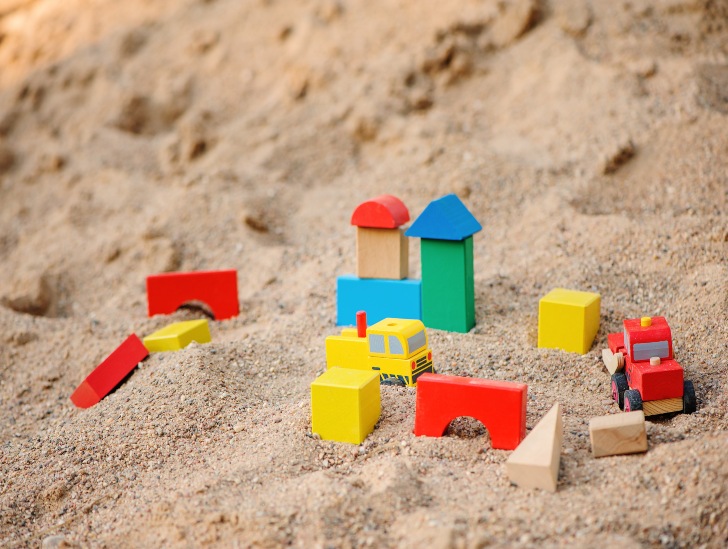 5. Keep It in the Shade
Be sure to keep it under shady spots, especially when there are no trees around. If you have one available, put a tarp on it, but make sure they're placed correctly to avoid toys from falling into the sand.
6. Replace the Sand Whenever Necessary 
The best way to clean and maintain a sandbox is to replace the sand every few years. This way, children are less likely to get dirty when playing in it.
You need to pay attention to the type of sand used in the sandbox when replacing it. Make sure you use play sand for the sandbox and not build sand. Play sand is usually free from contamination and won't stain your kid's clothes.
Should You Replace or Wash Play Sand?
One of the struggles you'll have when it comes to your kids' play sand is whether to change or replace it. Replacing sand often is not always the option, and cleaning it requires a lot of effort. 
So the dilemma: should you replace or wash play sand? Cleaning the sand is a better option. But since water can also accelerate contamination from bacteria and fungi, make sure that your sandbox is covered before doing so.
Sand can be a haven for bacteria and fungi, so never let it sit there in the sandbox mixed in with your child's skin cells. Cleaning it once in a while is good enough to keep the sand safe. If you need to replace it, just go ahead and do so. If you have old sand inside your sandbox, it's always the best option to replace it with new sand instead of washing it.
Replacing Sand
You don't need to replace sand every time you notice that it's dirty. You need to schedule a time to replace it, depending on how often your kids play with it. It's recommended that you change play sand at least once a year, but you can do it sooner by following your intuition. There are no rules dictating how often to change the sandbox.
Just regularly shifting the sand will not be enough because the surface will become compacted. You will not catch 100% of the debris or any other foreign objects. Even if you clean it regularly, you won't catch everything. So, it will definitely reach a point when replacing the sand will be the best option.
Washing and Disinfecting Sand
Washing sand is generally easy if you buy play sand.  The easiest way to clean sand is to connect a hosepipe to a tab and have a bucket full of sand.
Push the hosepipe at the bottom of the budget and switch on the tap. As water saturates the sand, the dust particles will float on top as sand remains at the bottom of the bucket. You should then pour out the water to remove all the floating particles, which will probably include plastic, sticks, leaves, and tree pieces. Make sure you don't pour away sand while pouring the dirty water.
You should repeat this process until you see no more floating particles and the water coming out is clear. You can then scoop out the wet sand from the bucket and transfer it to a pan. Spread it out and put it on the sun, so it dries out properly.
You can disinfect the sand by sprinkling some chlorine bleach on it and letting it sit for 15 minutes before rinsing thoroughly.  This will kill off any bacteria or fungus. Finally, make sure you dry it completely before putting it back into the sandbox.
What About the Sandbox Toys?
It's not only the sand you need to worry about; the toys also need some attention. The toys are also exposed to all types of bacteria and germs while kids play with them. You should not allow the germs to linger in your kids' toys for a long time as this can cause serious contamination. 
It's a good idea to wash the sandbox toys in soapy water and rinse them. Make sure there are no hidden cracks or crevices where sand can hide. If you want to disinfect the toys, simply put them into the dishwasher after washing or soak them overnight in a strong bleach solution. Let them dry completely before returning to the sandbox.
Final Thoughts
Sanitation is a key element to your and your family's safety around the sandbox. Although children may enjoy playing in the sand, they can bring in bacteria that can be harmful if not cleaned up properly. 
Maintaining the sandbox can be a hustle, especially if you have a large yard, but this is an important task to take care of. It can be even harder if kids are involved since they need to get their way at all costs. Keep your focus on keeping the sandbox clean and sanitized to prevent bacteria contamination which brings out health issues in the long run.
Do not forget to change the play sand often to keep it free from germs and allergen. Changing once a year is usually the recommended time, but you can also do it sooner than that if you think it is needed. And finally, don't forget to get the right sand for the sandbox whenever you change it. Not all kinds of sand are good for sandboxes.