The truth is that so much has changed in the world in a span of a few years. Technology is more advanced but simple to use. Kids love smartphones, video games, and television rather than outdoor play.
In fact, it is becoming harder and harder to motivate them to get outside and play. Most of them want to spend the entire day indoors playing video games, watching television, browsing the internet, and chatting with their friends online.
However, outdoor play is still imperative to their growth and development. Kids who spend time outdoors playing tend to listen, focus, and learn new concepts relatively faster.
Fortunately, outdoor toys can entice your little ones to get up, out, and moving. Outdoor toys also play an incredible role in supporting their emotional, physical, social, and neurological development.
But some outdoor toys are too expensive to acquire. So, what do you do to ensure you don't break the bank while shopping for your kid's outdoor toys? The answer is relatively simple; go for the most affordable toys.
In this post, we highlight some of the most budget-friendly outdoor toys for kids.  So, let us get started right away.
1. Multi-Color Tunnel
The multi-color tunnel is ideal for toddlers and preschoolers. Keep in mind that crawling remains an essential activity for your kid's gross motor development even after he/she learns to walk.
The multi-color tunnel is specially designed to encourage them to get down and crawl more. Adults can even join in the play and encourage the kids to crawl through to the end.
A good quality multi-color tunnel should be tough enough to withstand both indoor and outdoor environment. It can also be cleaned easily with mild soap and a damp piece of cloth.
The tunnel usually has a steel wire frame featuring reinforced padding to prevent the metallic part from poking out. The toy is lightweight and collapses easily into a single circular shape, so you can easily throw it in your car boot for a trip to the local park.
The multi-color tunnel will surely light up your kids and make them want to go out more often. You can always use it to distract your child whenever you want to do something meaningful such as cooking.
2. Bubble Wand Assortment with Bubble Refill Solution
Blowing bubbles is fun for both kids and adults, and if your little one is feeling bored or suffering from cabin fever, it is an excellent activity to calm him/her down.
The good thing is that you can blow bubbles anywhere, anytime. You can quickly turn your backyard, balcony, living room, or even the car into a bubbly ground. With the bubble wand assortment toy, the sky's the limit.
You can burn a ton of bubbles during the warm weather months and combine them with other exciting activities to keep your children active for many hours.
However, you need to be careful when choosing your bubble refill solution because not all bubbles are created the same. Ensure the bubbles are non-toxic and are reasonably priced.
Test them out alone before you allow your kids to start blowing them. Getting a bubble refill solution will save you a lot of money and ensure you never run out of bubbles.
3. Splash Tower Water table
If you love summers, then you will definitely get your children a summer showers splash water table.  The water table is summertime fun for every toddler.
The toy is great because it combines motor skill development and sensory exploration for young children.  It also incorporates STEM play that teaches young children about the concept of cause and effect, while promoting social skills such as taking turns and sharing.
A good water table should have relatively bright colors, a springboard attachment and a wide range of extra accessories such as a scoop, bucket, rubber duck, and bucket.
Your children will love the sound of the artificial rain as the water falls from the top tier of the water table.
The splash water table introduces kids to early physics concepts. In fact, this is like a physics class wrapped in summer fun.  Children start to play with motion when they splash water and also learn about flowing water.
You can be part of the game by asking your child to predict if an object will float or sink in the water. You can also invite your little ones to fill, dump, and even count cups of water.
4. T-Ball Set with Five Balls
The T-Ball set with at least five balls is a great outdoor toy for preschoolers. As your little kid whacks the balls away, he/she will be having a lot of fun and enjoyment. They may also use the T-Ball set to imitate their older sibling, who plays baseball.
The T-ball set trains your young one on hand-eye coordination and aids in fine motor skills development.  If they are playing it with a friend, they start getting used to taking turns and sharing.
The stand of the T-ball set usually adjusts to your child's height with a maximum height of 22 inches. You can hang the base on a wall with the bat and two balls safely stored inside it.
Most T-ball sets come with five balls that are carefully designed to look like a real thing. When your child outgrows the stand, he/she can still enjoy playing with the lightweight bat and relatively easy-to-hit balls.
5. Flying Rings
If you are looking for the best outdoor toys for relatively older kids or activities you can get involved in, you should consider buying flying rings.
Flying rings are surprisingly easy to throw and catch. They will stay on course and fly relatively fast to your intended target, allowing your kids to have maximum fun. In addition, they teach toddlers how to focus on a single target and build confidence.
They are also lightweight and won't hurt you even if you catch them like the conventional Frisbees. Good quality flying rings should be waterproof and float on water to help your kids have uninterrupted fun during both the hot and cold months.
6. Jump n' Dunk Trampoline
If you are looking for a toy that will help your toddlers burn a lot of energy, then you should go for the Jump n' Dunk trampoline.
The trampoline has a wide range of safety features, such as the locking double zipper and reinforced T-sockets.
The T-socket is meant to keep the entire structure from buckling under pressure. The springs are placed outside the jumping area to eliminate the risk of your kids' toes getting pinched while playing.
A good Jump n' Dunk trampoline comes with a basketball hoop and foam ball for added fun. Most of them have a weight limitation of 200 pounds which is pretty decent.
Although some experts warn against the use of trampolines at home, there is nothing to worry about as long as you ensure only one child is allowed on it at a time.
You should always actively supervise your kids and check the equipment regularly for damage.
What to Look for In Outdoor Toys
Before you purchase that outdoor toy for your kid, it is critical to pay close attention to four critical factors, namely;
1. Activity level
If your primary objective is to get your children moving and have them burn as much energy as possible, choose an outdoor toy that encourages a lot of movement.
From blowing bubbles to sliding, there are plenty of options that will get your kids moving while having plenty of fun.  All you have to do is ensure you supervise their play closely.
2. Adaptability
Ensure you consider the overall size of your backyard before choosing an outdoor play toy. Some toys want relatively large amounts of space which can be pretty challenging if you don't have a big backyard.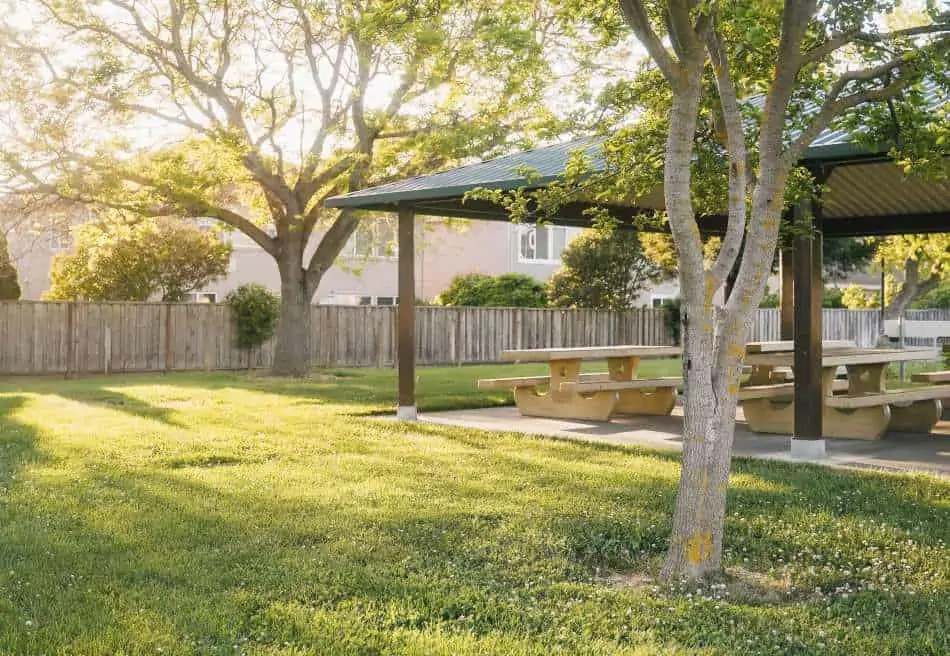 Others may require water and specific accessories. Some outdoor play toys can be used indoors as well, which is an excellent option when the outdoor weather isn't welcoming.
3. Age range
To keep your children motivated and willing to play, it is critical to choose toys that are right for their stage of development and skills. However, you should keep in mind that recommended age is nothing but just a recommendation.
You know your children well. You understand their abilities and what they can handle comfortably.
Therefore, don't limit your options strictly to the age ranges. Instead, evaluate each toy critically and don't be afraid to go for something a little older or younger as long as you are convinced your child will enjoy it.
4. Durability
No matter where you live, your kids' outdoor play toys will be subjected to all kinds of weather. Therefore, it is good to go for toys built to withstand harsh weather conditions and rough play.
Avoid toys with relatively small and visibly breakable pieces or anything that can tear easily. Plastic toys are always a good choice for a start.
Final Thoughts
That is it on outdoor toys for your kids. Most of these toys are not only fun but affordable.  However, before you purchase any outdoor toy, ensure you conduct thorough research to establish whether it will be fun for your kids.
You need to make sure that the toy you go for will occupy their minds and make them want to go out to play every time they are free.