As a parent or playground owner, your biggest priority is to keep all children who come to the playground safe. Therefore, you will do everything possible to prevent accidents and injury. Some of the safety measures include establishing clear playground rules, ensuring everyone follows them, maintaining playground equipment, and ensuring kids use age-appropriate equipment. 
However, one of the biggest and highly debated issues is whether playgrounds should be fenced to enhance security or not. Different experts have different opinions on the matter, and we are here to set the record straight.
So, should playgrounds be fenced? While some playgrounds need to be fenced to enhance safety, others need to be left open because fencing them would limit what kids can do during playtime. Typically, all playgrounds located near busy roads or bodies of water should be adequately fenced to minimize the risk of injuries. However, playgrounds located in relatively safer areas don't require fencing. Where fencing is needed, it is highly recommended to use high-quality materials that compliment the overall playground theme.
In this blog post, we discuss everything you need to know about fencing playgrounds. Read on to discover more.
When Should You Install a Playground Fence?
The primary reason for installing a playground fence is to enhance safety. If your playground is located in an area with relatively heavy vehicle traffic, you definitely want to install a fence to keep playing children from the risk of being knocked by passing cars.
In this case, you will require a fencing material that is relatively strong and durable. If you choose to install a metal fence, you need to ensure the gaps between the bars are too small so that kids don't slip away into the dangerous zone.
Some people choose to install a chain link fence since it allows parents and caregivers to keep a close eye on the kids from outside the playground. However, you should remember that a chain-link fence usually has sharp edges that can be a safety hazard to the little ones.
In some cases, you need to install a playground fence to keep children safe from strangers. If this is your primary objective, think beyond a see-through fence such as a chain link and go with something that can easily block the view of the playing area from the outside, such as vinyl or wood.
These two options are mostly used by parents building private playgrounds for their little ones. The most important thing you need to keep in mind is that if you choose to install a wooden or vinyl playground fence, there will need to be an adult supervising the inside of the playground every time you have kids playing to ensure everything is being done correctly.
When installing a playground fence, you may also be forced to install a lockable gate depending on the material you are using. Relatively tall playground equipment such as jungle gyms, swings, and slides can pose a significant hazard to children if they are left to play on them unsupervised.
Furthermore, if you have some toys that passersby can easily steal, installing a fence and gate around the playground makes sense. The good thing is that you can purchase a relatively good gate for any type of fencing you decide to use. Highly secure padlocks are also available at a relatively affordable price.
What Are Some of the Key Factors to Consider When Fencing a Playground?
If you decide to fence your playground, you must ensure that you use a high-quality, safe fence. You need to ensure that the fence serves its purpose and meets all the required standards. Below are some of the critical considerations you should keep in mind while installing a playground fence.
1. Distance between bars
One of the most critical factors you need to consider when installing a playground fence is the distance between bars. Typically, the bars need to be close enough to each other so that children do not climb through.
Remember that kids are smaller than adults, and most of them can fit comfortably in small spaces.
Therefore, the closer the bars are to each other, the better. Finding the correct space between the bars shouldn't be tricky, especially if you are working with a professional playground fence installer.
2. Custom playground fence
Another thing you need to think about is how you want your playground barrier to look like. Some manufacturers are always ready to design custom fences to suit your needs and the environment.
Therefore, it is upon you to evaluate your needs and work closely with them to create a perfect design for your playground. Be sure to look at some pictures of playgrounds with fences to draw inspiration from them. Pay close attention to the color and overall style of the fence.
3. Durability
A good playground fence should be durable.  If you choose to install a metallic fence, make sure that it doesn't rust easily because the appearance of rust can be unsightly and dangerous to children.
Ideally, the metallic parts should be covered in polyester powder coating to protect the metal from corrosion and harsh weather. The fence should have been tested and proved to withstand extreme weather conditions.
Since most metallic fences are made of steel or iron, the metal should have been galvanized thoroughly to protect it from corrosion.
4. Privacy
It is also essential for the playground fence to establish a sense of privacy around the playing area. It shouldn't be an easy place for people to pass by or stare into the play area.
Ensure the metal bars, wood, or vinyl is tall enough and the bars are close enough such that it is difficult for someone who is outside to see inside.
Parents and caregivers will typically feel safer and assured if their little ones are playing in a relatively private and secured area.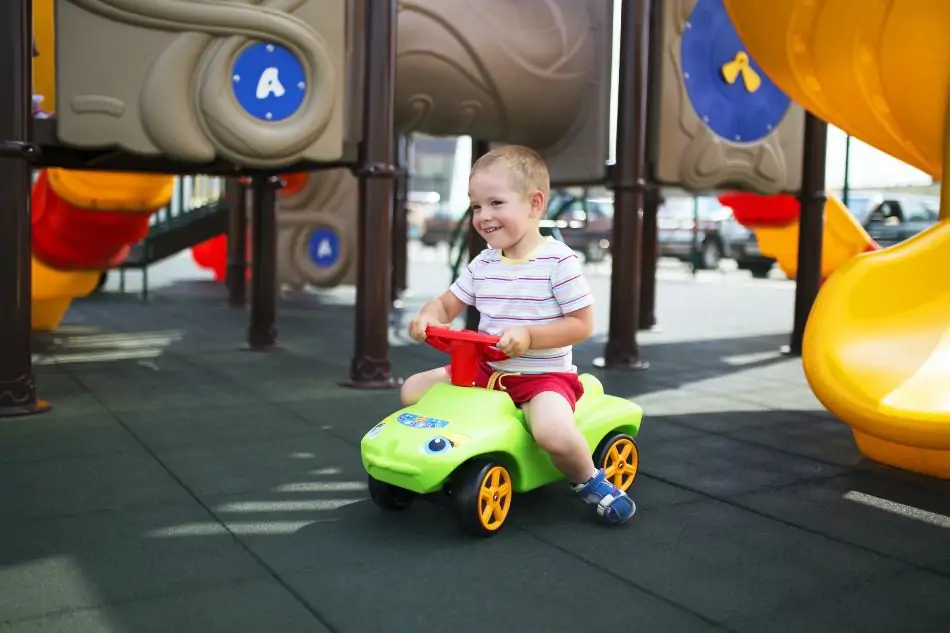 5. Height
Another critical thing you need to think about when designing a playground fence is the height of the fence.
Generally, you want a fence that is tall enough such that no kid can climb over it. It should also be high enough so that blown or thrown balls won't go over it.
Sometimes, it may be challenging to find an excellent ready-made fence that will fulfill all the required standards.
If that is the case with you, don't be afraid to talk to one of your area's trusted playground fence manufacturers to design a custom fence for you.
Understanding Playground Regulations on Fencing
There are a few regulations you need to keep in mind while installing a fence around your playground. Some local laws may require that the fence allows parents and caregivers to be able to see their kids from the outside.
When you use lumber or cedar for fencing, you must ensure that the wood is free of toxins, splinter-free, and have a clear finish.
In some areas, it is compulsory to install a playground fence if the playground is within 30 feet of a street or parking lot. The fence must be at least 48 inches tall, and in some areas, you may be forced to install a fence that is up to eight feet tall.
The bottom of the fence must not be more than three inches from the ground, and the pickets should be four inches or less apart so that children can't pass between them.
To minimize the risk of injuries, a playground fence must have smooth caps instead of finials. You can also reduce the risk of children being trapped between the top of the picket fence by specially designing the tops such that the angles are greater than 55 degrees.
To discourage kids from trying to climb over the fence, ensure you trim back all low-hanging branches and don't place fence boards horizontally.
Create Buffer Zones
In some areas, you will be required to create buffer zones outside the fence. The primary purpose of the buffer zones is to allow parents and caregivers to observe individuals who are approaching the playground.
They also block noise and wind and prevent cars from accidentally hitting the playground fence or entering the play area. The good thing is that you can easily create a buffer zone with hedges, grassy areas, low berm, or rows of trees.
Depending on where you live, you may also be required to use the fence to separate different playground areas to create different play areas for kids of different ages.
If your playground is generally part of a facility, you may be required to install a high-quality fence to separate play areas for infants, toddlers, preschoolers, and school-age children.
Final Thought
That is it about fencing a playground, and we hope you found this article to be useful.
One key takeaway you need to keep in mind is that the right fence installed on the right playground can add a dimension to the overall safety and design, which improves the quality of play.
It also improves the quality of experience and enjoyment of everyone who visits the playground.