Let us think about it: A community playground is a space that brings people together. It provides an opportunity for families to connect, build relationships, and create lasting memories. They offer safe places where kids can come and engage in a wide range of recreational activities. However, there is much more to a community playground than just fun and games.
So, what are some of the top benefits of a community playground? The main benefit of having a community playground is that it bring people from all walks of life together. It creates an environment for social interaction and learning as parents and children interact with one another in a safe place. This interaction creates a strong sense of belonging while aiding the social, physical, and mental development of kids. Community playgrounds also provide a perfect opportunity for children to learn about cooperation and communication. They serve as a great platform for learning since they often have signs or markers displaying the names of local plants or animals.
This blog post outlines some of the most important benefits of a community playground. Read on to find out everything you need to know.
What Is a Community Playground?
Before we explore the benefits of a community playground, let us start by defining the term community playground.
A community playground is basically an outdoor space that offers recreational activities for people of all ages and backgrounds. It usually features different pieces of play equipment such as swings, slides, climbing structures, sandboxes, and monkey bars.
Community playgrounds can be found in parks, schools, housing developments, and other public areas.
They are specifically designed to provide a safe place for parents and their kids to relax, play, and socialize without the risk of danger or harassment.
The Benefits of Community Playgrounds
Now that we know what a community playground is, let us discuss some of the benefits it offers to the members of a community.
1. Builds a Sense of Community
Let us face it; the modern world is highly digital, and everything is fast-paced, making it almost impossible for people to make meaningful connections.
Unfortunately, the virtual spaces that most of us tend to trust so much cannot help us build any sort of community connections we wish we had with our closest friends and neighbors. Today, only 31% of adults know their neighbors.
The percentage is even lower for urban residents, which explains the importance of having a community playground.
A community playground is an excellent way to build a sense of community among people from all walks of life. It allows families and children to come together in a safe environment and helps create lasting relationships.
It encourages community members to come together and start interacting with each other long before installation even begins.
Community members have to work closely to set goals, agree on the design that will meet their neighborhood needs, raise funds, and organize the construction.
Getting involved in the entire process from start to finish fosters a sense of belonging within neighborhoods and gives community members a chance to get to know and interact with each other.
It makes people feel wanted, accepted, and appreciated as they rally together to push the project forward.
This involvement and interactions encourage members to look forward to using the playground and interacting with each other more.
While it may be impossible to pinpoint exactly how these playgrounds impact communities, it is clear to see the positive impact on children and adults alike.
Perhaps, this explains why community playgrounds are one of the top five most vital amenities for homeowners worldwide.
2. Strengthens Social Skills
Community playgrounds provide the perfect spot for socialization and help children develop critical social skills that cannot be learned in classrooms. They include communication, cooperation, and problem-solving.
When children are given a chance to play with each other in a safe environment, they learn how to share, take turns, and resolve conflicts without adult intervention while having fun at the same time.
They also learn to be independent and take responsibility for their actions.
Moreover, playgrounds provide an excellent opportunity for children to explore different cultures by interacting with kids from various backgrounds in a safe and secure space.
This helps them develop respect for others despite the differences that may exist between them.
3. Boosts Cognitive Development
There are also many cognitive benefits of community playgrounds for your kids.
Playgrounds provide the perfect opportunity for children to use their imagination and engage in real-world problem-solving daily.
It also helps them develop motor skills, balance, and coordination as they explore different physical activities such as climbing, swinging, and sliding.
Moreover, it encourages children to be creative and helps them learn how to think outside the box. This type of play is especially important for young children who are in the process of exploring their environment and learning how to interact with it.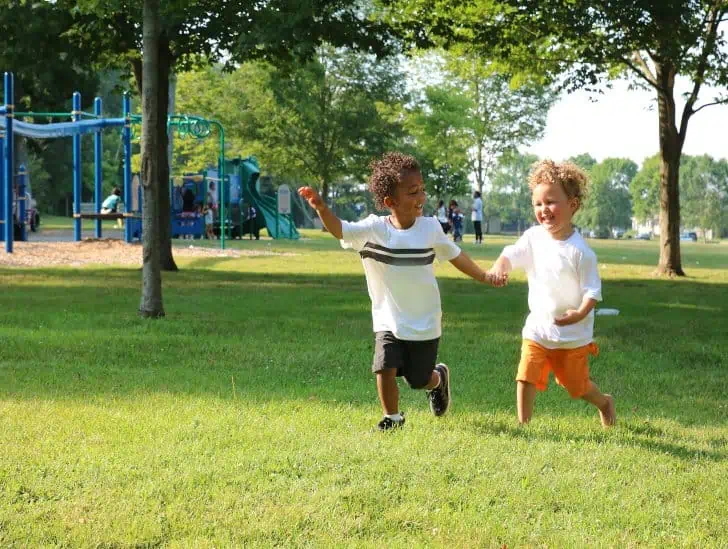 Finding ways to encourage this kind of play through community playgrounds can help preschoolers develop a wide range of skills that will serve them well in the future.
Overall, community playgrounds are an excellent way to foster relationships between members of a given community and provide critical cognitive benefits for children.
It is an excellent investment that everyone should consider making in their neighborhoods!
4. Increases Physical Fitness Levels
Physical activity is essential for overall well-being and health. It helps keep our bodies strong, builds muscle strength, reduces stress levels, and boosts our energy levels while also helping us maintain a healthy weight.
Unfortunately, many people are not as physically active as they should be. Only 20% of people in some countries meet the recommended physical activity levels.
Community playgrounds can help increase physical fitness levels among children and adults by providing a safe space for exercise and play.
It encourages people to get out into their local community, interact with each other, work together to accomplish tasks, and engage in fun physical activities.
A community playground also makes it easier for people with disabilities and special needs to participate in recreational activities.
It allows them to enjoy the same experiences as their peers while providing opportunities to build their social skills, self-esteem, and confidence.
5. Builds Communication Skills and Boosts Confidence
Peer-to-peer interactions between kids as they play help foster better communication skills and build their confidence.
It encourages teamwork, collaboration, problem-solving abilities, and the ability to interact with different people.
Furthermore, being part of a playground community helps children learn more about themselves as they become aware of their likes, dislikes, and preferences when it comes to play styles.
This self-awareness helps them understand and learn how to interact better with their peers. It also encourages creative thinking, collaboration, and sharing ideas.
All these skills are essential for kids' development as they grow older and help build healthier relationships and better communication skills that last a lifetime.
6. Promotes Creativity
Community playgrounds play a critical role in promoting creativity in children. It is a place where they can explore their environment, engage in different activities, and use their imagination to devise creative solutions to problems.
This type of play allows kids to discover new aspects of themselves and encourages them to think outside the box.
It helps them develop problem-solving skills and teaches them how to work together and use their creativity to come up with new ideas.
Some playground equipment also promotes imaginative play, which boosts creativity. These pieces of equipment provide sets and props to help children bring all sorts of creative ideas to life.
They may pretend to be pirates, astronauts, animal trainers, and more – all while developing their motor skills and enhancing their social skills.
7. Expands Neighborhood Foot Traffic
As people come together to enjoy quality time at the community playground, they also increase neighborhood foot traffic.
This helps create a sense of community and can help reduce crime levels as more people are out and about and staying alert.
It is also beneficial for local businesses since more people will be in the area, potentially increasing their customer base.
Typically, a town with few pedestrians doesn't feel so lively, and businesses can suffer a great deal.
In contrast, a well-maintained community playground with plenty of visitors indicates that the neighborhood is flourishing.
In most cases, a walk from the community playground usually involves a stop at a local ice cream parlor or a drinks store, which boosts the local economy.
Conclusion
Overall, community playgrounds are great investments that provide many benefits for children, adults, and entire communities. They are safe spaces for exercise, building relationships, and encouraging creativity.
Having a community playground encourages people to come together, share experiences, interact with each other, and build strong bonds that last a lifetime.
Therefore, it is important to recognize the importance of community playgrounds and strive to make them available in our local neighborhoods.
Last update on 2023-07-23 / Affiliate links / Images from Amazon Product Advertising API