Anyone with children knows that one of the best places to keep them entertained is in a backyard sandbox. A good backyard sandbox can transform your backyard playground into great outdoors. It can provide hours of fun and entertainment for your children and saves you the cost of high admission fee to theme parks. What's more, you can enjoy it with them because it is in your own backyard!
So, what are some of the best backyard ideas? Luckily there are many ways you can transform your sandbox into an exciting piece of play equipment. You can build a beach-style sandbox, transform your sandbox into a playhouse/den, add plastic sprinklers for endless hours of fun, or add some musical instruments to the sandpit. You can also add some seating, construct train tracks, make a fun photo frame or transform your sandbox into a cooling fan.
If you are looking to transform your backyard sandbox into an exciting play space that will keep your kids happy for many hours, then you are in the right place. Read on to discover some of our best backyard sandbox ideas.
What Is a Backyard Sandbox?
A backyard sandbox is a simple and easy way to keep your kids outdoors and provide them with hours of fun and entertainment. A sandbox can be made from various materials and requires very little maintenance, making it the perfect addition to any backyard playground.
Sandboxes are available in all shapes and sizes; some people build their own while others buy ready-made ones. There are even large-scale sandboxes, such as the Big Dig Sandbox!
Whether you choose to buy or build your own sandbox, there are a few things worth bearing in mind. A good play space should be at least 100 square feet and come with a cover and drainage for rainy days.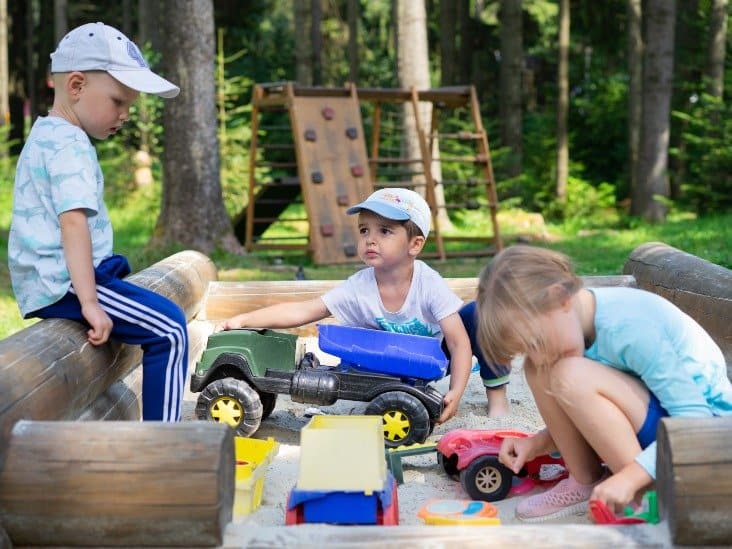 The best way to keep it clean is to place it in an area of your backyard that gets full sun. To avoid ants, bees and other insects, try to stop the sand from spilling over into the surrounding areas.
Once you have decided where you will set up your sandbox, check with local councils for any regulations or restrictions on building one in your part of town.
What Are the Benefits of a Backyard Sandbox?
A backyard sandbox offers your children an incredible opportunity to play in the sand and develop a wide range of skills.
Sand has an incredible ability to encourage children to use their imagination, allowing them to play freely while developing their motor skills. It provides a place for free play, which is fun and easy to manipulate.
Additionally, a good backyard sandbox will come with an attached lid that can be closed to keep out dirt, dust and insects. This makes it perfect for developing social skills as your kids will have to work together to keep the sand clean.
Sand also has a natural cooling effect, so you don't have to worry about hot days. It is easy on knees and joints compared with grass, so it's also great for older kids.
Sandbox Ideas for You
Now that you understand what a sandbox is and what it does, you should have a better idea of how to transform yours into the best backyard sandpit.
Here we look at nine different backyard sandbox ideas that will help bring out the inner child in everyone.
1. Build a Beach Style Sandbox
If your kids love role-playing and watching movies, then your backyard sandbox just got a whole lot funnier. How? By transforming it into a beach! You don't need to be an expert carpenter or have a huge budget for this one – all you need is a shovel, some sand and lots of imagination.
To transform your existing backyard sandbox into a beach style play area, you will first have to add sand to make the box larger. Adding at least 12 inches should be enough to convert it into a play space. Be sure to compact the sand well and level it out before adding any water.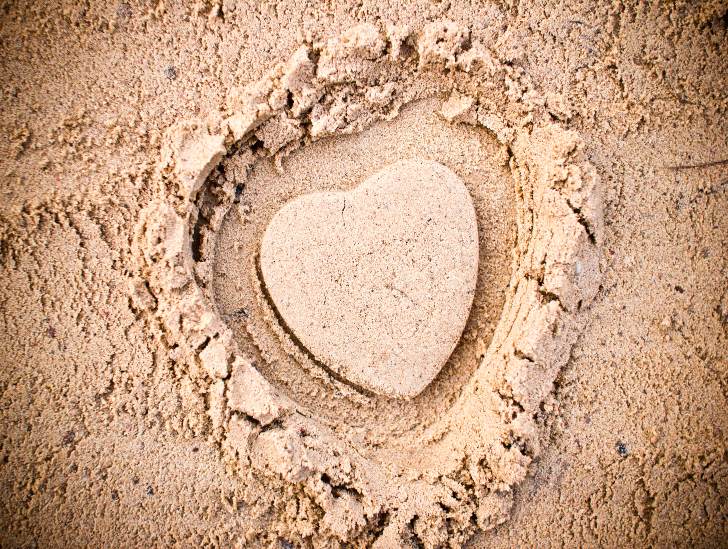 You can either add some white sand (which is easier on your eyes) or stick with what you already have in the sandbox itself; this is a great opportunity for your kids to get creative.
Once the sand is in place, add some water and turn it into a real beach scene. You can make this as realistic or imaginative as you want, depending on the age of your children and their interests.
If you have children under four years old, we recommend not adding any additional items to the sandbox; this will stop them from digging up the newly added sand.
2. Play House, Shed or Den
If your kids love to play make-believe, then you should consider turning your backyard sandbox into a house, shed or den. This is one of the easiest outdoor toys around and doesn't require any special skills. Furthermore, you can make it as big or small as you want, depending on your space.
If you want to turn the sandbox into a shed, all you need to do is add a wooden fence around the edge of the box and paint it dark brown. Once that's done, hang up some tools and sit back while your kids enjoy hours of imaginative play.
If you want to make a playhouse, simply add some walls and a door and paint the outside in various pastel colors. You can even get creative and add a chimney or two if desired; this is also a great place for your kids to store their toys.
For added fun, you could put down wooden flooring in the sandbox, so the kids have somewhere to sit when they are playing.
3. Train Tracks and More Sandboxes
If you have more than one backyard sandbox, then you can use them together to create something truly magical.
Train tracks are always a big hit among youngsters, but what about an airplane runway? When creating multiple backyard sandboxes, there are plenty of options to choose from, so be creative and have fun.
4. Transform Your Sandbox into a Cooling Fan
If you have a backyard sandbox that gets really hot during the summer months, then it can be quite uncomfortable for your kids to play in.
Why not add a cooling fan to make it more fun and enjoyable? You can buy cheap versions of these, which will work just as well as the pricier versions.
5. Plastic Sprinklers for Hours of Fun
If you or your kids love running through sprinklers or playing in puddles, why not turn the sandbox into a water play area?
With a little bit of elbow grease and creativity, you can easily transform it into a very cool water feature. You can either add a large sprinkler or two smaller ones, depending on how many you have to work with.
You could also plant flowers around the edge of the box to make it look even better; this is also a great project for your kids to get involved in too. Remember to paint the sprinklers first to prevent them from rusting.
6. Use Sand for Beach Themed Playsets
Instead of buying new toys, why not use the sand you have in your backyard sandbox? This can be used as lots of fun items for kids to play with, including buckets, shovels, sieves and even more imaginative objects.
While you're at it, why not add some water and make an amazing waterplay scene? You can buy small beach themed scene setters or paint them yourself; this will give you an idea of what to do.
7. Make a Fun Photo Frame
For people with kids, taking photos of them playing happily in the sandboxes can be quite difficult. To help solve this problem, you can turn the sandbox into a photo frame.
All you need to do is cut some wood or thick card stock into any shape and insert photos of your kids playing and stick it somewhere in the sandbox. You could also paint the front of the frame, so it looks more attractive.
8. Add Some Interesting Seating
If you want to make the sandbox more fun for all ages, why not add some interesting seating options? This is easy to do and can be done cheaply too. You can buy large rocks to sit on or build your own benches; kids will love them either way.
9. Add Some Musical Instruments
Making backyard sandboxes fun for kids doesn't always involve toys; you can also turn them into musical instruments.
If your child has a band at school or simply loves playing with musical instruments, then this is something they will adore. You could either buy a cheap set or make your own.
Summary
Of course, you don't need to limit yourself to these simple ideas; your kids will love anything that is different, so feel free to get as creative as possible. The most important thing is to spend time with your children outside making wonderful memories.