Music is soothing and comforting. Top it with an outdoor environment, and you have the perfect recipe for a good time, especially during summer when temperatures are too hot to stay indoors. Kids love to explore and experiment with different sounds and tunes, so why not give them an outdoor music wall to further unlock their creative potential? Building an outdoor music wall is relatively easy, but there are certain steps you must take to ensure your wall stands up against all kinds of weather conditions.
So, how can you build an outdoor music wall for your kids? The first thing you need to do is identify a perfect location for the wall. It should be somewhere you can easily access and must not be exposed to direct sunlight or heavy rains. Next, you need to choose a sturdy structure that will form the base of your music wall. You then need to pick out the right instruments for your music wall. Since this is an outdoor venture, select waterproof materials that won't break easily in case of heavy winds or rain. Now assemble the pieces and mount them on the wall. Ensure all instruments are firmly attached so they won't move around when kids tap on them.
This blog post provides a step-by-step guide to creating an outdoor music wall for your little ones. Read on to learn more.
Music Walls: Quick Overview
You might be reading this post and wondering what we are talking about. A music wall is simply a structure consisting of different musical instruments mounted on a wall.
The instruments can be anything from drums and chimes to keyboards, cymbals, guitars, and much more. Some call them a "sound garden" or "musical playground".
Music walls are fun and interactive – they help kids explore their creative side by creating various tunes with different instruments without purchasing each one individually.
Some of us are familiar with music walls because we saw them in our local parks. If you were lucky enough to have a music wall in your home while growing up, you know how much fun it can be.
From an educational standpoint, there are many benefits of a music wall. You can use it to teach your children about recycling and the different purposes each item on the wall serves, both in its traditional form and on the music wall.
A music wall also allows you to teach your kids how to entertain themselves in an engaging way.
Step-By-Step Guide to Building an Outdoor Music Wall
Now that we have established what a music wall is, let us get down to the guide on building one for your kids.
Step 1: Gather Materials
The good news is that you can use any materials you wish for your musical wall project. Anything that can generate sound is acceptable.
There are no rules or limits to what you can and can't use. You are good to go as long as the material is safe for kids. Some of the things you may find helpful include:
2×12 timber.
4×4 timber posts
Pea gravel and soil.
Bell.
Pot lid.
Colander.
Bolts, screws, and hooks.
Cream/tea dispenser.
Broiler parts.
Plastic Caddy with holes for storing the drumsticks.
Drumsticks (large spoons, potato masher, or whisks).
Drying rack.
Gelatin mold.
You will also need measuring tape, a spirit level, a cordless drill, and a circular saw. Be sure to involve your kids in the project as much as possible.
Let them explore and find things that interest them. That is the only way to build a music wall that excites them.
Step 2: Choose a Perfect Location
The first step in creating a music wall is finding the perfect spot in your home for the project.
You can use an existing wall or fence or create a new wall. Using an existing wall is great if you already have a backyard swing set because combining a swing set and a music wall can be great for your kids.
A climbing wall or game wall in your backyard is an excellent place to start building your music wall.
Feel free to create a new wall for your project if you don't want to convert your existing walls into a musical theatre. Creating a new wall is ideal for adventurous and hands-on folks out there.
However, remember that creating a new wall for the project will lengthen the process and might require professional assistance.
You should only consider it if you have enough time and want to involve your kids in the process right from the first step to the last.
Alternatively, use an existing fence to serve as a wall. A fence, especially a wooden one, is an excellent option because it makes it easy to secure your musical instruments, minimizing the risk of damage.
Most items you will use to create the music wall have handles that make it easy to mount them on the fence.
Whichever location you choose, ensure it is not exposed to direct sunlight or heavy rain. This will go a long way in protecting your instruments and walls from damage due to exposure to harsh weather conditions.
Step 3: Choose a Sturdy Structure for the Base
Once you have figured out where your music wall will be located, it's time to choose a structure for the base of your wall.
You can consider using 2×12 timber as the base for your music wall. This will provide a sturdy and rigid foundation that will hold up against all kinds of weather conditions.
For additional support, you should also use 4×4 posts to help keep the wall in place.
Ensure the timber and posts are drilled firmly to prevent the wall from wobbling or shifting in any direction.
Once your structure is ready, fill it with soil and pea gravel for additional stability. This will also help keep out bugs and pests while dampening the instruments' sound waves.
Step 4: Select the Right Instruments
The best way to choose the musical instruments for your music wall is to get creative. As mentioned, you can use anything that produces sound – from kitchen utensils and broiler parts to bells and pots.
You should also select waterproof materials that won't break easily in heavy winds or rain.
Choose musical instruments that do not require highly complex tuning or assembly.
Step 5: Secure Your Instruments on the Music Wall
Once you have all the materials and instruments for your music wall, it's time to get to work. This final step requires patience, creativity, and some help from someone experienced using power tools.
You can use screws, bolts, and hooks to secure the instruments on the wall. This will help keep them in a fixed position as kids play with them.
Double-check that all the instruments are firmly attached and won't move when hit by sticks or beaten with hands – this will help avoid any injuries during use.
Once all the instruments are securely attached, your music wall is ready for use. Your kids will undoubtedly enjoy playing with it and learning about musical instruments.
Step 6: Enjoy the Music
Now that you have finally built the music wall, it's time to enjoy some melodic tunes and watch your kids having a great time with their new instruments.
The beauty of building an outdoor music wall is that you can use it as a teaching tool for your kid's musical education.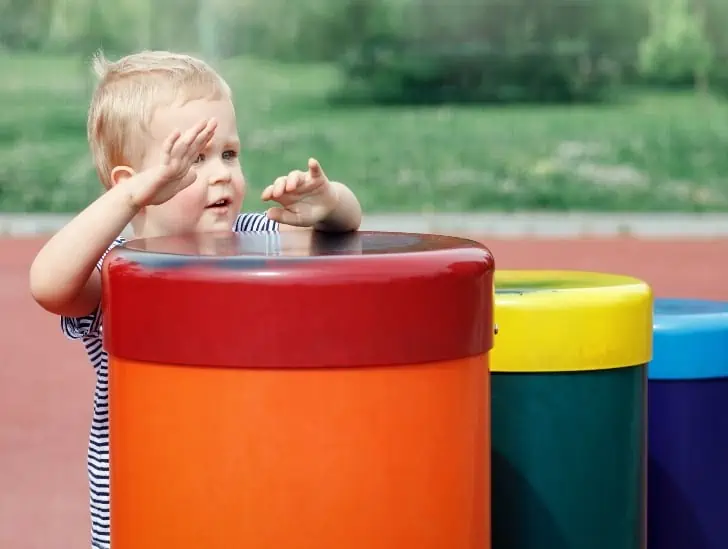 You can help them understand the basics of sound production and teach them how to play different instruments.
You can also use the music wall to add flair and life to backyard parties or gatherings with friends and family. All you need is a bit of creativity and enthusiasm.
How Long Does It Take to Build a Music Wall?
The time it takes to build a music wall depends on your chosen size and complexity.
Generally, building a simple music wall can take anything between two days and one week.
However, if you want to add more complex features like climbing walls or game walls, then it might take longer.
It's also important to factor in the availability of materials, tools, and your experience level when building a music wall.
What Are Some Creative Ways to Use a Music Wall?
Now that you have built your music wall, there is much room for fun and creativity.
You can challenge your kids to create melodies with the instruments or organize outdoor competitions where they can play on the music wall.
You could also use musical instruments to create unique soundtracks for outdoor movie nights or picnics.
Summary
Creating an outdoor music wall is fun and educational for kids since they learn about sound production and explore their creativity.
Follow the steps outlined above to build your music wall with the help of essential tools and materials.
Once it is done, get the kids involved and enjoy some musical tunes in your backyard!
Last update on 2023-07-23 / Affiliate links / Images from Amazon Product Advertising API